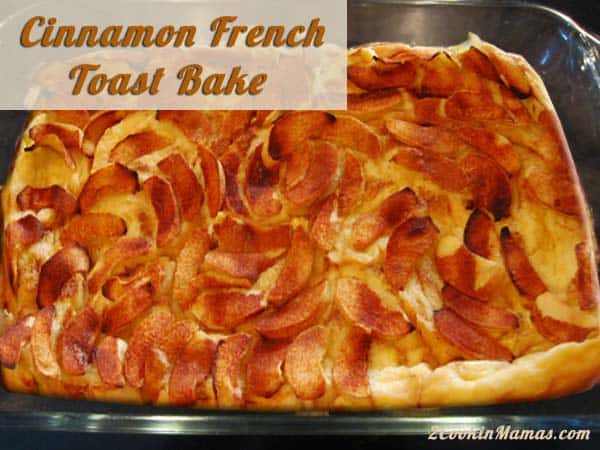 Well everyone knows that Valentine's Day is next Saturday so what better way to say I love you than with this fruity and just a little bit decadent breakfast. Not only is this French Toast delicious but you prepare it the night before so when you wake up the next morning all you have to do is pop it in the oven and enjoy some time spent with your loved ones. And I am sure you will get a little lovin' back after they taste it!
I actually first saw this recipe in our local paper and just had to try it out. It was so good that when guests come to stay, I fix this French Toast so I can enjoy my time with them while they are in town. And cleanup is a breeze too – yay!
You may want to double this recipe for a family of 4 so you have plenty if they want to go back for seconds.  You can even try it with different fruits, say, maybe apples or pears. Oh, and it is even delicious when you serve this breakfast for dinner with a side of bacon or sausage. I'm sure either way it will be a big hit!
Cinnamon French Toast Bake with Fruit


Ingredients:
6 pieces fresh cinnamon swirl bread
2 large eggs
2 large egg whites
1/2 cup milk (I like to use almond milk)
1/2 teaspoon vanilla extract
3 nectarines or peaches, peeled and sliced
1 Tablespoon brown sugar
1/8 teaspoon cinnamon
Directions:
Use a pan that you will be able to place the 6 pieces of bread in a single layer. Spray with Pam or other non-stick cooking spray. Lay slices in bottom of pan.
In a medium bowl, whisk the eggs, milk and vanilla together and pour over bread. Place fruit slices on top of bread.
Mix brown sugar and cinnamon together and sprinkle over all. Cover with plastic wrap and store in refrigerator overnight.
Preheat oven to 350 degrees and bake uncovered for 40-45 minutes or until set.
Serve with pure maple syrup on the side.
Serves 2-3 depending on how hungry everyone is.
DON'T MISS A RECIPE!