This egg salad recipe is so easy to make & so delicious!. Hard-boiled eggs are tossed with celery, onion & mayo to make the perfect sandwich or luncheon salad.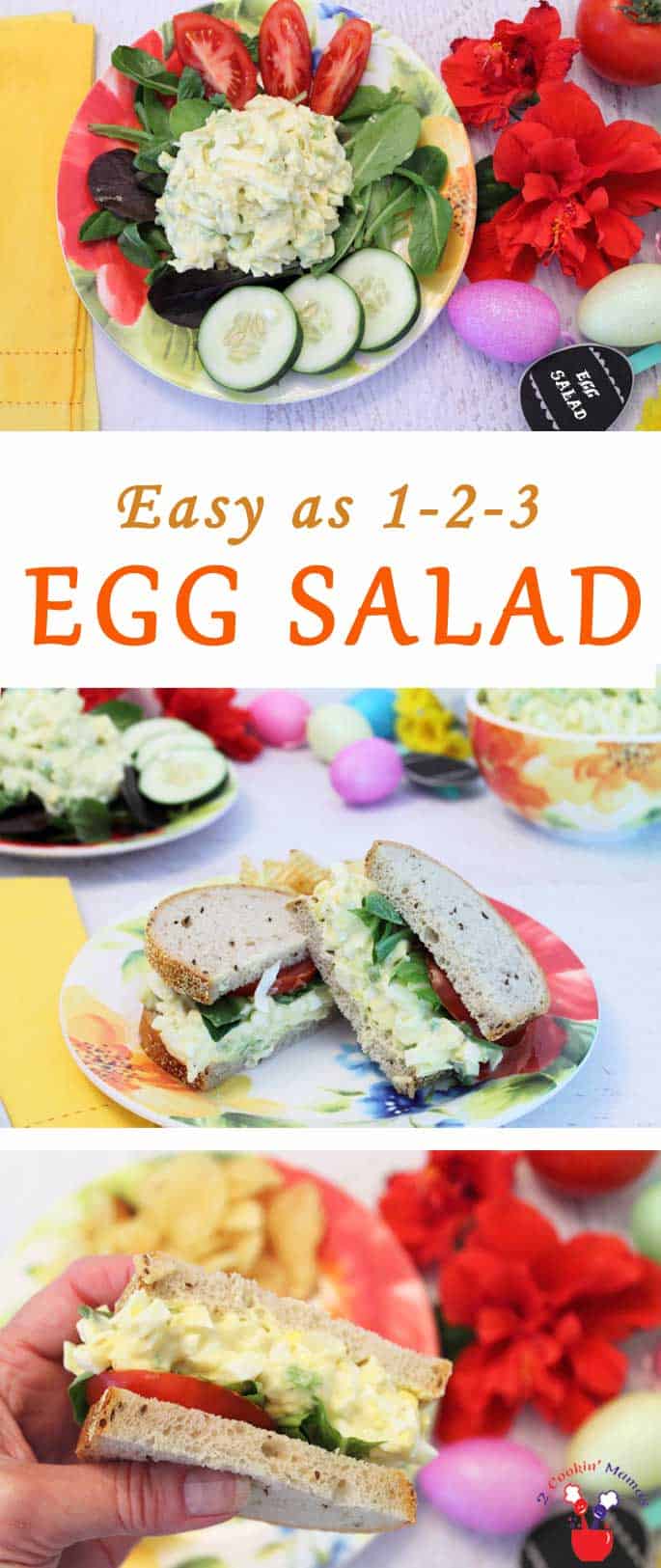 I have to say that egg salad, second only to Rosemary Chicken Salad, has to be one of my favorite salads to make. It is super easy and always popular whenever it is served. It can also be served many different ways - on a sandwich, as a healthy salad, as a filling for phyllo appetizers or even rolled up in a tortilla and sliced to make single pinwheel hors doeuvres.
And what better time to prepare this delicious salad than when you have Easter eggs coming out your ears. Well, not actually, but that would be funny! 🙂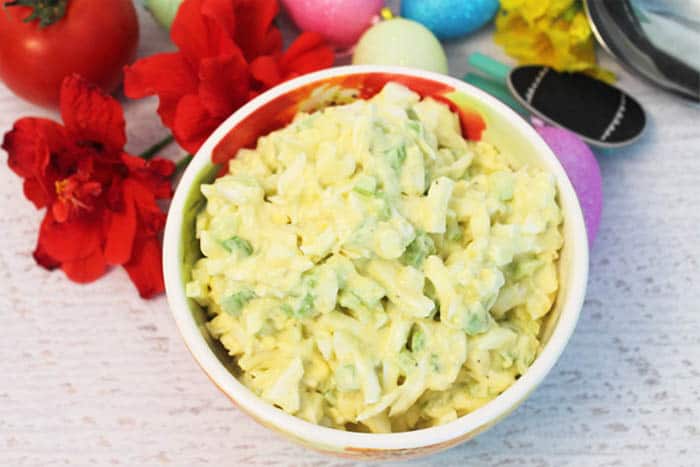 I believe the hardest part about egg salad is boiling the eggs. Now don't laugh at me because I was informed when I had one of my first cookie parties that most of my friends at the time couldn't even boil water let alone cook an egg. So I've got some great pointers on the best way to hard boil your eggs for the best success.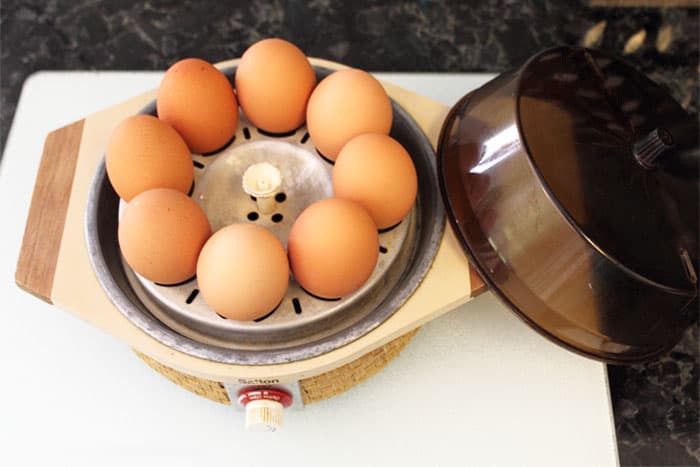 Always store eggs in the coldest part of the refrigerator and use them within 3 weeks of the sell-by date
Eggs that are at least 1 week to 10 days old are easiest to peel
Eggs are easiest to peel after cooling
Using an egg cooker is the easiest way to boil eggs - check out this great

egg cooker

& poacher in one
To peel, tap on counter to crack and peel from large end under cold running water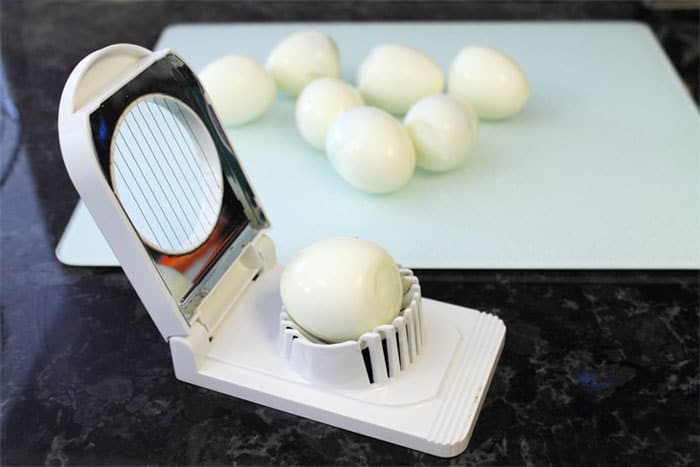 Besides my wonderful egg cooker, which I think has to be over 30 years old, my egg slicer has to run a close second as a favorite utensil in the kitchen. It makes dicing up the egg for the salad super simple and so quick. Just cut the egg in one direction, turn it a quarter turn and slice again - instant dice!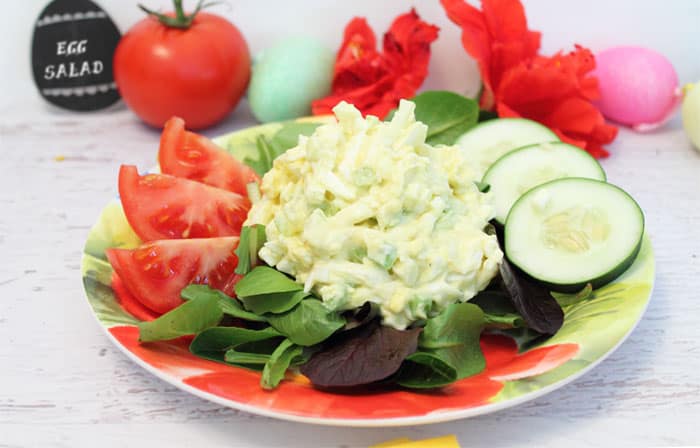 Add a little onion, celery, your favorite mayonnaise, regular or vegan, some mustard if you like, and a little salt and pepper and that's it! Super simple, right?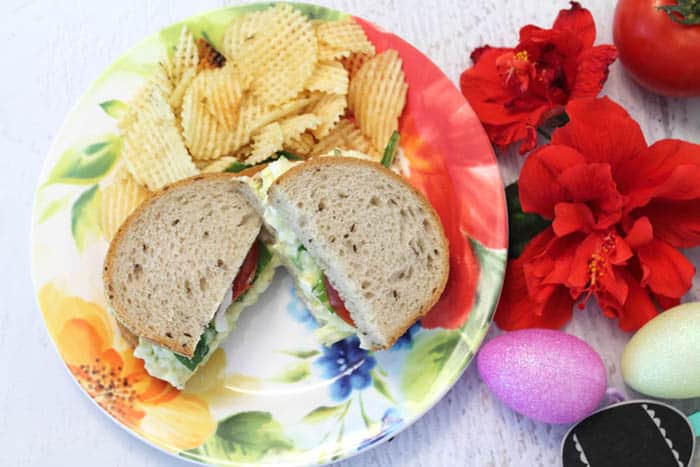 It's a tradition in our family for me to make this salad every April when we travel down to our timeshare in Key West. My kids and grandkids always join us and have come to expect my egg salad  to be in the fridge when they visit. Served as a sandwich with chips (the grandkids favorite) or as a salad with sides of cucumbers and tomatoes, makes this egg salad a really yummy lunch (especially when sitting on the screened porch overlooking the bay).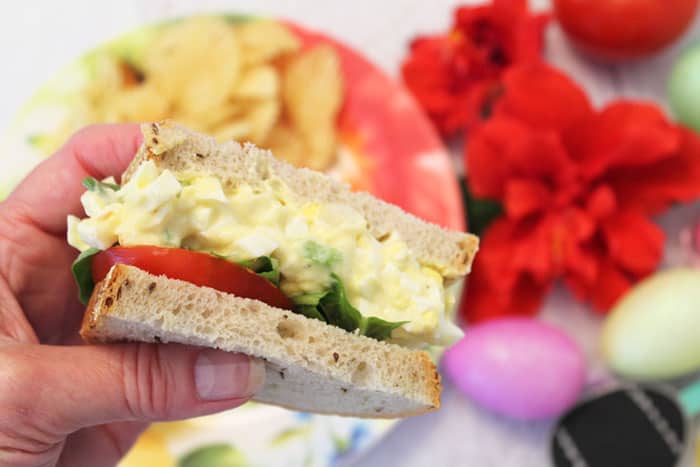 So guess where I am right now? Yep, gotta go and join the fam! Enjoy!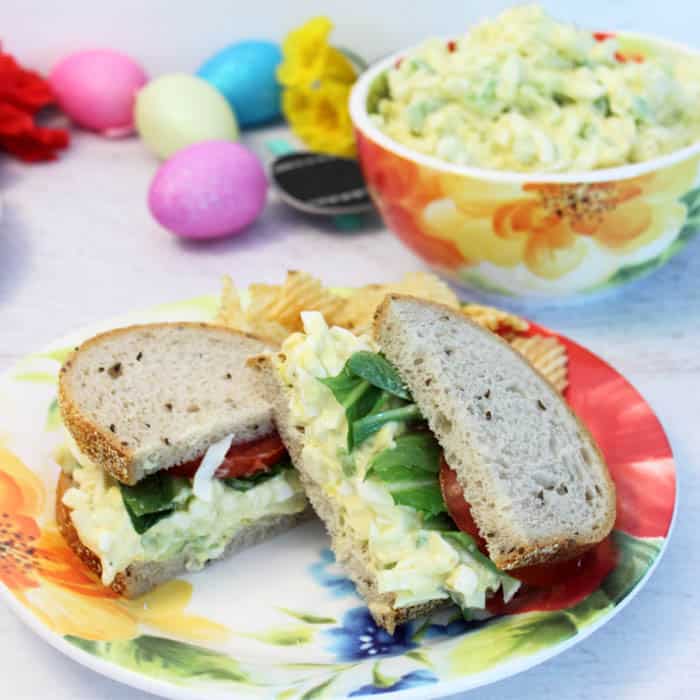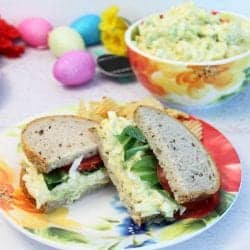 EASIEST EGG SALAD
This egg salad recipe is so easy to make & so delicious!. Hard-boiled eggs are tossed with celery, onion & mayo to make the perfect sandwich or luncheon salad.
Print
Rate
Ingredients
8

hard boiled eggs

¾

cup

celery,

diced

¼

cup

onion,

diced

1

teaspoon

mustard

(optional)

½

cup

mayonnaise,

add less or more depending on how much you like

Salt & pepper to taste
Instructions
Hard boil eggs in egg cooker. If you don't have an egg cooker follow these directions.

Place eggs in single layer in bottom of large pot.

Fill with enough cold water to cover eggs.

Bring to a boil then remove from heat.

Cover and let sit for 12 minutes for large eggs, 15 minutes for extra large eggs.

Drain and let cool.

Dice cooled eggs. Place in large bowl.

Toss with celery, onion, mustard, if using, and enough mayonnaise to moisten.

Salt & pepper to taste.
DON'T MISS A RECIPE!