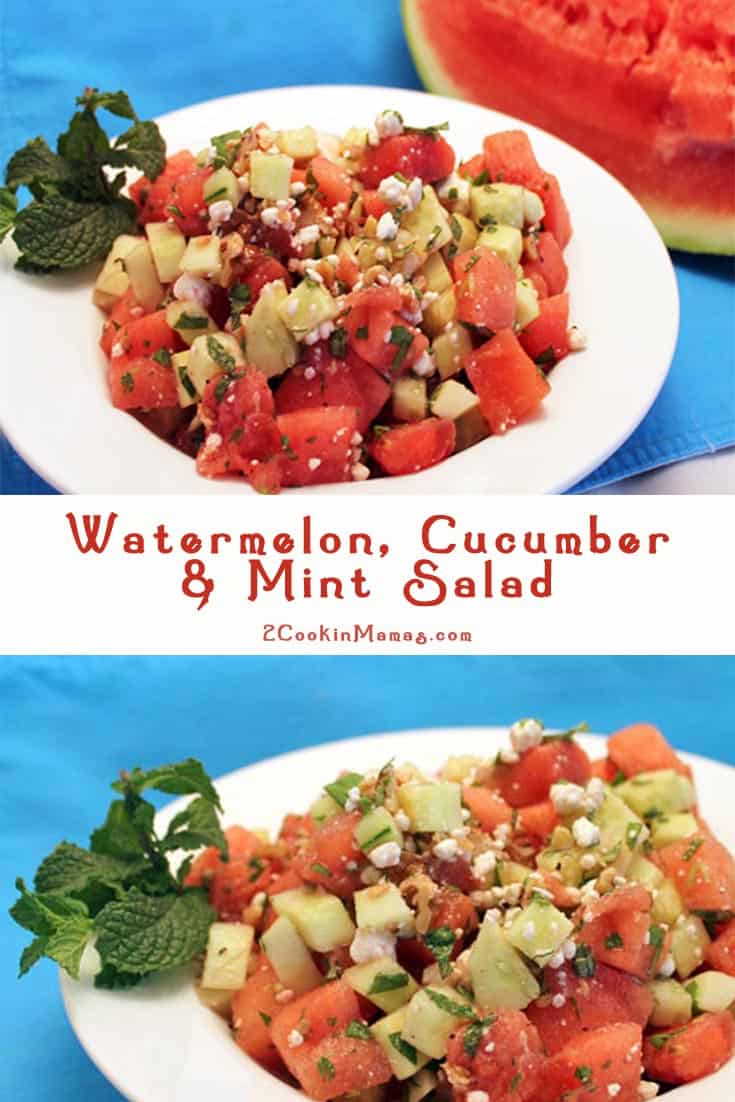 This is National Fresh Fruit & Vegetable Month and I couldn't think of anything more indicative of this than this fresh salad containing both fruit and vegetables.
It is really the perfect salad to have during the summer, both refreshing and full of seasonal local produce like cucumbers and watemelon. And supporting your local farmers is both beneficial for your neighborhood as well as the environment (less carbon footprint).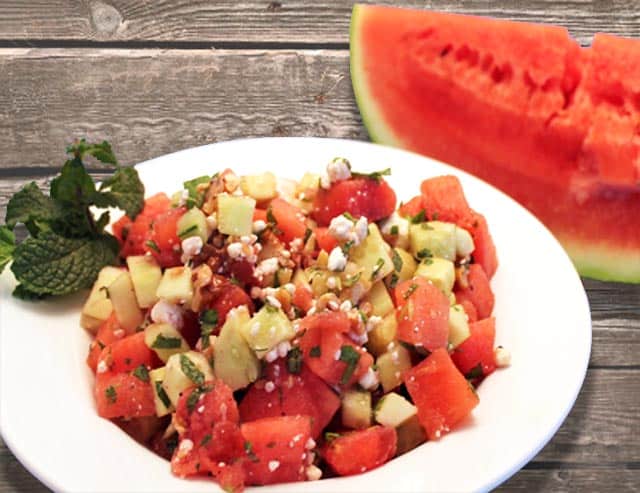 This salad is also packed with nutrients and can be an ideal stand alone meal or as an accompaniment to your lunch or dinner. The watermelon, long thought to be just full of lots of water and sugar, contains  lycopene which is  important to both cardiovascular and bone health while the cucumber is high in antioxidants, beneficial to the heart as well as reducing the risks of certain types of cancer. Now we can't leave out the walnuts which are also important to cardiovascular health or the goat cheese which is lower in fat and calories than cow's cheese as well as higher in protein and calcium.  So you see, not only is this salad delicious but good for you as well.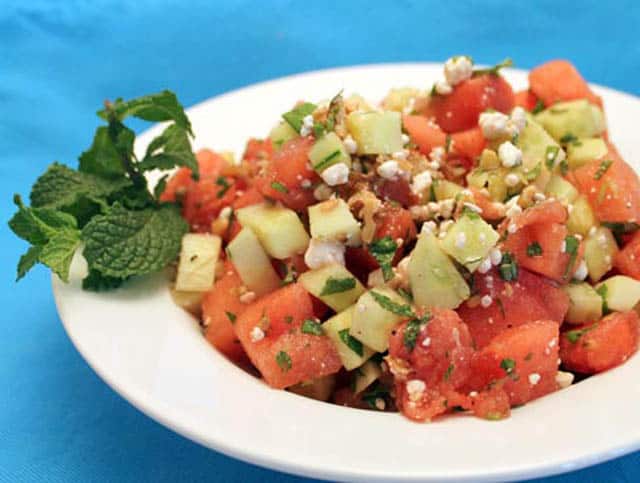 We have this as often as we can during the summer and, as an extra bonus, I get to use my fresh mint and basil from my garden. I like it both as a light lunch or with a fish or chicken dinner . And, when I go back for seconds, I don't even have to feel guilty.
Watermelon Cucumber Mint Salad
Ingredients:
2 cups watermelon, cubed
1 large cucumber, cubed
Small handful of fresh basil, chopped
3-4 leaves fresh mint, chopped
1/4 cup walnuts, chopped
1/4 cup goat cheese, crumbled
Raspberry vinaigrette or white balsamic vinaigrette ( mix 2 teaspoons light olive oil with 2 teaspoons white balsamic vinegar)
Directions:
Toss all ingredients together and chill for at least 30 minutes to let the flavors marry.
Serves 3-4.
DON'T MISS A RECIPE!