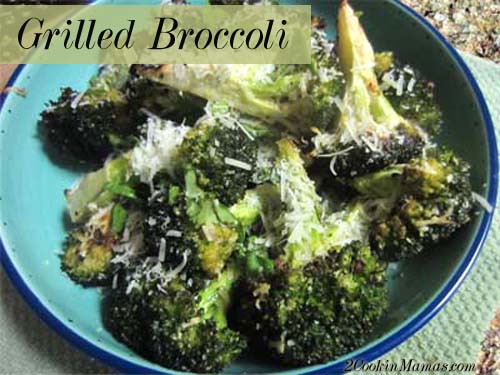 We barbecue out quite frequently, since the weather is perfect for it almost all year round, and when we do it is always nice to prepare the whole dinner on the grill without messing up the kitchen. So I am always looking for great recipes for veggies on the grill and found one that works great for broccoli.
I have also been getting some great deals on fresh broccoli this last month so that finding this recipe an even greater find!
Grilled Broccoli
Ingredients:
3 Tablespoons lemon juice
4 Tablespoons olive oil
¼ teaspoon salt
¼ teaspoon black pepper
2 cloves garlic, chopped
4 cups fresh broccoli
¾ cup Parmesan or Pecorino-Romano cheese, grated
Fresh basil leaves, chopped
Directions:
Combine lemon juice, olive oil, salt, pepper and garlic in a large ziploc bag. Cut broccoli into spears, keeping the cuts large, and place all in large ziploc bag with marinade. Let marinate in refrigerator for 30-60 minutes.
Just prior to cooking, add Parmesan cheese to bag and shake to coat well.
Preheat grill and grease a grill pan with nonstick spray such as Pam. Remove broccoli from bag and place on grill pan then set over indirect heat. Close grill and cook for 16-20 minutes, turning spears after 8-10 minutes.
Garnish with chopped basil leaves and additional cheese if desired.
Serves 4-6.
Try my Grilled Corn Salad with avocado, tomato, and bell pepper for another healthy side dish.
Find lots of healthy side dish recipes here on 2CM!