This deliciously rich Cinnamon Sugar Sour Cream Pound Cake recipe is a decadent treat for any occasion. It's the perfect addition to a cookout, just grill and serve with vanilla ice cream and berries on top, for a standout dessert.
My complimentary container of Chef Shamy Cinnamon Brown Sugar Honey Butter I received for CookoutWeek made this sour cream pound cake over-the-top delicious with a taste reminiscent of a fully loaded crumb cake rich with cinnamon.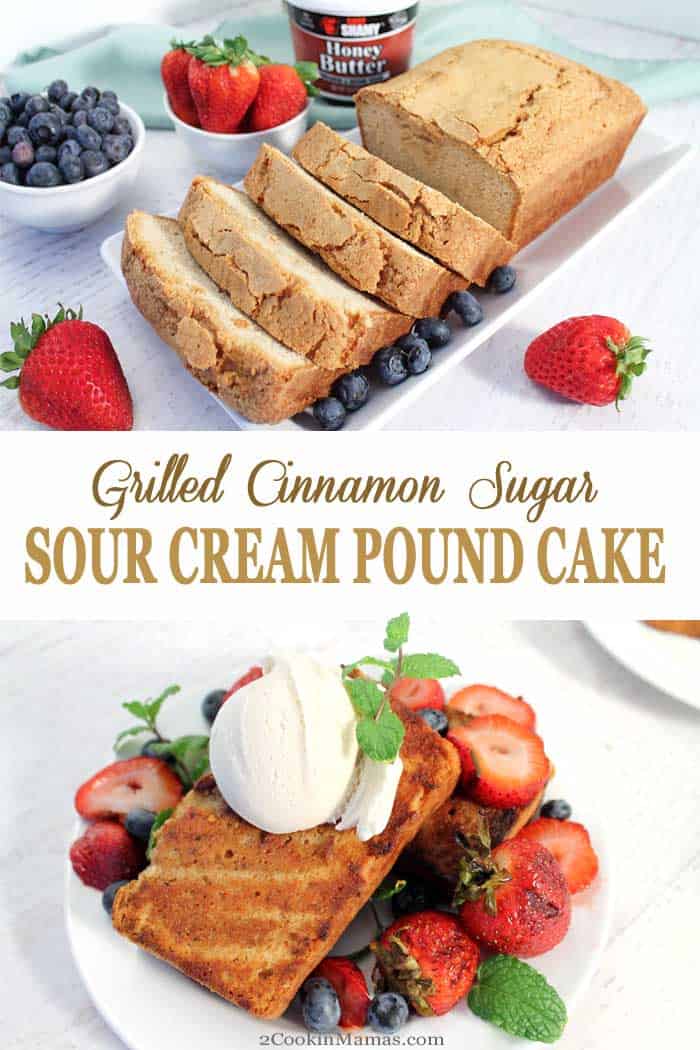 It's #CookoutWeek 2018 this week on the blog, with 50 of my favorite bloggers bringing you loads of deliciousness for your next cookout. And with 4th of July around the corner these recipes will definitely come in handy!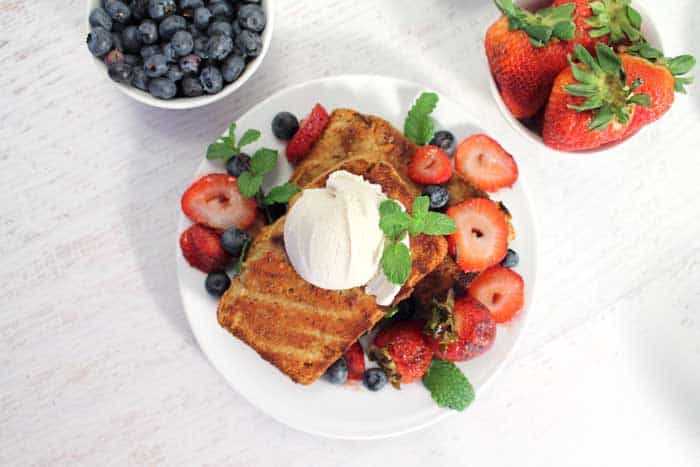 It was hard to decide what to make for this cookout roundup but when Chef Shamy provided me with a free sample of his Brown Sugar Cinnamon Honey Butter a light bulb went off in my head. I'm going to make a super tasty pound cake, with the flavor of cinnamon toast, that our guests can put all sorts of delicious toppings on. And, since the grill will be up and running for my 4th of July celebration, I want to try grilling it too.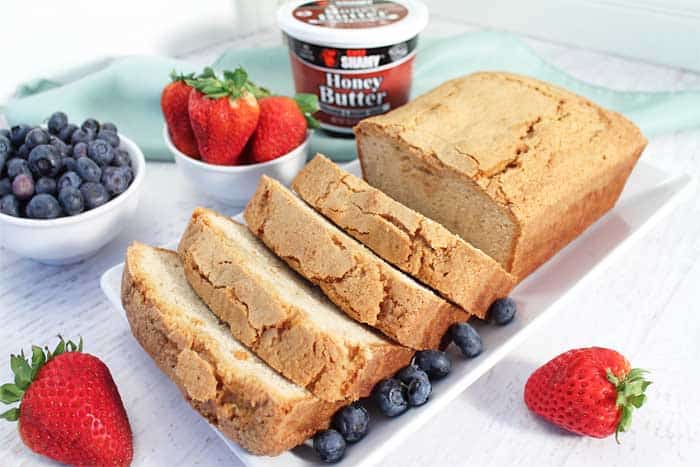 This might surprise you, being a food blogger and all, but I've only ever made one other pound cake before, my Apple Cider Pound Cake (which is great for the fall season btw) and one my sister made for me, a luscious Double Chocolate Pound Cake with a full pound of chocolate in it. Do I see drooling from all you chocolate lovers out there? So I was hoping that this recipe would come out just as good as my first shot.
I wanted to use Chef Shamy's butter and knew I would need to adjust a basic pound cake recipe for the added flavorings in his butter but just wait til I tell you how it came out. Yes, you're going to have to wait til I show you how to make it, then the big reveal. And, I have to say without a doubt, that I will be buying this butter again and again.
Just opening the lid and getting a whiff of all that brown sugar and cinnamon was enough to drive me crazy! It reminded me of that luscious cinnamon butter that they serve you at Road House with the bread and sweet potatoes. Oh lordy, just smelling it is going to have me gaining 10 pounds!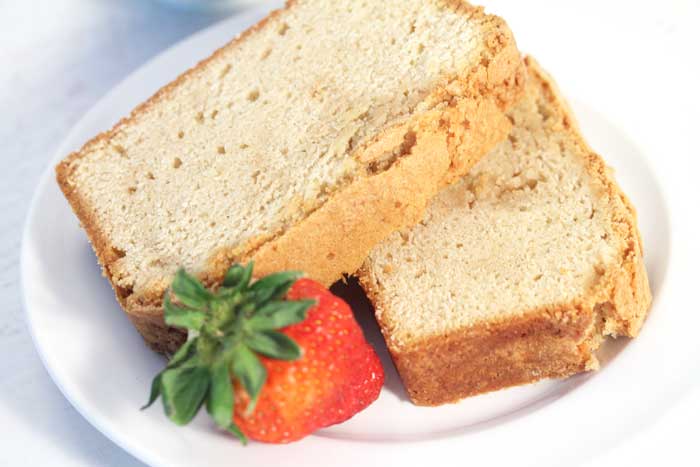 This butter is made with real butter and fresh honey with no added preservatives, fillers, emulsifiers or oils. It's also a clean label product that is both gluten-free and kosher. And the savory butters are totally keto friendly!
It also has an amazing shelf life! And this is new to me, you can actually keep butter on the counter! I ran a little Facebook survey to see who kept their butter in the fridge or on the counter and it pretty much came out 50-50. What do you do? Here's how long you can keep Chef Shamy butter around.
Frozen - good up to 2 years (and it can be refrozen and re-refrigerated!)
Good up to 1 year (unopened) in the refrigerator or 6 months after opening
Several weeks (after opening) on the counter, depending on the type of butter
Amazing!
This sour cream pound cake recipe has a few steps but it's worth every minute you take making it. The hardest part is creaming the butter for the recommended amount of time. And if you have a stand mixer it does all the work while you just stand there and wait for it to be done. How hard can that be? So here's how to throw it all together.
How to Make Cinnamon Sugar Sour Cream Pound Cake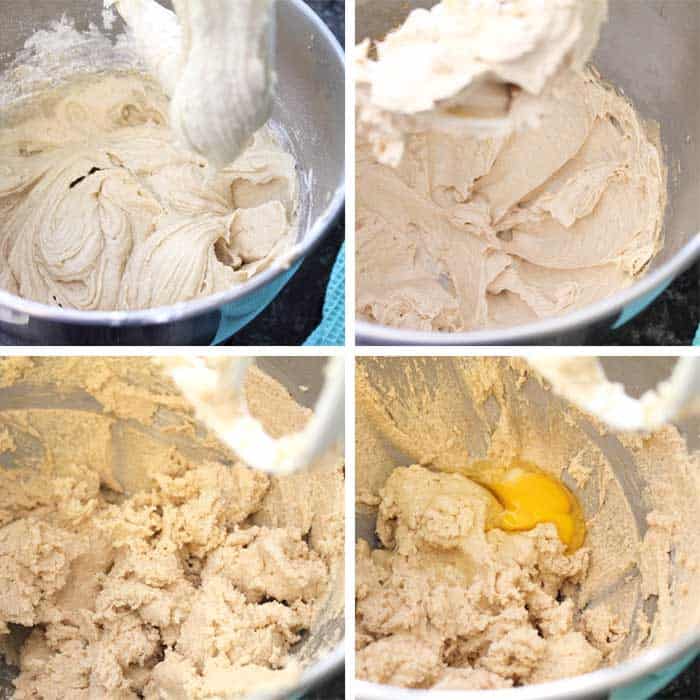 1. The most important step - Cream Chef Shamy's Cinnamon Brown Sugar Honey Butter for approximately 4-7 minutes, or until butter is creamy and turns a lighter color. This step incorporates air into the butter to help the pound cake to rise.
2. Add sugar beating until light and fluffy.
3. Add eggs, one at a time, just until yolk is incorporated.
4. Add sour cream and extracts alternately with flour and blend until just incorporated. Do not overmix as that can make the cake tough.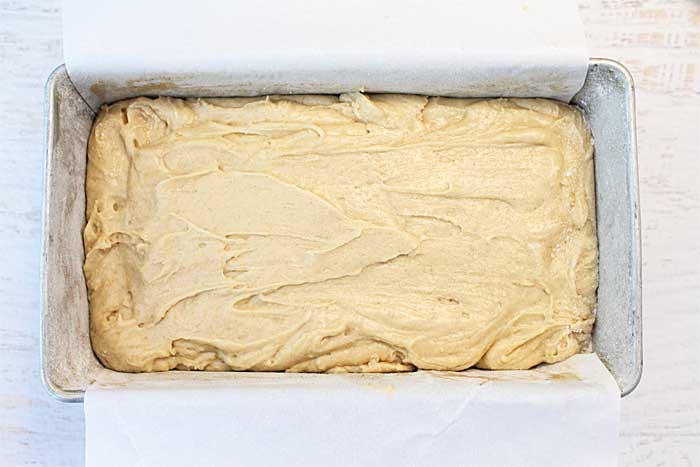 5. Pour into loaf pan that has been buttered and floured and lined with parchment that is also buttered and floured. This will help you get it out of the pan easily.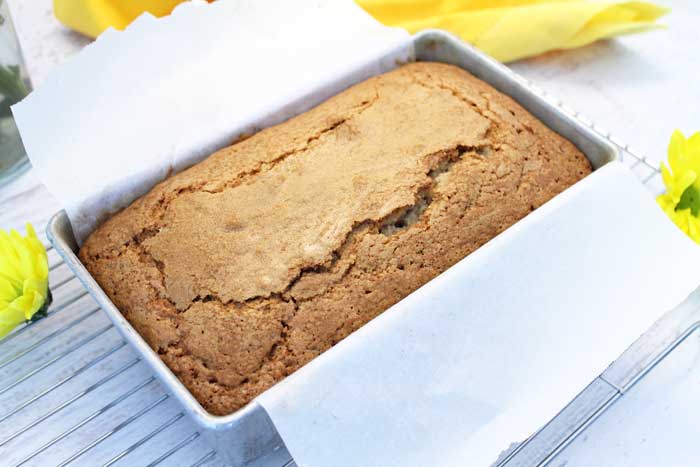 6. Bake at 325 degrees for 1 hour and 15 minutes or until toothpick inserted in center comes out clean. Let cool for 20 minutes on wire rack then remove from pan and let it cool the remainder of the way.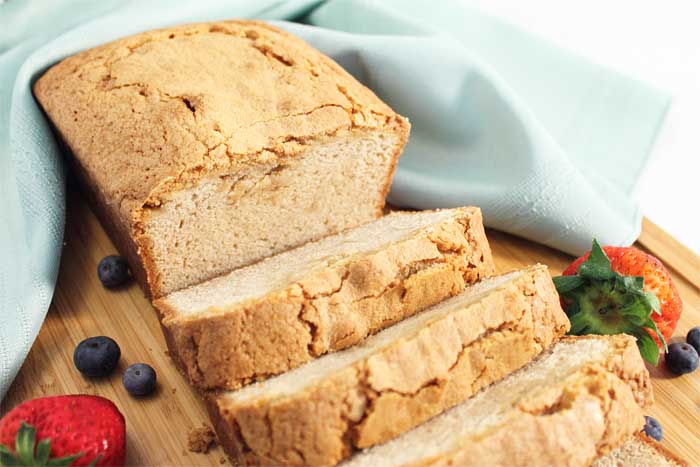 Now, the cake is delicious served as it is for breakfast, brunch, an afternoon snack or dessert, but it is even better when you take it one step further and grill it. I've never grilled a pound cake before so this was a new one for me but, I have to tell you, after tasting it I'll certainly be doing it more often now.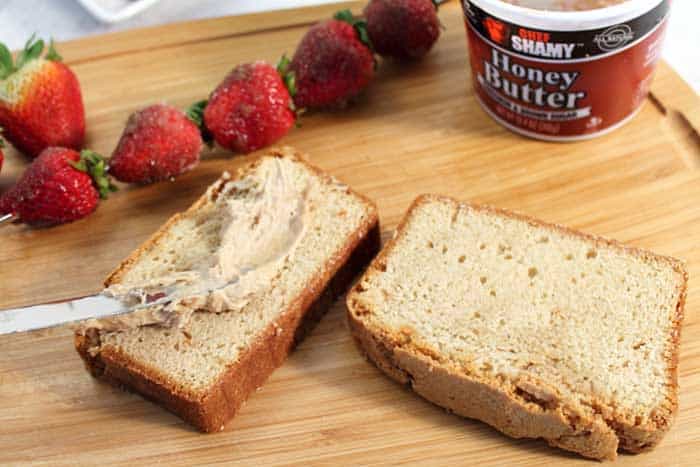 Just spread both sides of the bread with the Brown Sugar Cinnamon butter and grill over medium high heat for 2 minutes a side or until grill marks appear.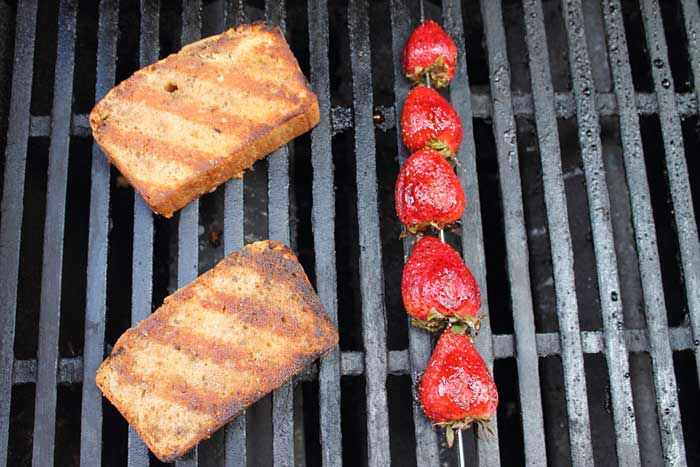 I also grilled up some balsamic sugared strawberries to go on the top. Find out how in the notes section of the recipe.
The bread comes out toasty with the most delicious crust on it. You'll swear you are eating a slice of coffee cake with loads of crumbs on top. I like mine with a scoop of ice cream, 'cause after all it is a cookout, and sliced strawberries and blueberries on the side. That adds a nice red, white and blue touch for all of you celebrating the 4th.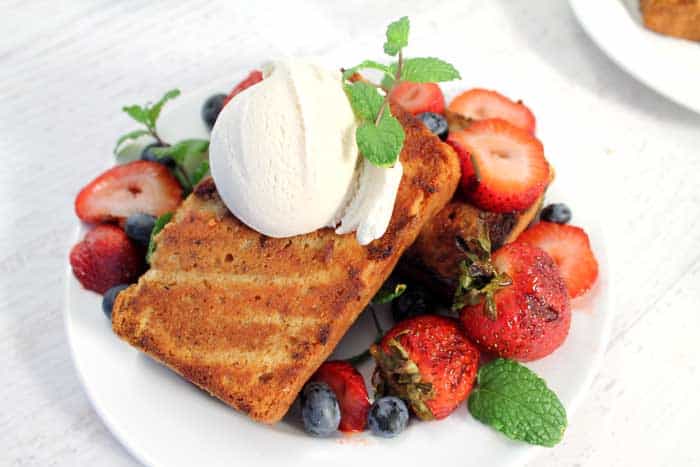 Now indulge in this utterly fantastic, over-the-top delicious Grilled Cinnamon Sugar Sour Cream Pound Cake. Now that's a mouthful!
Want to try this delicious Cinnamon Brown Sugar Honey Butter or one of Chef Shamy's other flavors? You can choose from Parmesan Basil Garlic Butter (recipe coming tomorrow), Asiago Cheese French Onion Butter, Vanilla Bean Honey Butter or Strawberry Honey Butter.
They all sound delicious, right? Use this discount code, 10BUTTER10, on Chef Shamy's website or wherever Chef Shamy butter is sold, for 10% off any flavor of butter from today through July 4.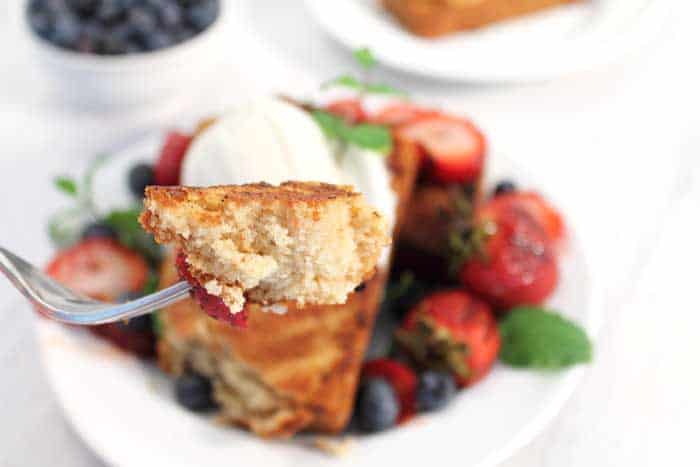 Now go make this deliciousness! That is, right after you enter our giveaway below for the most fantastic prize pack ever! And don't forget to check out more cookout ideas below from my blogger friends too!
For a quick and easy dessert, try my Cinnamon Mug Cake with rich almond flavor.
Find more ideas and inspiration for easy homemade desserts right here on 2CM!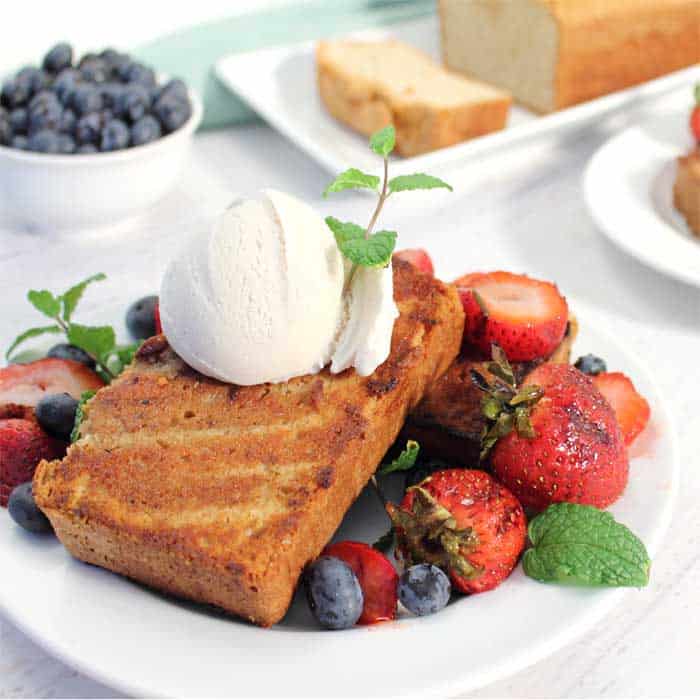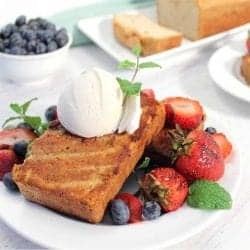 GRILLED CINNAMON SUGAR SOUR CREAM POUND CAKE
Deliciously rich Cinnamon Sugar Sour Cream Pound Cake is a decadent dessert for any occasion. Grill it for the perfect addition to your next cookout.

Print
Rate
Instructions
Preheat oven to 325 degrees. Butter and flour loaf pan. Line bottom and 2 long sides with one long piece of parchment paper. Butter and flour parchment paper. This parchment liner will help you remove pound cake from pan.

In a large bowl of an electric mixer, beat butter at medium speed until creamy and lighter in color. This usually takes between 4-7 minutes.

Continue beating while gradually adding sugar until light and fluffy.

Add eggs, one at a time, beating at low until just blended.

Mix flour with baking soda and salt.

Combine sour cream and vanilla extract.

Alternately add flour and sour cream-vanilla extract to butter-sugar mixture, mixing until just blended. DO NOT OVERMIX!

Pour into prepared pan.

Bake for 1 hour and 15 minutes or until toothpick in center comes out clean. Do not open oven prior to the 1 hour and 15 minutes.

Cool on wire rack for 20 minutes.

Run knife around ends of cake where there is no parchment paper before attempting to lift out. Lift out and place on wire racks to let cool completely.
To Grill:
Preheat grill to medium-high heat.

Thickly slice cooled pound cake. I like my slices to be about 1" thick.

Butter both sides of pound cake with Chef Shamy's butter.

Place on grill and grill 2 minutes per side, or until grill marks appear.

Remove from grill and immediately serve with a scoop of vanilla ice cream and sliced fruit on top.

You can also top with grilled strawberries. See easy recipe in notes section.
Notes
Grilled Strawberries: Wash strawberries and dip into a bowl of good quality balsamic vinegar. Immediately dip or roll in granulated sugar.
Skewer strawberries and grill on medium-high heat about 1-2 minutes. My berries were quite large so I actually grilled them 2 minutes per side right alongside the pound cake.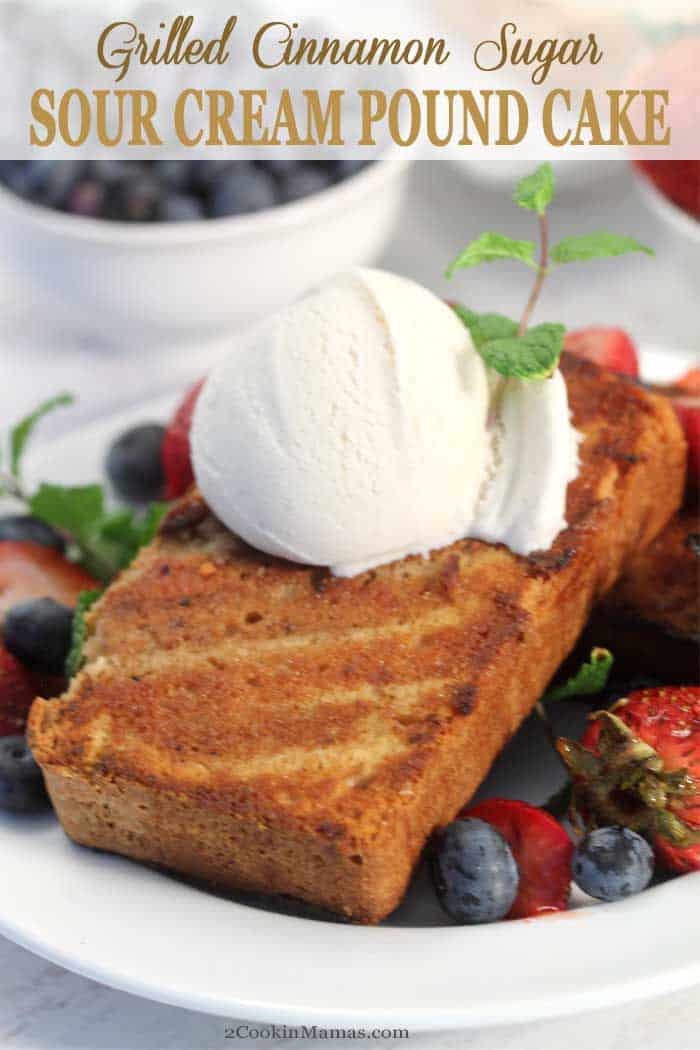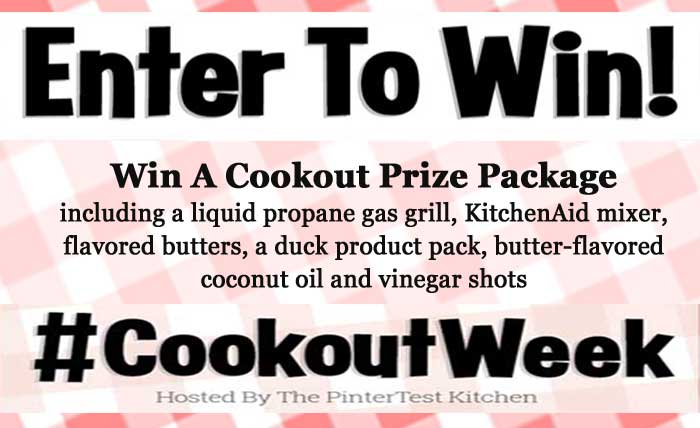 Loading InLinkz ...
DON'T MISS A RECIPE!
This post has been updated and was first published on October 23, 2018.