This Key Lime Cake is a moist, tangy yet sweet cake, easily made from scratch, whose four layers sandwich a sweet lemon curd filling then topped with seasonally flavored, creamy raspberry cream cheese frosting.
Its bright citrus flavors make this the perfect dessert to welcome spring, decorate for Easter, or serve as a refreshing treat for a hot summer day.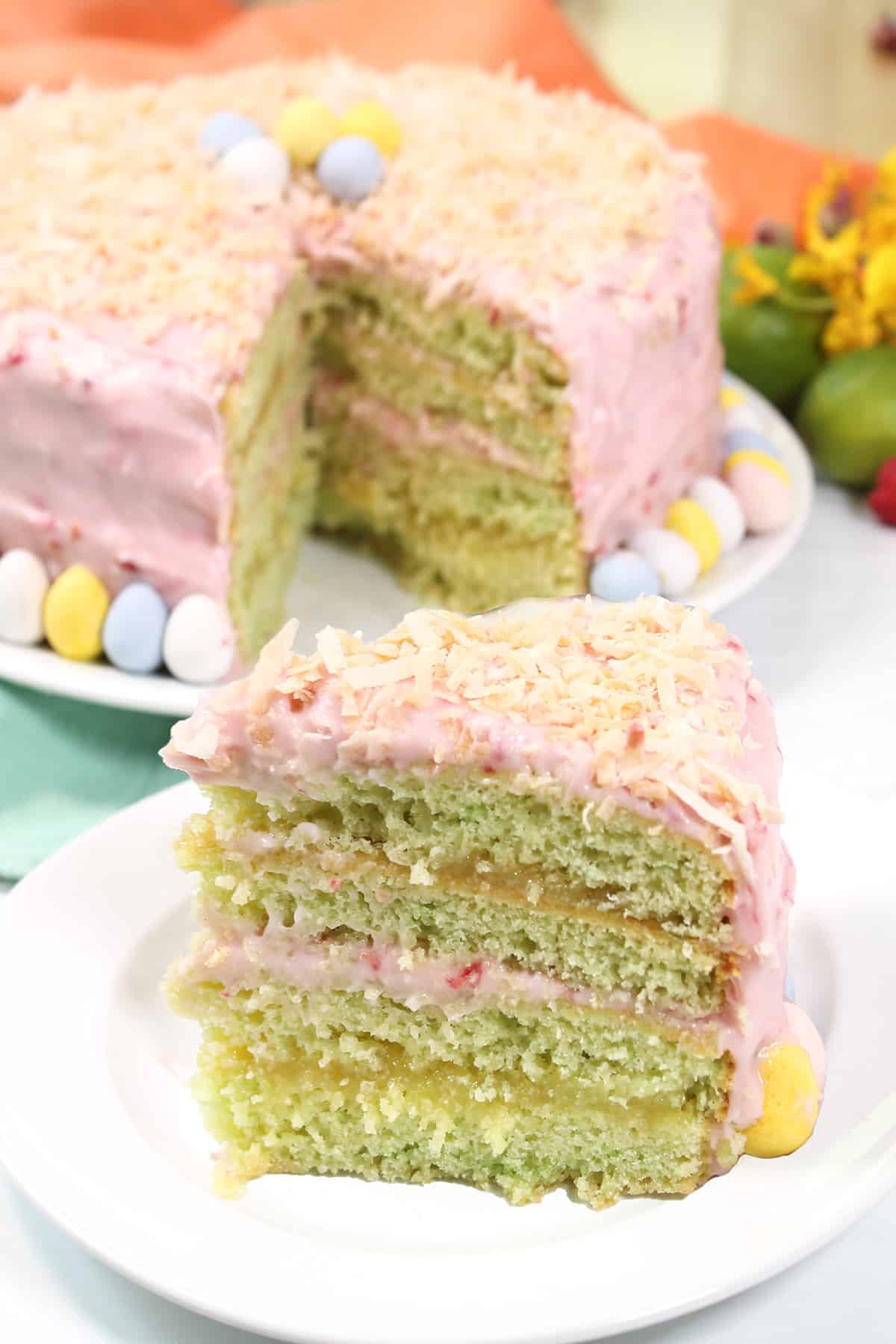 I love key limes! It may be because I lived in Florida for so many years and had my own tree in my backyard or maybe it's because they are so wonderfully zesty and refreshing. Whatever the reason, they shine in this key lime cake recipe with their tart flavor offset by a sweet cream cheese frosting.
I've used key limes in a wide variety of recipes from my authentic Key Lime Pie to a tropical Key Lime Pie Martini and even a zesty Key Lime Salsa for my Key West Burger and now this Key Lime Cake from scratch that anyone can make.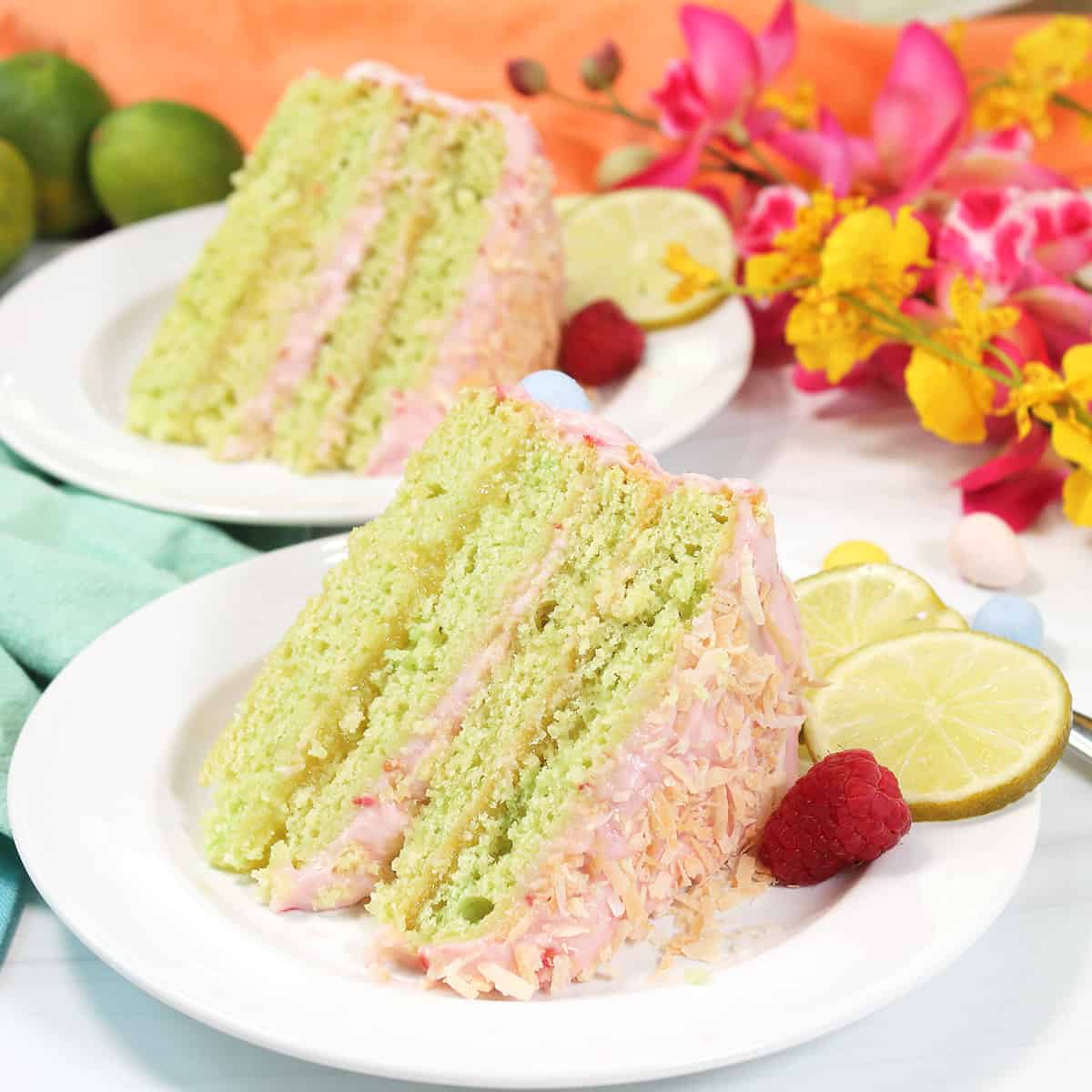 This easy key lime cake recipe, a winner of the Daily Meal Easter Baking Contest, may look intimidating, but it really is a very simple recipe. As long as you have a mixer and some measuring cups and spoons you'll have no problem baking this cake from scratch.
Lime vs Key Lime
You are probably wondering at this point what the distinction it between a regular Persian or Tahitian lime and a Key Lime aka Mexican or West Indian Lime. First, the key lime, grown in the Florida Keys and Mexico, is smaller about the size of a golf ball, and has a light yellow color as opposed to the Persian lime's green. They also have thinner skin and more seeds.
Secondly, the flavor of the key lime is tangier and sweeter than a Persian lime and has an incredible bouquet which makes them the perfect ingredient for refreshing desserts. Note that it will take a heck of a lot of these babies to get the juice you will need for your favorite desserts but it's totally worth it!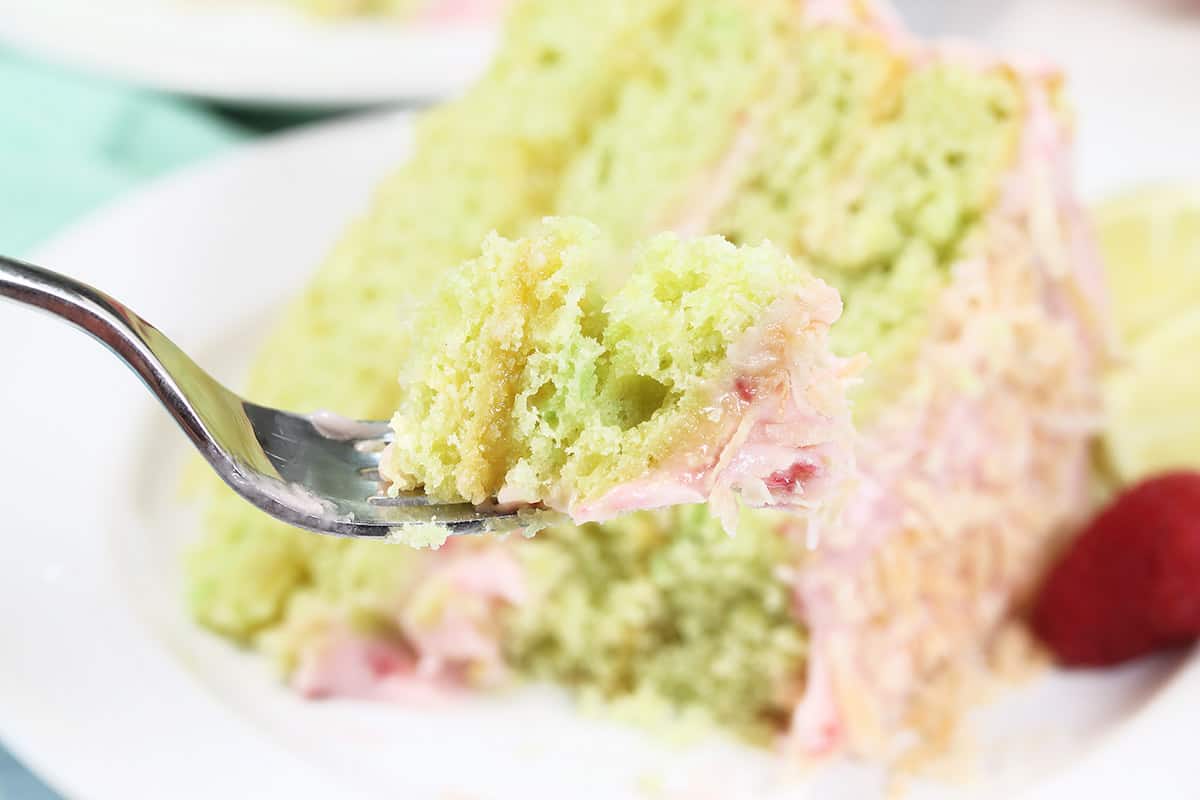 Why You'll Love This Key Lime Cake Recipe
Easy to make light & moist cake
A tart and refreshing key lime flavor
Colors of lime green, lemon yellow, and raspberry pink are like spring on a plate
A surprise flavor of creamy lemon curd that pairs perfectly with the lime
Raspberry cream cheese frosting has the perfect creamy sweetness to offset the lime and lemon flavors
Key Lime Cake Ingredients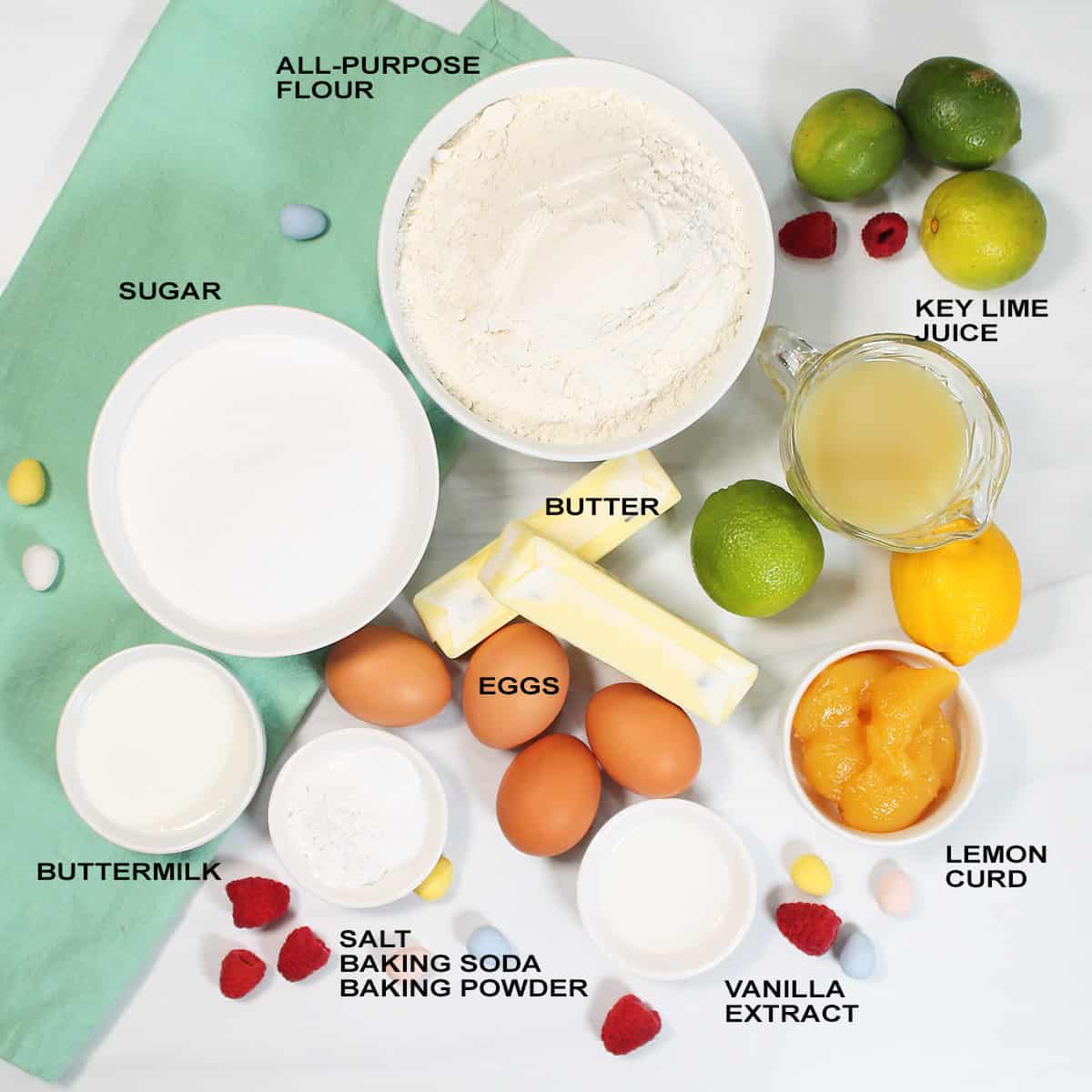 All-Purpose Flour – is the basis of the cake batter forming its structure
Baking Powder/Baking Soda – are the leavening agents to help the cake rise and give it a light, airy texture
Sugar – sweetens the cake and balances the tartness of the key lime flavor
Butter – creates a light and tender cake by helping to trap the steam in the batter allowing the cake to rise
Buttermilk – helps to tenderize the cake and keep it moist
Key Lime Juice – gives the cake its flavor. You can use Nellie's Key Lime Juice or squeeze your own. As a last resort, you can use regular limes in place of key limes but the result will not be as tangy.
Vanilla Extract – adds flavor as well as enhancing the flavors of the other ingredients. I like to use clear vanilla for this recipe to keep the color of the cake nice and bright but regular can also be used.
Salt – boosts all the flavors
Green Food Coloring – I used the coloring to make a more festive spring looking cake but you can omit it for a more yellow cake
Lemon Curd Filling - adds an extra citrusy surprise and yellow spring-time color to this green lime cake. And who doesn't love a cake with lemon curd filling, right?
Cream Cheese Frosting Ingredients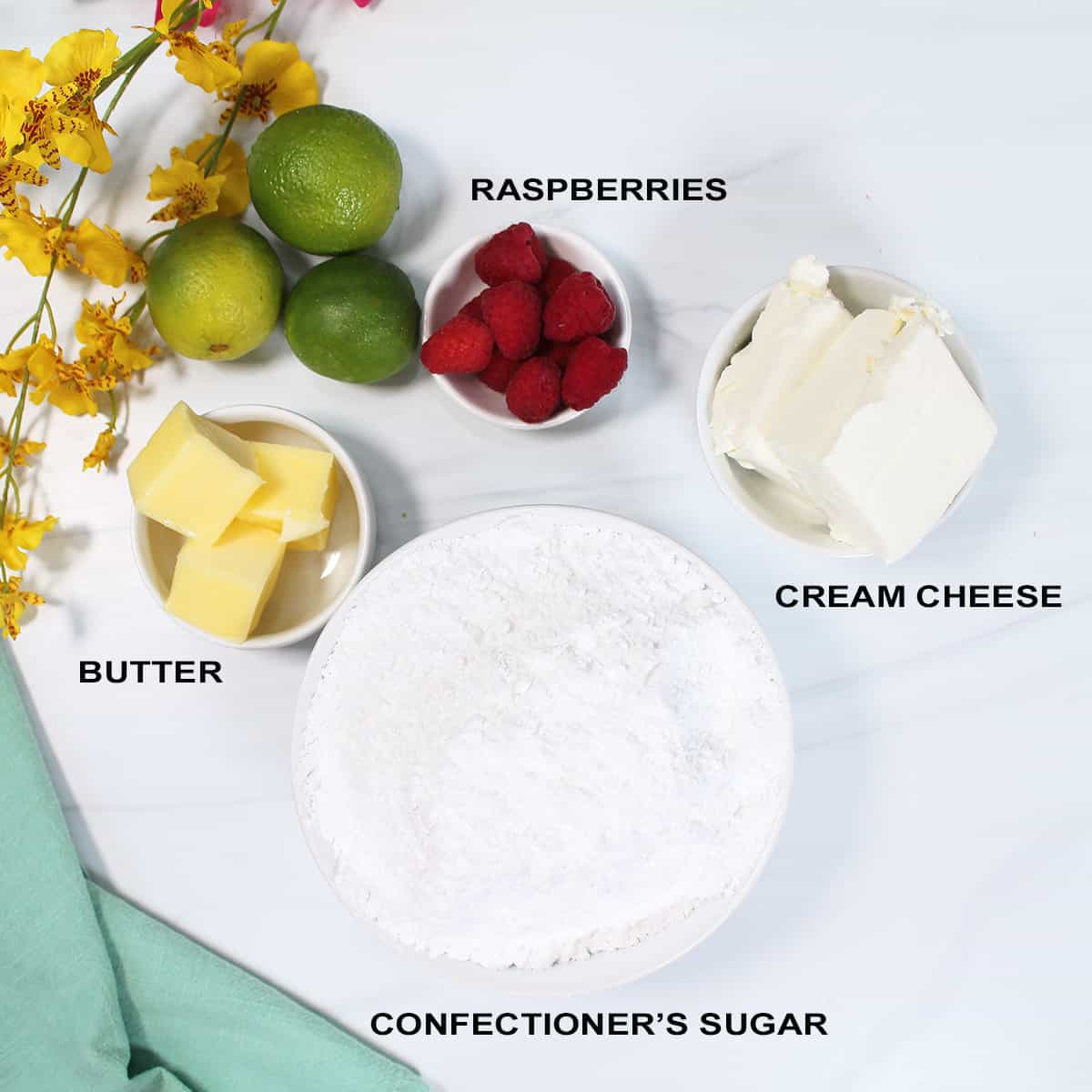 It is best to make the frosting just prior to icing the cake as it will thicken as it cools.
Butter – adding butter to the frosting makes it easier to spread. Make sure the butter is at room temperature to facilitate mixing
Cream Cheese – adds a rich, creamy tanginess to the frosting. Make sure that the cream cheese is at room temperature prior to beating.
Confectioner's Sugar – sweetens the frosting and takes a little edge off the tanginess
Raspberries – act as both a flavor and a coloring agent. The sweetness of the berries is the perfect foil to the key lime cake's tartness.
How to Make Key Lime Cake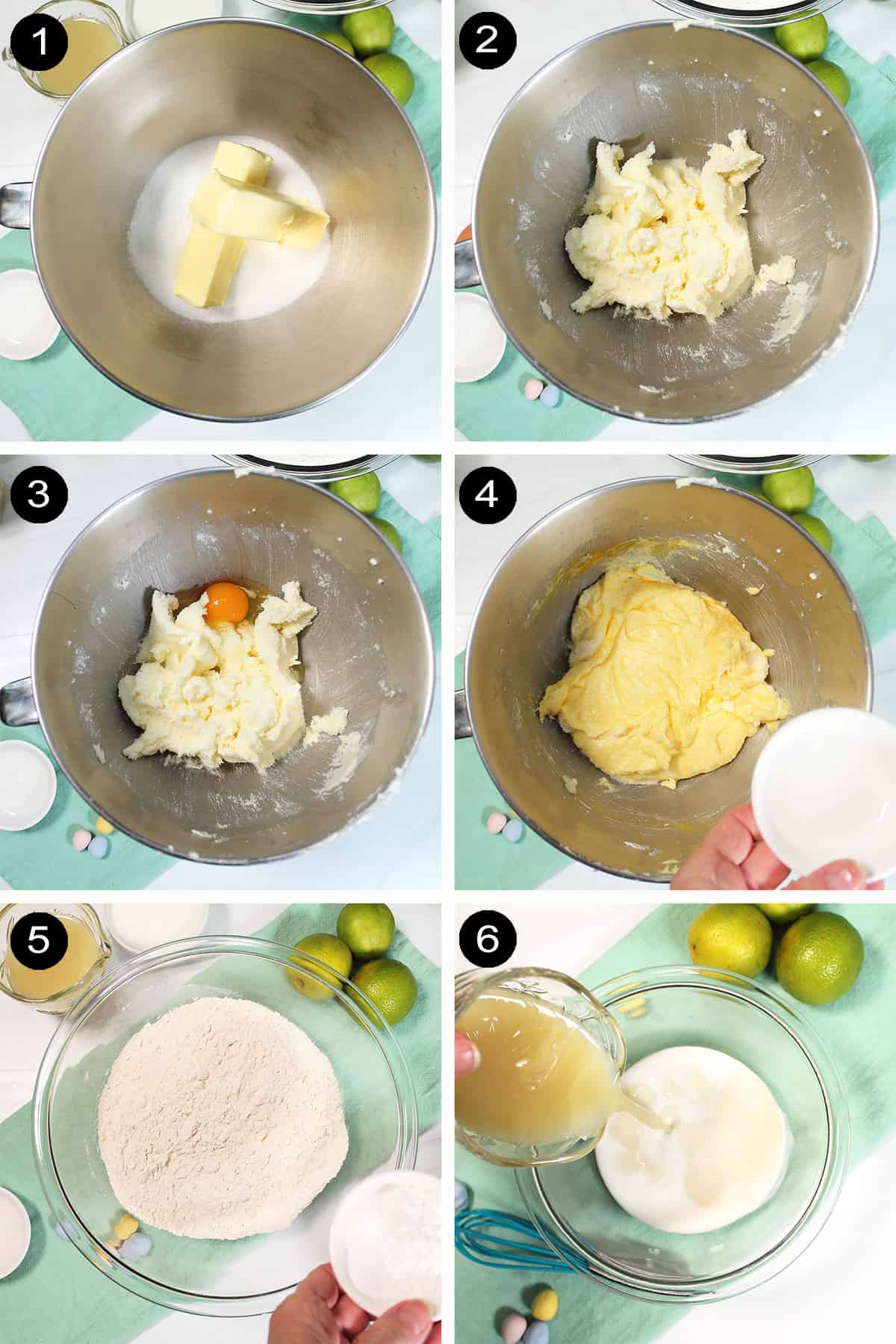 Place butter and sugar in a mixing bowl. Make sure that the butter is at room temperature. You can prepare ahead of time by leaving the butter on the counter one hour prior to starting the cake.
Cream the mixture until light and fluffy.
Add eggs one at a time, beating in-between.
Pour in clear vanilla extract. You can also use regular pure vanilla extract but your cake will be a different color.
Combine dry ingredients, flour, baking powder, baking soda, and salt.
Combine buttermilk and key lime juice. Stir.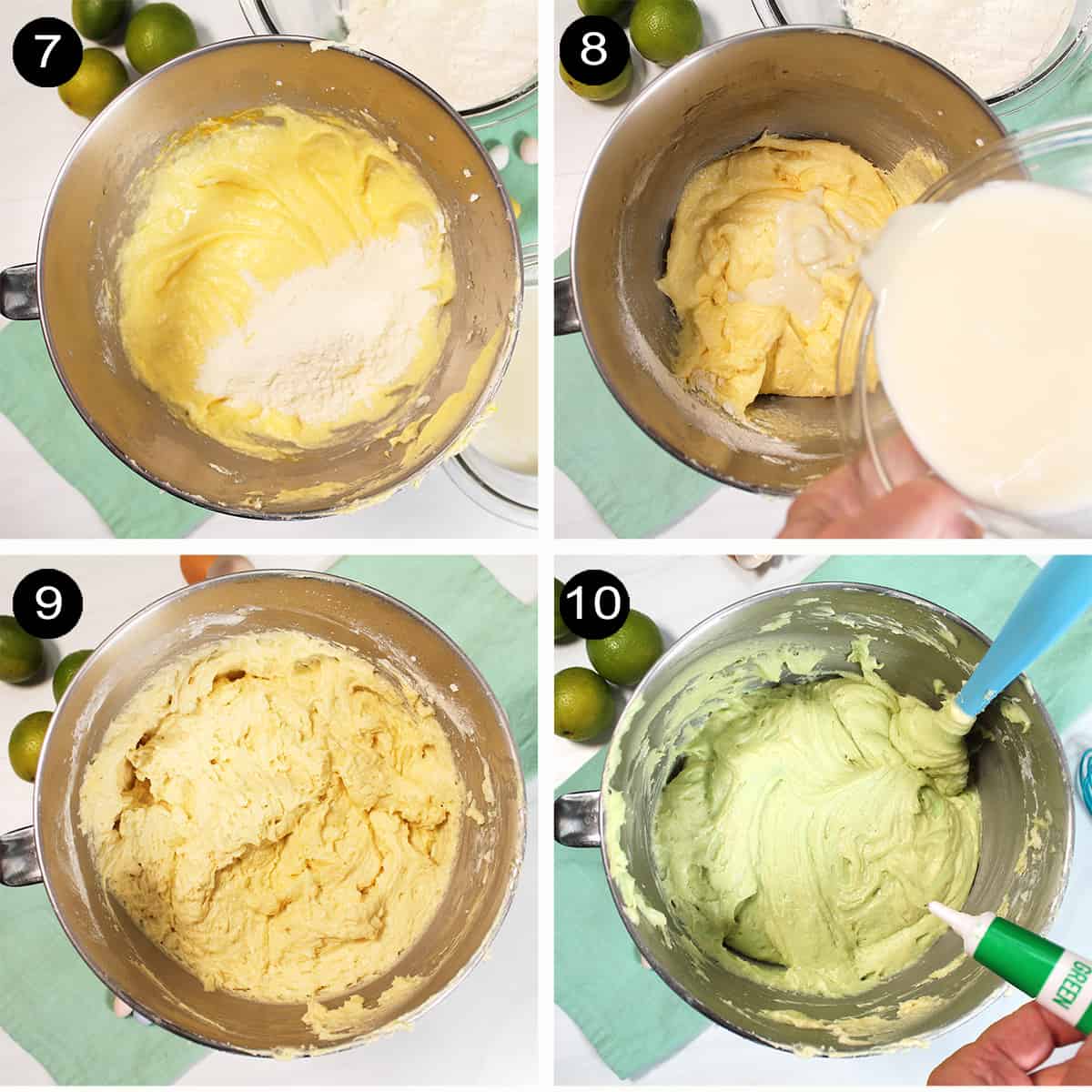 Add about ⅓rd of flour to the batter.
Now add about ⅓rd of the lime-buttermilk mixture to the batter. Continue alternating dry and liquid additions to the batter until gone.
Mix well. You will notice an immediate volume increase when mixed. DO NOT OVERMIX!
If you are coloring the batter, add green food coloring until your desired color is reached. I like to keep it on the pastel side.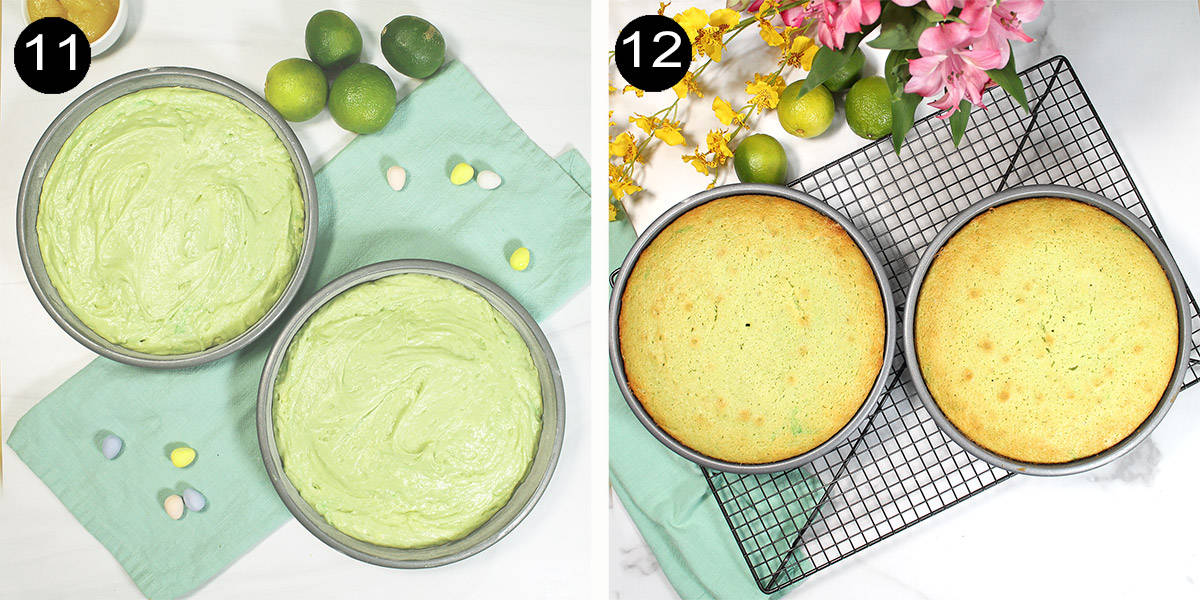 Divide batter evenly between two 9" greased and flour-dusted cake pans. You can also make in 3 8" cake pans for a beautiful 3-layer cake.
Bake for about 35 minutes then remove to wire rack to cool, in pans, for 10 minutes.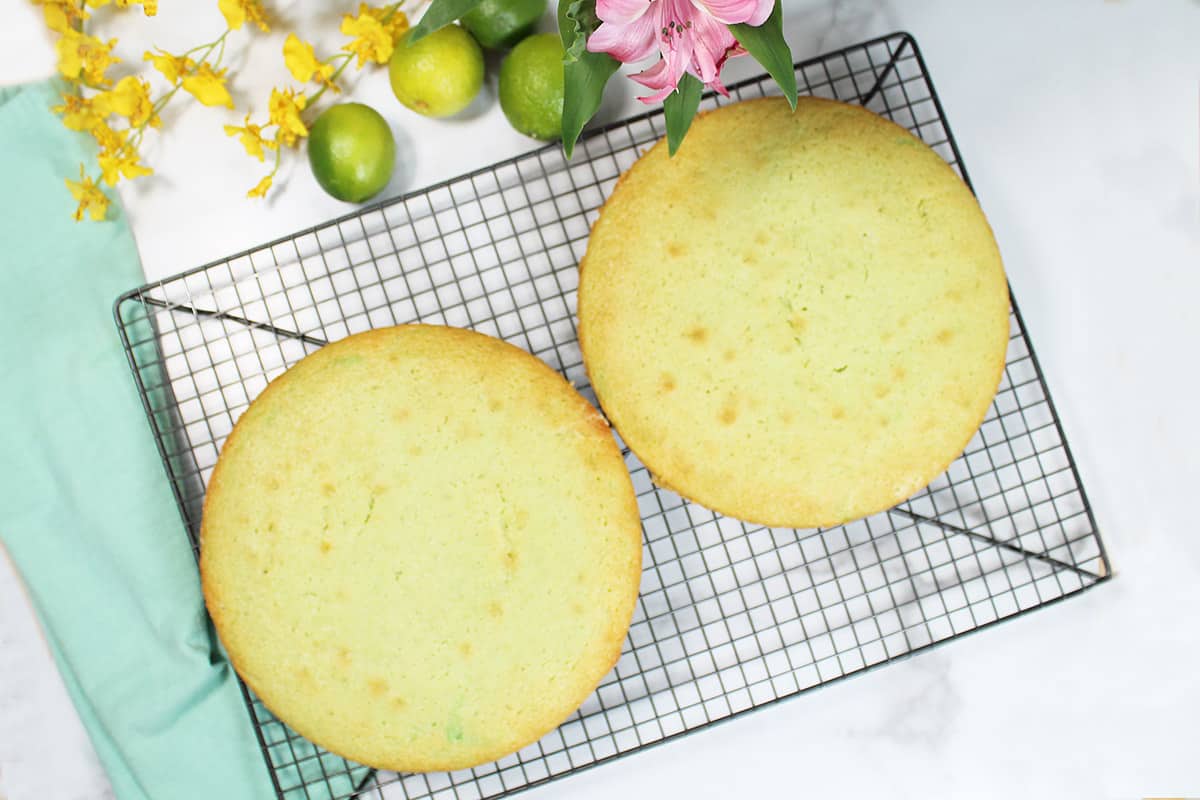 Remove from cake pans and cool completely on a wire rack.
How to Make Raspberry Frosting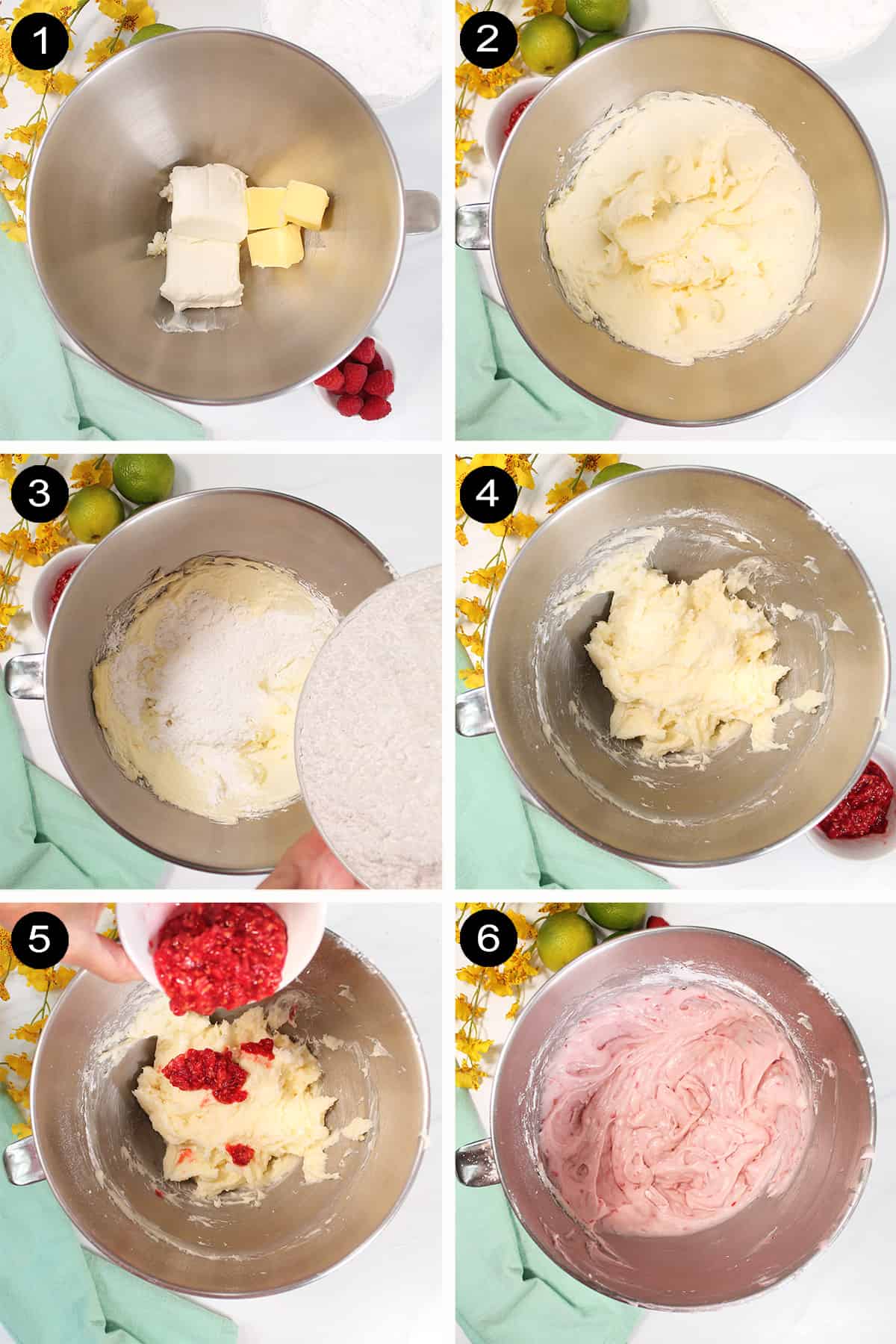 Place butter and cream cheese in a large mixing bowl. Make sure both the cream cheese and the butter are at room temperature.
Beat until the mixture is light and creamy.
Lower the speed on the mixer and slowly add the confectioner's sugar.
Beat until well incorporated.
Add crushed raspberries.
Blend well. Isn't that color gorgeous?!
How to Cut A Layer Cake in Half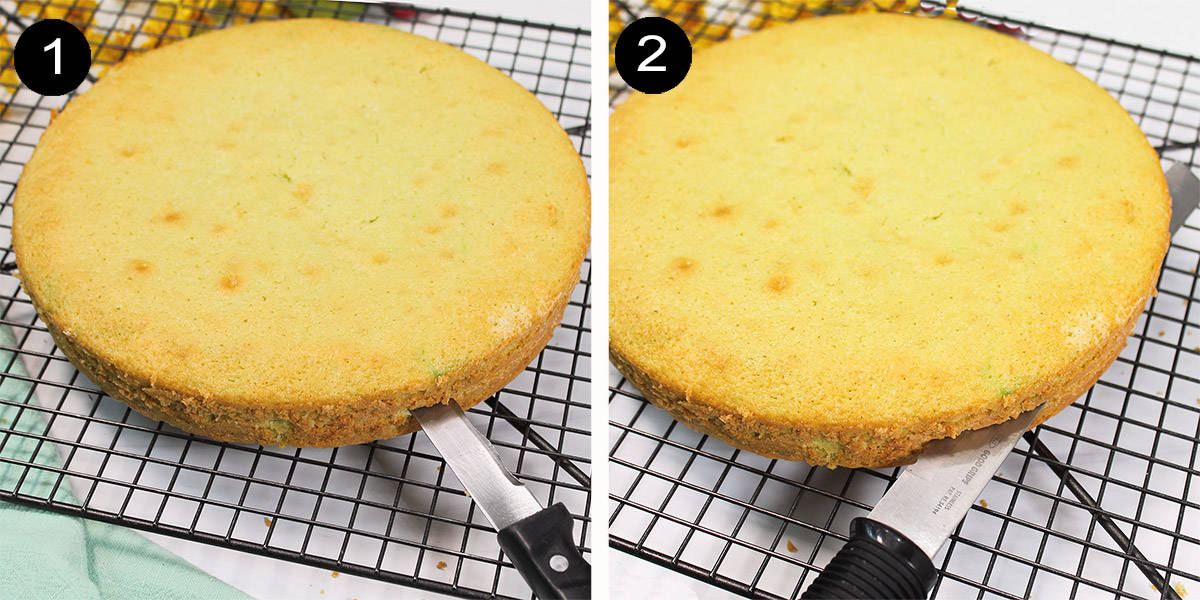 Take one of the layers and, using a small paring knife, press into cake where you want to halve it. Pull straight out and place the knife in again just a short way from the first cut. It will be like placing a dotted line around the cake.
Now grab a serrated knife, like a bread knife, and cut through along the dotted line. Repeat with the other layer. Voila! Now you have four layers and are ready to assemble.
TIP: Cool the cake layers in the refrigerator for at least 2-4 hours or overnight. It is much easier to work with a cool cake than a soft, warm cake.
Now gather up the filling and frosting and you're ready to assemble this key lime cake with cream cheese frosting.
Assembling Key Lime Cake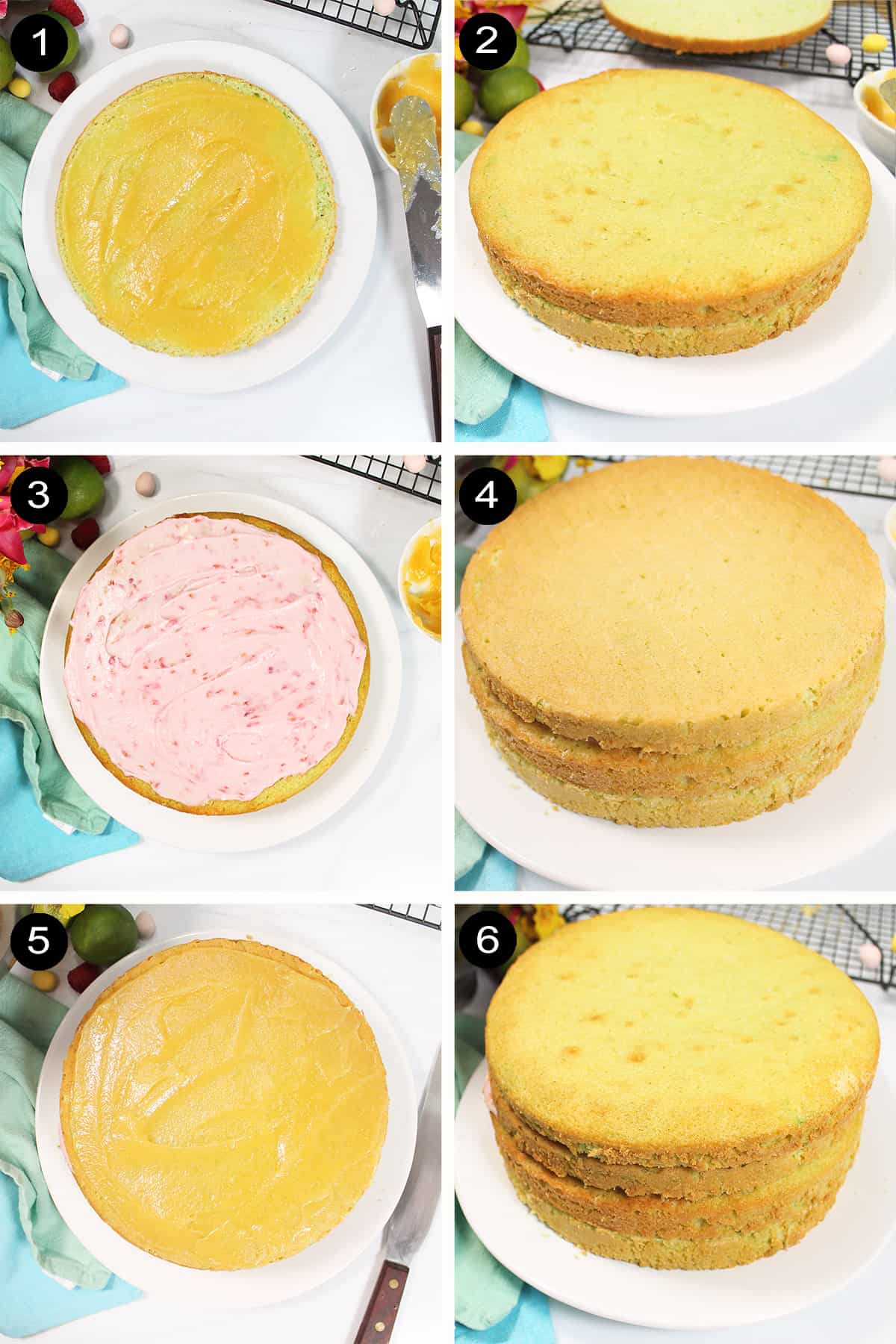 Lay first layer on cake plate. Brush off any crumbs. Spread half of the lemon curd filling on top stopping about ¼"-½" from the edge. This will keep the filling from squeezing out the sides and make final frosting easier.
Place a layer on top of the lemon filling.
Spread raspberry cream cheese frosting on top of this layer. Again keeping it from getting too close to the edge.
Lay the third layer on top of the frosting.
Spread with remaining lemon curd.
Carefully place the final layer on top, with the smooth baked top facing up. Make sure all layers are aligned for a beautiful straight edge.
Decorating Cake
When it comes to decorating, anything goes. Decorate this cake with raspberry cream cheese frosting for Easter with colored candy eggs and toasted coconut or go all light and springy with fresh raspberries and mint leaves or edible flowers.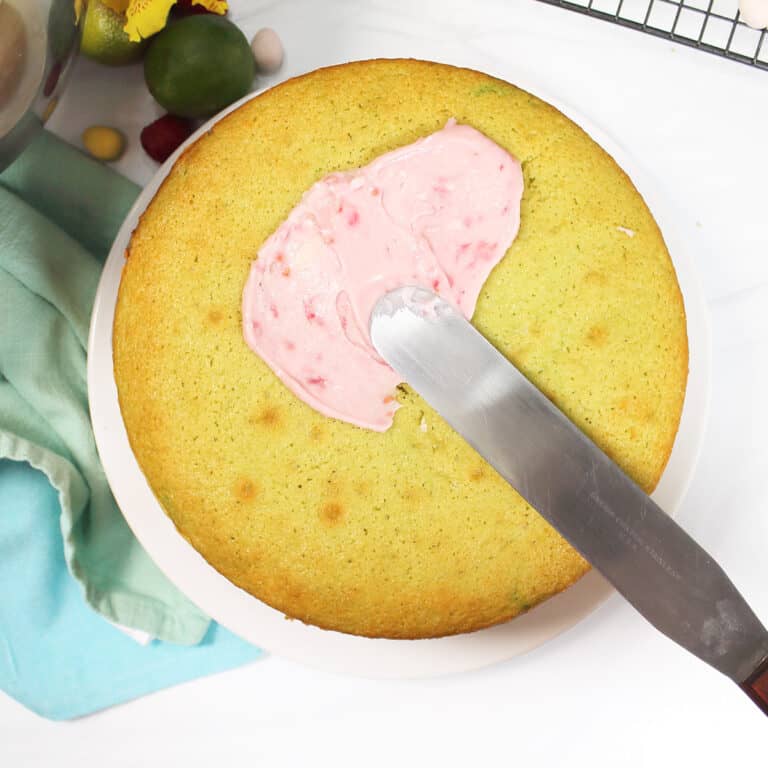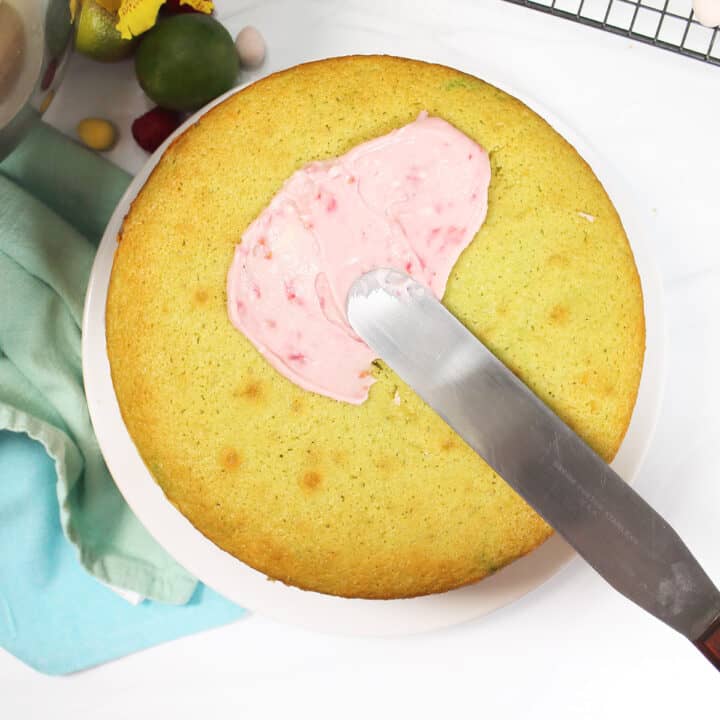 For summer go for easy with a sprinkling of grated lime zest and some sliced limes or pipe little mounds of icing or whipped cream around the edge and top with half slices of lime.
Variations
You can make this key lime cake in either two 9" cake pans or three 8" cake pans. You can also leave the 9" layers as-is for a large 2-layer cake.
In place of the raspberry cream cheese frosting try a delicious strawberry buttercream frosting or opt for your favorite plain buttercream frosting, it's all good!
Cake decorations can range from lime slices to daisies and fresh raspberries.
Storing & Freezing
This cake will last 3-4 days on the counter and up to one week in the refrigerator.
You can also freeze this cake for 2-3 months. I like to slice mine and freeze them individually for that last-minute "gotta have a sweet" craving.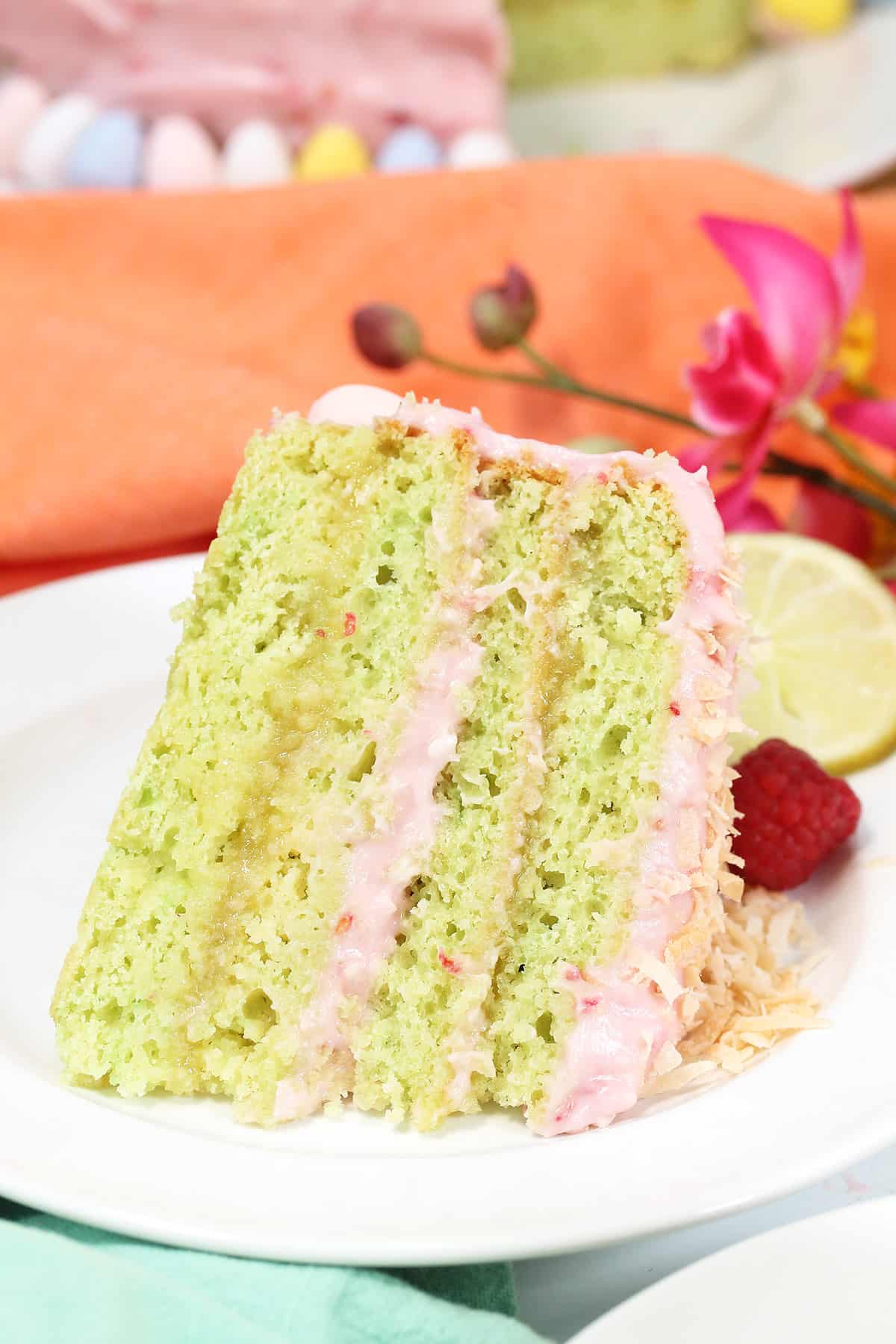 More Key Lime Recipes
Key Lime Cookies are soft and buttery with a zesty, melt-in-your-mouth flavor that will have you reaching for more!
Tropical Key Lime Colada is a Florida Keys take on the Pina Colada. An easy-to-make frozen treat with the tartness of key limes, the sweetness of pineapple, and the creaminess of coconut.
Key Lime White Chocolate Bread is a moist, tender, pound-cake-like bread with a zesty key lime flavor. It's filled with bits of white chocolate and chunks of salty macadamia nuts then covered with a glaze of white chocolate. Are you drooling yet?
Key Lime Cupcakes from House of Nash Eats are delicious and moist cupcakes topped with a key lime buttercream frosting and graham cracker crumbs!
Chocolate Covered Key Lime Bites are bite-sized chocolate-covered pieces of key lime pie. A little bit tart, a little bit sweet and perfect for summer.
Find lots of easy holiday dessert recipes here on 2CM!
LOVE QUICK & EASY RECIPES? FOLLOW ME ON INSTAGRAM, FACEBOOK, & PINTEREST FOR ALL THE LATEST RECIPE INSPIRATION! PLUS JOIN MY EMAIL LIST AND RECEIVE A FREE E-BOOK.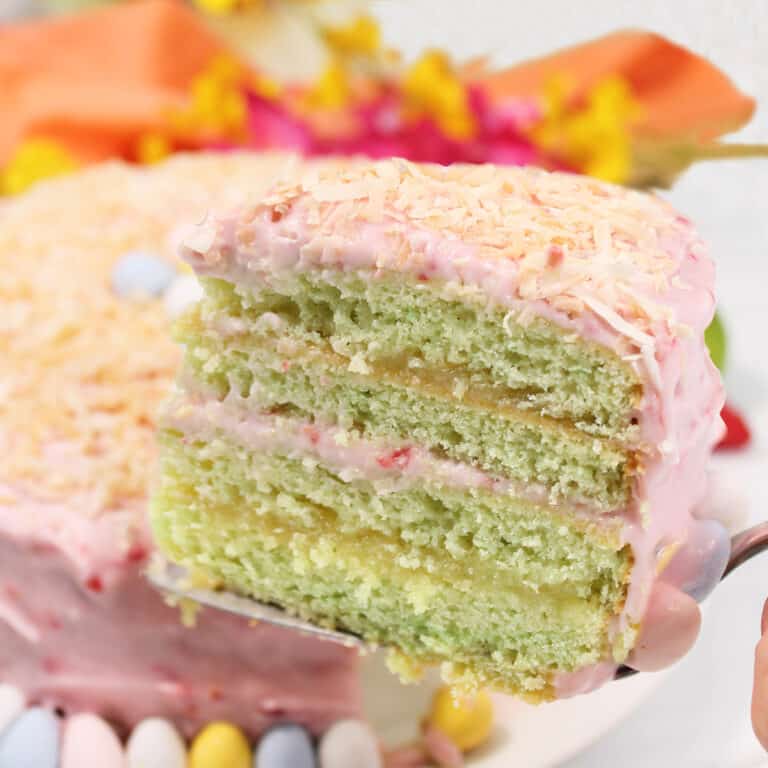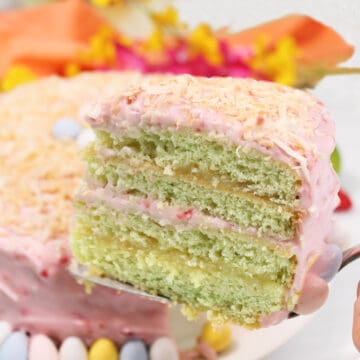 Key Lime Cake with Raspberry Cream Cheese Frosting
Moist and tangy Key Lime Cake is filled with sweet lemon curd then topped with a rich raspberry cream cheese frosting. An Easter, spring and summer dessert.
Print
Rate
Ingredients
Cake
3

cups

all-purpose flour

3

teaspoons

baking powder

½

teaspoon

baking soda

½

teaspoon

salt

2

cups

sugar

1

cup

unsalted butter

room temperature

4

large eggs

2

teaspoons

clear vanilla extract

⅔

cup

key lime juice

⅓

cup

buttermilk

green food coloring

1

jar

lemon curd

½

cup

flaked coconut

toasted

Garnishes: toasted coconut, small colorful Easter egg candies, lime slices
Raspberry Cream Cheese Frosting
⅜

cup

butter

room temperature

8

oz.

cream cheese,

softened

4

cups

confectioner's sugar

3

Tablespoons

crushed raspberries
Instructions
Preheat oven to 325 degrees. Grease & flour two 9-inch cake pans.

Toast coconut by spreading out on cookie sheet and baking in oven for 4-5 minutes. Watch carefully as it toasts very quickly. Remove from oven and let cool.

Turn oven up to 350 degrees.

In a medium bowl, combine flour, baking powder, baking soda, and salt. Set aside.

In a large mixing bowl, cream sugar and butter until smooth and creamy.

Add eggs, one at a time, and continue mixing until well incorporated. Add vanilla and blend.

Mix together lime juice & buttermilk.

Alternately add flour and lime-buttermilk mixture to batter. Mix until well blended.

Color with a few drops of green food coloring to reach a pastel green color.

Divide batter between cake pans. Tap cake pans lightly on table to remove air bubbles and level top.

Bake for 35-40 minutes. Check after 30 minutes to see if top is browning too quickly. If necessary, tent with aluminum foil for the remaining time. Cake is done when it springs back at a light touch and a toothpick inserted in the center comes out clean.

Place cake pans on wire racks and let cool for 10 minutes. Run knife lightly around the edge then carefully turn cakes out onto wire racks to finish cooling.

While cake is cooling prepare frosting.
Raspberry Cream Cheese Frosting
In small mixing bowl, whip butter and cream cheese together until smooth.

Lower mixer speed and continue to mix while slowly adding confectioner's sugar.

Stir in crushed raspberries. Store the frosting in the refrigerator until ready to use. Take out 30 minutes prior to frosting the cake and stir until smooth.
To Assemble
For a 4-layer cake, cut each cake round horizontally to make 2 layers. To make cutting easier, place the cake in the refrigerator for several hours. Then, using a pairing knife, make slices in a dotted line pattern around the center of the layer where you will want to cut. Take a serrated knife (like a bread knife) and cut through the center of the layer using the knife slices as a guide.

Place 1 layer on the bottom of a cake plate. Spread with lemon curd.

Top with another layer and spread with a portion of the raspberry frosting.

Top with another layer and spread with lemon curd then place the final layer on top, cut side down. This will leave you a smooth top to frost.

Frost cake on top and sides. Sprinkle top with toasted coconut. Place small candy eggs around the base. Then top with several more candy eggs on top.

Store in refrigerator. Take out about 30 minutes prior to serving.
Nutrition
Calories:
588
kcal
|
Carbohydrates:
87
g
|
Protein:
6
g
|
Fat:
25
g
|
Saturated Fat:
16
g
|
Polyunsaturated Fat:
1
g
|
Monounsaturated Fat:
6
g
|
Trans Fat:
1
g
|
Cholesterol:
97
mg
|
Sodium:
267
mg
|
Potassium:
179
mg
|
Fiber:
1
g
|
Sugar:
66
g
|
Vitamin A:
746
IU
|
Vitamin C:
4
mg
|
Calcium:
70
mg
|
Iron:
2
mg
This post has been updated with new photos, step-by-step instructions, and an improved recipe. It was first published on April 3, 2015.