This delicious and easy-to-make strawberry simple syrup naturally sweetens drinks, desserts, and homemade toppings. It's sweet and tangy and makes the perfect addition to a variety of dishes, from cocktails to pancakes to ice cream and more.
With only three ingredients and just minutes to make, a bunch of fresh strawberries turns into a versatile simple syrup that's a must-have for any kitchen.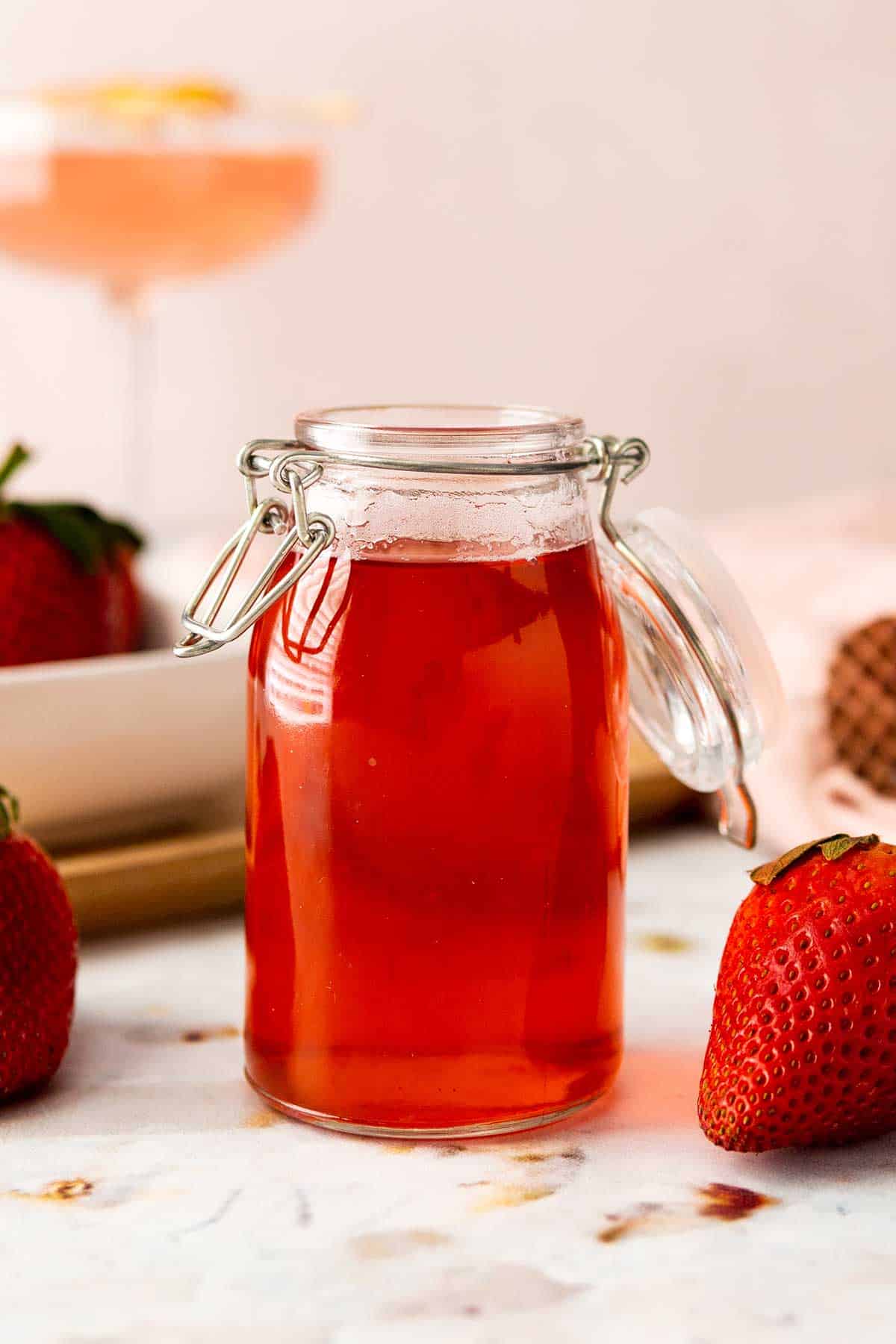 Refreshing Strawberry Drink Recipes
It's so much fun to make strawberry syrup for drinks because there are so many different ways to use it. It's always sweet and fruity without having any unnatural aftertaste. You can use strawberry syrup for alcoholic drinks or mocktails.
My two favorite drinks to make with homemade strawberry syrup are Strawberry Mint Water and Strawberry Thyme Lemonade.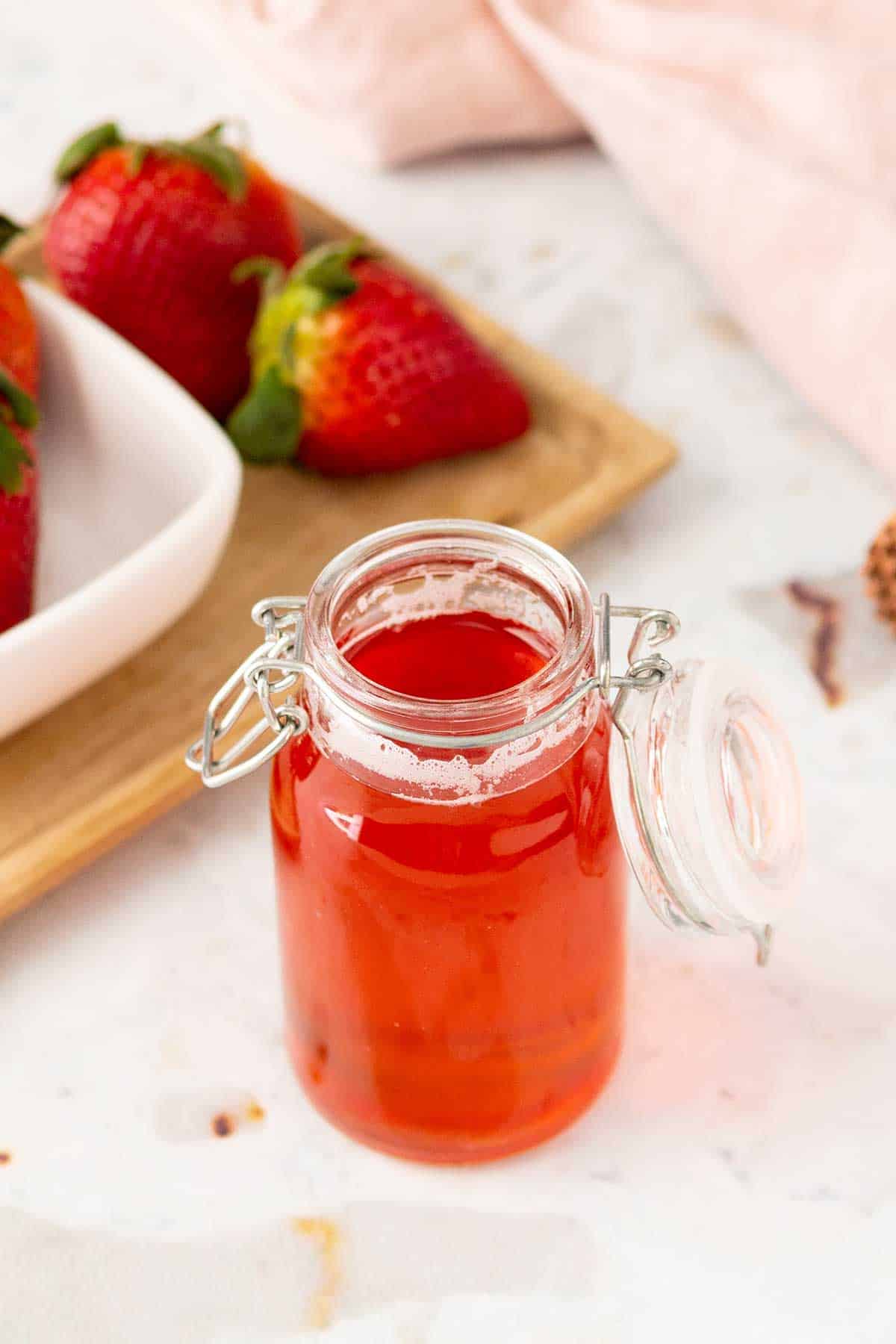 And, not to forget, this simple syrup is great for more than just drinks. Use it to flavor and sweeten everything from cakes to frostings, and pancakes to snowcones.
What is simple syrup?
Simple syrup is a sweetener that is commonly used in cocktails, baking, and other recipes. It is made by dissolving equal parts of granulated sugar and water over heat until the sugar is fully dissolved. The resulting syrup is a clear liquid with a sweet taste and a syrupy texture.
You can also customize simple syrup by adding different flavors or spices. For example, you could infuse the syrup with fruit, fresh herbs like mint or rosemary, or add a cinnamon stick or vanilla bean to give it a warm, comforting flavor.
Overall, simple syrup is a useful ingredient to have on hand in the kitchen, and it's easy to make at home with just a few basic ingredients.
Why You'll Love Homemade Strawberry Syrup
This strawberry syrup is the key ingredient for a lot of your favorite spring or summer drinks. It's one of the best ways to make lemonade, cocktails, and even fruity tea.
You can make strawberry syrup with frozen strawberries or fresh ones. It tastes delicious either way! With just three ingredients, you'll never forget how to make it.
Strawberry Syrup Ingredients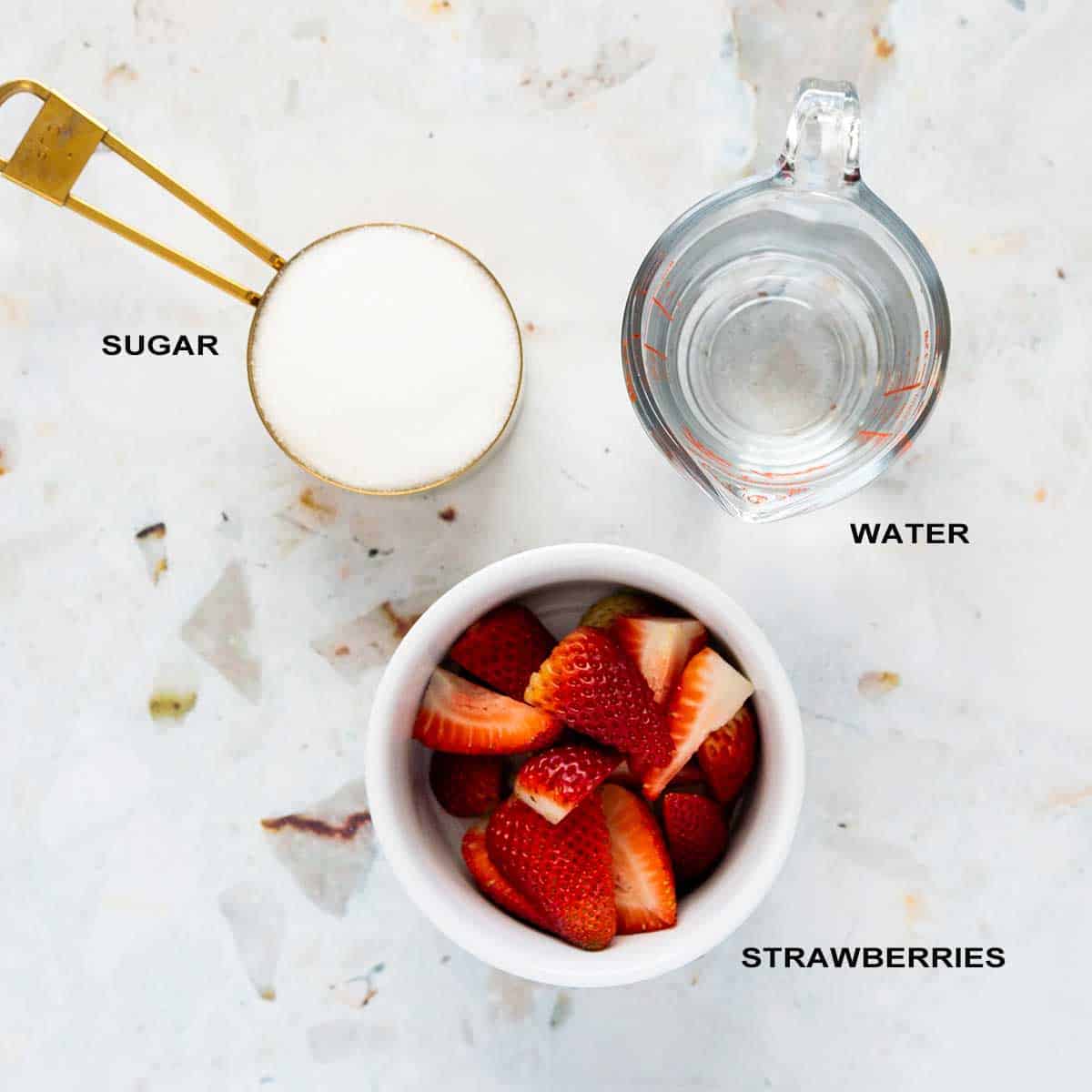 While fresh strawberries are best, you can make strawberry syrup with frozen strawberries. Be sure to use only the frozen fruit and not the strawberries in syrup. Thaw frozen strawberries before using them to make the syrup.
How to Prepare Fresh Strawberries for Making Syrup
The first thing to do is prep your strawberries for making strawberry simple syrup. Here's how:
Wash strawberries with cold water and dry them with paper towels.
Cut off and discard the green leaves and stem on top.
Slice the strawberries into quarters or smaller pieces.
How to Make Strawberry Simple Syrup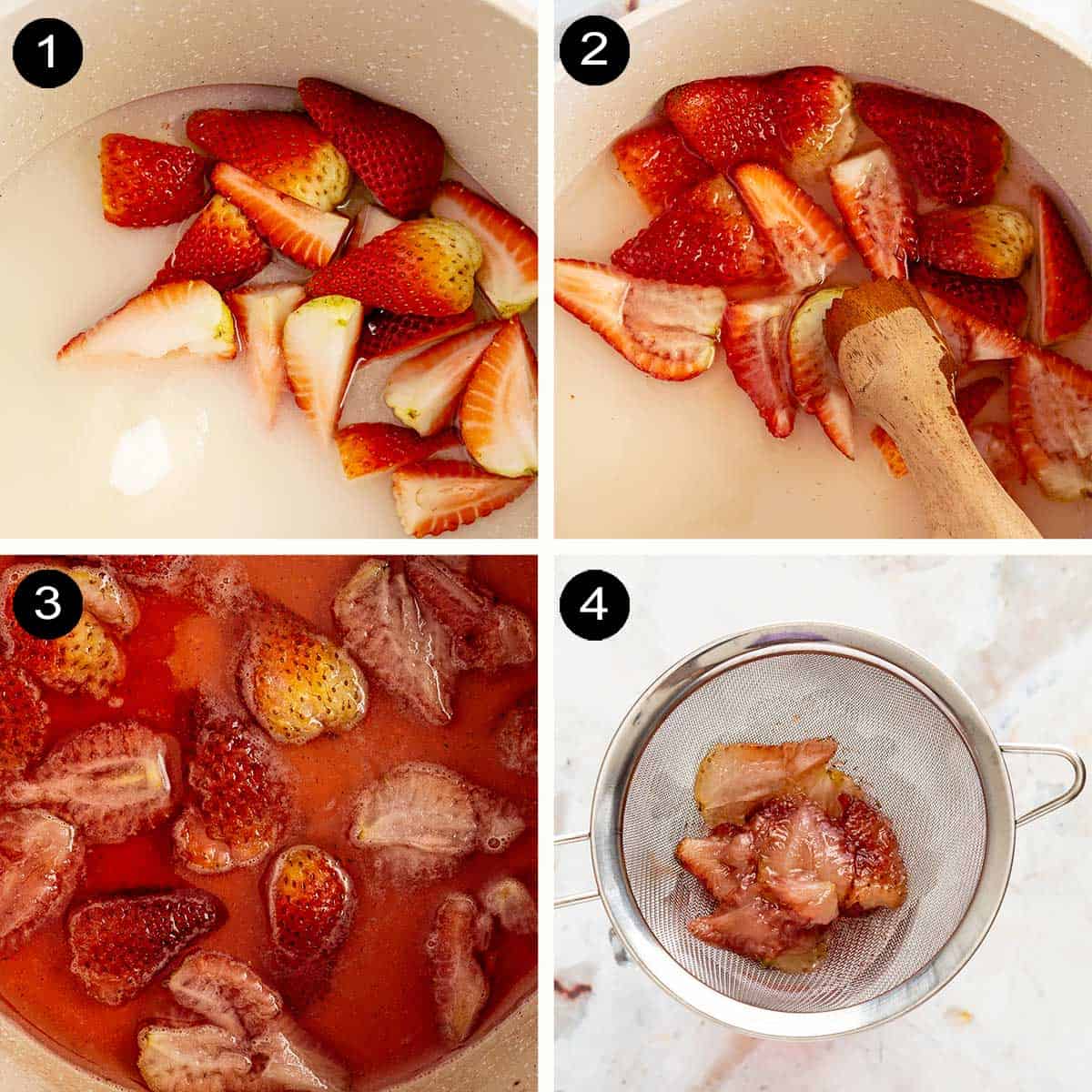 Place strawberries, sugar, and water in a saucepan.
Muddle the strawberries to release juices.
Bring to a boil, then reduce heat to low. Simmer for 10 minutes.
Strain the syrup into a jar and allow it to cool to room temperature.
Recipe Tips
Don't press down on the strawberries in the strainer. This will cause tiny bits of fruit to go through the strainer. The fruit bits will cause the syrup to be cloudy and may make it ferment while it is stored.
Make a thicker simple syrup by using a 2:1 ratio of sugar to water (or to make it easier, just cut the amount of water in half).
Save and use the cooked sweetened strawberries as a topping for ice cream, oatmeal, pancakes, and more! They also work great in smoothies and parfaits. Store in an airtight container in the fridge and use within 3 days.
Recipe Variations
You can make a fruity simple syrup with more than just strawberries. Here are some ideas:
Other Fruit - Raspberry, blueberry, blackberry, and peach.
Lemon Juice - Add a little lemon juice for a tangy touch to the syrup.
Herbs - Add fresh basil, mint, or thyme leaves.
Uses for Strawberry Syrup
If you are wondering what to do with strawberry syrup or what to make with strawberry syrup, there are many possibilities! It's such a versatile flavoring and sweetener. Here are some ideas:
Cocktails
Strawberry Daiquiris
Strawberry Martinis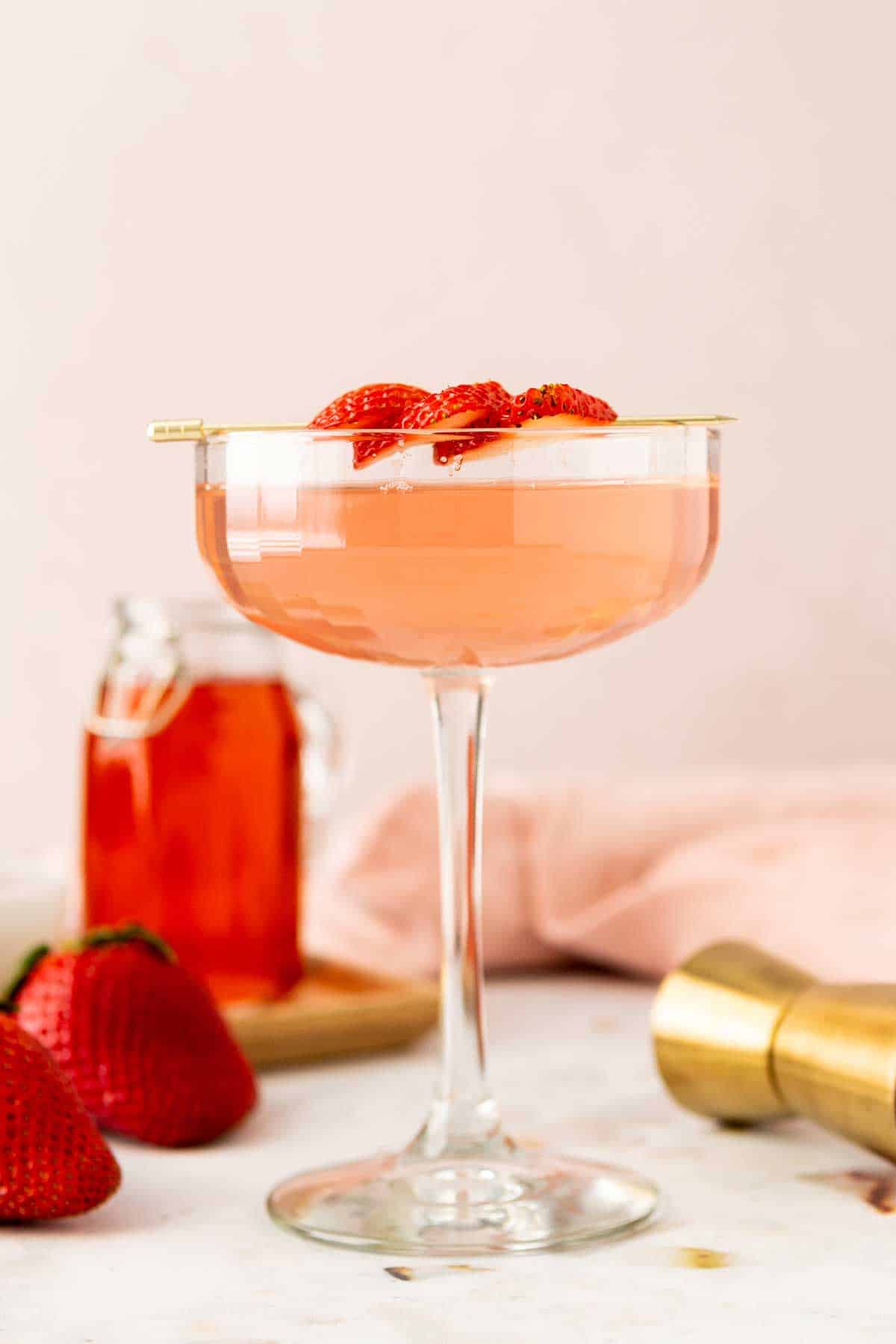 Non-Alcoholic Drinks
Italian Soda
Lemonade
Smoothies
Tea
Frozen Treats
Gelato
Ice Cream
Milkshakes
Shaved Ice
Snow Cones
Food and Desserts
Cakes
Pancakes/Waffles
Trifles
Yogurt
More Strawberry Recipes
If you love strawberries, here are some great recipes to try:
Find more easy cocktail recipes right here on 2CM!
LOVE QUICK & EASY RECIPES? FOLLOW ME ON INSTAGRAM, FACEBOOK, & PINTEREST FOR ALL THE LATEST RECIPE INSPIRATION! PLUS JOIN MY EMAIL LIST AND RECEIVE A FREE E-BOOK.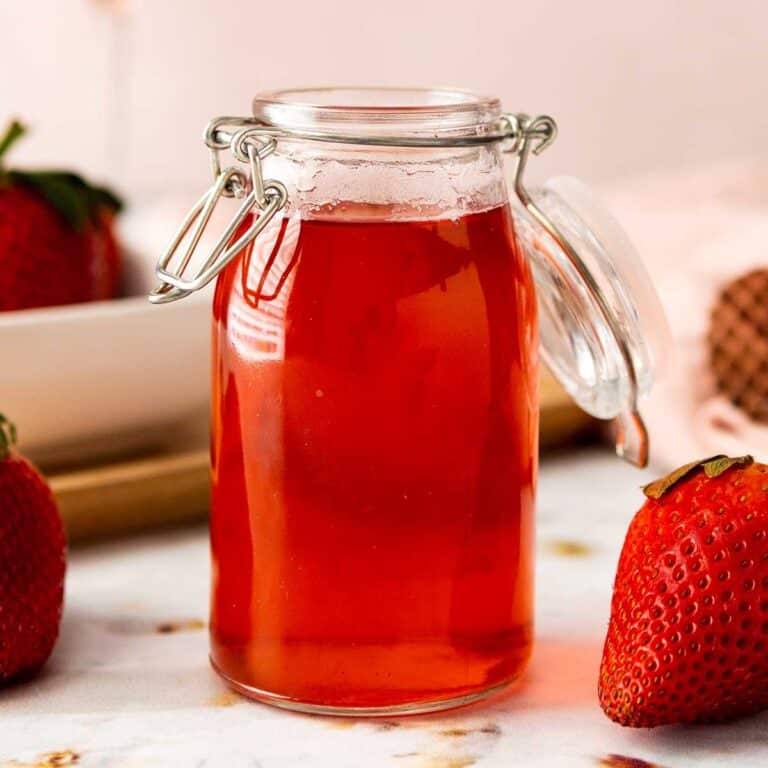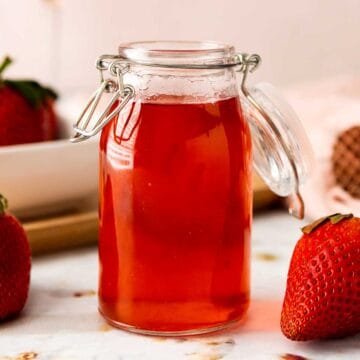 Strawberry Syrup for Drinks
With just 3 ingredients and a few minutes, you can make your own strawberry simple syrup that will add a delicious flavor to your favorite cocktails, mocktails, and desserts.
Print
Rate
Ingredients
1

cup

strawberries, hulled and quartered

1

cup

granulated sugar

1

cup

water
Instructions
Place strawberries, sugar, and water in a saucepan and muddle the strawberries to release juices.

Bring to a boil, then reduce heat to low. Simmer for 10 minutes. Remove from heat.

Strain the syrup into a jar. Allow to cool to room temperature for 2 hours or fully chill in the fridge overnight.

Store in the refrigerator in an airtight container.
Notes
The nutrition calculation above is for 1 ounce of syrup.
VARIATIONS
Replace the strawberries with raspberries, blueberries, blackberries, or peaches.
Add a little lemon juice for a tangy touch to the syrup.
Add fresh basil, mint, or thyme leaves for more herbal flavor.
Nutrition
Serving:
1
oz
|
Calories:
82
kcal
|
Carbohydrates:
21
g
|
Protein:
0.1
g
|
Fat:
0.1
g
|
Saturated Fat:
0.002
g
|
Polyunsaturated Fat:
0.02
g
|
Monounsaturated Fat:
0.01
g
|
Sodium:
2
mg
|
Potassium:
22
mg
|
Fiber:
0.3
g
|
Sugar:
21
g
|
Vitamin A:
2
IU
|
Vitamin C:
8
mg
|
Calcium:
3
mg
|
Iron:
0.1
mg