Burgers just seem to go with BBQ but it's time to grill up something out of the ordinary - Buffalo Burgers. They're lean, tasty & awesomely delicious! I received complimentary samples of products sold on UncommonGoods to create this recipe. As always, all opinions are 100% my own.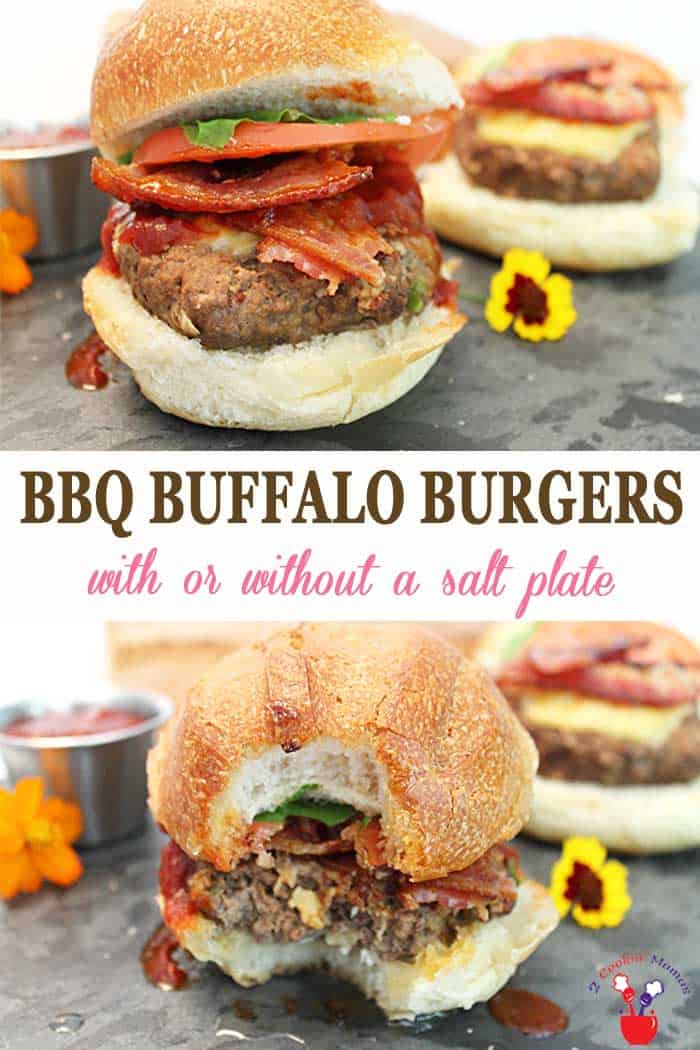 Are you ever stumped as to what present to buy for that special man in your life? It seems that besides shirts, ties, golf paraphernalia and car accessories, which he has been given time and time again, I come up against a mental block.
So I was wondering what I should get my husband for our anniversary which also happens to fall on Father's Day this year. Nothing like putting the pressure on to get something special that will cover both events. Well I am happy to say that UncommonGoods came to the rescue! I had seen them pop up in my emails and Facebook before and when they asked me to pick out a few products from their Gifts for Men collection here, and write something up, I just jumped at the chance.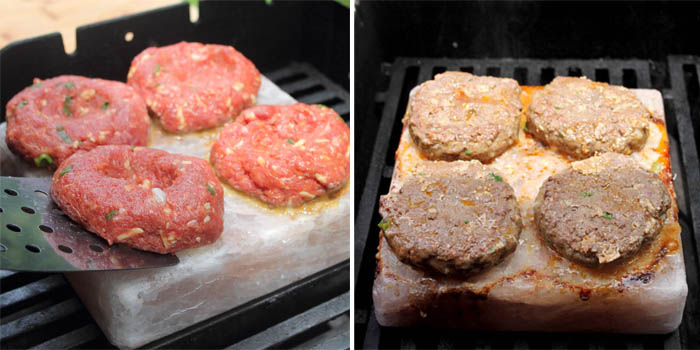 So I bet you're wondering why I like this company, I mean besides the huge array of products they carry. Well, let me tell you.
They support small artists and designers that craft unique items
Over half of their items are handcrafted & over ⅓ incorporate recycled or upcycled materials
They believe business should impact the world in a positive way 
They donate $1 of every sale to a non-profit organization of your choice
Now that sounds like the type of business I want to encourage and be a part of. Want to check them out? Click here for some great Father's Day gift ideas (because it will be here before you know it) that I ran across on their site.
My husband, hereafter called Mr. BBQ, loves to grill out and he has become a master at it. I decided one of his gifts should have something to do with barbecuing, one that he hasn't tried before. Lo and behold I found 2 unique items, a salt plate and cedar planks (check out our Shrimp on a Cedar Plank recipe here). These were certainly going to be something different and definitely interesting.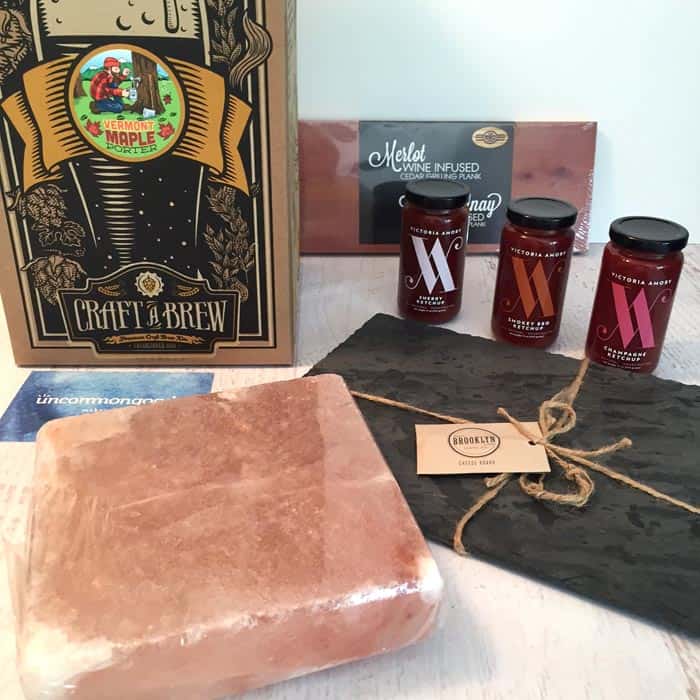 Now, I don't know if you've noticed but, barbecue and beer seems to make men very happy. I mean, have you ever seen them gather around the grill on the porch, beer in hand? They have the biggest and happiest smiles on their faces ever. Of course, it could just be they are looking forward to dinner 'cause it smells so good.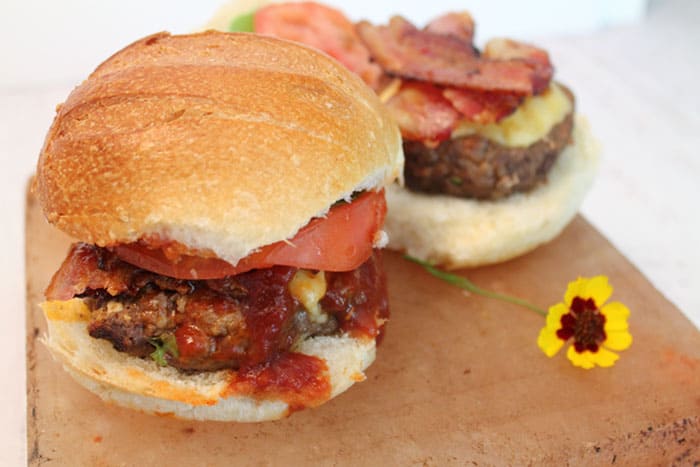 Being that I'm a food blogger, our holidays tend to be celebrated a bit in advance of the actual day. Soooo, Mr. BBQ got his salt plate, cedar planks AND a beer kit (more on that in a later post) this past weekend so we could try them out and report back to y'all. Check out our picnic below - it was awesome! Think these sound like the type of gifts your Mr. BBQ would like? You can find them here in their Anniversary Gifts for Men options.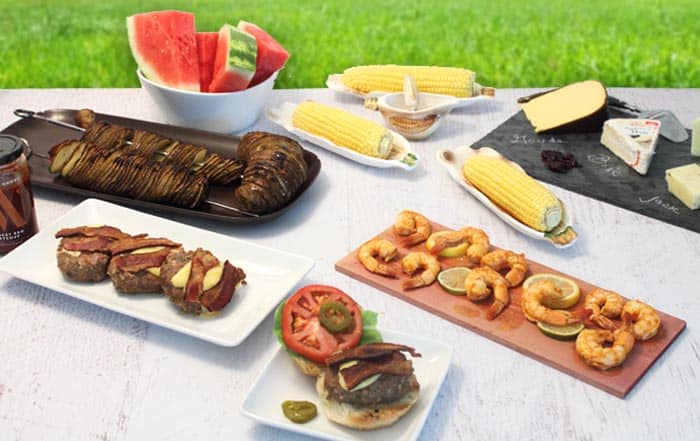 I decided since these BBQ items were pretty unique that I had to come up with something just as interesting to grill on them. I've made burgers like my Chorizo & Beef Burgers and Blue Cheese Zucchini Burgers but, I thought, how about something really different, like buffalo burgers? They are supposed to be more tender and leaner than ground beef and extra delicious, but were they? You bet they were! Check out the recipe below, cooked on the salt plate, and prepare to be craving a burger afterwards.
Note: A little bit about a SALT PLATE if you've never used one before.
They are made of a dense crystaline structure, natural rock salt if you will, found in the Himalayas. It is comprised mostly of sodium chloride and about 80 trace elements. The pink in the block comes from iron oxide.
Most people want to know if it imparts a lot of salt to the food. No way! Your food will not be overly salty and the amount of flavor from the salt will vary with the fat content of your food. The more fat in the food the less salt flavor.
Heat spreads evenly so food will cook the same no matter where it is on the salt plate.
Plate can be used for cooking, for keeping food hot or as a cold serving plate that works particularly well for cheeses or even sashimi.
You should always cook on the same side.
Never wash the salt plate as it will absorb the water & crack when next used for cooking and water 

will

dissolve it away. Wait until it cools and place next to sink, not under flowing water. Take a damp rough sponge, no soap, and scrub lightly (well actually a little more than lightly). You can use a little degreaser sprayed on the sponge if it needs to be cleaned further. 
The salt plate gets

very very hot

so leave on grill until cool.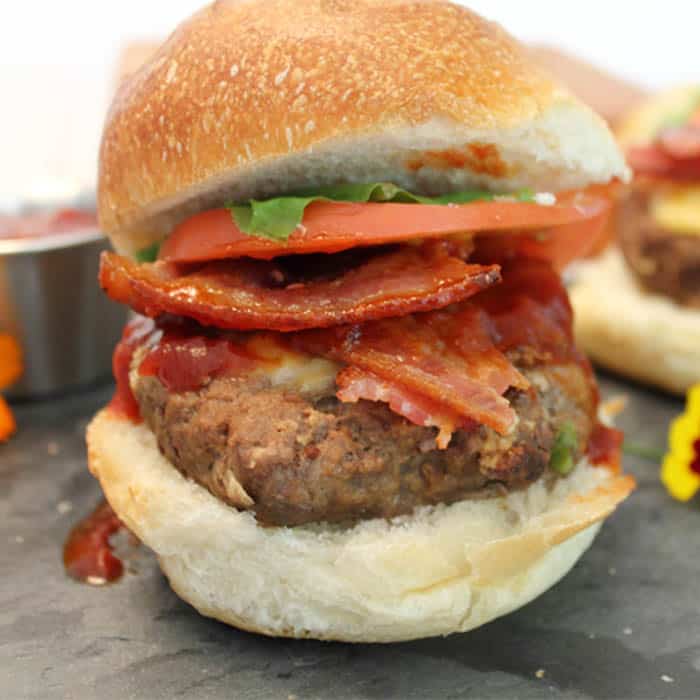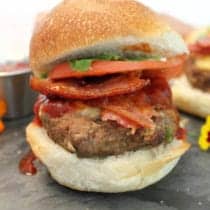 Buffalo Burgers
Burgers just seem to go with BBQ but it's time to grill up something out of the ordinary - Buffalo Burgers. They're lean, tasty & awesomely delicious!
Print
Rate
Ingredients
1

lb.

ground buffalo or bison

½

lb.

ground chuck

3

Tablespoons

Victoria Amory Smokey BBQ Ketchup

(absolutely delicious & sold at UncommonGoods)

1

teaspoon

minced garlic

2

Tablespoons

bacon fat

(optional)

¼

cup

green onion,

chopped

1

egg

½

cup

smoky Gouda cheese,

shredded

1

teaspoon

salt

(do NOT add if using salt plate)

½

teaspoon

pepper

4-6

slices

smoked Gouda cheese

4-6

slices

jalapeno bacon

or regular bacon (optional)

4-6

hamburger buns

Garnish: lettuce, tomatoes, pickles

1

Salt plate
Instructions
Important! If using a salt plate, plan on a little more time to get dinner on the table. The salt block should be brought up to the proper temperature in increments. Start on low and heat for 10-15 minutes, do the same at medium, medium-high and high temperatures for a total of 40-60 minutes.
While salt plate is heating, combine all ingredients up to bacon in a large bowl, working in with hands. Form into 4 or 6 hamburger patties, depending on how large you like your burgers. They won't shrink much as the meat is very lean.

Now cook the bacon so it is ready to go when the burgers are done. I made a jalapeno bacon (recipe coming soon) that was out of this world to top these burgers. Regular bacon would work too but since this isn't just any ole burger I thought it deserved a not so ordinary bacon.

Brush salt plate with a little oil and place buffalo burgers on it. Keeping lid down, cook for 3 minutes per side. Add cheese during the last 30 seconds. (Burgers can also be grilled without the salt plate, just cook on medium high heat for about 5-6 minutes per side.)

Remove from salt plate, scrape any grease and food particles from top of plate, turn off grill and let salt plate cool.

Serve buffalo burgers on hamburger rolls, topped with bacon, lettuce, tomato and pickles. Oh, and don't forget some extra Smokey BBQ Ketchup and a cold bottle of beer on the side. 🙂
Notes
Time does not include the hour it takes to heat up the salt block. If not using a salt block, plan on cook time being about 10 minutes.
DON'T MISS A RECIPE!