You just found a simple seafood feast! This grilled mahi mahi recipe cooks inside foil packets for easy clean up and creates an infusion of incredible flavor.
Whether you are camping, grilling at home, or planning a backyard cookout, grilled mahi mahi in foil is a tasty meal with minimal effort.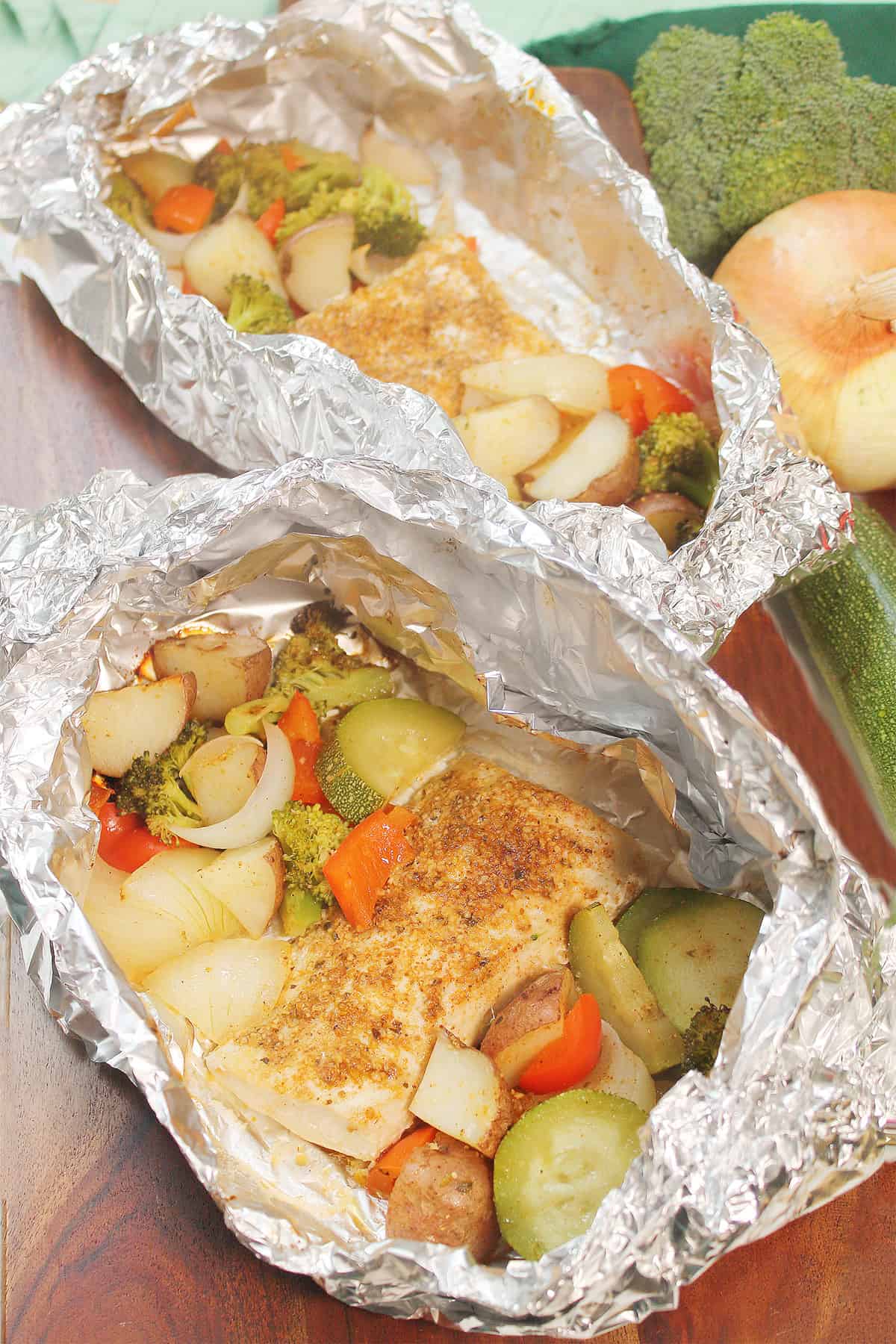 Grilling Fish in Foil
It's actually pretty surprising how easy it is to make grilled mahi mahi in foil. You just place all the ingredients in the foil packets and set them on the grill to cook. The most time-consuming part is cutting up the veggies. Everything else is a breeze.
Making fish in foil packets gives you lots of room for creativity. Use your favorite types of veggies and serve it with your favorite BBQ side dishes. Since this is a slightly-spicy Cajun dish, it will taste perfect with some deviled eggs. And you can never go wrong with grilled corn on the cob with chili butter!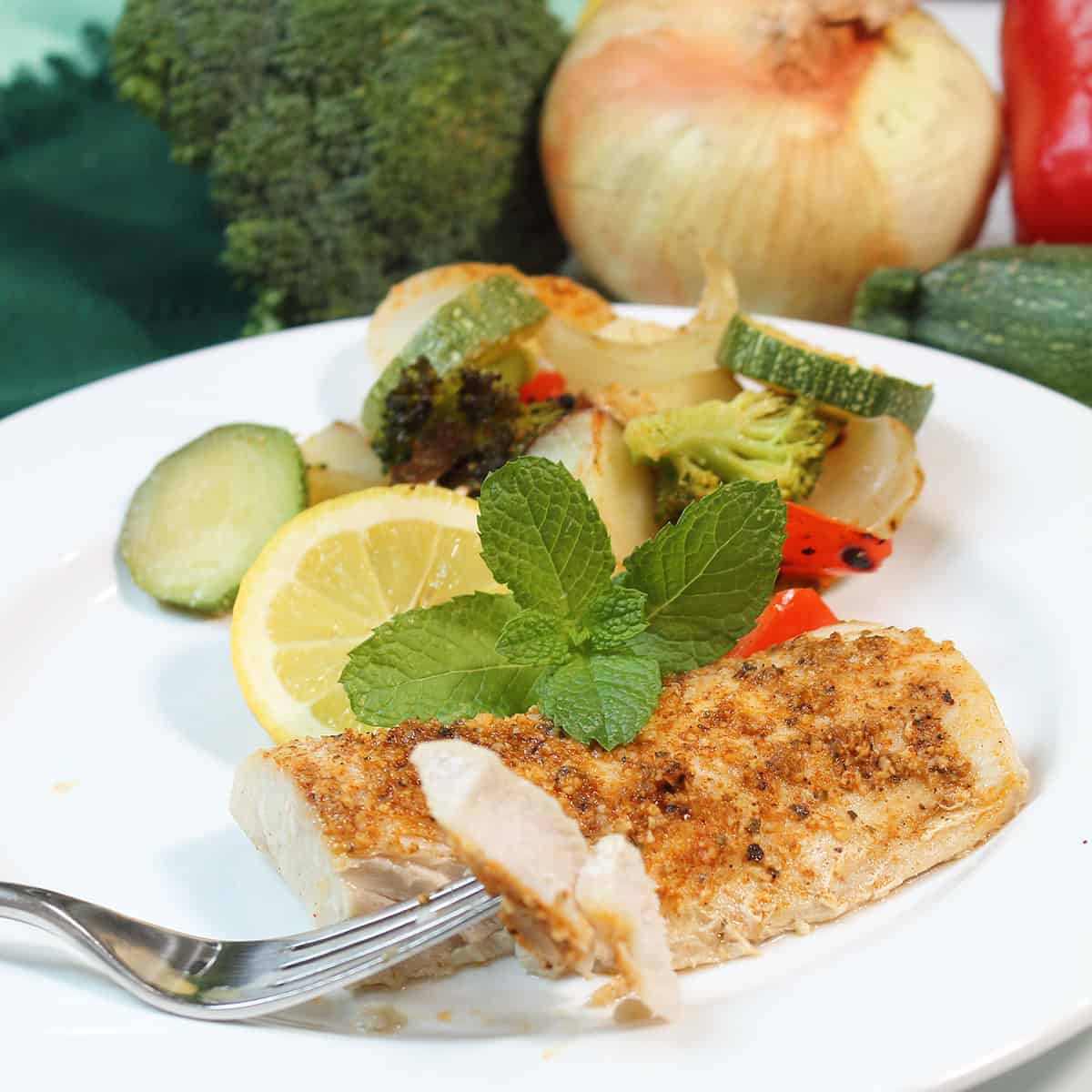 What is Mahi Mahi?
Mahi Mahi is the Hawaiian name for a warm saltwater fish found in tropical climates. It is also called dolphinfish or dorado. Mahi Mahi has a dorsal fin that inspired people to compare it to dolphins.
Is mahi mahi dolphin? No. While it is called dolphinfish, it should not be confused with a dolphin. Mahi Mahi is a fish and dolphins are mammals.
Is Mahi Mahi tuna or shark? No. It is a completely different species from tuna and shark.
What does Mahi Mahi taste like?
Mahi Mahi has brightly colored skin and pinkish color flesh. The flesh turns white when cooked. It has a semi-mild taste and firm texture that flakes easily. The flavor is a little stronger than halibut and milder than swordfish.
Why You'll Love This Grilled Mahi Mahi Recipe
Easy clean-up! Grilling mahi mahi in foil means you don't have to get the grill dirty or wash any pans.
Tender and tasty. Grilling fish in foil locks in the steam, which makes the fish extra flaky and tender.
Slightly spicy. Cajun mahi mahi has bold Cajun seasoning but you can adjust it for a milder or spicier result.
Easy to customize. The grilled mahi mahi seasoning is completely in your control. Use cajun seasoning or trade it for creole, Old Bay seasoning, or none at all.
Grilled Mahi Mahi in Foil Ingredients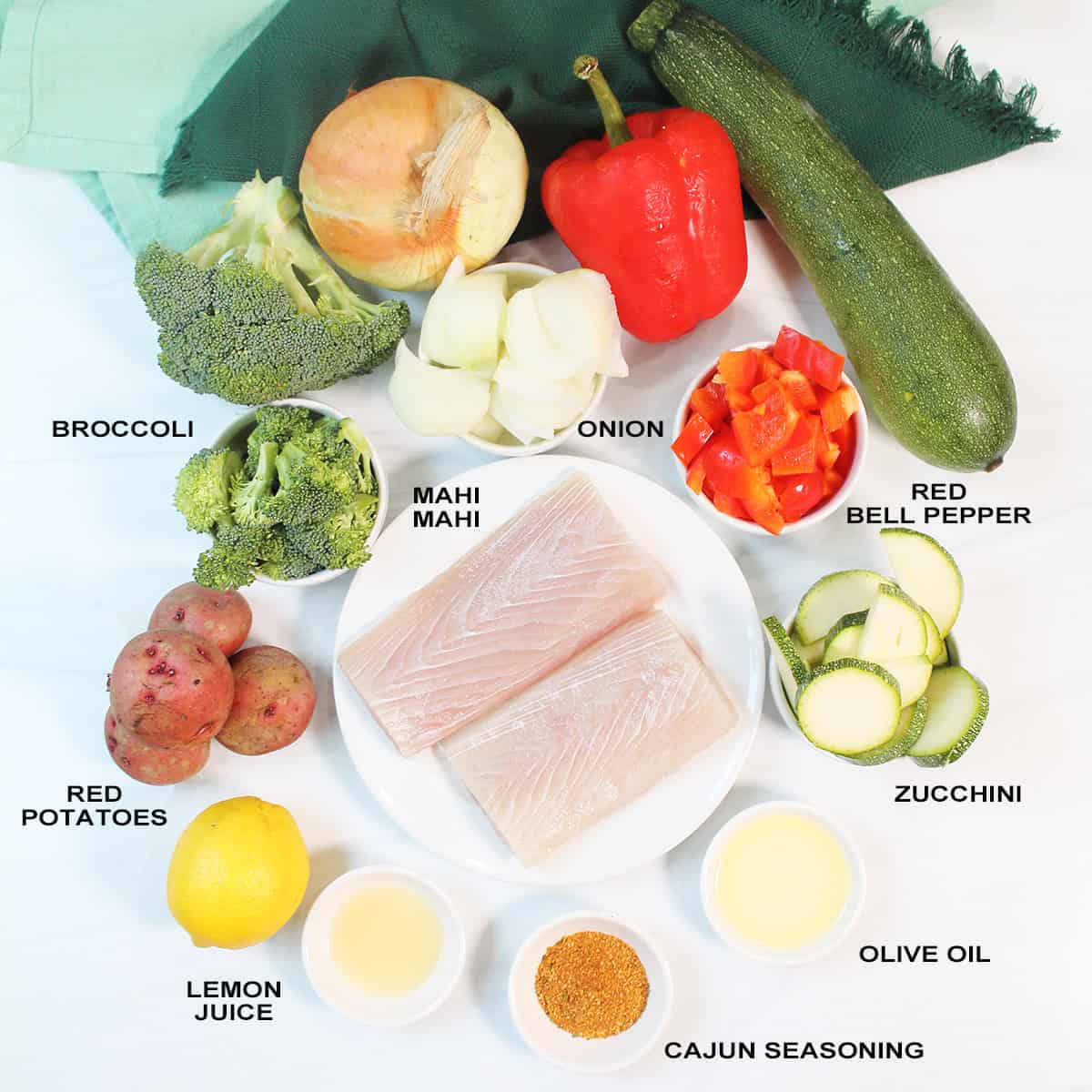 Mahi Mahi Fillets - fresh or frozen fish can be used
Olive Oil
Lemon Juice
Cajun Seasoning - substitute your favorite seasoning such as creole or Old Bay
Zucchini - is fantastic in this but yellow squash or green beans can be substituted
Red Potatoes - remember to partially cook them
Red Bell Pepper
Onion - sweet, yellow, or red onions are all delicious
Broccoli
Lemon slices, Fresh Basil, or Fresh Mint for Garnishes
Grilled Mahi Mahi Seasoning
The best seasoning for grilled Mahi Mahi is the one you enjoy the most! For this recipe, I am using Cajun seasoning for grilled Mahi Mahi.
You can substitute it with your favorite seasoning blend for seafood. There are many options in the spice section of your grocery store. Feel free to try any of them.
Many people enjoy blackened Mahi Mahi and you may also. Look for Zatarains or Tony Chacheres blackened seasoning.
What about a Mahi Mahi marinade?
The fish is coated with a spice dry rub and does not need a marinade.
What vegetables can go in a foil packet?
Any vegetables can go in the foil packet with seafood. Root vegetables will need to be partially cooked because they take longer than fish to cook.
How to Grill Mahi Mahi in Foil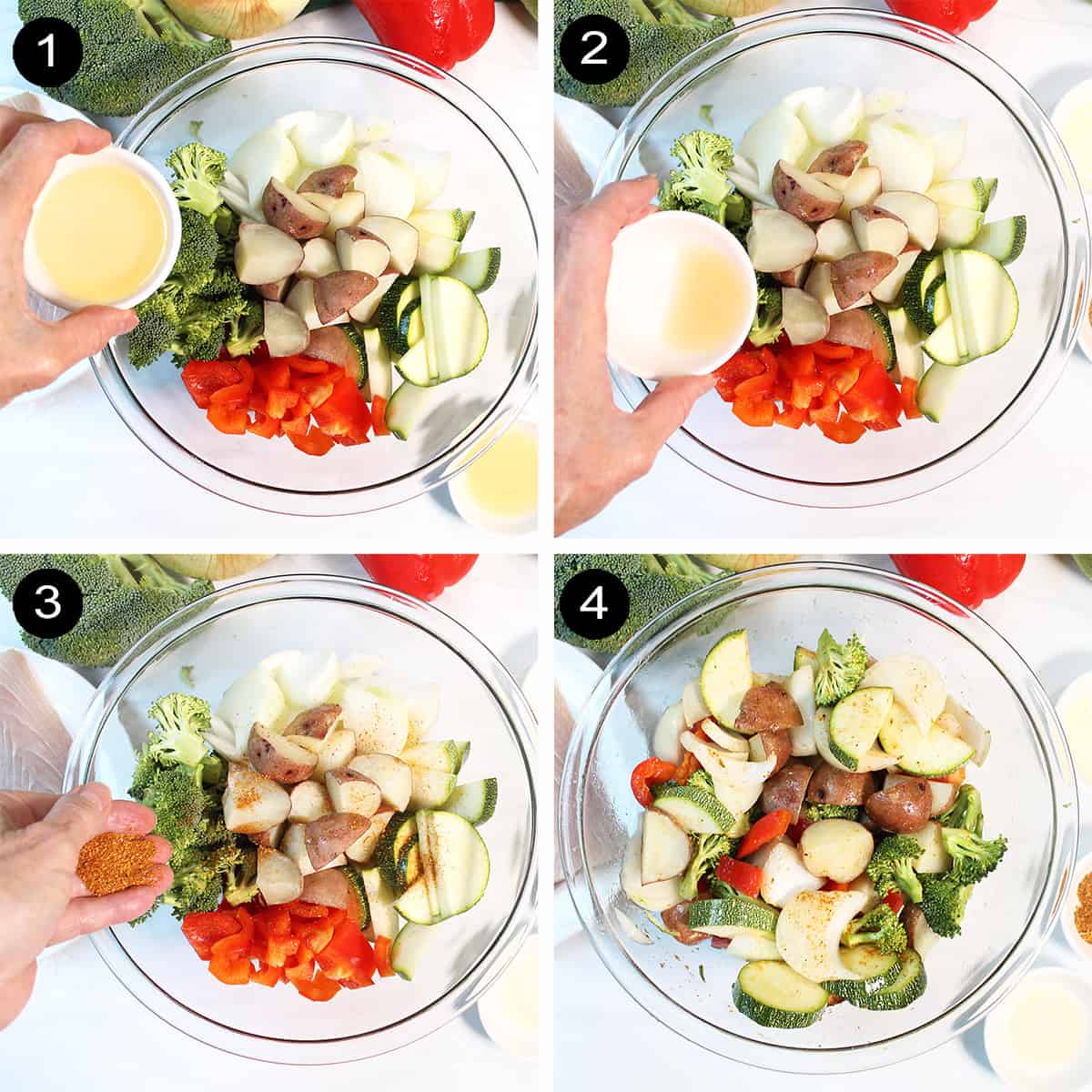 Place par-cooked potatoes, and all vegetables in a medium bowl. Drizzle with oil.
Add lemon juice.
Sprinkle with cajun seasoning (or see how to mix your own in recipe card notes)
Toss well.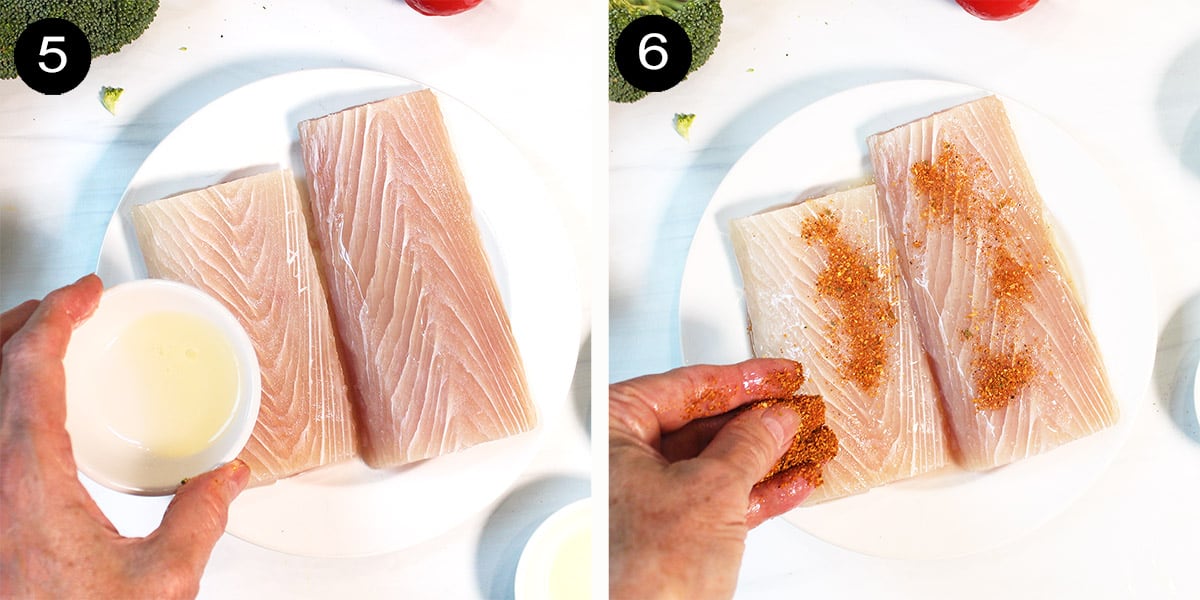 Prepare the mahi mahi fillets by coating them with the remaining olive oil.
Sprinkle generously with cajun seasoning.
Mahi Mahi and vegetables are now ready to be placed in single serving packets for a quick and easy dinner.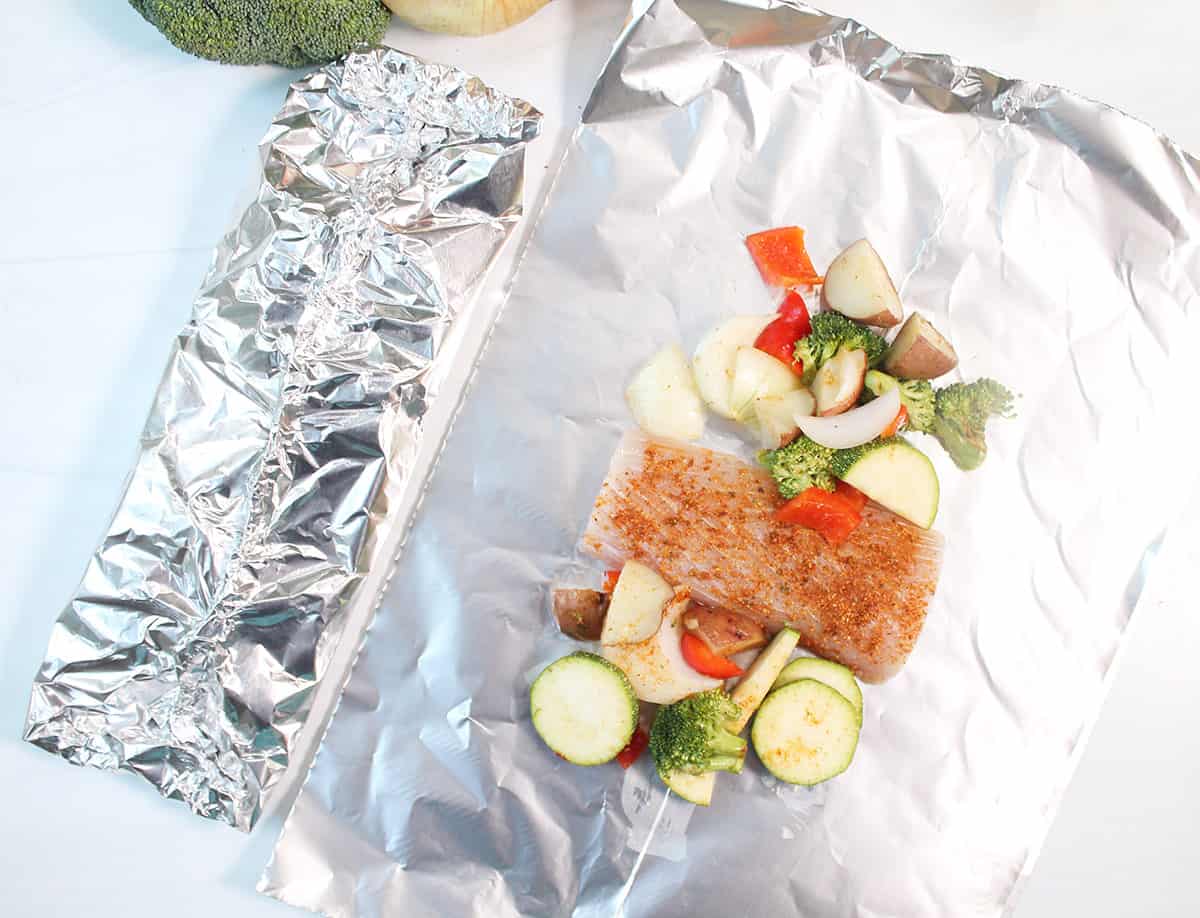 Lay one fish fillet and half the vegetables on a large sheet of oil. The foil should be large enough to fold over on top and on each end. You want it to be secure so all of the seasoned juices stay in the packet.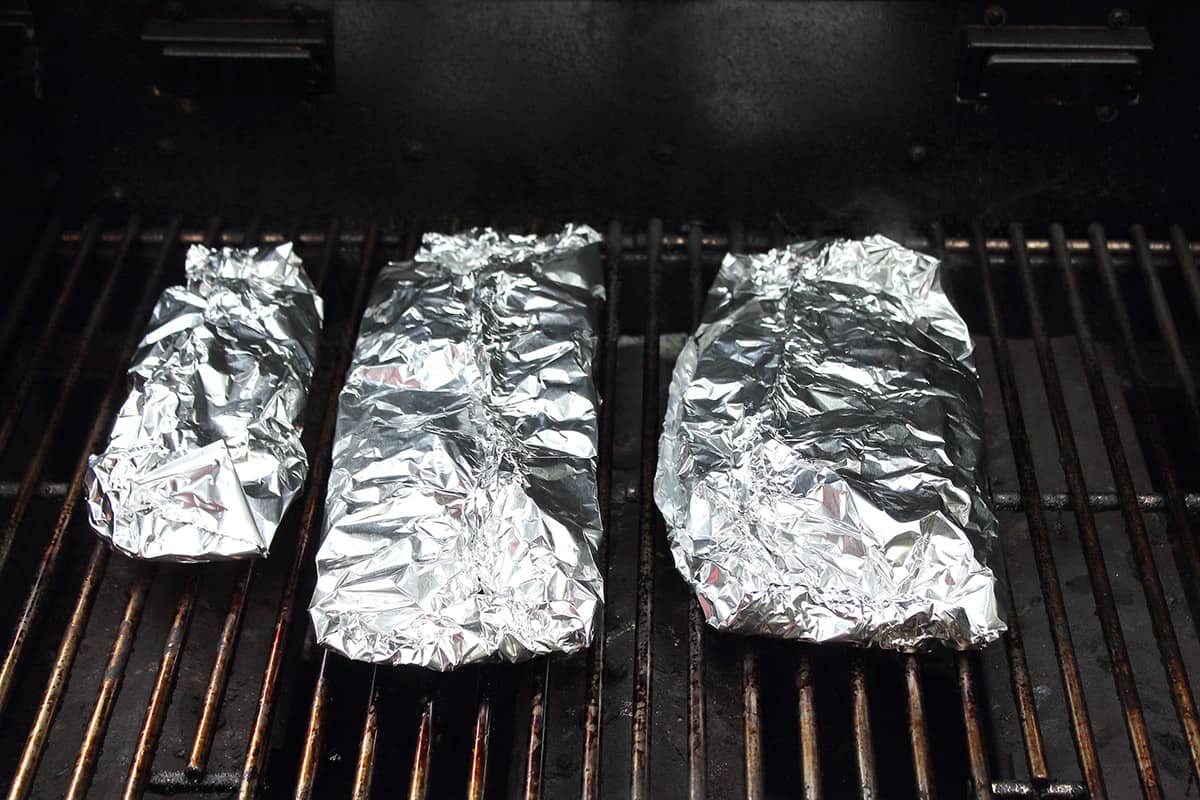 Lay on a medium-hot gas grill and cook for 15 minutes. Lift off with a large spatula or two smaller ones and lay on a cookie sheet to bring inside.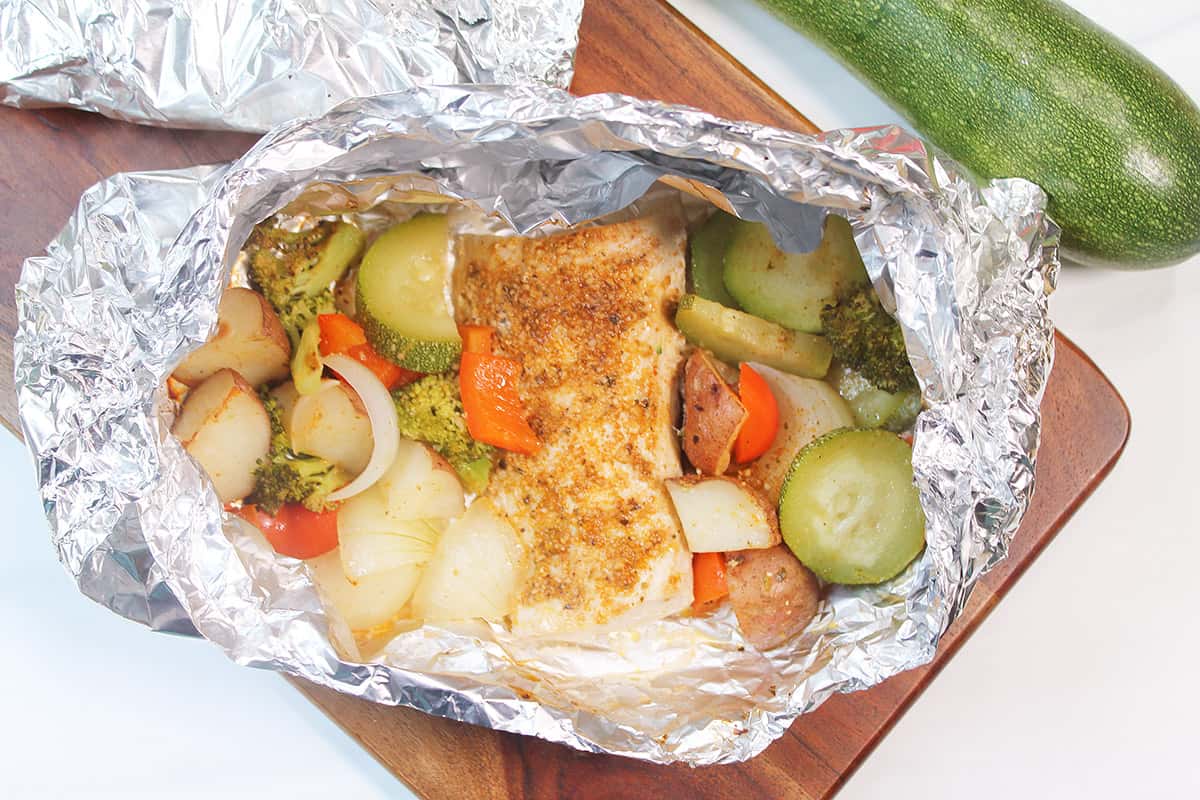 Be very careful when opening the fish in foil packets as the steam can be very hot. I like to use an oven mitt or a fork to open them and then handle the contents.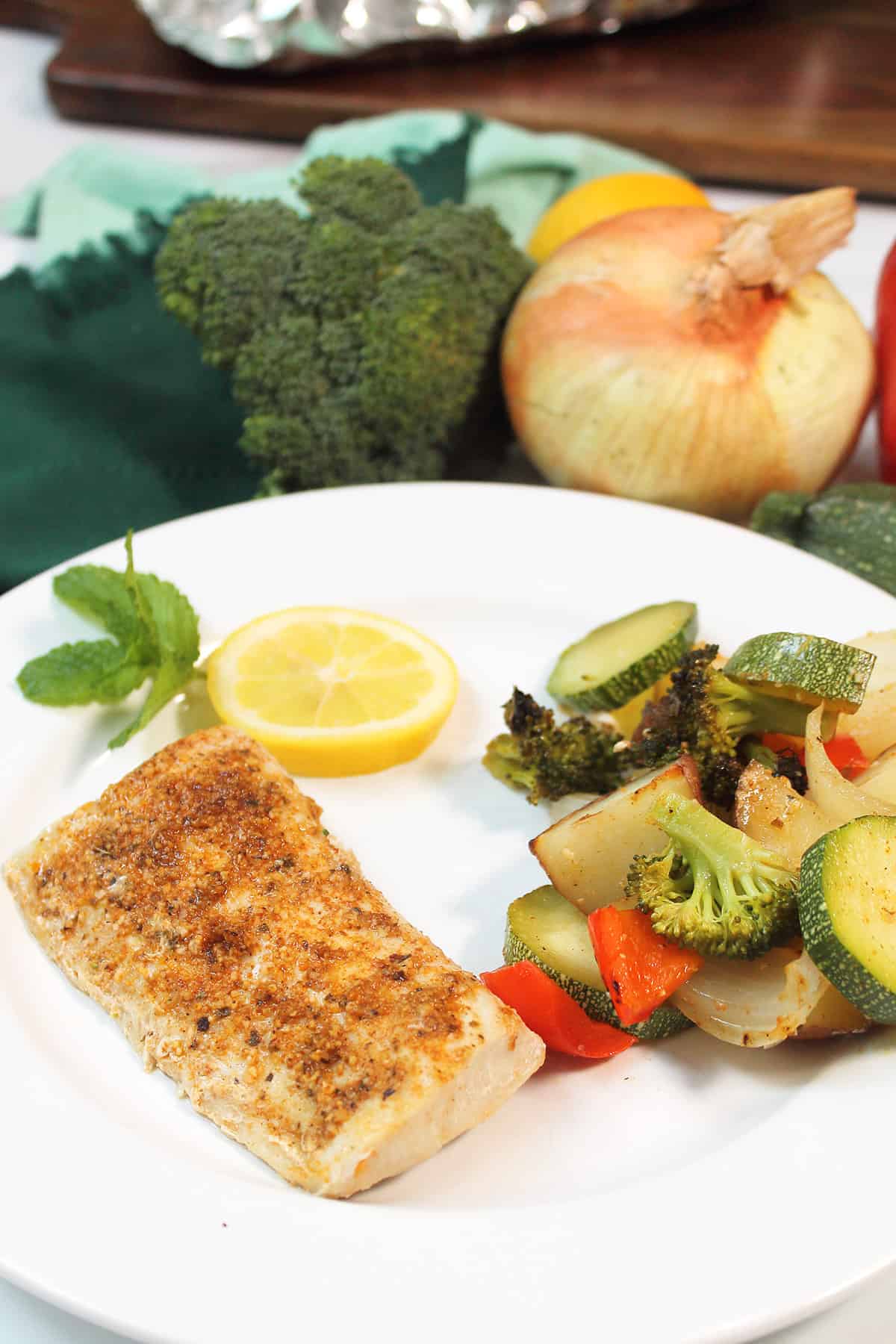 Place the grilled mahi mahi fillets and vegetables along with a sprig of mint or basil and a slice of lemon on each plate. Dig in and enjoy!
Recipe Variations
This Mahi Mahi with vegetables foil packet recipe is easily adaptable to suit your taste. Here are some ideas:
Hawaiian Mahi Mahi - omit the Cajun seasoning and potatoes. Add pineapple to the foil packet.
Italian Mahi Mahi - substitute Italian seasoning for the Cajun seasoning.
Jerk Mahi Mahi - substitute Jerk seasoning for the Cajun seasoning.
Lemon Garlic Mahi Mahi - omit the Cajun seasoning and add lemon slices and chopped garlic.
Lime Mahi Mahi - omit the Cajun seasoning, substitute lime juice for the lemon juice, and add lime slices.
Keto Mahi Mahi - omit the potatoes for a low-carb Mahi Mahi meal.
What to Serve with Grilled Mahi Mahi
Since the foil packets have both Mahi Mahi and vegetables, it is a combo of a main and vegetable side dish. In case you want more sides with grilled Mahi Mahi, here are some good ones:
How to Store Leftover Mahi Mahi
Place the grilled Mahi Mahi leftovers in an airtight container or wrap them in plastic wrap. Store them in the refrigerator for up to 4 days or in the freezer for up to 3 months.
To reheat: If frozen, thaw it in the fridge overnight. Place the fish in an oven-safe dish, add a little water, and cover it with foil. Bake at 275°F for about 10 to 15 minutes, until the internal temp is between 125°F and 130°F.
Frequently Asked Questions
Is Mahi Mahi healthy?
Yes, Mahi Mahi is healthy and full of protein and omega-3 fatty acids. It is also low in fat.
How long do you grill Mahi Mahi?
It depends on how thick your Mahi Mahi is. It should take between 10 to 15 minutes for the fish to be cooked through.
How do you know when Mahi Mahi is done?
If the fish flakes easily and is firm to the touch, it is done cooking. You can check the doneness with an instant-read thermometer. The internal temperature should be 140°F.
How long will Mahi Mahi keep?
Uncooked raw Mahi Mahi should be kept in the refrigerator and be prepared within 1 or 2 days. Cooked Mahi Mahi will last up to 4 days in the refrigerator.
LOVE QUICK & EASY RECIPES? FOLLOW ME ON INSTAGRAM, FACEBOOK, & PINTEREST FOR ALL THE LATEST RECIPE INSPIRATION! PLUS JOIN MY EMAIL LIST AND RECEIVE A FREE E-BOOK.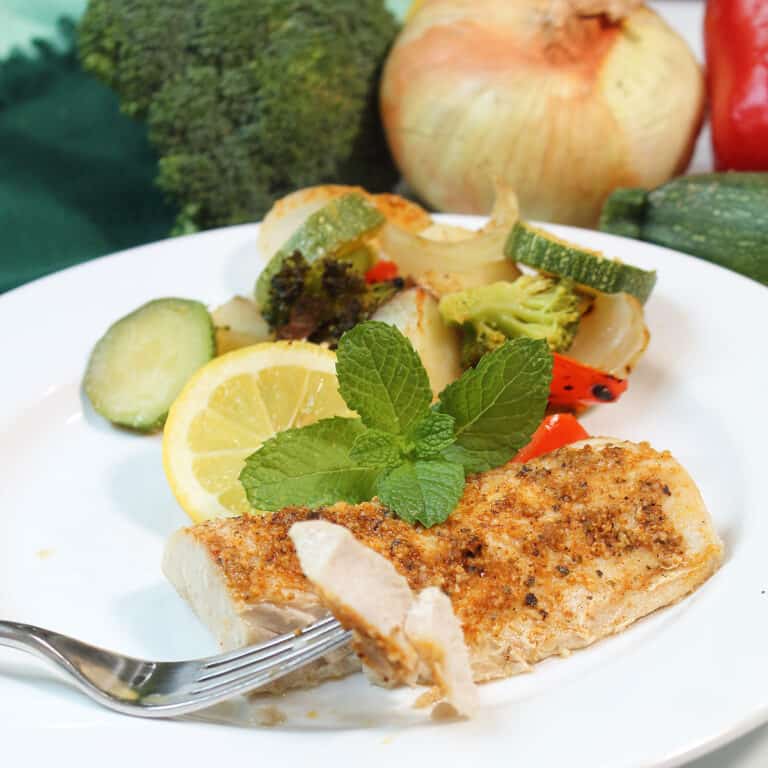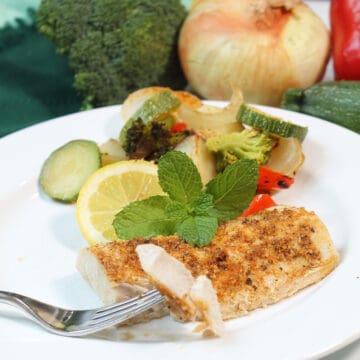 Grilled Mahi Mahi with Vegetables in Foil
This grilled mahi mahi in foil is an easy dinner with little clean up. Sealing the fish and vegetables in foil creates a meal with incredible flavor.
Print
Rate
Ingredients
2

mahi mahi fillets

about 6-ounces each

2

Tablespoons

olive oil

divided

1

Tablespoon

lemon juice

divided

2 ½

teaspoons

Cajun Seasoning

see notes to make your own

½

medium zucchini

cut into 1-inch slices

2-4

red potatoes

quartered

½

red bell pepper

chopped

½

yellow or sweet onion

cut into 8 wedges

½

head of small broccoli

cut into small florets

Garnish: Slice of lemon and sprig of mint or parsley
Instructions
Preheat grill to medium-high. Spray 2 large pieces of heavy-duty foil.

Par-cook quartered potatoes by placing on a microwave-safe dish and cooking on high for 4 minutes.

In a medium bowl, combine zucchini, par-cooked potatoes, red bell pepper, onion, and broccoli.

Drizzle 1 tablespoon oil, 1-½ teaspoon lemon juice and 1-¼ teaspoons cajun seasoning over all. Toss to coat.

Season fish with remaining olive oil and lemon juice. Rub in remaining cajun seasoning.

Divide vegetable mixture between the two pieces of prepared foil.

Place one fillet amidst vegetables on each piece of foil.

Fold over foil making secure packets.

Place on grill for 15 minutes.

Remove from grill, open carefully as a lot of steam will be released and place on dinner plates. Garnish with slice of lemon and/or sprig of mint.
Notes
Homemade Cajun Seasoning
¾ teaspoon paprika, regular or smoked
½ teaspoon salt
½ teaspoon garlic powder
¼ teaspoon black pepper
¼ teaspoon onion powder
¼ teaspoon oregano
¼ teaspoon cayenne
¼ teaspoon thyme
¼ teaspoon coriander (optional)
¼ teaspoon cumin (optional)
Mix all of the ingredients together. Store in an airtight container until ready to use.
Nutrition
Calories:
505
kcal
|
Carbohydrates:
52
g
|
Protein:
41
g
|
Fat:
17
g
|
Saturated Fat:
3
g
|
Polyunsaturated Fat:
2
g
|
Monounsaturated Fat:
11
g
|
Cholesterol:
124
mg
|
Sodium:
246
mg
|
Potassium:
2452
mg
|
Fiber:
10
g
|
Sugar:
9
g
|
Vitamin A:
3530
IU
|
Vitamin C:
206
mg
|
Calcium:
141
mg
|
Iron:
6
mg