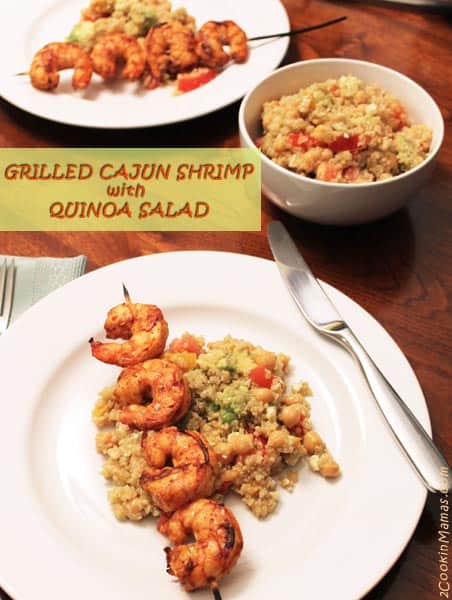 This weekend was my husband's birthday and it was so nice to just forget work and blogs and concentrate on spoiling him and just enjoying each other. And we did just that! I let him sleep in, which he loves to do, and when he awoke I had his favorite breakfast ready for him, pecan waffles. I have tried so many waffle recipes to get them just the way he likes them, crispy on the outside and soft and tasty on the inside, and finally found one that he pronounced perfect. Yay! I will definitely be sharing that recipe on the blog soon. We then took in a movie he wanted to see, Kingsman, and although the movie disappointed us, we still had fun laughing together and sharing a big tub of popcorn. And you know we had to get the popcorn because, as my husband always says, that is the only reason he goes to the movies. lol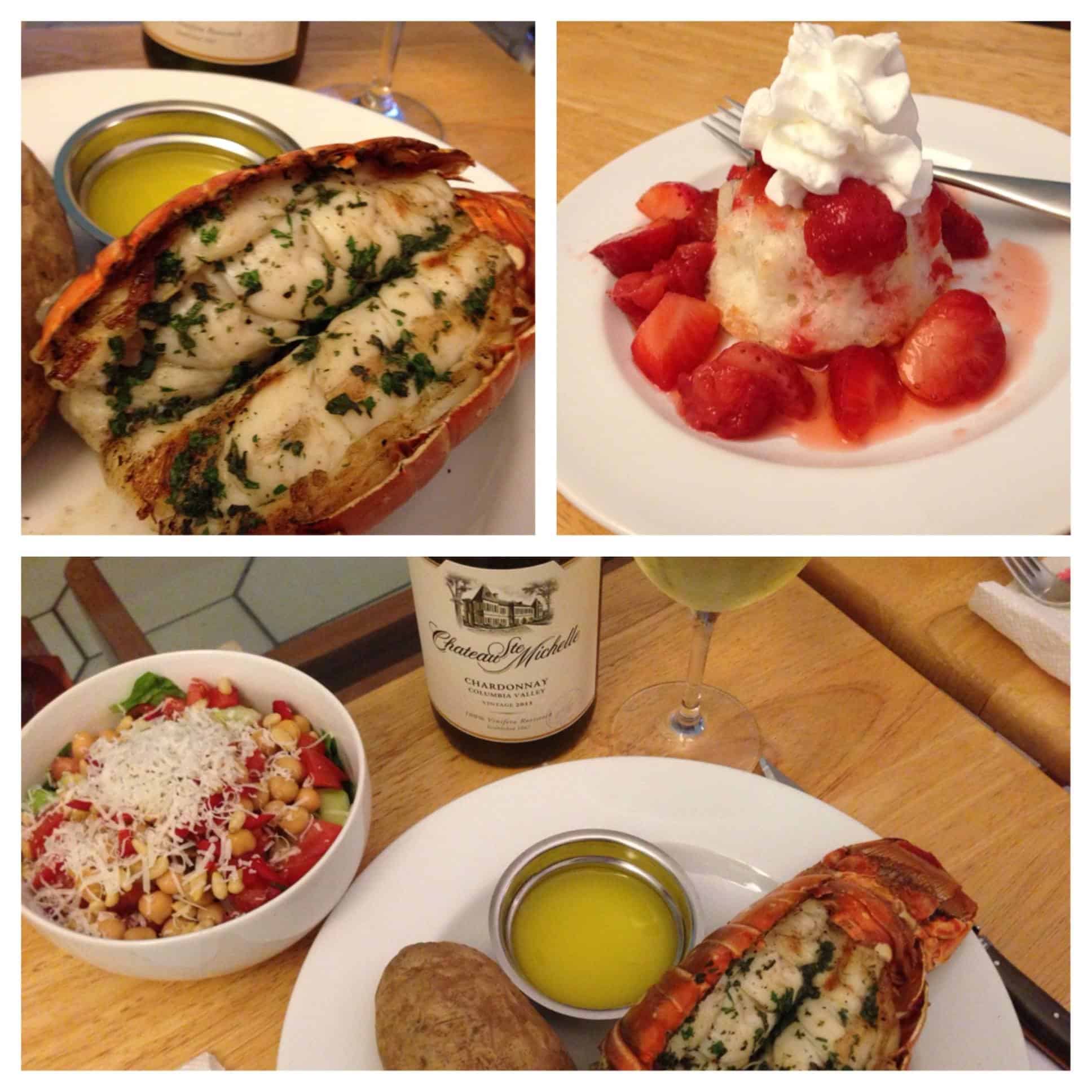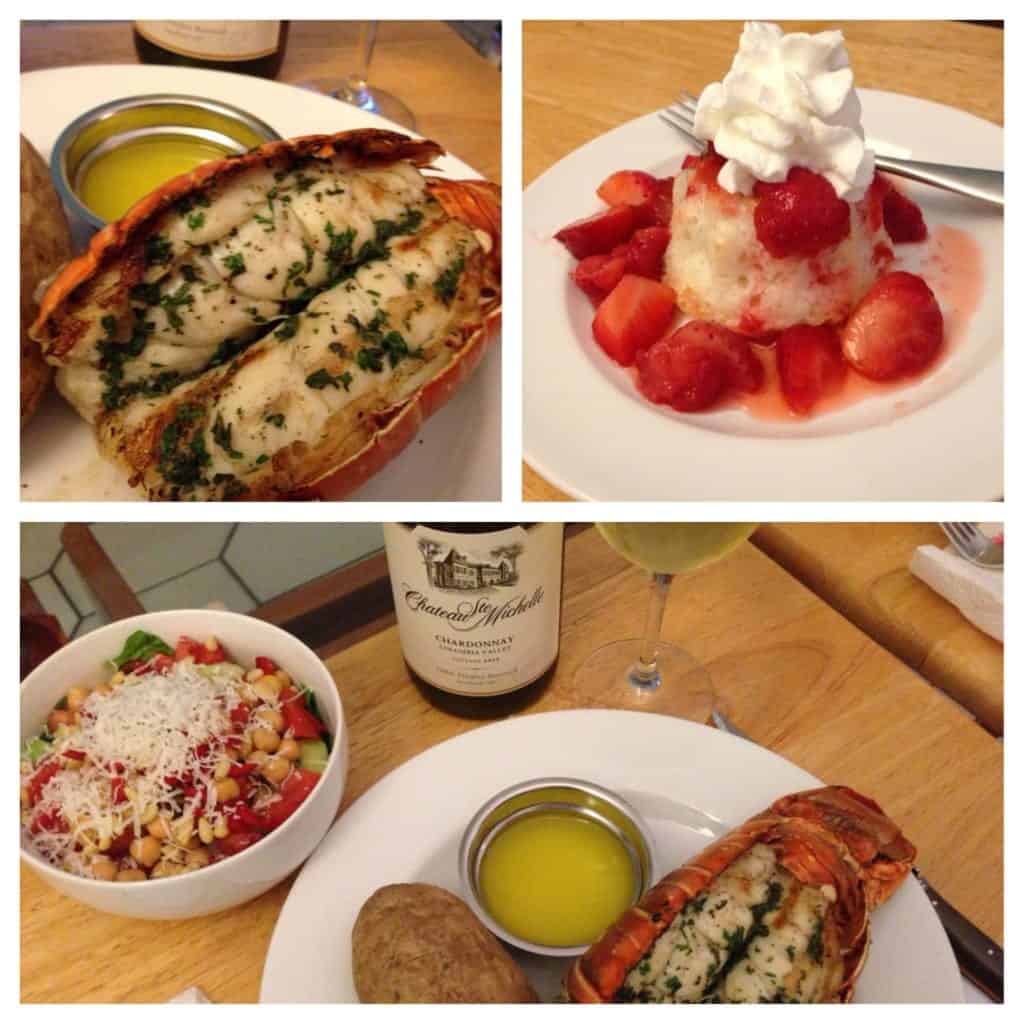 For dinner, I surprised him with lobster tails, which he grilled with an herb butter (after all , he is the Head Grill Man in our household) That is another recipe I will  have to share with you because it was the best lobster tail I have ever had! For dessert I wanted to use fresh strawberries, since they are at their season's peak here in Florida, so I baked individual little angel food bundt cakes and topped them with fresh strawberries and a little whipped cream. I even swirled a little Nutella through the  cake batter to surprise him. And he loved it! Success!
OK, so that was my Saturday, and with the time change, I am trying to get today's recipe posted ASAP. Not too long ago, I entered into a contest that involved creating a recipe using Healthy Solutions Cajun Seafood Spice Blends. These blends were made by a busy Mom who wanted a healthy, quick and easy way to add flavor to her family's meals. They are an all natural blend of premium spices with no fillers, no sugar and most with no salt as well. Definitely the kind of product I like to use. For this contest I created 2 recipes that I thought were quite tasty and my husband loved both. So I had to decide which one to submit and finally decided to enter my Cajun Tacos (see recipe here). However, I didn't want everyone to miss out on this delicious concoction, hence today's post.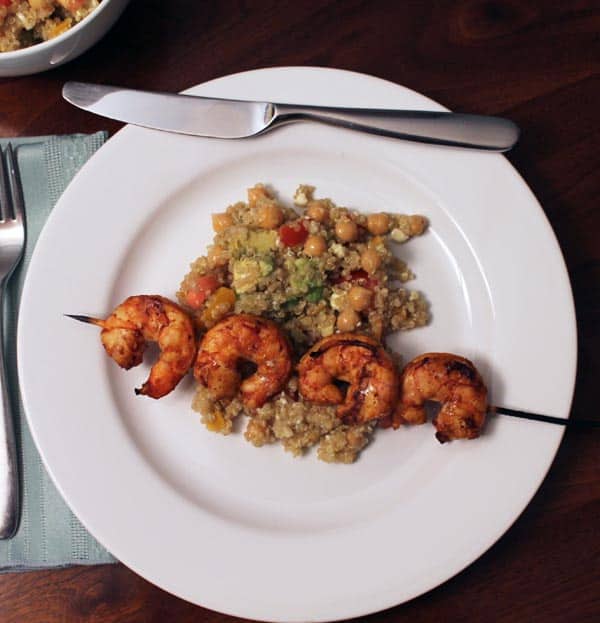 This is a moderately spicy dish, but if you're into really spicy, adding a little more sriracha will definitely kick it up a notch, and the perfect foil to all that spice is this lovely quinoa garden salad. The fat from the avocado and cheese definitely counteracts the heat while the sweet taste of the tomatoes and cilantro bring a burst of freshness to your taste buds. It really is the perfect combination.
Another nice thing about this recipe is  you can serve it several different ways. Serve just the shrimp over any kind of rice, dirty rice would be good, or you can add Andouille for all you carnivore addicts out there. Just want a lighter dinner? Serve the Quinoa Garden Salad alone with a side of fresh fruit or crusty bread. So versatile and good any which way you decide to fix it!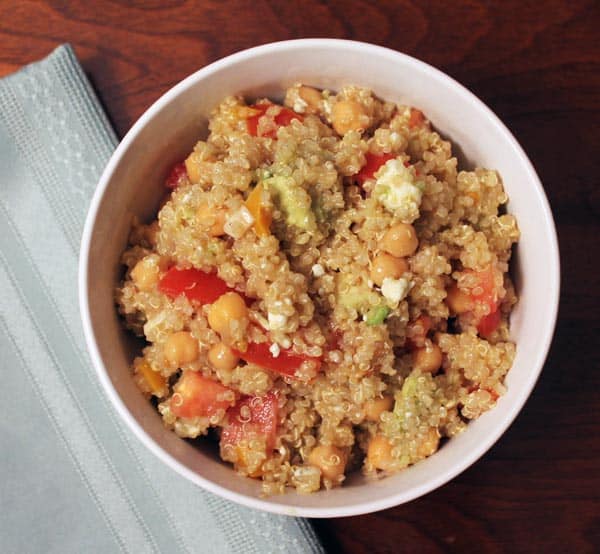 Hope you enjoy!
Grilled Cajun Shrimp & Quinoa Salad
Ingredients:
4 Tablespoons fresh lime juice, divided
5 Tablespoons olive oil, divided
2-1/2 teaspoons Healthy Solutions Cajun Seafood Spice Blends
1/4 teaspoon black pepper
1/2 teaspoon sriracha
4 garlic cloves, chopped, divided
3/4 lb. large shrimp
1/2 cup onion, chopped
3/4 cup raw quinoa (I love

Nature's Earthly Choice Organic Quinoa

)
1-1/2 cups water
1/2 teaspoon honey
1/4 teaspoon salt
2 plum tomatoes, chopped
1/2 cup chickpeas, drained
1 avocado, diced
1-oz gorgonzola or feta cheese
1/4 cup cilantro, chopped
Directions:
Prepare marinade by combining 2 tablespoons lime juice, 2 tablespoons olive oil, 2 teaspoons Healthy Solutions Cajun Seafood Spice Blends, black pepper, sriracha and 2 garlic cloves in a large ziploc bag. Add shrimp and toss to coat. Place in refrigerate for 30 minutes.
While shrimp is marinating, prepare quinoa salad. Heat 1 tablespoon of olive oil in large saucepan. Add chopped onion and saute 3-5 minutes. Add 2 garlic cloves and cook another 2 minutes, stirring often. Add 1-1/2 cups water and quinoa to pan and bring to a boil. Reduce heat, cover and cook 15 minutes. Remove from heat and let cool. Can place mixture in refrigerator at this point for a more cooling salad that goes well with the heat of the shrimp.
In a small bowl, whisk together 2 tablespoons lime juice, , 2 tablespoons olive oil, 1/2 teaspoon Healthy Solutions Cajun Seafood Spice Blends, honey and salt. Add quinoa mixture, tomatoes,chickpeas, avocado and cheese. Toss to mix.
Heat grill to medium high. Spray cooking grid with nonstick spray. Divide shrimp into 4 portions and thread onto 4 metal skewers. (if using wood skewers soak in water while shrimp are marinating), Place on grill and cook 3 minutes per side depending on size of shrimp.
To assemble: Place a quarter of the quinoa salad on a plate and top with 1 of the skewers. Garnish with cilantro.
Serves 4.
Note: You can make the above meal a little more Cajun by adding 1/4 lb. Andouille sausage. Cut Andouille into 1/2″ slices and skewer alternately with shrimp. Cook as directed above.
DON'T MISS A RECIPE!