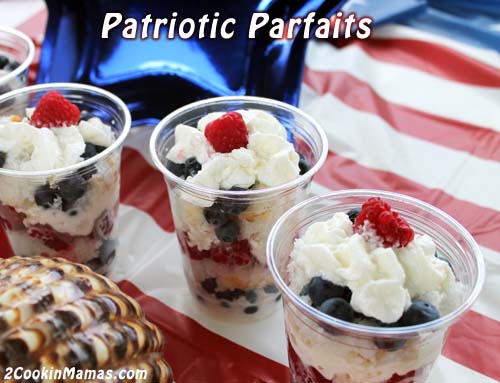 OK, I think you've figured out that I love playing with food and working with a red, white and blue theme was just loads of fun. This light dessert is the perfect end to any picnic. Even after eating all the goodies they will still want their own cup of sweet berries and cream. This is another easy to make dish and you can make it up ahead of time and just top it with whipped cream right before serving.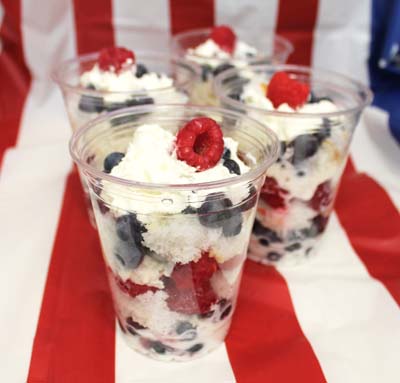 Patriotic Parfaits
Ingredients:
Angel Food Cake, cut in small chunks
Strawberries, chopped or Raspberries, whole
Blueberries
Whipped cream or cool whip
Grand Marnier (optional)
Clear plastic cups
Directions:
In clear plastic cups (for best effect) place a little whipped cream in bottom of cup, add some blueberries , a layer of angel food cake chunks, layer of whipped cream, followed by strawberries or raspberries, whipped cream, angel food cake chunks, blueberries and end with whipped cream. Place strawberry or raspberry on top for garnish.
Over the Top Parfait: If you only have adults you can also add your favorite liqueur to the whipped cream for an over the top parfait. Assemble then pour 1/2-1 teaspoon over top of whipped cream. Then top with a strawberry. If making fresh whipping cream, you can add Grand Marnier right to cream itself and stir before assembling.
Extra Special Parfait: Add some chocolate chips to the layers for a more decadent treat.