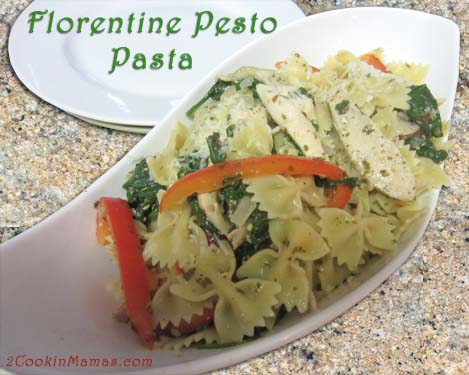 I was in the mood for some pasta last week and decided to try my hand at making a basil pesto pasta with vegetables and chicken. I also found out that it tastes just as good without chicken and can be eaten hot or cold and is still delicious. Hope you enjoy!
Florentine Pesto Pasta with Chicken
Ingredients:
1 16-oz. package farfalle (for gluten-free diets substitute a gluten-free pasta)
2 large chicken breasts (1-1/2 lbs), cut into strips
salt & pepper
2 Tablespoons light olive oil
1/2 sweet onion, chopped
1 red bell pepper, sliced
1 cup mushrooms, sliced thin
2 teaspoons minced garlic
1/2 teaspoon crushed red pepper flakes
1/2 cup chicken stock or white wine
9-oz package fresh spinach, washed & patted dry
1/4 cup fat-free half & half
1 8.1-oz jar basil pesto (or make your own – recipe below)
1/4 cup Parmesan cheese, grated
Directions:
Prepare pasta according to package directions.
While pasta is cooking, salt & pepper the chicken strips. Heat oil in large skillet and cook chicken strips until cooked through and browned. Remove from pan.
To the pan, add the onion, pepper strips and mushrooms and cook for 3-5 minutes. Add garlic and red pepper flakes and cook another minute. Add the chicken stock or white wine and boil until reduced by half.
Add spinach to pan and mix well. Cook for 2 minutes or until wilted. Add half & half, pesto, Parmesan cheese and chicken, stir and cook until heated through.
Pour over pasta, toss to coat, and serve immediately with additional grated Parmesan cheese on the side.
Serves 8.
Note: Omit chicken and substitute white wine for chicken broth for a healthy vegetarian meal.
Basil Pesto
Ingredients:
2 cups fresh basil leaves
1/4 cup pine nuts
3 garlic cloves
salt & pepper to taste
1/2 cup Parmesan or Pecorino Romano Cheese
1/2 cup extra light olive oil
Directions:
Put everything in a blender (I love my Ninja for making pestos) except for the olive oil. Drizzle in half the olive oil and pulse the blender. Add in remaining olive oil and blend until smooth.
Makes 1 cup.
Wine Pairing: Pasta in a creamy sauce contains fat and requires an acidic wine or one with a higher level of alcohol or tannins to offset its richness. Ideal wines would be a Chardonnay, with a hint of lemon and minerality, to match the texture of the pasta, a Sauvignon Blanc, with its higher acid content, to offset the fat or opt for a Pinot Grigio or Riesling.
If red is your preference, try a Bardolino or Sangiovese which pairs well with the vegetable element.
DON'T MISS A RECIPE!