Sunday Supper was always a special time in our household growing up. Mom always fixed a special dinner and dessert and we would ask relatives or friends to dine with us. It would give us a chance to catch up with all the family or neighborhood news and to enjoy some fun times.
I continued that tradition whenever I could with my kids but now that they are gone it is a much quieter but still nice Sunday Supper that I share with my husband. Since we are trying to eat healthier this year, it is fun to come up with recipes that are not only nutritious but exciting. flavorful and delicious too. It keeps us on the "healthy band wagon" for another week.
This Sunday I tried an easy baked chicken entree but with the addition of a spicy salsa. To round out this lean protein I combined it with a roasted broccoli that can cook in the oven at the same time as the chicken. Easy peasy right?! And it was a hit! I will definitely be making this again real soon.
Mexicali Chicken
Ingredients:
2 large or 4 small chicken breasts
Salt & pepper to taste
2 cups fresh salsa – simmer until reduced by 1/3rd, squeeze in lime juice
Juice of 1/2 lime
6 slices or 6-oz. shredded mozzarella cheese
Directions:
Preheat oven to 375 degrees. Spray a baking dish with a nonstick spray such as Pam Coconut Oil.
Place 2 cups fresh salsa in small saucepan and cook until reduced by about 1/3rd. You only want it slightly liquidy. Squeeze in lime juice and stir.
Season chicken breasts with salt and pepper then place in a single layer in baking dish. If using 2 large chicken breasts, cut in half to make 4 pieces. Cover with salsa and place in oven.
Bake for 35 minutes. Remove from oven, lay mozzarella cheese slices (or shredded cheese) on top and place under broiler for 3-5 minutes or until cheese is melted and brown.
Serves 4.
Roasted Parmesan Broccoli
Ingredients:
1 head broccoli, cut into small florets
1/4-1/3 cup light extra virgin olive oil
1-1/2 teaspoons minced garlic or 2-3 cloves, sliced
Salt & pepper
Juice of 1/4 lime
 1/4 cup Pecorino Romano or Parmesan cheese, grated
Directions:
Cut broccoli into florets, removing heavy stalk. Place in a medium bowl and toss with olive oil, minced garlic and salt & pepper.
Spread in single layer on nonstick cookie sheet. Place in oven with chicken and cook for 35-40 minutes.
Broccoli can stay in oven while laying cheese on chicken and getting ready to broil. Just before broiler is turned on for chicken, remove broccoli from oven, squeeze lime juice over florets then toss with cheese. Keep warm until chicken is done.
Serves 3-4.
Note: Depending on how much your family likes broccoli you might want to cook 2 heads for 4 people.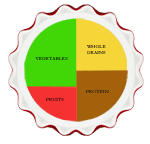 To complete your healthy meal, add a side of 1 cup quinoa cooked in 2 cups chicken broth. It tastes great with the sauce from the chicken ladled on top.
This meal provides a lean protein both from the chicken and quinoa, good fats from olive and coconut oils and aids in reaching your goal of vegetable and fruit servings for the day with the fresh salsa and broccoli. These vegetables provide a good source of dietary fiber, Vitamins C & A and are full of antioxidants.