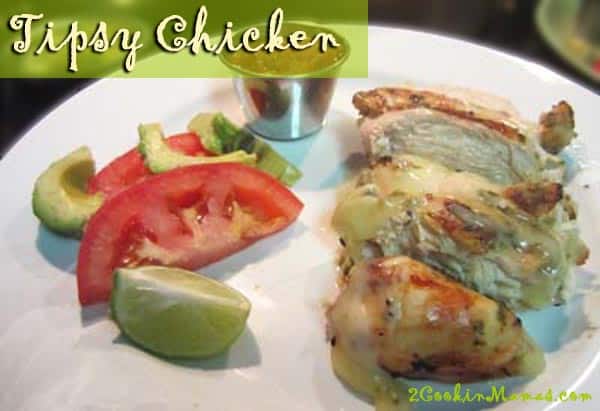 We 2 Mamas love to work with recipes that contain some sort of alcohol, whether it is wine, rum, tequila, beer etc. as you can add so much flavor with just a splash.
Alcohol is used to bring out the flavor in food, much like salt, as the properties of alcohol tend to evaporate quickly carrying aromas that help enhance the enjoyment of the meal. Alcohol is also known to bond very well with fat and water thereby helping herbs and spices to soak into marinated meats more easily.
And a splash is usually all that you need, the exception being wine, as you want some of the flavor of the liquor without it overpowering the dish. And contrary to popular belief, unless the dish is going to cook for over an hour, there will still be a substantial amount of alcohol in the dish.
In the case of this inebriated chicken, we used slightly more tequila as we wanted the taste of the alcohol to have a major impact on the taste. Try it, you'll love it!
Tipsy Chicken
Ingredients:
2 limes (I used my fresh off the tree key limes)
1/2 cup tequila
1/8 cup olive oil
1 teaspoon salt
1 teaspoon minced garlic
1/2 jalapeno pepper, chopped
1/2 bunch fresh cilantro, chopped
4 large skinless, boneless chicken breasts
4 slices Monterey Jack cheese
Garnishes: Avocado slices, tomato slices, lime wedges, cilantro sprigs, salsa and sour cream, flour tortillas
Directions:
In a large resealable plastic bag, combine the juice of 2 limes, tequila, olive oil, salt, garlic, jalapenos and cilantro. Place chicken into bag, seal, shake to distribute marinade, then place in refrigerator to marinate for at least 2 hours or overnight, turning at least once.
When ready to cook, preheat grill. Remove chicken from bag and place on medium-hot grill for 8 minutes per side. In the last minute, place slices of cheese on top and allow to melt. Remove from grill and place on cutting board. Cut into 1/4″ diagonal slices and arrange on platter with slices of avocado, tomatoes, cilantro sprig and a wedge of lime.
Serve with warm tortillas, salsa and sour cream.
Serves 4.
Wine Pairing:You can always opt for the traditional Corona or margarita (our choice) but wine will also pair nicely with this grilled tropically-flavored dish. Try a crisp, citrusy flavored Chardonnay like Four Vines, Sauvignon Blanc or a Chablis. You can even go sweeter, with a Gerwurztraminer or go the red route and pair with a syrah.