Grilled Tequila Lime Chicken Tacos is a quick and easy meal with tons of flavor. The chicken is zesty but not overly spicy with a citrusy flavor enhanced by the addition of tequila. Slice it and serve it with flour tortillas and your favorite taco fixins'.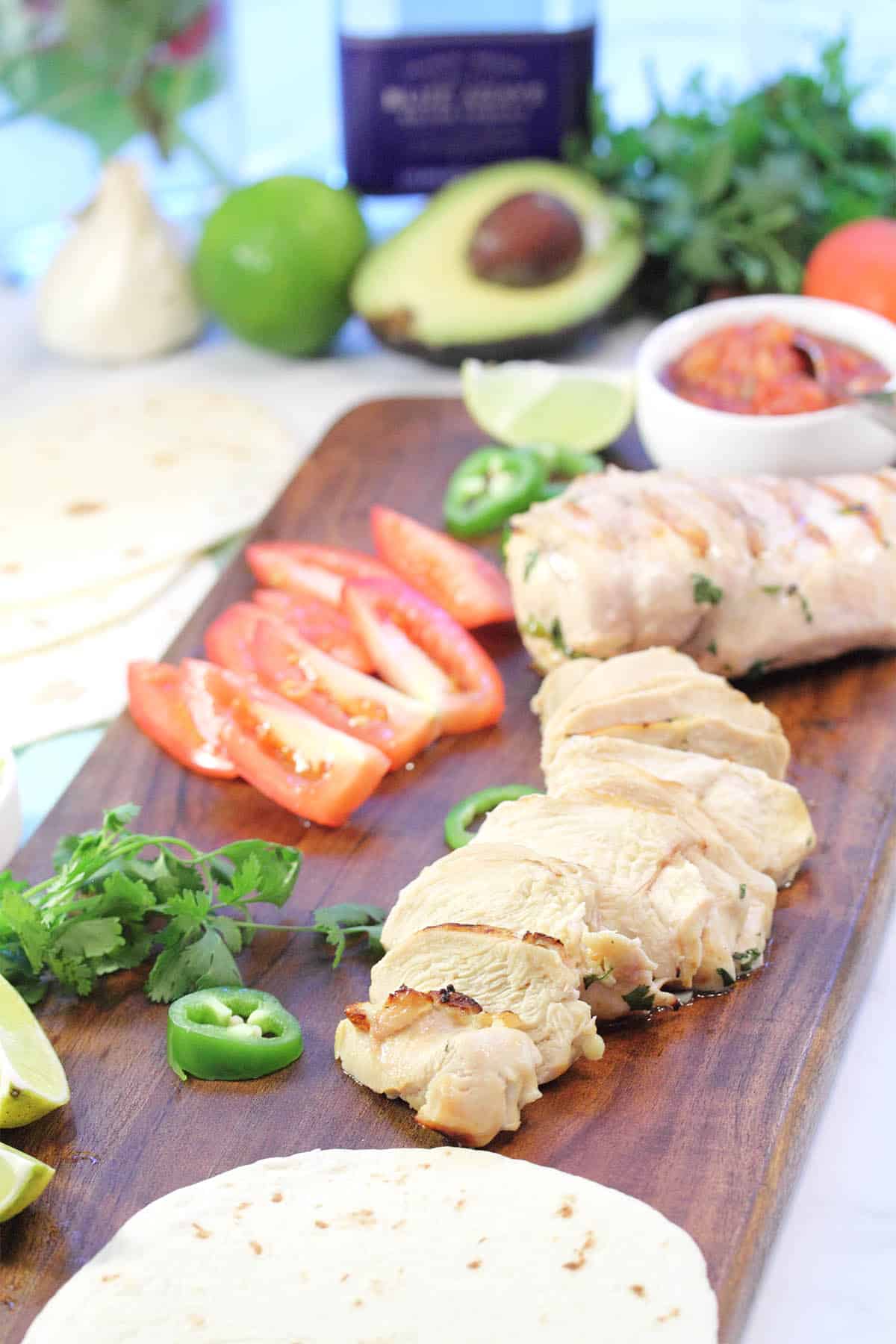 I love tacos! I could eat them every day of the week and not get tired of them. And there are so many ways to fix them. Have them for breakfast, like these Breakfast Street Tacos, use pork and go international with Korean Pork Tacos or opt for fish like my Fish Tacos with crunchy slaw. Of course, that being said, fixing these tequila lime chicken tacos, aka Margarita Chicken, with the flavor of my favorite margarita has to be at the top of my list. They're easy to to throw together and the taste is amazing!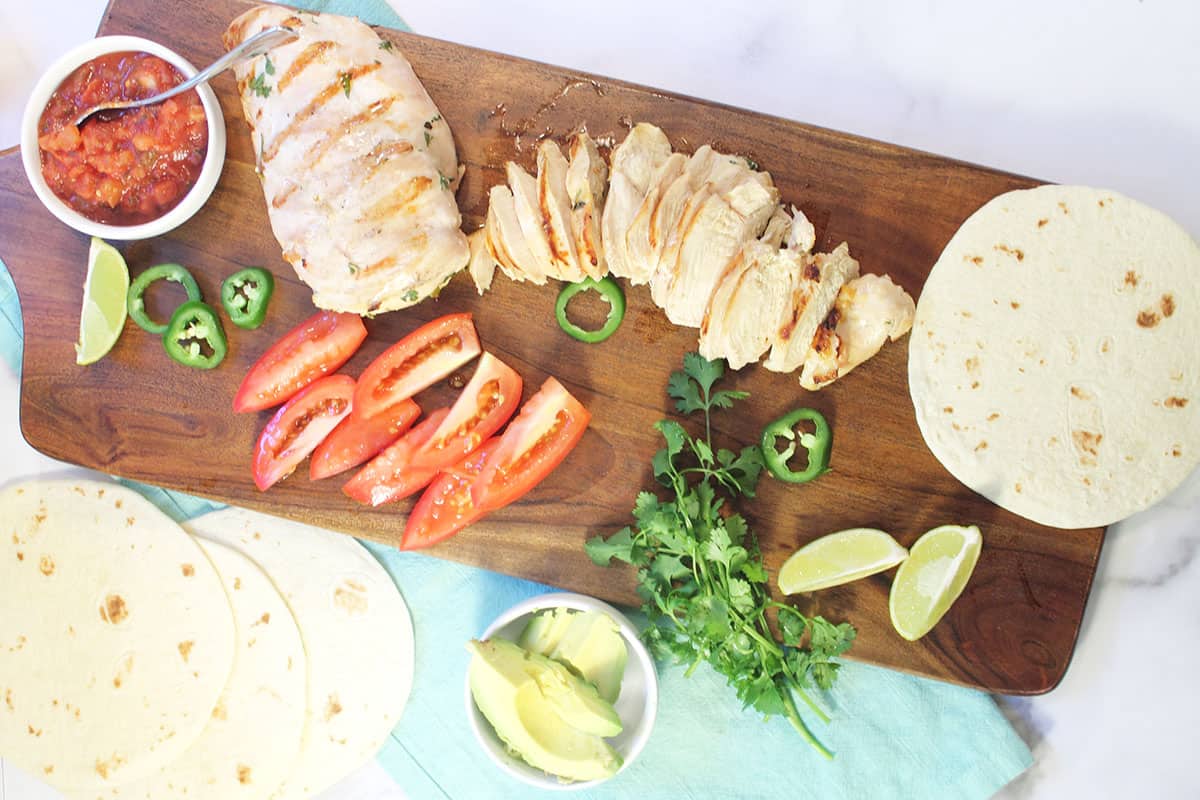 Now you're probably asking yourself, why do I have to add alcohol to the mix. Well, you don't have to, but I love to work with recipes that contain some sort of alcohol, whether it is wine, rum, tequila or beer, as you can add so much flavor with just a splash. The alcohol is used to bring out the flavor in food, much like salt, as the alcohol tends to evaporate quickly delivering aromas that help enhance the enjoyment of the dish. Alcohol also bonds well with fat and water helping the herbs and spices to easily soak into the marinated meats.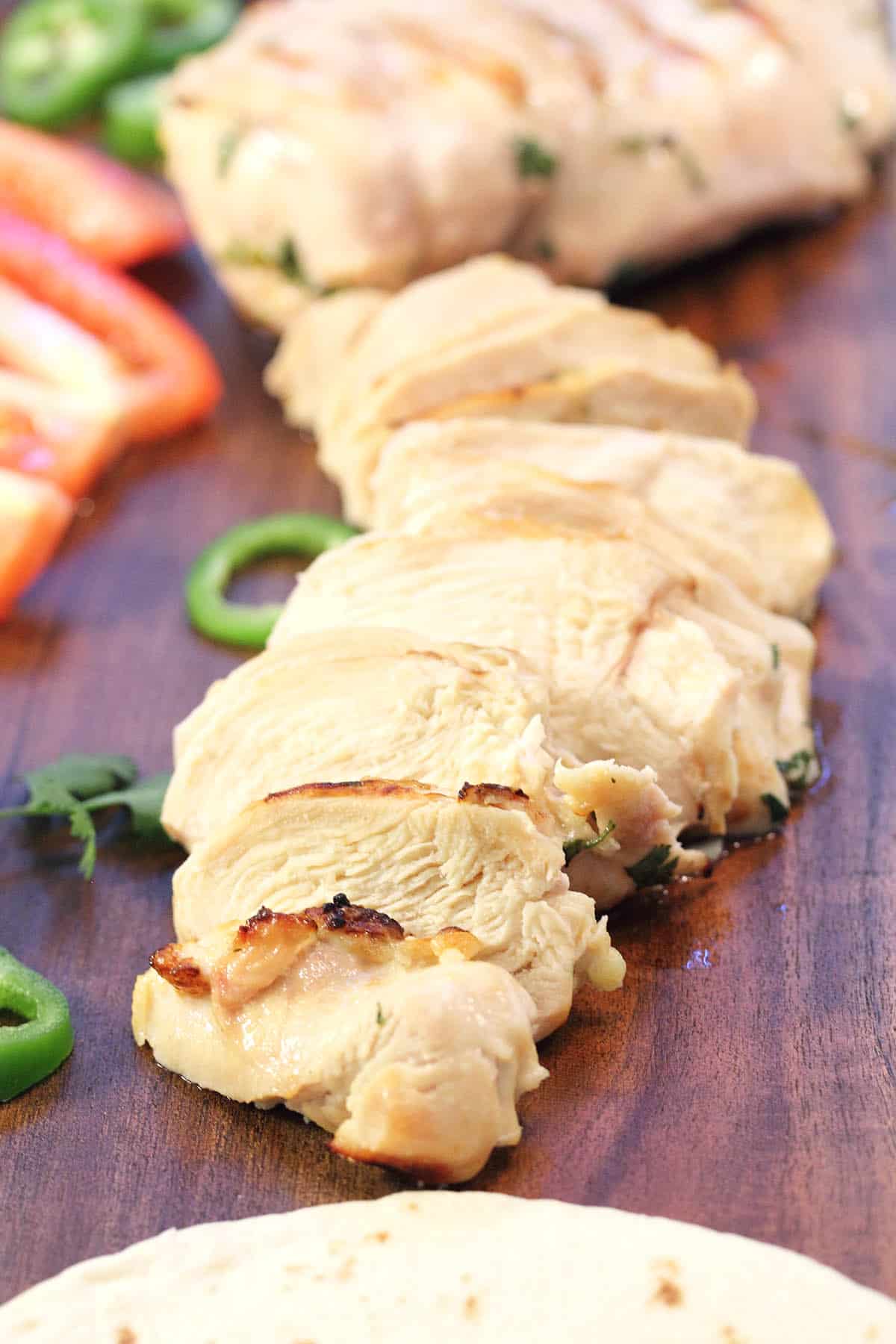 If you're cooking the meat, then alcohol is your tasty friend. The flavor of the liquor complements without overpowering the dish. Adding the right amount of alcohol to the marinade is important as too much can breakdown the proteins and affect the texture. Just a splash is usually enough, with the exception of wine, to add flavor and have a major impact on the taste.
Good rule of thumb - Use darker alcohols, like stout or whiskey, with dark meats like pork and beef and lighter spirits, like gin and tequila, with white meats and seafood.
In the case of this tequila lime chicken, I used just a slight bit more tequila as I wanted the taste of the tequila to have a major impact on the taste. Try it, I know you'll love it!
Questions on cooking with alcohol
Why do I need to add tequila to the marinade?
Alcohol is used to bring out the flavor and aromas of the food. Alcohol is also known to bond well with fat and water thereby helping herbs and spices to soak into marinated meats more easily. It is not, as the majority of people believe, to tenderize it.
Does the alcohol all burn off during cooking?
Contrary to popular belief, unless the dish is going to cook for over an hour, there will still be a substantial amount of alcohol in the dish.
Does it matter what quality the alcohol is that I use?
Most definitely! If you won't drink it, don't use it! And that includes those bottled called cooking wine! It's all about the flavor the liquor lends to the dish so good quality with plenty of flavor is what you're looking for.. However, you don't have to use the expensive brands as the subtleness of these will be lost in the cooking.
What else can I make with margarita chicken?
This is a great recipe to double up on and use throughout the rest of the week. Use it on:
Adds a protein to your favorite summer salads
Serve as is with Spanish Rice and your favorite veggies
Toss it in with your favorite creamy spaghetti sauce
Substitute this lime chicken for beef in a taco salad
Ingredients
These main ingredients make the dish and all enhance it in some way.
Tequila - adds a depth of flavor to the marinade, seasoning the meat, and making it taste better and smell amazing.
Lime Juice - adds tons of flavor to the dish as well as aiding in neutralizing the fleshy taste of the chicken.
Olive Oil - brings all the herbs and spices together allowing them to easier coat the meat.
Directions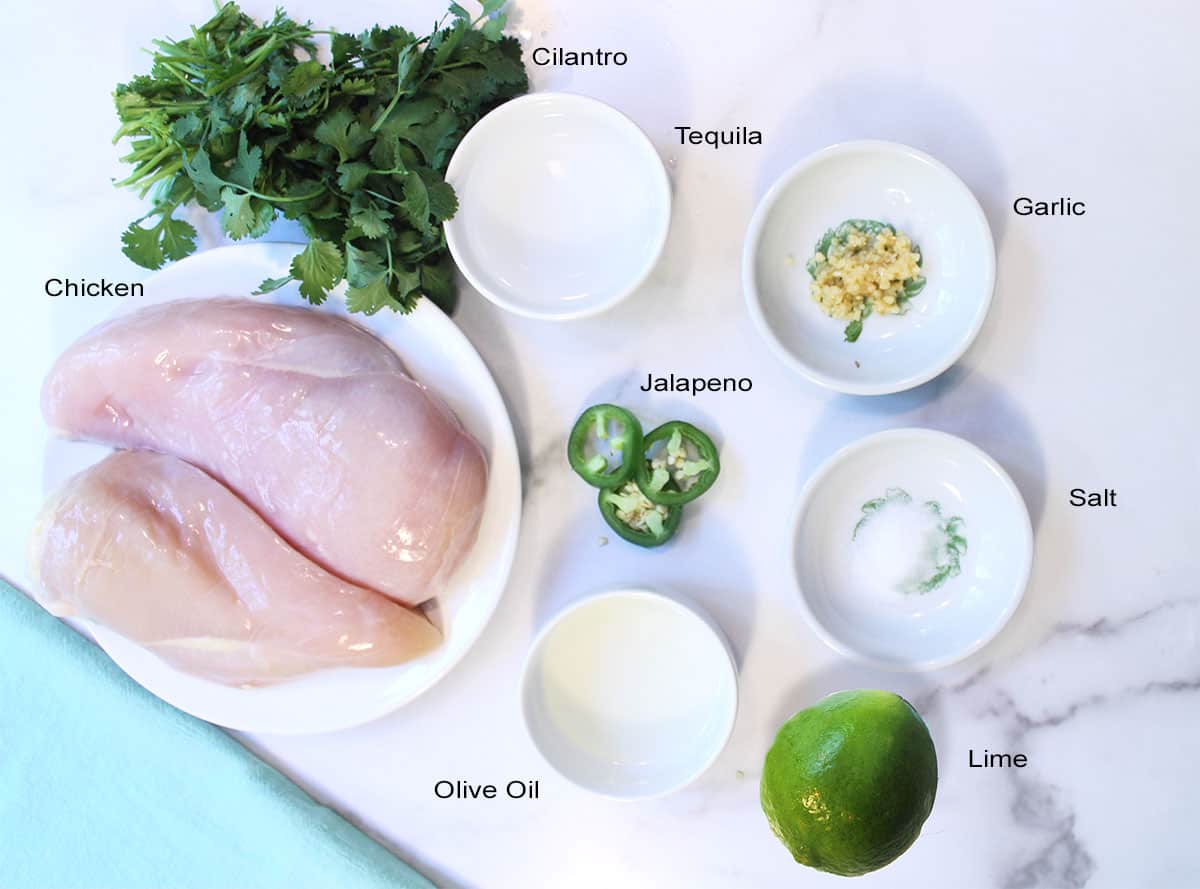 Gather the 8 simple every day ingredients - boneless chicken breasts, tequila, olive oil, lime juice, cilantro, jalapeno, garlic and salt.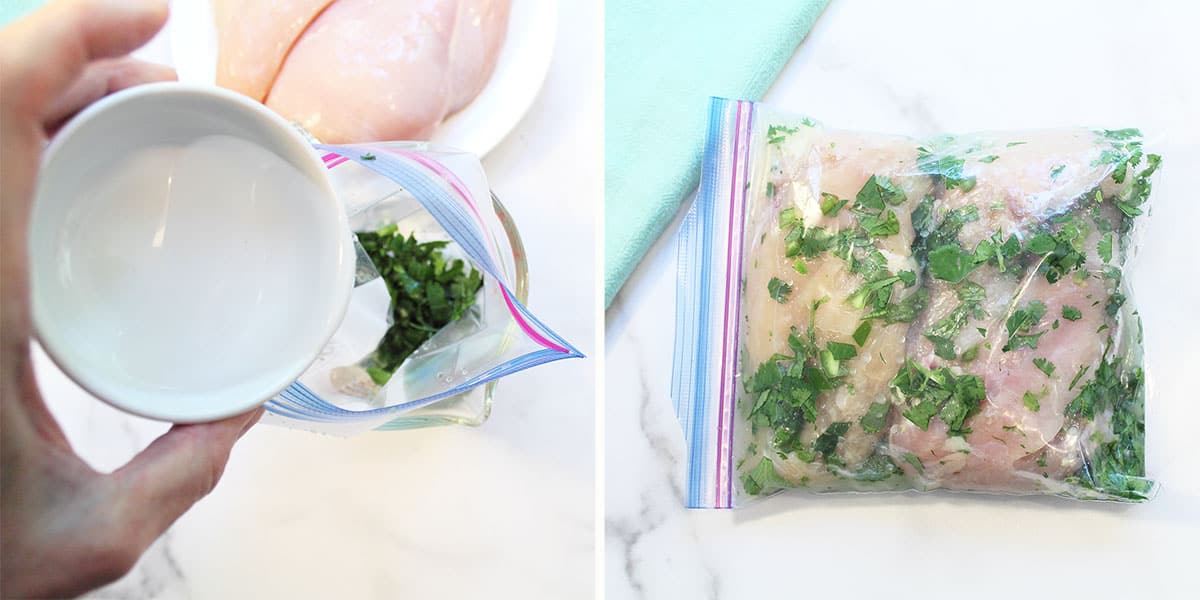 In a medium resealable bag, combine lime juice, tequila, olive oil, salt, garlic, jalapenos and cilantro.
Add chicken to bag and seal. Place in refrigerator for 30 minutes, turning half way through.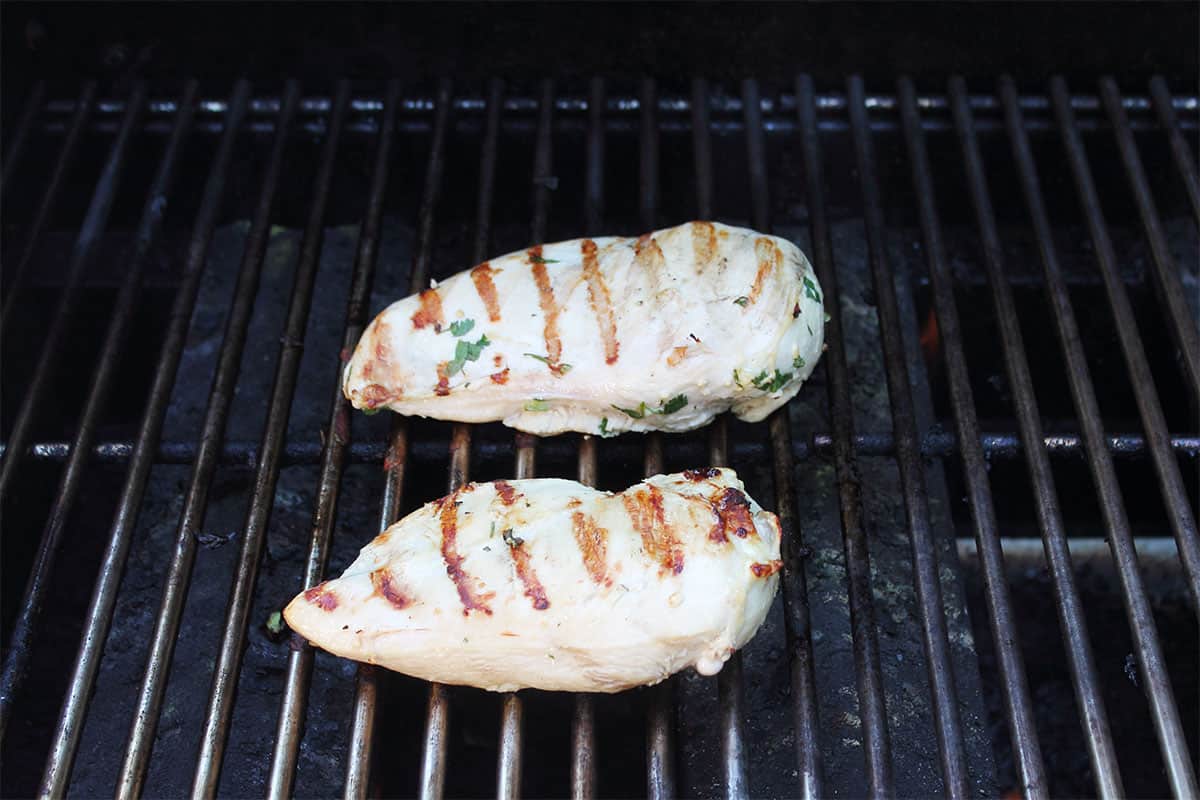 When ready to grill, preheat grill. Take the chicken out of bag and discard marinade. Grill chicken about 8 minutes per side or until thoroughly cooked through. (If adding cheese slices, add in the last minute and allow them to melt.)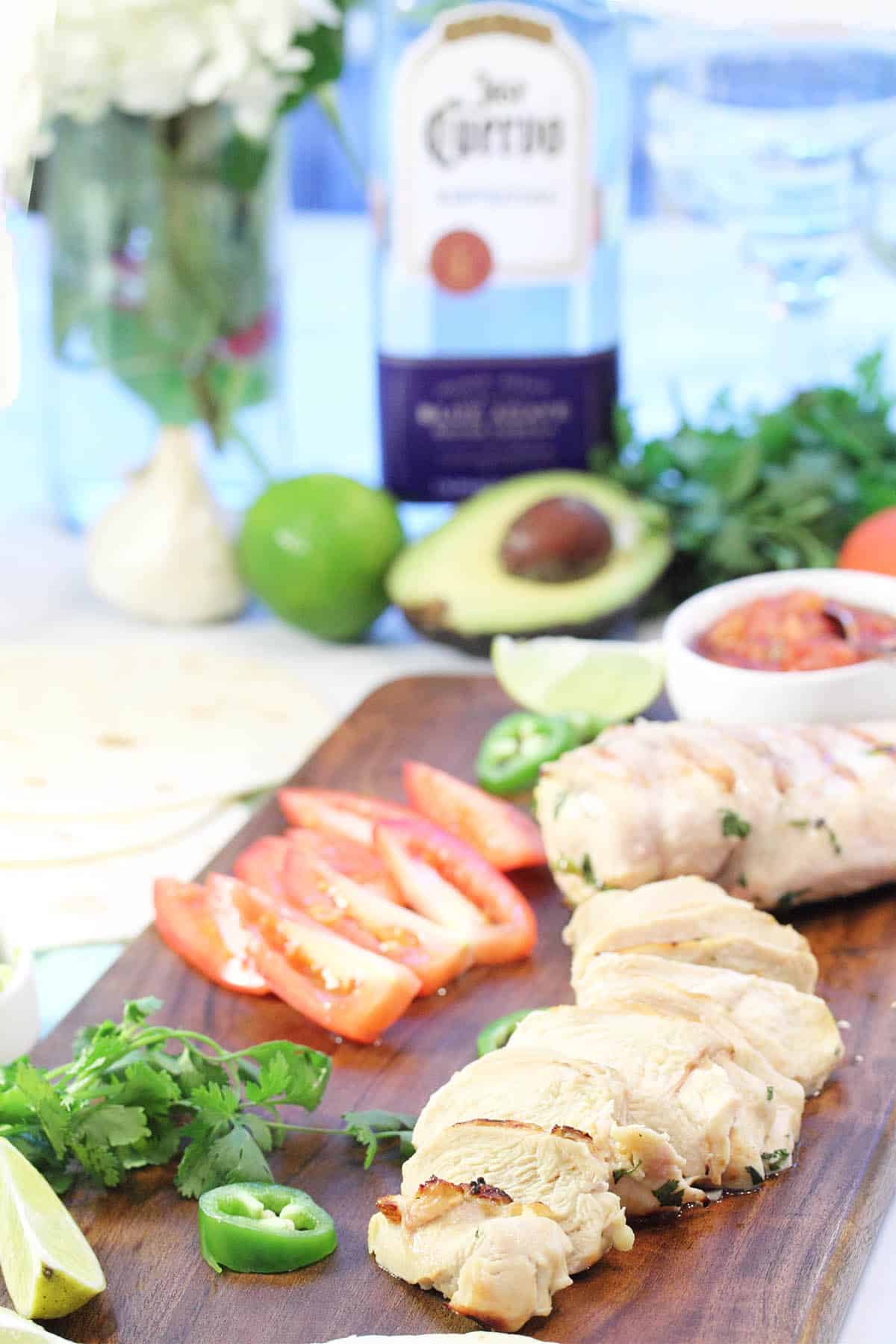 Place the tequila lime chicken on a cutting board and slice thinly. Serve with soft tortillas, sliced tomatoes, sliced avocado, shredded cheese, slices of lime, salsa and sour cream. This is an easy dinner that you can have on the table in about 1 hour, counting the marinating time. It's also a fun dinner, in that everyone can fix their own and pile on their favorite toppings. As a mom it's a win-win, it keeps me out of the kitchen and there's little cleanup. And it tastes soooo good!
More delicious Mexican recipes
Roasted Red Pepper and Cheese Quesadillas from 2CM - are packed full of black beans, roasted red peppers, a touch of bacon & just plain oozing with cheese. Great as an appetizer, lunch or light dinner.
Marinated Flank Steak with Chimchurri from Girl with The Iron Cast - This marinated flank steak is so juicy and so tender, your taste buds will thank you later. Paired with an easy chimichurri, this steak recipe is the perfect grilled dinner.
Turkey/Chicken Enchilada Casserole from 2CM - is an easy to make dinner that takes just 20 minutes of prep. Just layer tortillas with turkey & cheese and pop in the oven.It's that easy!
Taco Tortilla Stack from 2CM - is an easy, deliciously cheesy south of the border dinner. Layers of spicy ground beef, creamy guacamole and ooey gooey melty cheese are sandwiched between tortillas then baked in the oven. It's like a Mexican lasagna!
Love quick & easy recipes? Follow me on Instagram, Facebook, Pinterest & Twitter for all the latest recipe inspiration! Plus join my email list here and receive a free e-book.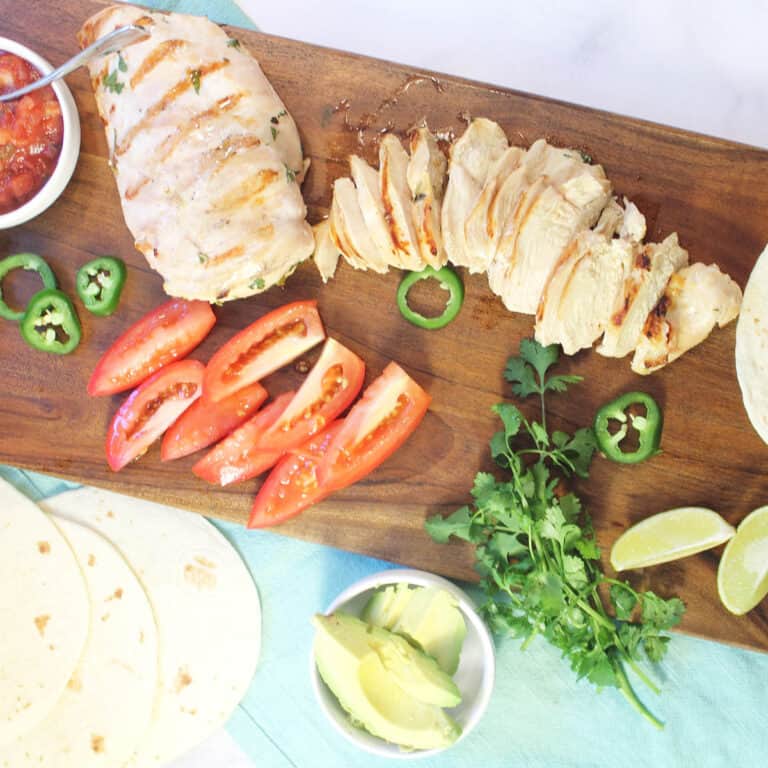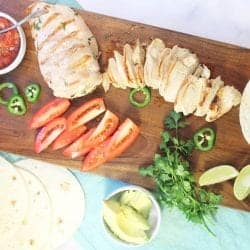 Ingredients
1

lime

juiced (about 2 tablespoons)

¼

cup

tequila

1

Tablespoon

olive oil

½

teaspoon

salt

½

teaspoon

minced garlic

¼-1/2

jalapeno pepper

chopped

¼

bunch fresh cilantro

chopped

2

large skinless

boneless chicken breasts

2

slices

Monterey Jack cheese

optional

4

Flour tortillas

Garnishes: Avocado slices

tomato slices, lime wedges, cilantro sprigs, salsa and sour cream
Instructions
In a large resealable plastic bag, combine the juice of the lime, tequila, olive oil, salt, garlic, jalapenos and cilantro.

Place chicken into bag, seal, shake to distribute marinade, then place in refrigerator to marinate for at least 30 minutes and up to 2 hours, turning at least once.

When ready to cook, preheat grill to medium-hot.

Remove chicken from bag and discard marinade. Place chicken breasts on hot grill and cook for 8 minutes per side.

If opting for cheese, in the last minute, place the slices of cheese on top of each breast and allow to melt.

Remove from grill and place on cutting board. Cut into ¼″ diagonal slices and arrange on platter with slices of avocado, tomatoes, cilantro sprigs and lime wedges.

Serve with warm tortillas, salsa and sour cream on the side.
Nutrition
Calories:
274
kcal
|
Carbohydrates:
16
g
|
Protein:
18
g
|
Fat:
11
g
|
Saturated Fat:
4
g
|
Cholesterol:
49
mg
|
Sodium:
638
mg
|
Potassium:
266
mg
|
Fiber:
1
g
|
Sugar:
1
g
|
Vitamin A:
158
IU
|
Vitamin C:
2
mg
|
Calcium:
139
mg
|
Iron:
1
mg
This post has been updated with newer photos and step-by-step directions. It was first published on September 14, 2014.