Beware! This Nutella Puppy Chow is a highly additive snack and it's not just for kids! Whether you call it puppy chow, muddy buddies, moose munch or reindeer food, it's over the top yummy! I mean what's better than Chex covered with chocolate, nutella & powdered sugar? See what I mean?!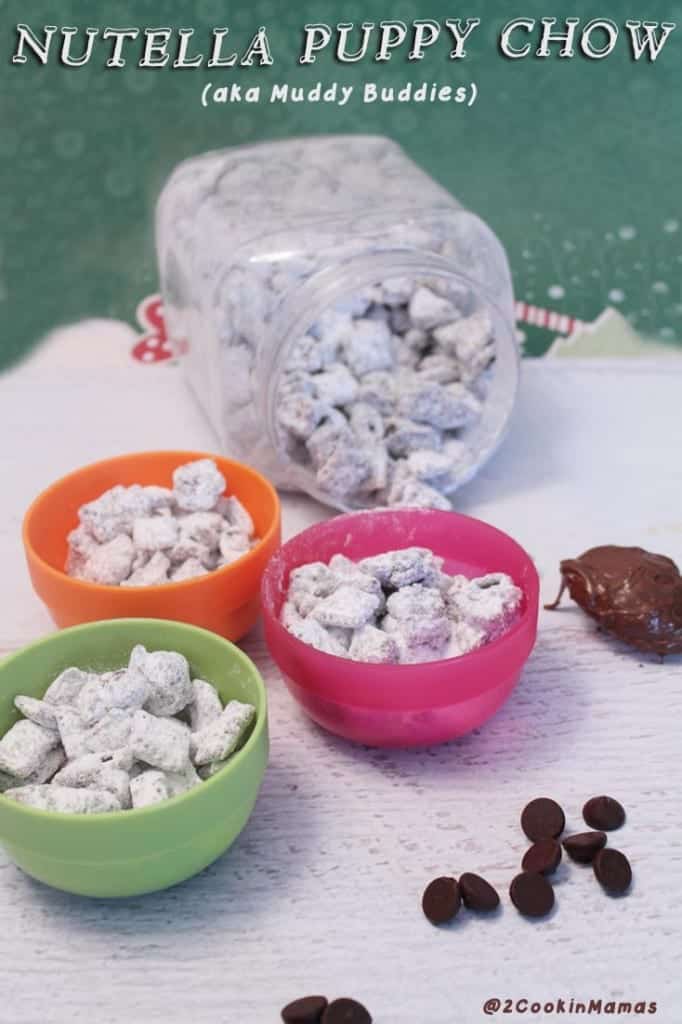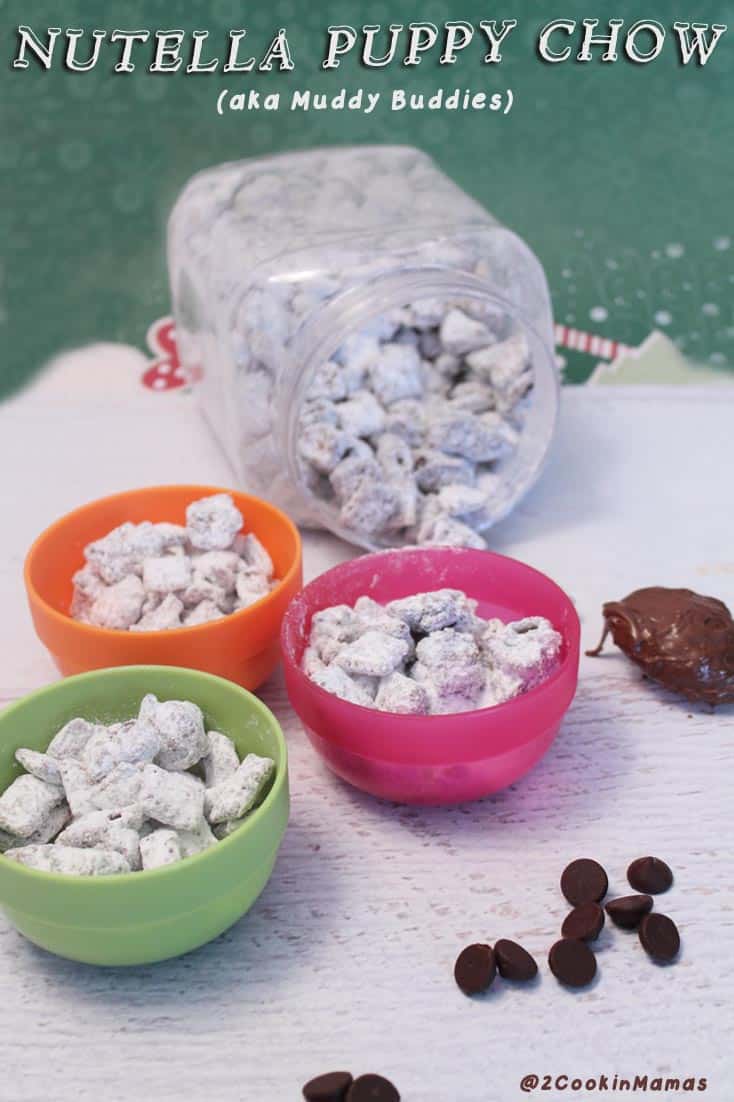 I'm so excited that it's Secret Recipe Club reveal day! If you haven't visited our site on the second Monday of the month before let me tell you of all the fun we have with this club. Our group is made up of food bloggers from around the globe that are given one of the other blogger's sites in the group to make anything they choose from their recipe index. No one gets to tell who they chose or what they are going to make until reveal day. It's been a great way to find new bloggers to follow and some absolutely delicious recipes! You've got to check out all the "scrumptiousness" for yourself below.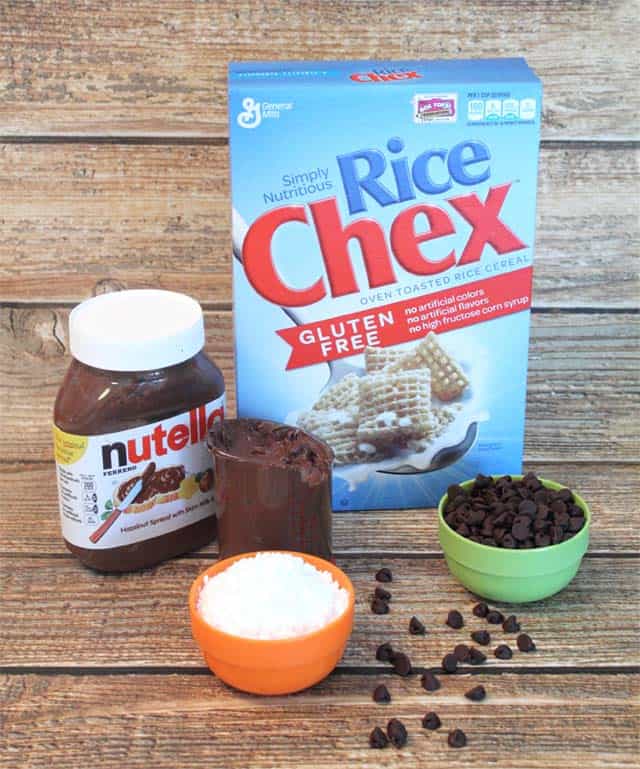 This month I was assigned Tracy's blog, Pale Yellow, and couldn't believe how many mouth-watering confections there were on her site. She is amazing! She is a science educator/curriculum specialist during the day and a food blogger by night so, believe it or not, all these scrumptious-looking treats were baked at night! I think if I did that I would be skipping dinner just to get to the desserts! You can tell from her creations that she loves to bake and she says that it is her way of saying I love you or care for you when she shares with you. I love that sentiment, I just wish I was one of her neighbors or co-workers! 🙂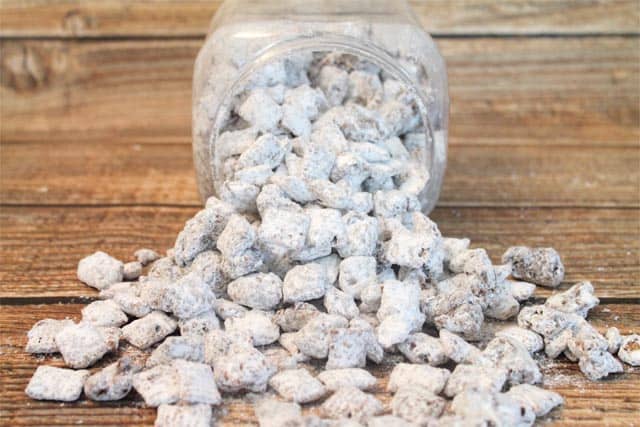 It was so hard to decide what to make! I debated about making the Black & White Cookies with Amaretto (black & whites are one of my favorites), the Slutty Brownies (the name is just kind of catchy isn't it & her explanation is even better) or the Apple Cake with Brown Butter Frosting (definitely a fall/winter sounding dessert that would have been perfect for Thanksgiving) but I went with the Nutella Puppy Chow. Why? Because I was one of the people she was talking about that has never had this addictive snack and I wanted to remedy that right away! And according to Wikipedia, this favorite all American snack is also known as muddy buddies, monkey munch, or reindeer food- who knew?! (guess I'd better save some for Christmas Eve)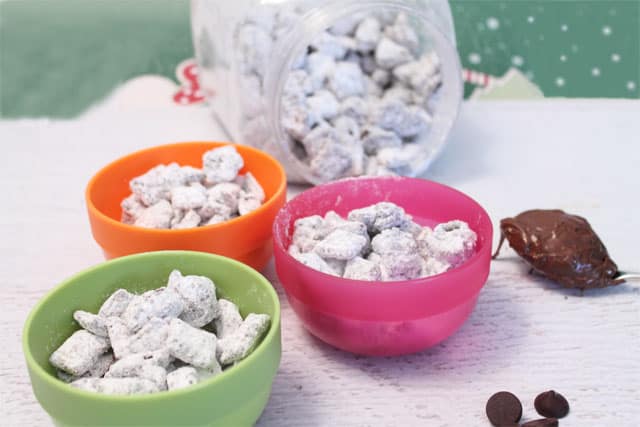 I've also been sitting on pins and needles, anxious to share this recipe with everyone. I baked it almost as soon as I got my assignment because it seemed like the perfect treat for when my grandson came for the Thanksgiving holiday. Once I baked it, I had to make sure it didn't disappear before he showed up because it really is a dangerous addictive treat. It is so easy to grab handfuls and not realize that you've already gone through half the jar! (don't want to incriminate anyone – so no names here)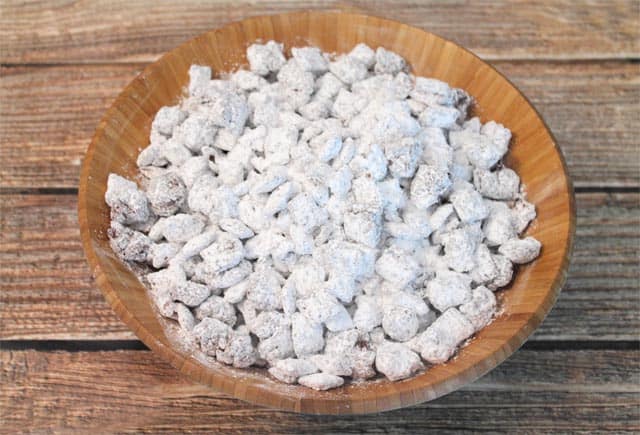 So did he enjoy it? Yep he sure did! Just look at that face!  I think the Midwesterners have something going with this snack. Oh, and the funny thing was, after I mentioned making this recipe to my daughter, who had never heard of them either, she took a picture of them at the grocery store. It seems the makers of Rice Chex are now packaging these up so there is no need to make your own anymore. But I have to say, it's so easy to make yourself that you just have to give it a try!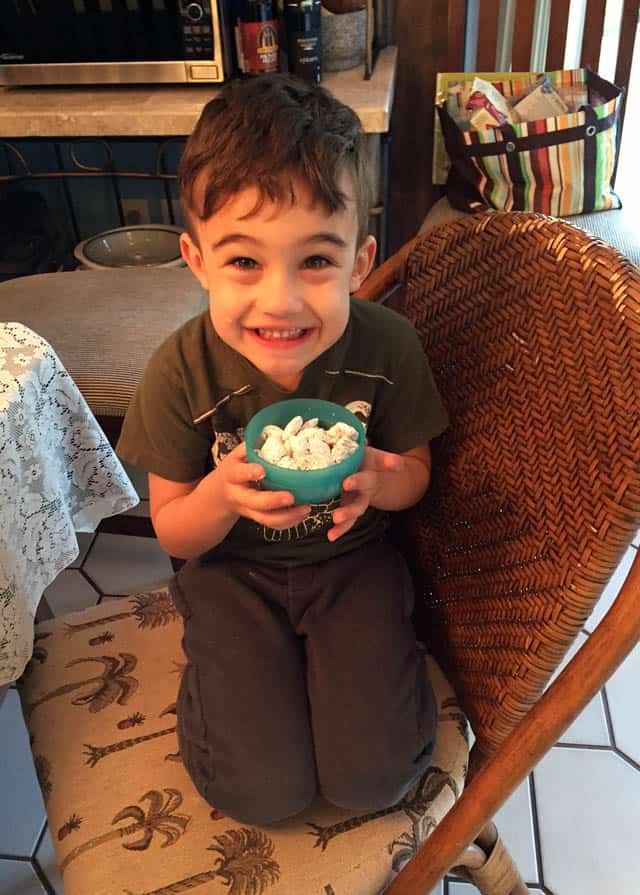 Enjoy!
Nutella Puppy Chow
Ingredients:
1/2 cup butter (1 stick)
1-1/2 cups semi-sweet chocolate chips
1 cup (13-oz jar) Nutella
1 box (about 12-13 oz) Rice Chex cereal
3-4 cups powdered sugar
Directions:
In a 4-cup microwave safe measuring cup, melt butter with chocolate chips. Microwave on high in 30-second increments until mixture is smooth (about 1-1/2 minutes total). Add Nutella and stir until well mixed.
In a large bowl, mix cereal with chocolate-Nutella mixture. Stir with wooden spoon just to combine then use your hands to toss it until all cereal has been coated with mixture. Be sure to do it carefully so the cereal does not break up too much.
Pour 1/4 of powdered sugar in a large ziploc bag. Scoop several handfuls of chocolate coated cereal into bag and shake until all pieces are coated. Break up any large chunks and shake a little more. Pour onto a cookie sheet to finish cooling. Repeat with remaining coated cereal and powdered sugar.
Store in airtight container.

Loading InLinkz ...