This Red Dill Potato Salad with sour cream and bacon takes your potato salad to the next level! The potatoes are grilled to lend a mild smoky flavor that pairs perfectly with the bacon while the sour cream and mayonnaise make it creamy and moist. Top it all off with some dill for a pop of flavor.
It sure makes for one popular side at your next picnic! Great for Fourth of July, Memorial Day, or just any backyard get-together.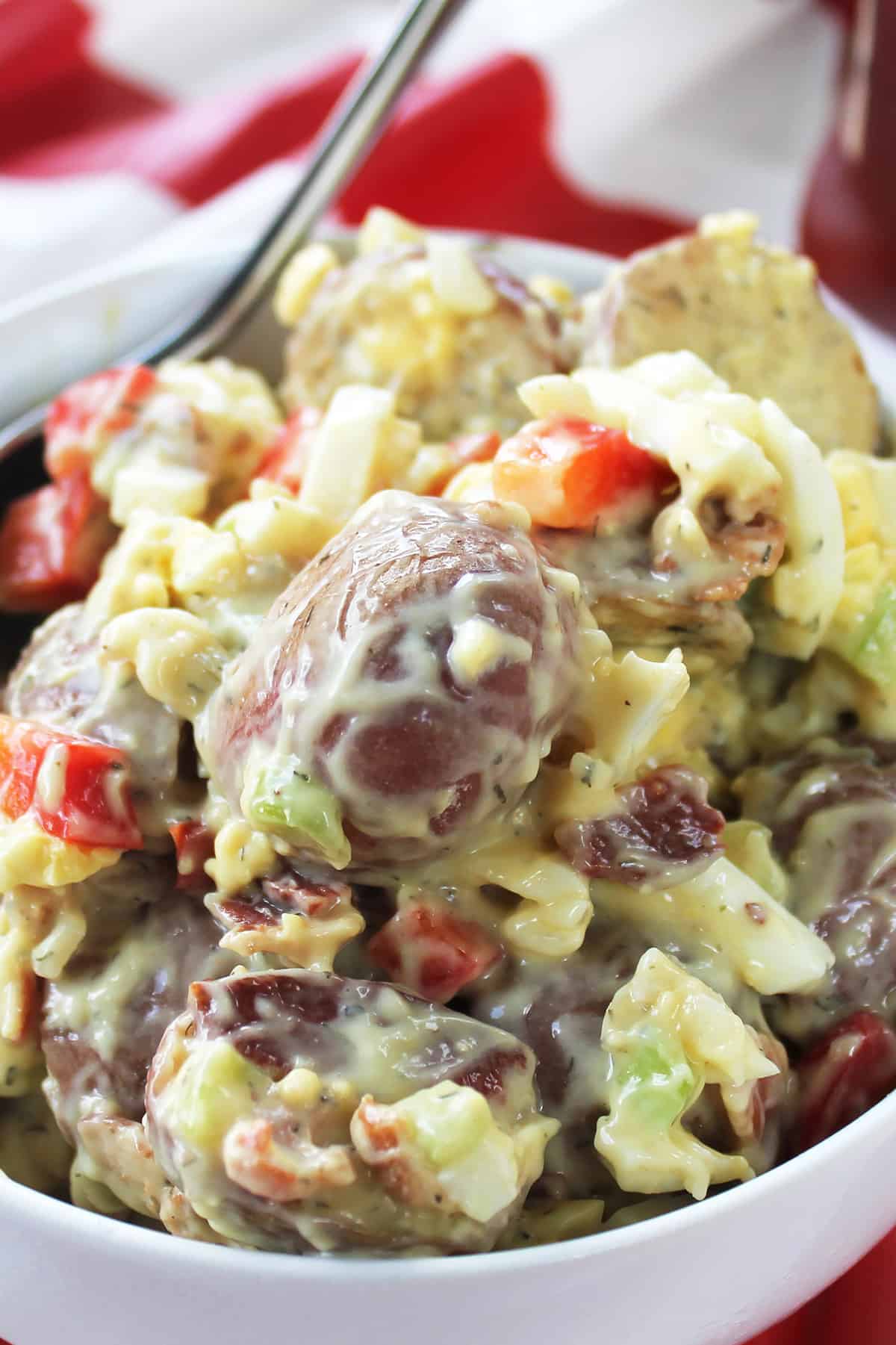 This Red Dill Potato Salad is a must for summer barbecues. After all, everyone loves potato salad! This red skin potato salad recipe comes directly from my mom as she had the most delicious and most requested recipe for red potato salad in the family. Her salad always starts with red potatoes, mixed with a combination of sour cream, mayonnaise, mustard, and egg, then sprinkled with fresh dill. It's truly incredible!
And everyone knows, it just wouldn't be a true BBQ without potato salad! It pairs perfectly with picnic favorites like grilled hamburgers, sausage, chicken, and ribs. Add some deviled eggs, grilled corn on the cob, baked beans, and some Watermelon Sangria to wet your whistle and you've got yourself a doozy of a summer BBQ!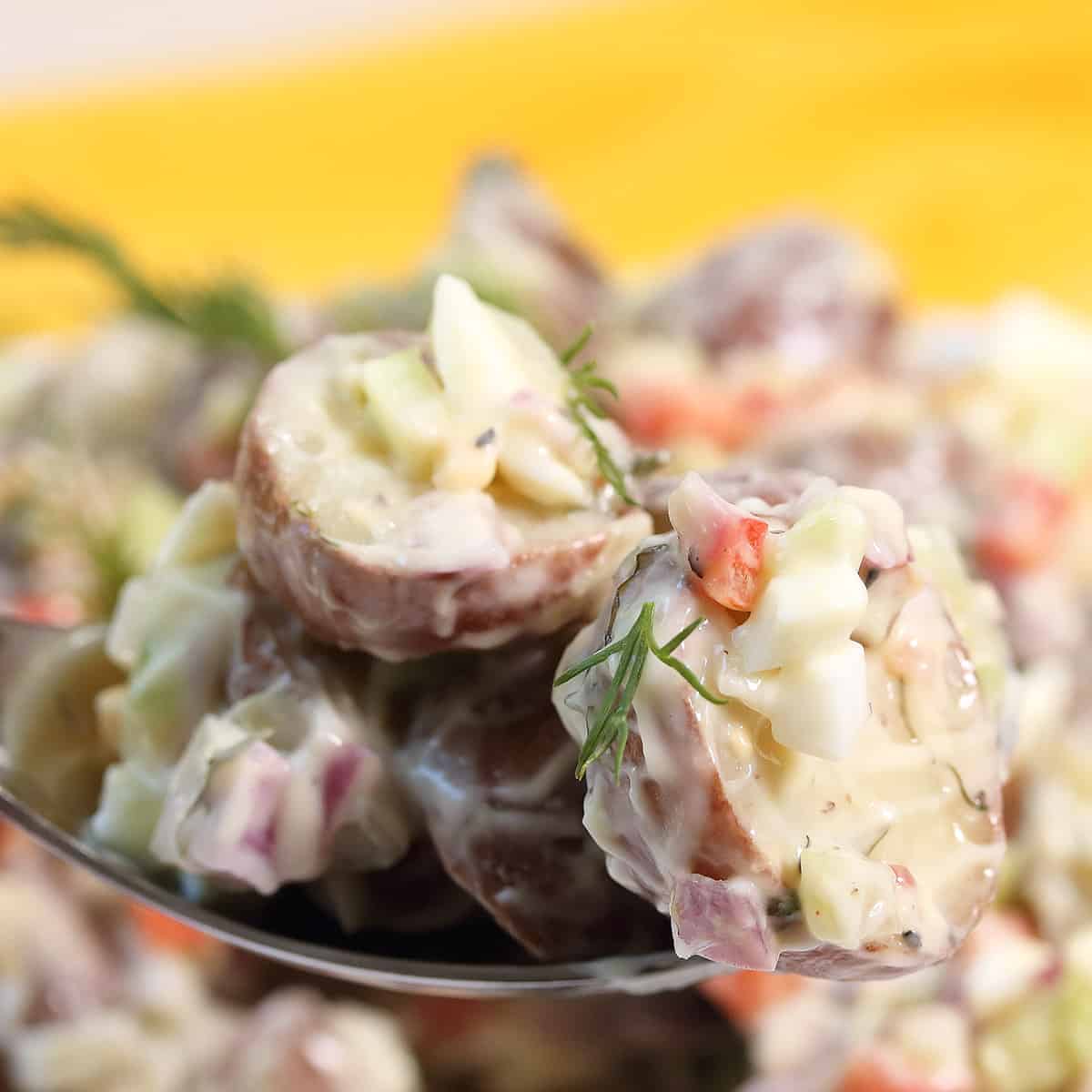 Grilled Potato Salad
This year I decided to use her red potato salad recipe as a base and up the flavor by grilling the potatoes first. Grilling the potatoes is super simple and adds a wonderful smoky depth of flavor to the salad. And I figured while I was at it, I might as well add some bacon to the mix. Bacon, sour cream, potatoes - it's like a match made in food heaven!
Why You'll Love This Red Potato Salad Recipe
Easy to make
Smoky flavor that goes perfectly with BBQ
Creamy with a pop of flavor from sour cream and dill
It has bacon in it!
Best Potato for Potato Salad
I love to use red skin potatoes for potato salad. They are less starchy and tend to hold their shape after cooking. Not to mention the color they add to the salad. Here are some of my favorites including some other waxy varieties.
red bliss potatoes
baby red potatoes
red new potatoes
new potatoes
fingerling potatoes
Yukon gold
Potato Salad Dressing
The salad dressing for this grilled potato salad consists of a combination of sour cream and mayonnaise. However, there are a number of ways to dress this homemade red potato salad. You could opt for a combination of mayonnaise and yogurt, usually 3:1 ratio, just mayonnaise or Miracle Whip to no mayo at all.
For a no mayo version try Italian dressing, your favorite vinaigrette, olive oil & vinegar, pesto, or tahini.
Ingredients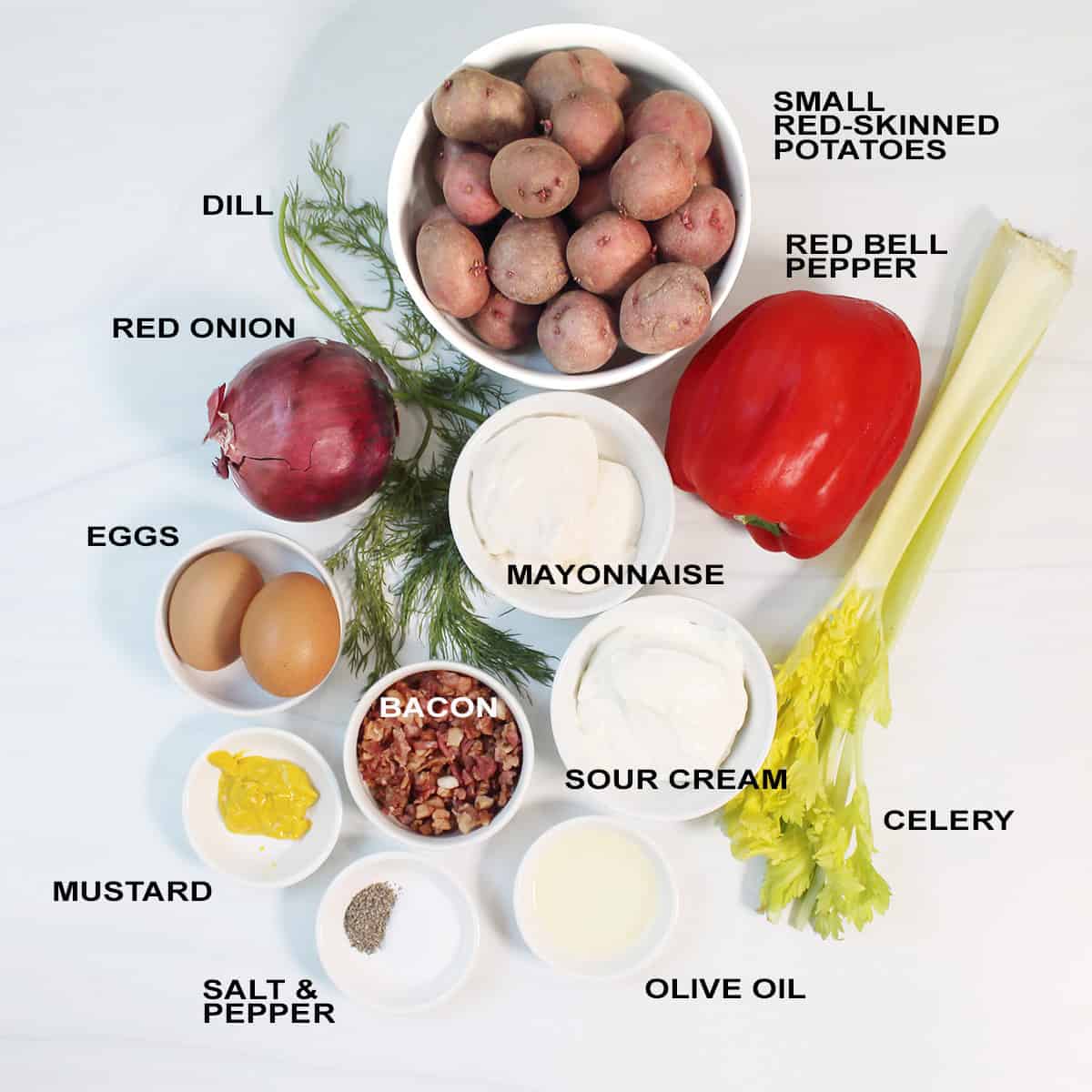 Small red potatoes - I like to use a waxy, less starchy potato so they hold their shape after cooking. Any red skinned potato will work well.
Olive oil - Keeps the potatoes from drying out while cooking as well as giving them a nice crispy skin.
Fresh dill - gives the salad a pop of flavor and color. Try to use fresh if available as you can really tell the difference.
Salt & pepper - enhances all the flavors
Bacon - gives more or a smoky, salty edge to the salad while providing crunch and color
Eggs - melt into the potato salad and give it extra flavor. They can be omitted if you prefer.
Red Onion/Celery/Red Bell Peppers - add nice crunch and flavor. Yellow or green onions can be substituted for the red onion. Yellow or orange bell peppers can also be used.
Mayonnaise - lends moistness to the salad and helps hold it together
Sour Cream - adds a bit of acidic edge to the whole. You can omit this and double up on the mayo or substitute plain yogurt.
Mustard - adds a tangy pop to potato salad much as it does to deviled eggs.
How to Make Red Dill Potato Salad
How to Grill Red Potatoes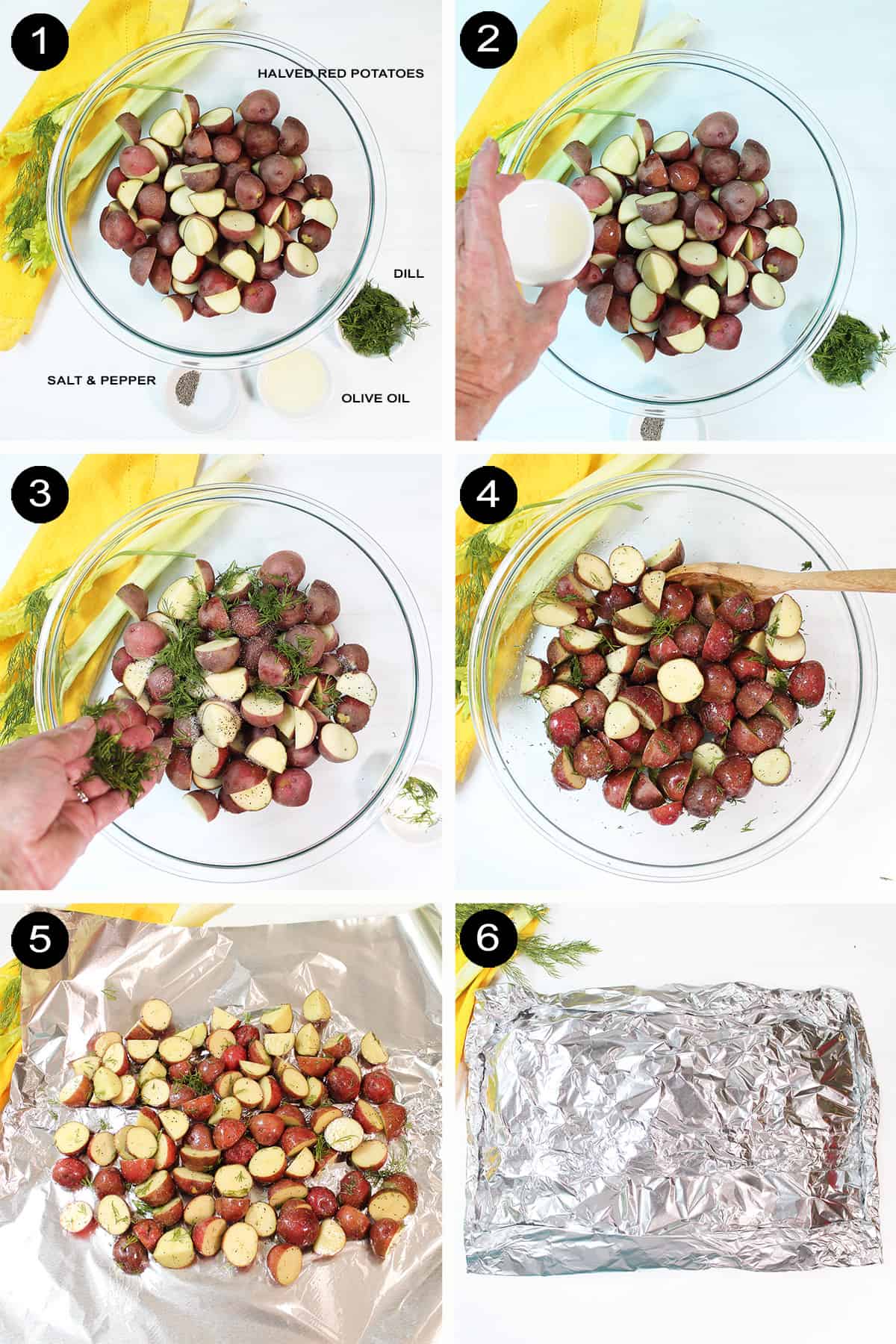 Wash baby red potatoes. Pat dry. Halve and place in a large bowl.
Pour olive oil over the potatoes.
Sprinkle with salt, pepper, and dill.
Toss to coat.
Place seasoned potatoes on aluminum foil.
Fold edges and top over to seal, making it into a large packet.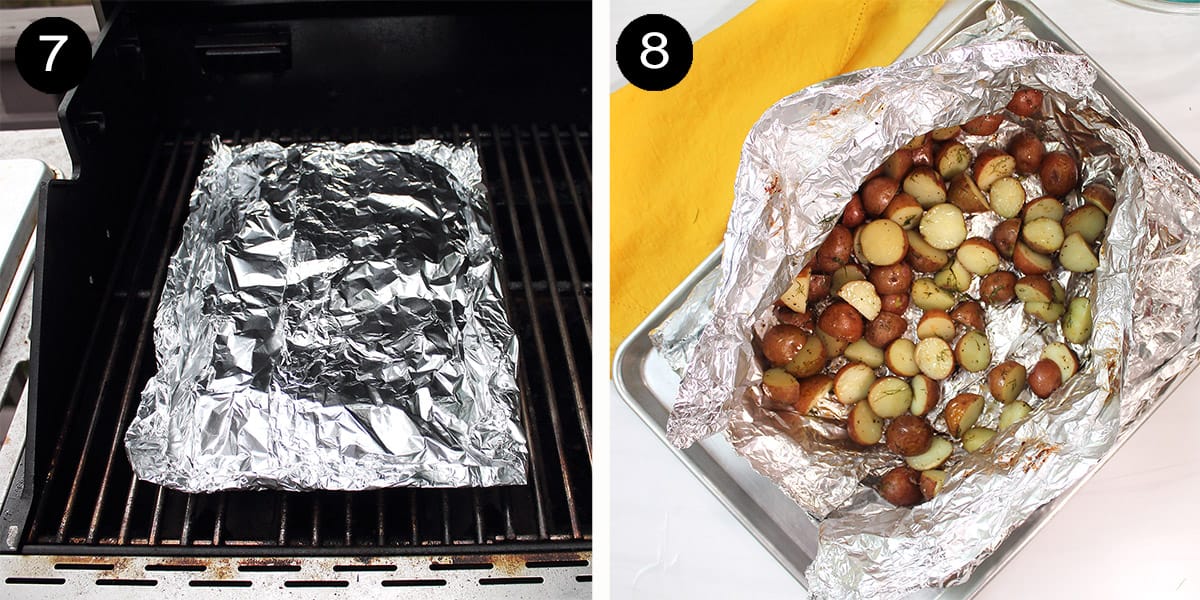 Place on a preheated 350-degree grill. Cook for 20 minutes turning halfway through.
Remove from grill and carefully open packet. Place potatoes in a bowl and refrigerate for several hours.
Pro Tip: Always chill the potatoes after cooking before adding the rest of the ingredients to prevent the mayonnaise from separating and becoming oily.
Assembling Grilled Potato Salad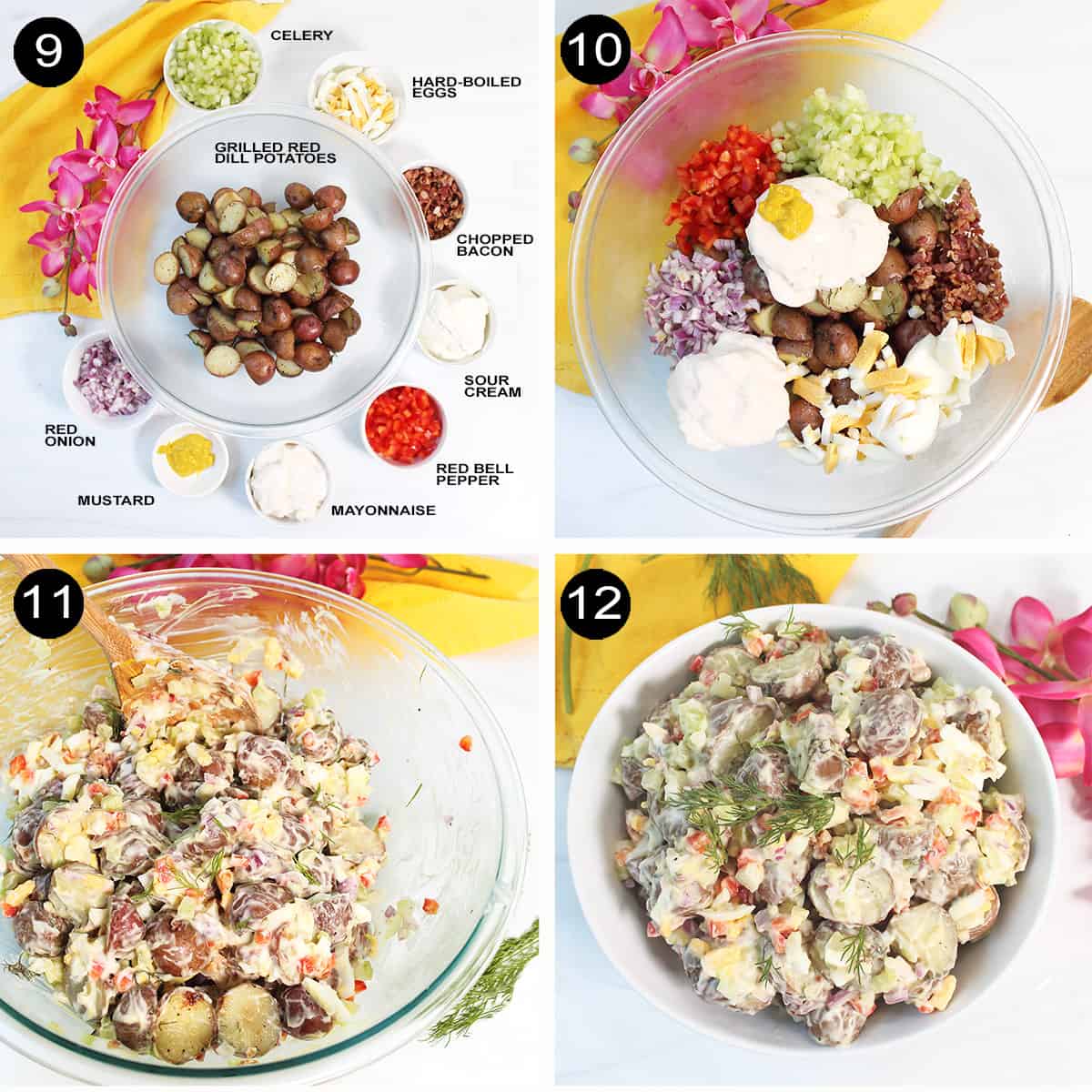 Cut up vegetables, chop hard-boiled eggs, crumble bacon and measure out mayo and sour cream.
Place all ingredients in the bowl with potatoes.
Toss well but gently so as not to break up potatoes.
Serve sprinkled with extra dill on top.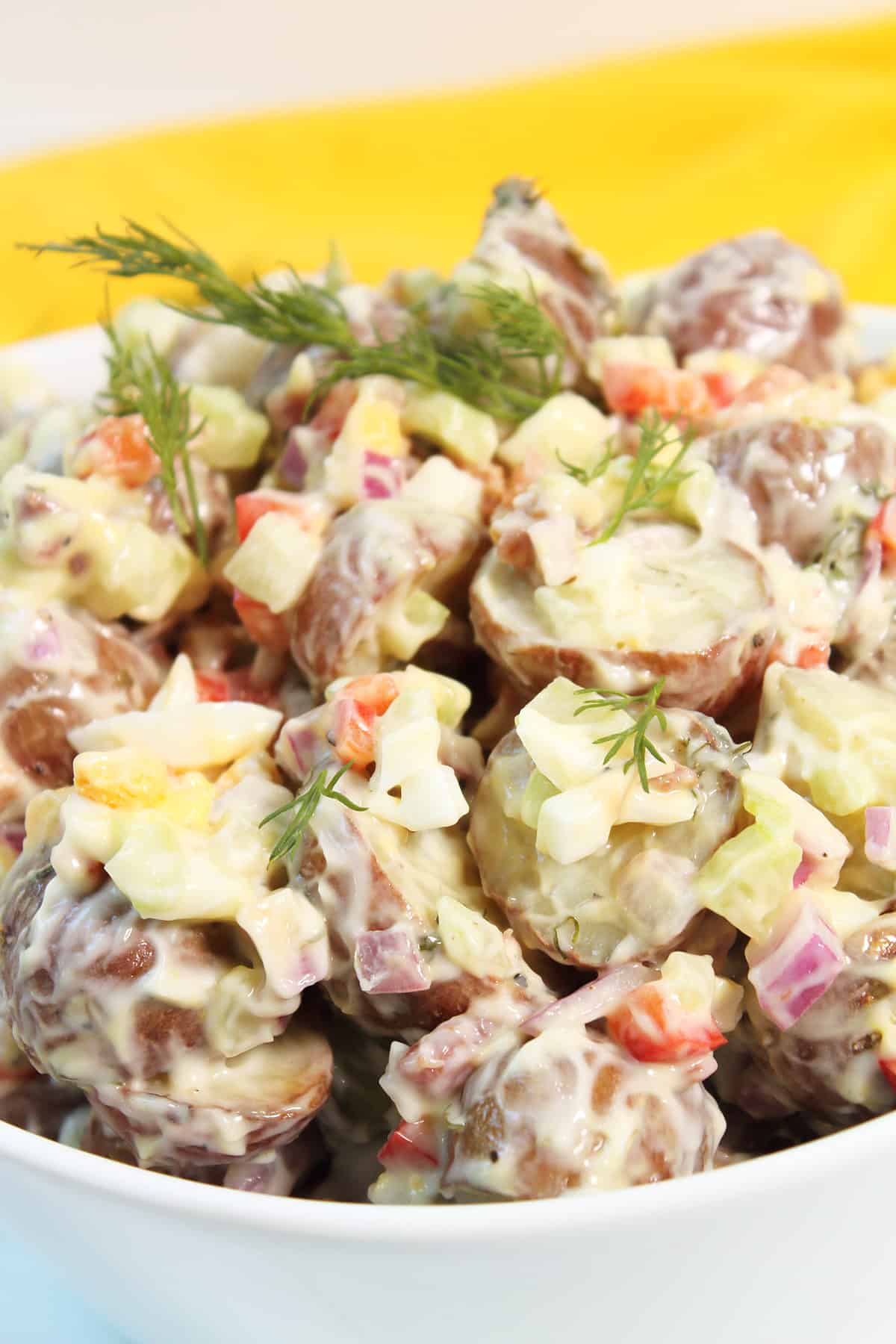 This Red Skin Potato Salad recipe is a fantastic addition to your summer menu. You can make it ahead of time and it goes perfectly with family cookouts, as an easy side for weeknight dinners, and is a fundamental part of any Memorial Day, Fourth of July, or Labor Day BBQ. Enjoy!
How to Oven-Roast Potatoes for Potato Salad
No grill or weather isn't cooperating? You can cook these potatoes in the oven as well. Preheat the oven to 425 degrees. Quarter baby red potatoes and toss with olive oil, dill, salt, and pepper. Place on a baking sheet, cover with foil and bake 30-45 minutes, flipping halfway through.
Tips for the Best Red Potato Salad
Make sure to season potatoes when cooking. Salt, pepper, dill, and oil are used here.
Leave the skin on the potatoes for color as well as more nutritional value.
Do not overcook potatoes. Cook until they are just fork-tender. You do not want them to fall apart when mixing the salad.
Refrigerate salad for at least 2 hours or overnight is best before serving to let the flavors marry.
Storing/Freezing
This salad will keep for 3-4 days in the refrigerator. It does not freeze well.
More Salad Recipes
Roasted Corn Salad - is a quick and easy salad featuring fresh grilled corn & a rainbow of vegetables topped with a citrusy lime dressing.
Cucumber Mint Watermelon Salad - is a refreshing side dish for summer dinners. Juicy watermelon, cool cucumber, and crunchy walnuts are sprinkled with basil and mint, then tossed with a light raspberry vinaigrette.
Cucumber Tomato Salad from Neighbor Food - a simple, delicious salad from fresh summer produce
Southwest Black Bean Salad - an easy, cool, spicy salad with all the Mexican flavors you love - black beans, cilantro, lime & avocado.
Find lots more salad recipes here on 2CM!
LOVE QUICK & EASY RECIPES? FOLLOW ME ON INSTAGRAM, FACEBOOK, & PINTEREST FOR ALL THE LATEST RECIPE INSPIRATION! PLUS JOIN MY EMAIL LIST AND RECEIVE A FREE E-BOOK.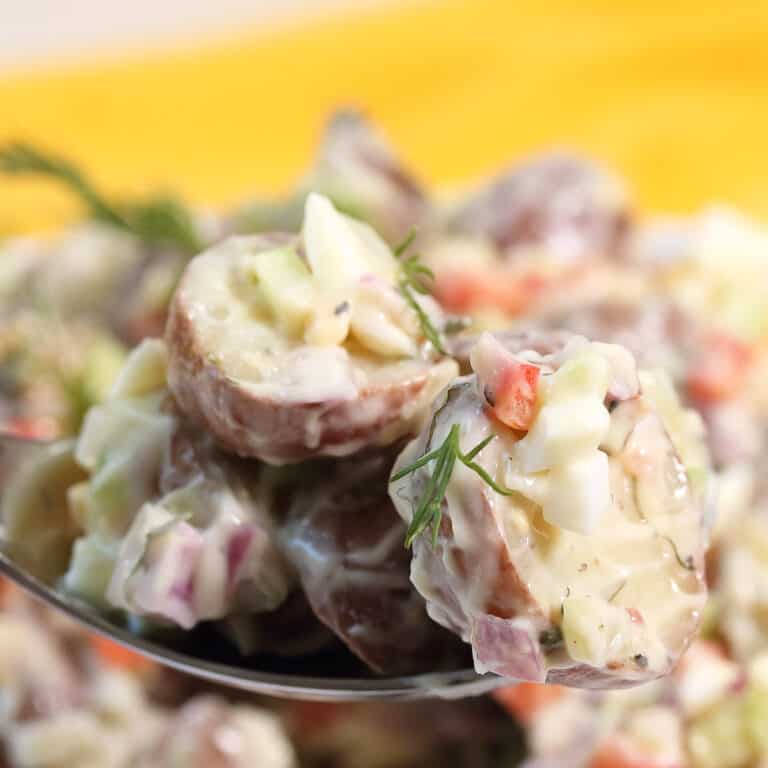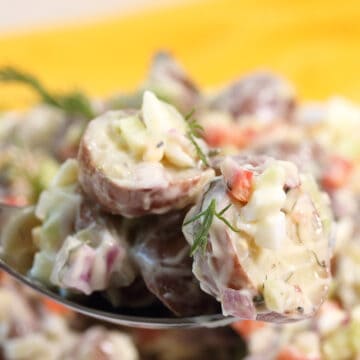 Red Dill Potato Salad with Sour Cream and Bacon
This Red Potato Salad takes your favorite salad to the next level by roasting the potatoes first. Throw in some bacon, sour cream, egg, a little dill and you've just created the WOW factor for your next picnic!
Print
Rate
Ingredients
Potatoes
3

lbs

small red potatoes,

halved (leave skin on)

2

Tablespoons

Olive oil

2-3

Tablespoons

fresh dill,

chopped, or 2 teaspoons dried dill

2

teaspoons

salt

½-1

teaspoon

black pepper

¼

lb.

bacon,

cooked and crumbled

2

hard boiled eggs,

chopped
Salad
½

cup

red onion

chopped

¾-1

cup

celery,

chopped

¼-1/2

cup

red or orange bell peppers,

chopped

½

cup

mayonnaise

adjust to your taste

½

cup

sour cream

2

teaspoons

yellow mustard
Instructions
Preheat grill to 350 degrees.

Cut a big enough piece of heavy duty aluminum foil to fit cut-up potatoes with enough room to fold over and seal.

Wash potatoes and cut them in half. Pat dry. Place in bowl and toss with olive oil to coat. Add dill, salt & pepper. Place on foil and fold up to seal.

Place packet on grill and cook for 10 minutes per side. Remove from grill and let cool slightly. Empty packet into large bowl and place in refrigerator to chill for at least 2 hours.

While potatoes are roasting, cook bacon and set aside to cool. When cool, crumble.

Cook eggs and let cool slightly, then peel. Chop and set aside.

When potatoes have chilled sufficiently, add the remaining ingredients along with the crumbled bacon and chopped egg. Toss to coat well.

Store in refrigerator to let flavors marry.
Notes
Best potatoes to use - red bliss potatoes, baby red potatoes, red new potatoes, new potatoes, fingerling potatoes, Yukon gold
Dressing options - mayonnaise alone, mayo & yogurt, Miracle Whip, Italian dressing,  your favorite vinaigrette, olive oil & vinegar, pesto, or tahini.
Oven Roasting method - Preheat the oven to 425 degrees. Quarter baby red potatoes and toss with olive oil, dill, salt, and pepper. Place on a baking sheet, cover with foil and bake 30-45 minutes, flipping halfway through.
Nutrition
Calories:
360
kcal
|
Carbohydrates:
30
g
|
Protein:
7
g
|
Fat:
24
g
|
Saturated Fat:
6
g
|
Polyunsaturated Fat:
8
g
|
Monounsaturated Fat:
9
g
|
Trans Fat:
1
g
|
Cholesterol:
70
mg
|
Sodium:
837
mg
|
Potassium:
892
mg
|
Fiber:
3
g
|
Sugar:
4
g
|
Vitamin A:
379
IU
|
Vitamin C:
22
mg
|
Calcium:
48
mg
|
Iron:
2
mg
This post has been updated with new photos, more helpful information, and step-by-step directions. It was first published on June 30, 2014.