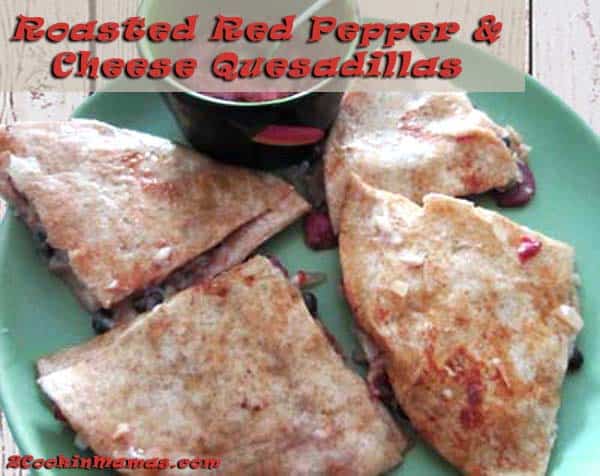 Once a week is the perfect time to slip in a healthy and delicious "almost" meatless meal. I love the flavor of onions and garlic cooked in bacon fat so that is a must have in our family but you can use olive oil or coconut oil for cooking the onion and garlic and be one up on all us bacon lovers.
And adding this meatless, if you go the way of coconut oil, meal in one of the most popular formats, a quesadilla, is probably a winner from the word go. The combo of roasted peppers, garlic, black beans and cheese gives this dish a nice mix of spicy and sweet flavors and a healthy boost of nutrients.
My husband voiced his appreciation and told me I could make it again any time I wanted. High praise indeed!
Roasted Red Pepper & Cheese Quesadillas
Ingredients:
4 pieces bacon, cooked and crumbled (for meatless option use olive oil or coconut oil)
1 sweet onion, sliced in thin strips
4 garlic gloves, minced
1 cup roasted red peppers, sliced in thin strips
4 whole wheat tortillas (or gluten free tortillas)
1 can black beans, drained and rinsed
1 cup Cheddar cheese, shredded
Directions:
Cook bacon until crisp in medium non-stick skillet. Remove bacon. Skip this step if going completely meatless.
Add onion and garlic to bacon fat (or olive oil if going meatless) and saute until soft and translucent, about 5 minutes. Add roasted red peppers and saute for an additional 2 minutes. Remove vegetables from pan and let them drain. Wash pan clean and make sure to dry it well.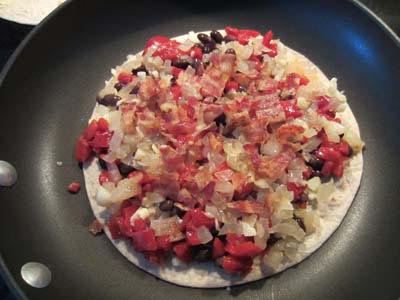 Place pan back on burner and heat over medium high heat. Place 1 tortilla in hot pan and brown on one side. Repeat with other tortillas. For the next part you will have to do one quesadilla at a time unless you have 2 pans you can use. Return 1 tortilla to pan with uncooked side down and spoon 1/2 of the vegetable mixture, black beans, crumbled bacon and cheddar cheese on top. Cover with other tortilla, cooked side down. Press down with a spatula. Cook until the cheese just starts to melt and the bottom of the tortilla is browned and crisp. Using a large wide spatula and your hand, carefully flip the quesadilla. Cook until the other side of the tortilla is brown and crisp and cheese is completely melted. Remove from pan and repeat with other 2 tortillas. Cut each into wedges with pizza cutter. Serve with sides of salsa and sour cream or plain yogurt.
Makes 2 servings.
Wine Pairing: Serve with Prosecco, Sauvignon Blanc or, if you are a red wine lover, a Syrah.