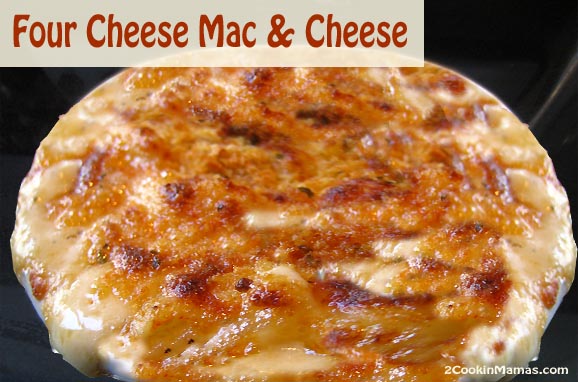 Days are cooling down now (well, at least a little bit in Florida – I can dream can't I) and, due to my northern roots, I start to think about casseroles as soon as October nears no matter what the weather. So my first thought was what comfort food haven't I made in a while. Umm, I know mac and cheese! But I wanted to jazz it up a little, make it a little different, and decided to use a combination of cheeses.  Well, let me tell you, it turned out to be one of the best mac and cheese casseroles I have ever made – rich, creamy and absolutely sinful!
Four-Cheese Mac & Cheese
Ingredients:
1 pkg (13.25 oz) shell macaroni, cooked
6 Tablespoons butter
6 Tablespoons flour
3/4 teaspoon salt
black pepper, to taste
1-1/2 cups milk
1-1/2 cups cream (even fat free half & half works)
dash of nutmeg
2 cups cheddar cheese, shredded
1/2 cup Comte cheese, shredded (or any type of Gruyere)
1/4 cup Fontina cheese, shredded
1/4 cup Pecorino-Romano cheese, grated (Parmesan can also be used)
1/2 cup bread crumbs with 2 Tablespoons butter (optional)
Directions:

Cook macaroni according to package directions, drain and set aside.
In a large pan, melt butter and add flour, salt and pepper. Whisk in milk and cream and bring to boil. Cook for 2 minutes stirring constantly then reduce heat and continue cooking for 8-10 minutes more to thicken sauce. Make sure to stir occasionally so it doesn't stick to the bottom.
Remove from heat and add a dash of nutmeg and shredded cheeses. Stir until melted. Add macaroni and stir to combine.
You can serve it at this point or place in buttered casserole, top with buttered bread crumbs, if desired, and bake at 350 degrees for 30 minutes until top is brown.
Tip: If baking, add an additional 1/2 cup of milk as it tends to thicken up considerably in the oven.
Serves 8.
Wine Pairing: There is some debate about which wines go best with a gourmet mac and cheese but the consensus leans towards a nice Zinfandel or Cabernet Sauvignon blend which compliments the cheddar and Pecorino cheeses in the dish. If you are not a huge red wine fan, an unoaked Chardonnay with its light fruitiness would contrast with the creamy sauce and enhance the cheese flavor.