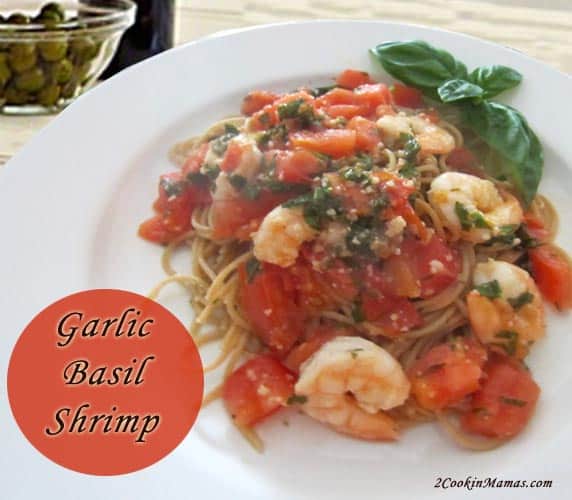 At least once a week I like to serve a meatless meal. It could be our 3 Pepper Pizza, Florentine Pesto Pasta or sometimes just a protein-rich quinoa salad. Today's meal, Garlic Shrimp with Basil, features shrimp as the protein source and is served with loads of garlic and a tangy pasta made with key limes from my yard. It's a little different but a nice change-up from the more familiar lemon pasta and comes out delicious!
This is a great recipe to fix when you're short on time and, when served with a side salad, will be a healthy addition to your weekly meal plan.
Garlic Shrimp with Lime-Garlic Pasta
Ingredients:
Lime-Garlic Pasta
1 lb. whole wheat pasta (make it gluten-free with a gluten-free pasta)
3 Tablespoons olive oil
2 teaspoons minced garlic
4 Tablespoons lime juice
2 teaspoons lime zest
1/2 cup Parmesan or Pecorino Romano cheese, grated
1/2 cup parsley, chopped
salt & pepper to taste
Garlic Basil Shrimp
2 Tablespoons olive oil
1-1/2 lbs. shrimp, shelled & deveined
2 teaspoons minced garlic
1/8 teaspoon red pepper flakes
3/4 cup white wine (I used Chardonnay)
1/4 cup basil leaves, chopped
1-1/2 cups tomatoes, chopped
salt & pepper to taste
Directions:
Lime Garlic Pasta
Cook pasta in a large pot according to package directions. Drain and set aside.
In same pot, heat olive oil and saute 2 teaspoons minced garlic for 30 seconds. Remove from heat and add in lime juice and zest. Add in pasta, Parmesan cheese and parsley and toss to coat. Add salt & pepper to taste. Replace lid on pot to keep warm while preparing shrimp.
Garlic Basil Shrimp
In a large skillet, heat olive oil and saute shrimp for 1-2 minutes per side depending on size. Remove from pan and keep warm.
Add minced garlic and pepper flakes to pan and saute 30 seconds. Add wine and simmer for 3 minutes or until reduced slightly. Stir in basil, chopped tomatoes, salt and pepper and shrimp. Continue to cook for 3 more minutes or until shrimp are warm.
Serve over pasta with additional Parmesan or Pecorino Romano cheese on the side.
Serves 4-6.
Wine Pairing: The best choice is always to serve the wine with which you prepared the dish, in this case a nice Chardonnay.  A Chardonnay, such as Gordon Brothers Chardonnay, pairs very well with garlic dishes as it offsets some of its spiciness. If you prefer a lighter wine, you might try an Albarino, Conde Villar Alvarinho is a nice choice, or a dry Riesling. These wines work very well with garlic and their crispness helps accentuate the flavors of the dish.
A great garlic mincer is the OXO SteeL Garlic Press, Stainless
. So easy to use and really gives a nice small mince.
DON'T MISS A RECIPE!