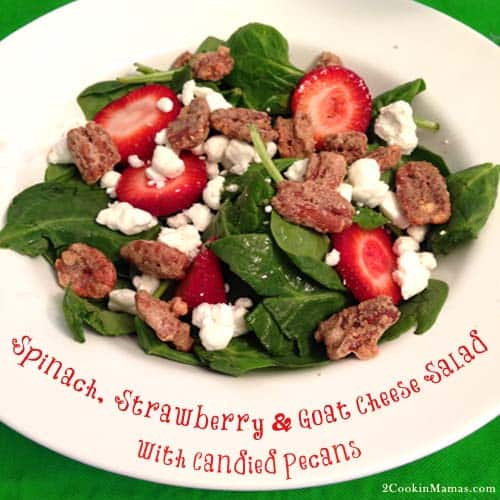 Spring is almost here and it's time for lighter meals and refreshing salads. I love making this spinach and strawberry salad not only because it is really delicious but because it's easy to make and has so much nutritional value.
Spinach, ranked one of the top most nutrient rich vegetables, ranking right up there with kale, is packed with vitamins A, B6, C & K, minerals, iron and antioxidants. It is loaded with health promoting phytonutrients as well as folate, oh so important for child-bearing women.
Add strawberries to this and you are adding a big wollop of vitamin C, fiber and manganese which promotes bone health and aids in the absorption of calcium. They also provide potassium, folate and important free radical fighting compounds.
Lastly, goat cheese, which is a cheese that is relatively low in calories and fat, helps boost the body's metabolism, provides a healthy dose of calcium and protein as well as containing important probiotics which aid in digestion.
Yep, you get all that from this easy fresh salad!
Spinach, Strawberry & Goat Cheese Salad
Ingredients:
1 9-oz package of fresh spinach, washed, patted dry & ripped into smaller pieces
1 pint strawberries, sliced
4-6 ounces goat cheese, crumbled
Bacon, cooked & crumbled (optional)
Candied pecans (click here for recipe)
Raspberry Vinaigrette
Directions:
Divide spinach, strawberries and goat cheese equally into 4 bowls. Sprinkle candied pecans & bacon on top of each salad. Serve with your favorite raspberry vinaigrette.
Makes 4 servings.
Wine Pairing: A light refreshing salad should have an equally refreshing wine that will not overpower the ingredients. Wines that complement this meal include the 2009 Slingshot Sauvignon Blanc, 2011 Dominican Oaks Chardonnay or 2010 Santa Margherita Pinot Grigio. If you prefer reds, a nice Pinot Noir would also pair nicely.