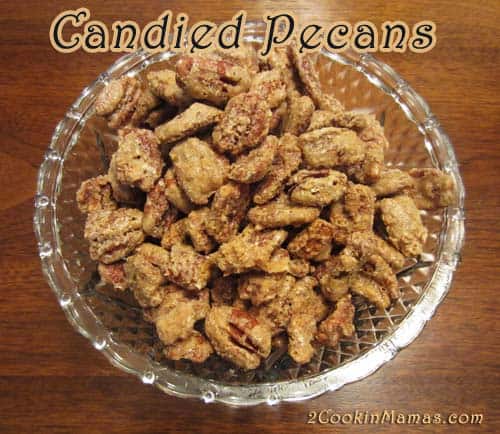 Just like at the shore or in the mall, these sugar-coated pecans are so sweet and crunchy it will be hard to keep them in the house for longer than a day (I suggest you hide them). Use these nuts as a snack or as a topping for spinach, strawberry and goat cheese salad.
Cinnamon Sugar Candied Pecans
Ingredients:
1 egg white
1 tablespoon water
1 teaspoon vanilla extract
1 cup white sugar
1/2 teaspoon salt
1/2 teaspoon ground cinnamon
1 pound pecan halves

Directions:
Preheat oven to 250 degrees. Prepare cookie sheet by spraying with nonstick cooking spray.
In a large mixing bowl, whip egg white and water together until frothy, stir in vanilla.
In another large bowl, mix sugar, salt and cinnamon together.
Drop pecans into egg white mixture and stir to coat. Remove pecans from egg mixture and toss into sugar/cinnamon mixture and stir to coat well.
Place in a single layer on prepared cookie sheet and bake in oven for 1 hour, stirring every 15 minutes.
Let cool then store in airtight container.
Makes 1 pound.
Check out other sweet snack options:
No Bake Chocolate Peanut Butter Energy Bites