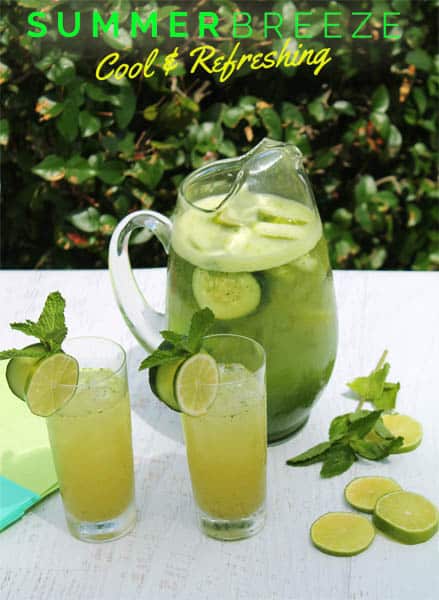 Summer might not officially have started but, here in Florida, I would have to disagree. The hot and sunny days of summer are already here, with temps in the 90s, and the need for cool and refreshing drinks is on the top of everyone's list.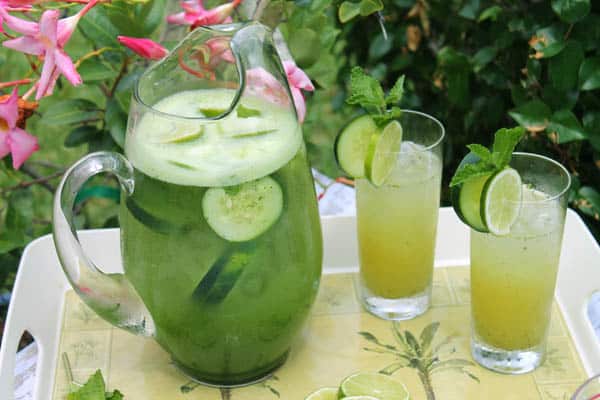 Tomorrow I have a fantastic collection of the Top 20 Summertime Drinks from some of your favorite bloggers to share with you but I wanted to kick the party off early and bring you my newest creation today – the Summer Breeze. This delightfully refreshing cocktail is full of  seasonal goodies that, when sipped, taste like summer in a glass.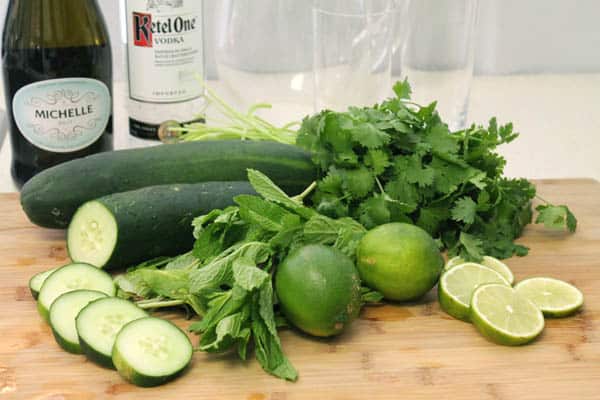 Even if you are not into juicing or green smoothies you will still love the fresh tasting and slightly minty flavor of this drink. Not to mention the vodka and champagne that put it over the top! Make a pitcher for your next outdoor get-together and wait for the ohhs and ahhs to come your way.
Enjoy and happy summer!
Summer Breeze
Ingredients:
3-4 cucumbers, peeled and chopped (about 3 cups)
1 cup mint leaves
1/2 cup cilantro
1/2 cup agave nectar
4 limes, juiced
Couple dashes of salt
1 cup vodka (use Tito's for gluten-free version)
2 cups chilled champagne or seltzer
Garnish: additional slices of lime and cucumber
Directions:
Fill your Ninja blender (my all time favorite blender) with all ingredients except the champagne or seltzer and garnishes. Blend well.

Remove from blender and strain into large jar or bowl. Toss the pulp. Chill juice until ready to serve.
Just prior to serving, add slices of limes and cucumbers, ice and chilled juice to a large pitcher. Pour in champagne or seltzer water and serve in glasses that are garnished with a slice of lime and cucumber.
Serves 6-8.
Keep cool this summer with these other hot weather favorites.
**Be sure to follow us on your favorite social media! Instagram, Pinterest, Twitter and Facebook. And remember, if you make one of 2 Cookin' Mamas recipes, tag us with the hashtag  #mamacooks and we'll share it.