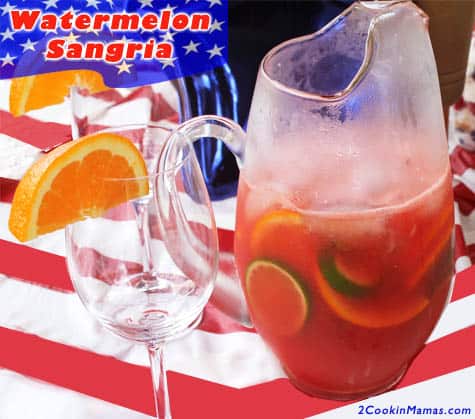 Hop on board the 4th of July Roundup this week! Featuring a total of six great recipes to get you ready for the best Red, White & Blue picnic ever!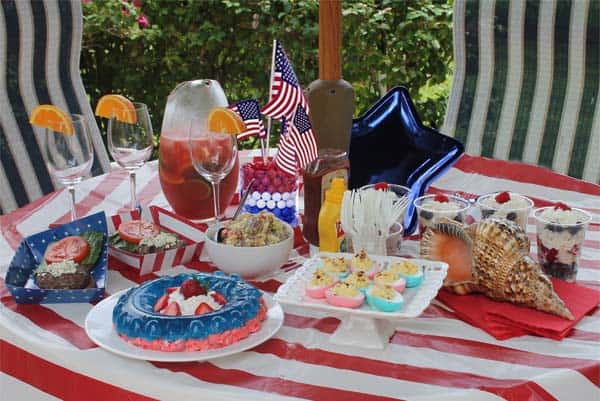 Today's recipe features a favorite fruit of the season, watermelon, served up as a pretty, healthy (well almost) and festive drink. Lots of fresh fruit, a little mint and, of course, wine. It tastes delicious and makes the more expensive ingredient, wine, stretch a little further.
For those that like juicing, I added a cucumber to our sangria but, like my husband, for those that don't like that little bit of veggie taste, the cuc can be left out and the drink will be slightly fruitier and sweeter. Either way it tastes great! Cheers!
Watermelon Sangria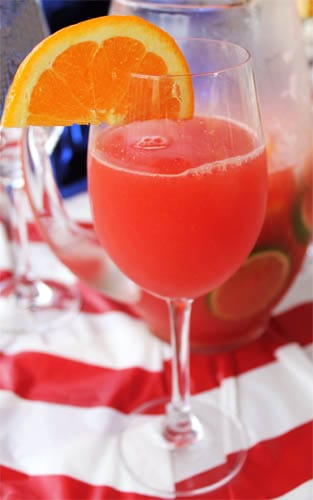 Ingredients:
4 cups watermelon
2 limes, peeled + 1 lime, sliced
1 orange, peeled + 1 orange sliced
1 cucumber (optional)
1-3/4 cups fume blanc, riesling or chardonnay
2 teaspoons agave nectar or to taste
10 mint leaves
Directions:
Place watermelon, 2 peeled limes, 1 orange peeled, cucumber (if using) into blender. Blend until smooth. Strain and place into large pitcher. Add wine and agave nectar. Stir and taste for sweetness. Add more agave nectar to suit your taste. Add prepared slices of lime, orange and mint leaves. Place in refrigerator for at least 2 hours.
When ready to serve, pour over ice in tall wine glass and garnish with orange slice.
Serves 4-6.