Our Peanut Butter Banana Bread is so moist, rich & full of chocolate chips it's bound to become everyone's favorite! And it's so quick and easy to make. Serve it up for breakfast or a tasty after school snack.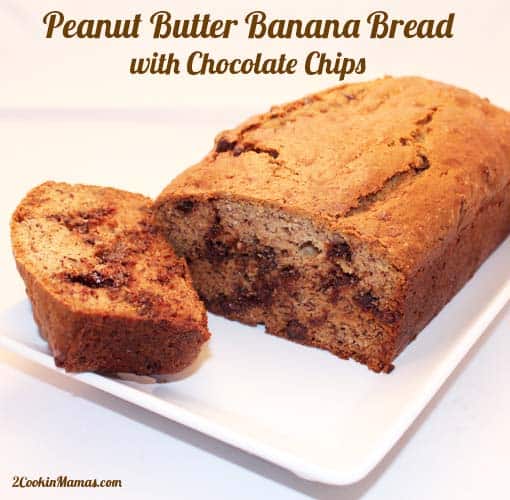 I love bananas and anything that has bananas in it. I am so lucky to live in South Florida where I can have banana trees in my backyard. Yep, you read that right – banana trees in my own backyard! And I've got news for you, when a banana tree gets a hand of bananas on them you've gotenough bananas to feed the entire neighborhood! Usually about 50 lbs. worth!
Needless to say I need a lot of banana recipes to use up all those bananas so you'll find quite a few banana recipes on 2CM blog. Sometimes it's hard to decide which recipe to make, 'cause they're all my favorite, like my Banana Pancake Smoothie or Double Chocolate Banana Bread for breakfast, Peanut Butter & Banana Cookies for a snack or delicious & super easy Banana Crunch Cake for dessert. I could go on and on but you get my drift.
Did you know bananas were also great at replacing eggs, butter and oil in some baked goods? Comes in handy for dairy-free recipes and lightens up the calorie count in some cases.
Today I decided to make this delicious Peanut Butter Banana Bread based on my famous  Mom's Banana Bread. And, if you've been following me, you'd know I just had to add some yummy dark chocolate chips to the mix. It came out so good, and was gone so fast, that I know I'll be making it again real soon. 
Enjoy!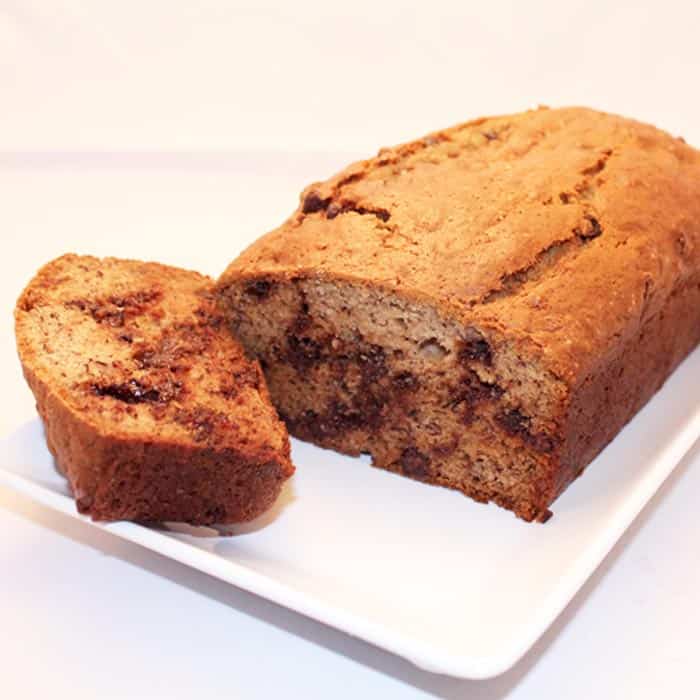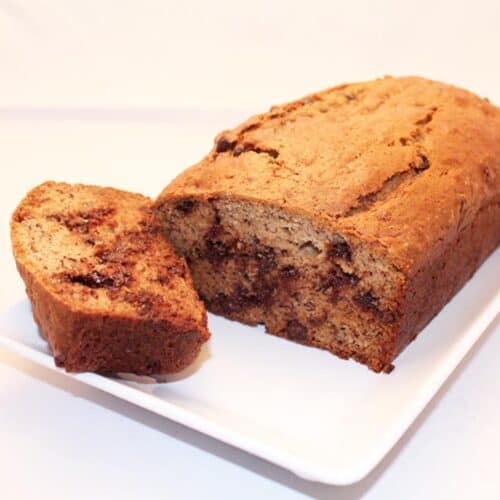 PEANUT BUTTER BANANA BREAD WITH CHOCOLATE CHIPS
Moist, rich & full of chocolate chips, our Peanut Butter Banana Bread is bound to be everyone's favorite. Great for breakfast or that afternoon snack.
Ingredients
1

cup

sugar

1/3

cup

smooth peanut butter + solid shortening to make ½ cup

3

Tablespoons

vegetable oil

2

eggs

1/4

cup

milk

3

ripe bananas, mashed

2

cups

King Arthur unbleached flour

1

teaspoon

baking soda

1/2

teaspoon

salt

1

cup

dark chocolate chips
Directions
Preheat oven to 350 degrees. Grease and flour loaf pan.

Crumb sugar, peanut butter and shortening together. Mix in vegetable oil, eggs and milk. Add in mashed bananas.

Combine flour, baking soda and salt. Mix into banana-egg mixture. Stir in chocolate chips then pour into prepared loaf pan and bake for 1 hour. Check after 30 minutes to make sure top is not getting overly brown. If so, cover top loosely with aluminum foil.

Test for doneness by inserting pick in center of bread. It is done if pick comes out clean. Remove from oven, set on wire rack, and cool for 15 minutes. Remove loaf from pan and finish cooling on rack.
Recipe Notes
This banana bread freezes very well. Allow to cool then wrap in aluminum foil and place in resealable plastic bag prior to placing in freezer.
DON'T MISS A RECIPE!
One of the loaf pans I like to use is this Farberware Nonstick Bakeware 9-by-5-Inch Loaf Pan
  from Amazon.com. Check it out.