Calling all burger lovers! These air fryer chicken burgers, loaded with all your favorite toppings, are the perfect combination of crispy on the outside and moist and flavorful on the inside. They take less than 15 minutes from start to finish and make a quick and easy weeknight dinner for the whole family.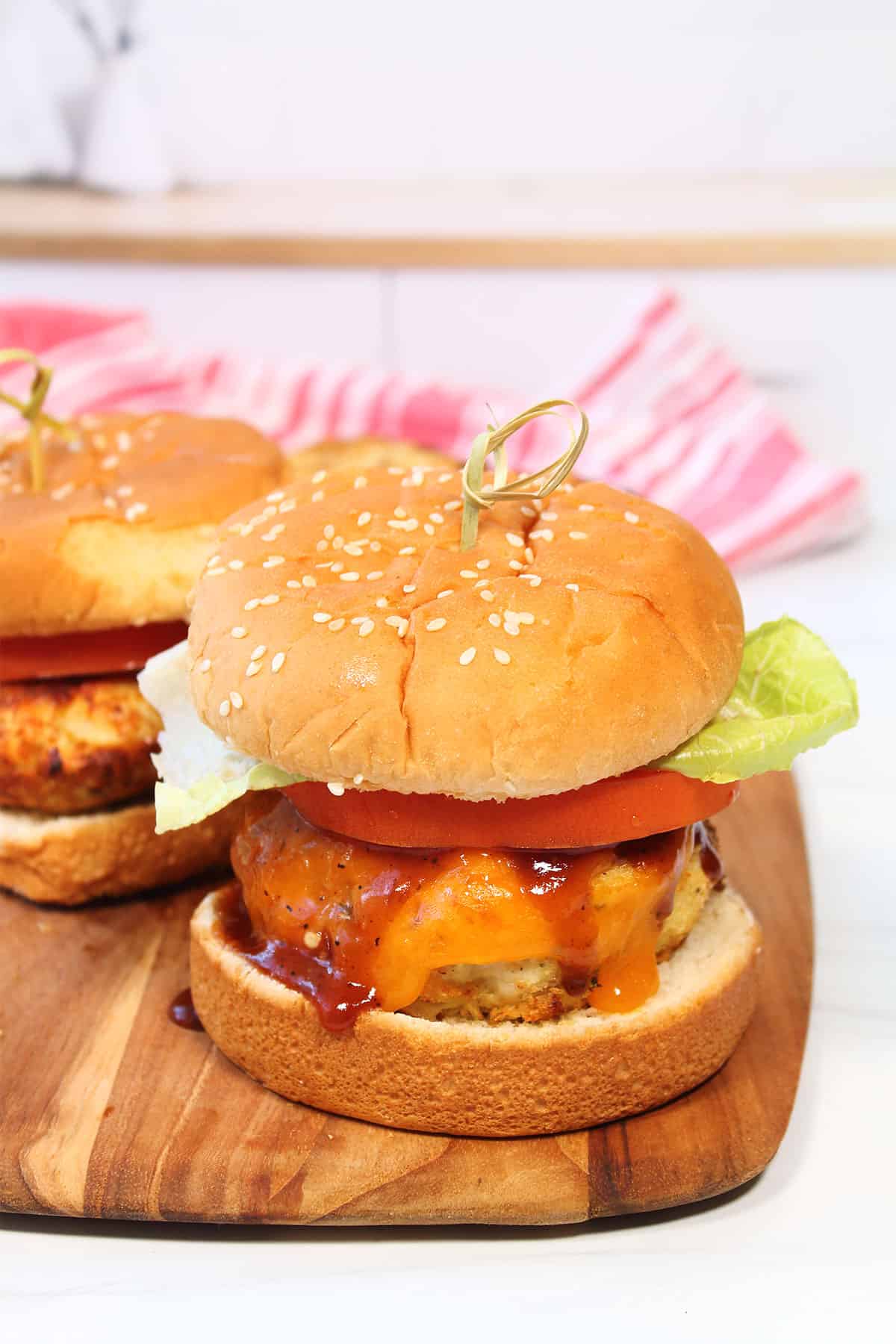 FYI - This post contains affiliate links. As an Amazon Associate, I earn from qualifying purchases. All links are products I use when making my recipes.
Air Fryer Chicken Recipes
I love my air fryer! It's such a game-changer when mealtime rolls around. And air fryer chicken recipes are no exception! I mean, who doesn't love crispy, golden-brown chicken without all the guilt of deep-frying? It's like a magic kitchen gadget that turns dinner into a no-hassle affair. It's so easy that anyone can make a meal in short order.
And the best part? Whether you're into Italian classics like Air Fryer Chicken Parmesan, gourmet cuisine like Air Fryer Chicken Cordon Bleu, or an easy Air Fryer Lemon Chicken, your air fryer can handle it all. Just toss your chicken in your favorite seasoning, pop it in the basket, and let the air fryer work its magic. It's a hands-off cooking experience that delivers mouthwatering results every time. So if you haven't jumped on the air fryer chicken bandwagon yet, what are you waiting for? Your taste buds will thank you!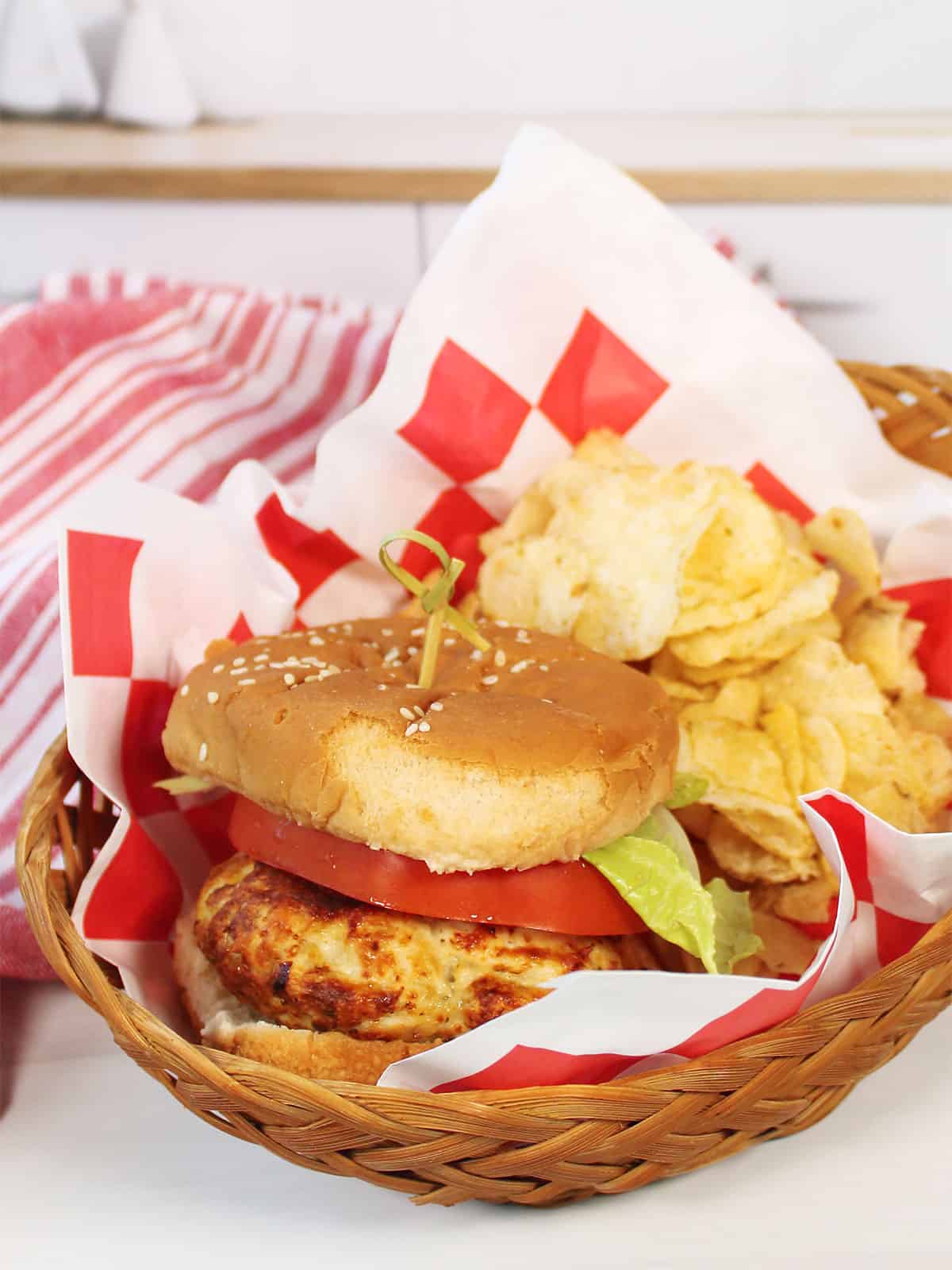 Why You'll Love This Chicken Burger Air Fryer Recipe
Easy - just 5 simple ingredients plus a little seasoning for the burger patties.
Quick - it takes just 15 minutes to prep and cook these awesome chicken burgers.
Flavorful & Juicy - the air fryer cooks them just right without drying them out.
Lighter, Leaner Meal - than your standard burger.
No Matter the Weather - burgers on the table even when the weather isn't cooperating.
Ingredients
Here's what you'll need to make this juicy chicken burger recipe. The exact measurements are in the printable recipe card below.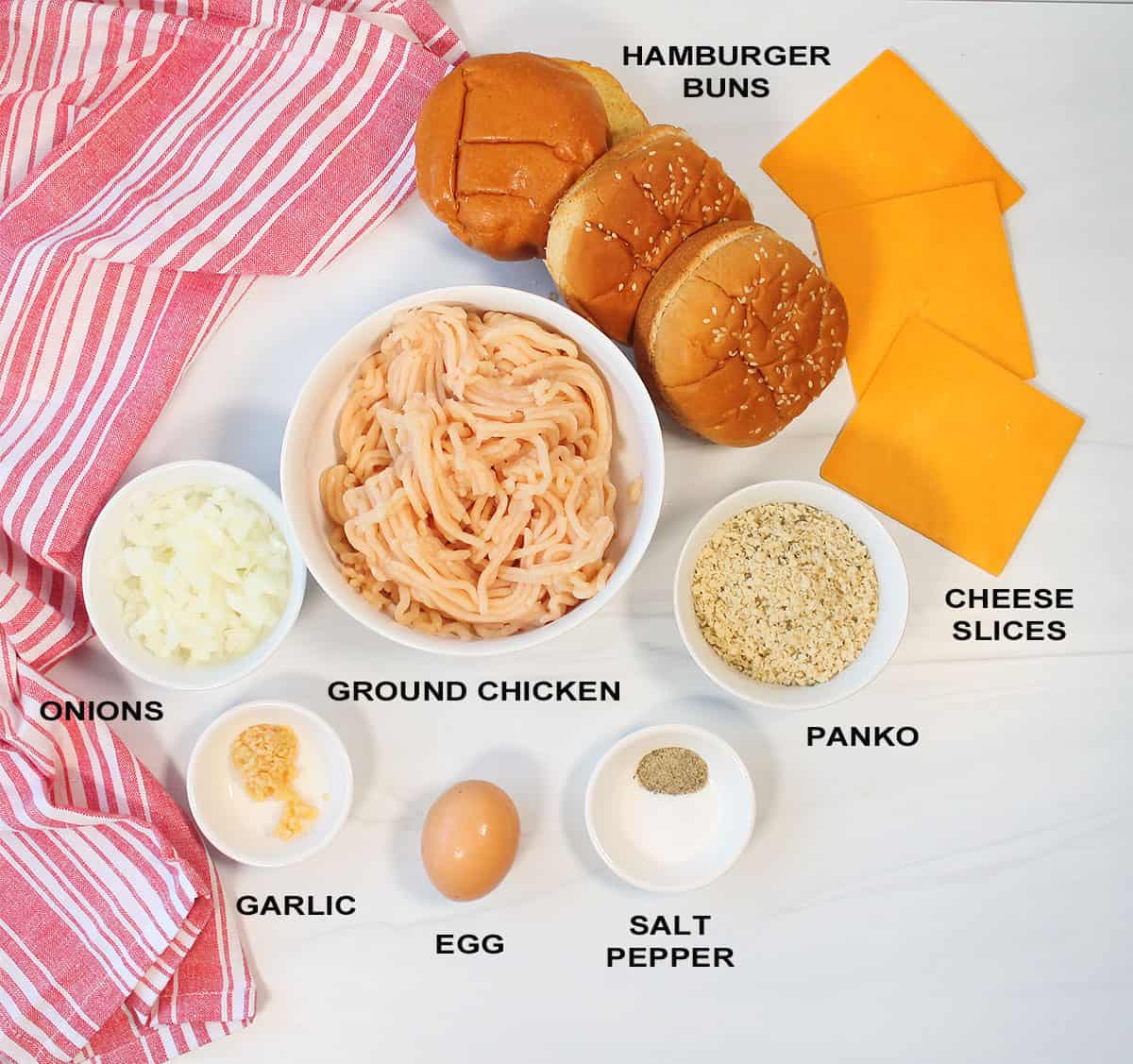 Ground Chicken
Egg
Panko Bread Crumbs - both in the recipe with an option for coating the burger as well for a crisper exterior.
Onion
Fresh Garlic
Salt
Pepper
Burger Buns
Plus Chicken Burger Toppings - Pick and choose what you want on your burgers. See more options below under Recipe Variations.
Avocado Slices
Condiments - BBQ Sauce, mayonnaise, mustard, or ketchup.
Cheese Slices - American, Cheddar, and Pepper Jack are great options.
Lettuce - Leaves or shreds. Iceberg, romaine, or butter lettuce.
Onion slices or rings.
Tomato Slices
How to Make Air Fryer Chicken Burgers
Here are the simple steps for preparing and cooking chicken burgers in air fryer: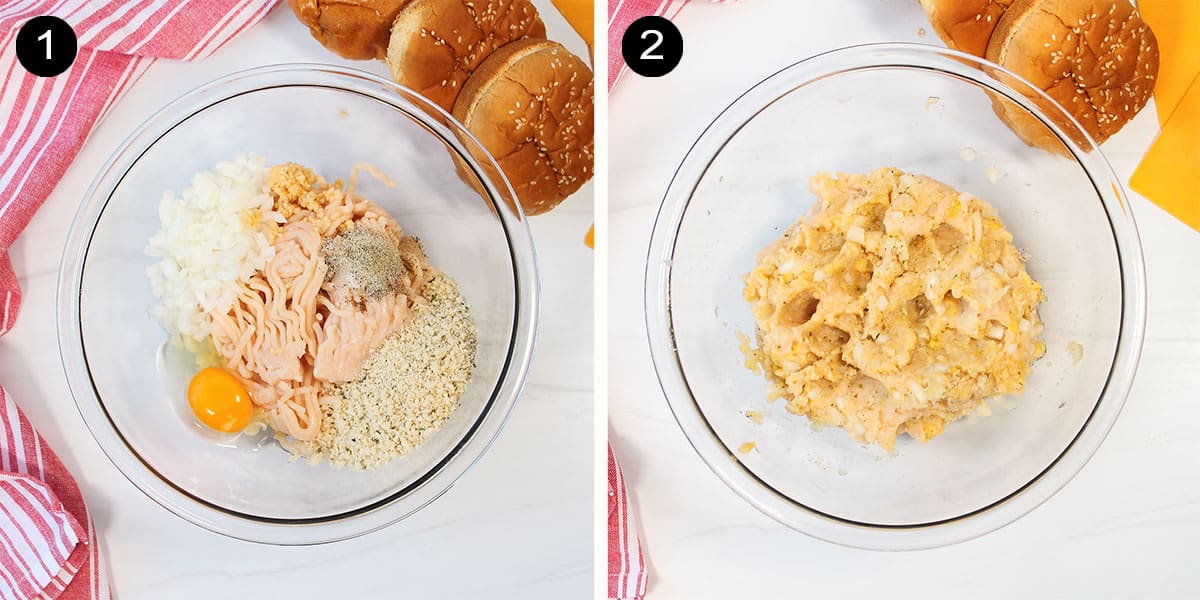 Place all the ingredients except the cheese and buns in a medium bowl.
Mix well.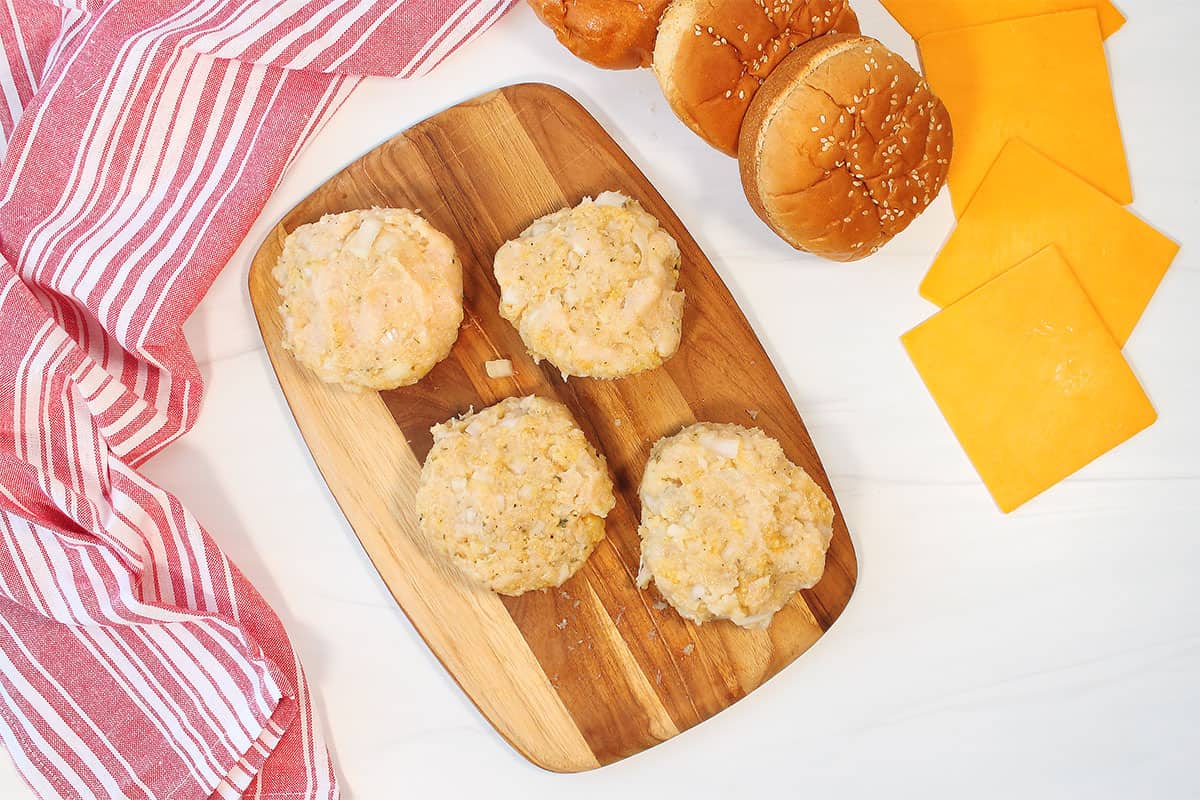 Form into 4 patties. At this point, you can leave them as is or coat them with extra panko crumbs. Just place the crumbs on a plate and dip the ground chicken patties into them. Pat them lightly to help them adhere. This will make your chicken burgers a little crunchier.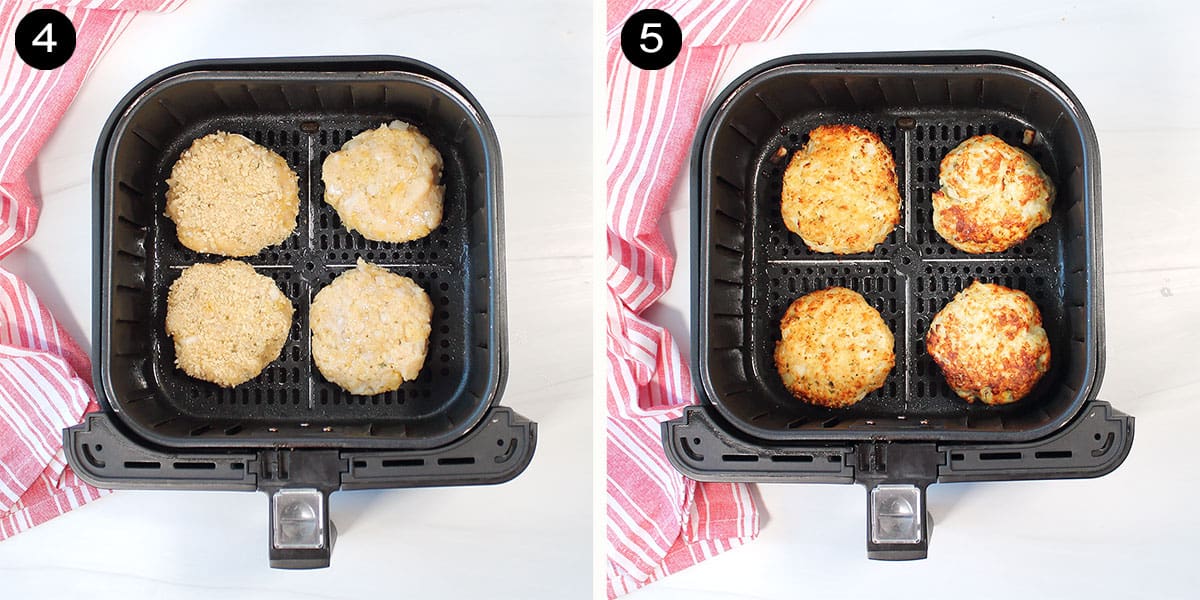 After preheating the air fryer to 390°F, spray the basket lightly with cooking oil spray. Lay the burgers in the air fryer basket, leaving enough room around them for them to cook evenly. Spray them lightly with cooking oil.
Air fry for 10 minutes, turning halfway through and spraying them again once turned.
Note: The chicken burgers on the left were coated with panko crumbs, the ones on the right were left as is.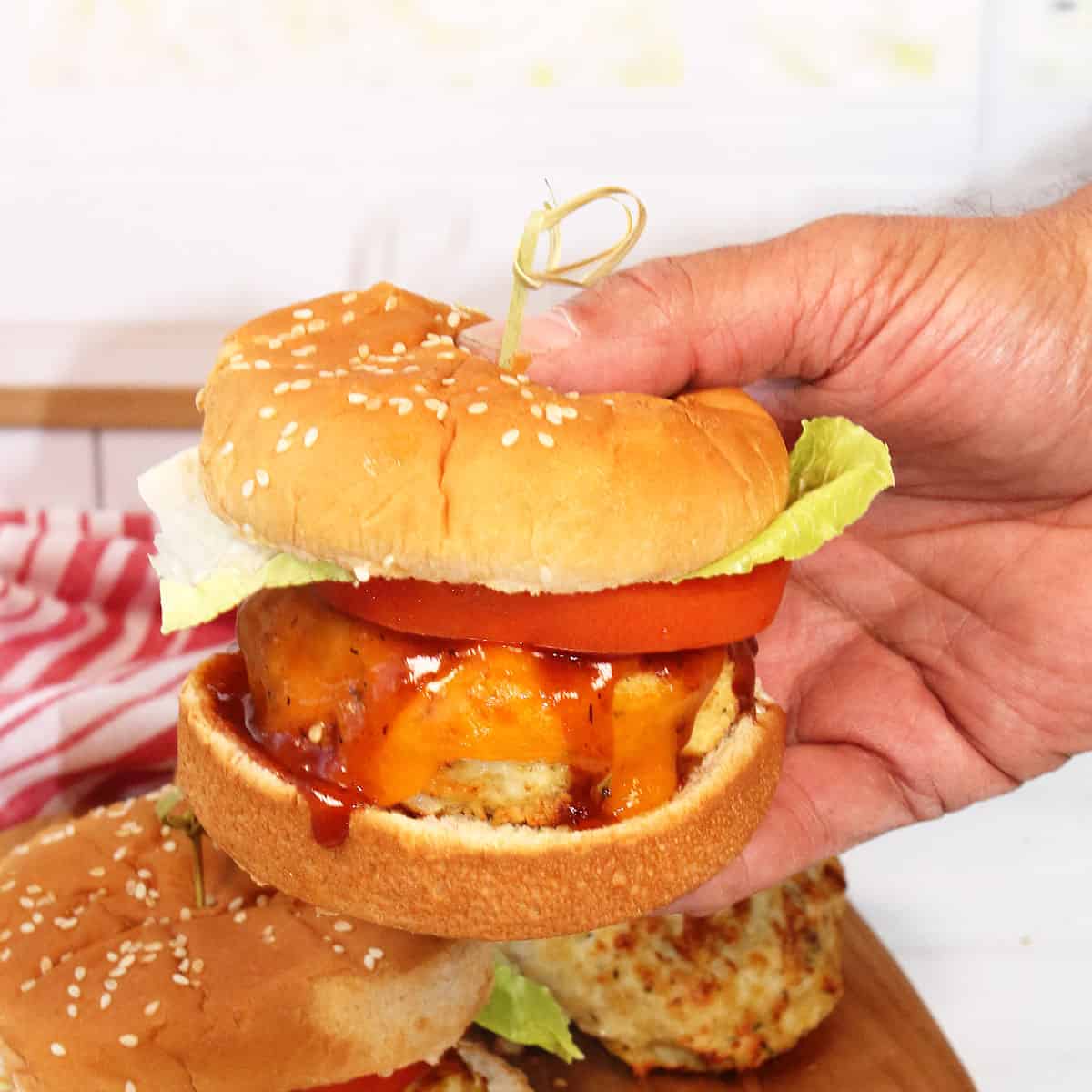 Load up these air fryer chicken burgers with all your favorite burger toppings and dig in! They're the perfect combination of crispy on the outside and juicy on the inside with flavor packed into every bite. With just a handful of simple ingredients and your air fryer, you can whip up these mouthwatering chicken burgers for a quick and easy lunch or weeknight dinner.
Recipe Tips
Finely chop the onion and garlic to give even flavor throughout the patty.
Do not overmix the meat. Overmixing will cause the burgers to be tough.
Preheat the air fryer to ensure even cooking.
Do not overcrowd the air fryer basket. Leave room between the patties so the air can flow all around them.
Use an instant-read thermometer to check for doneness. Chicken is done when the internal temperature is 165°F.
Recipe Variations
The great thing about burgers is all the possibilities for flavoring the patties and topping combinations. Here are some ideas:
Bacon Chicken Burger: Top with crispy bacon and cheddar cheese.
Cajun Chicken Burger: Use Cajun seasoning mix instead of salt and pepper.
Hawaiian Chicken Burger: Top with Polynesian or Hawaiian-style BBQ sauce, cheese, and grilled pineapple.
Parmesan Chicken Burger: Top with parmesan cheese and marinara.
Low Carb Chicken Burger: Wrap the patties and toppings with lettuce leaves.
Turkey Burger: Use ground turkey instead of chicken.
Alternate Cooking Methods
You can cook the chicken patties in various ways. Here's how:
Grilled - Heat the grill to medium-high (375°F to 400°F). Rub oil on the grates to keep the patties from sticking. Grill the patties for 8 to 10 minutes, flipping halfway through.
Oven Baked - Place the patties on a rimmed baking sheet lined with parchment paper. Bake at 375°F for 20 minutes.
Pan-Fried on the Stove - Heat a tablespoon of oil in a skillet over medium-high heat. Add the patties and fry them for 8 to 10 minutes, flipping halfway through.
No matter which method you use for cooking chicken burgers, they are done when the internal temperature is 165°F.
Make Ahead
You can prepare the chicken patties in advance. If coating the outside with panko, wait to do that step right before cooking. Wrap the patties individually with plastic wrap and place them in an airtight container. Refrigerate the patties for up to 3 days or freeze them for up to 3 months. Thaw them in the fridge overnight or air fry them frozen.
Making these chicken burgers ahead of time is a breeze. Whether you want to refrigerate for a day or freeze for future meals, here's how you can do it:
Refrigerating
Make the patties as per the recipe instructions.
Place a sheet of parchment or wax paper on a tray or flat plate. Place the chicken patties on the parchment paper in a single layer, ensuring they do not touch. If you need to stack the patties, place a piece of parchment paper between each layer to prevent sticking.
Cover with plastic wrap or aluminum foil and refrigerate for up to 24 hours.
When you're ready to cook, you can cook them straight from the refrigerator. You may need to add an additional minute or two to the cooking time, so keep an eye on them.
Freezing
Make the patties as per the recipe instructions.
Place the patties on a tray or flat plate lined with parchment paper, making sure they don't touch.
Place the tray or plate into the freezer for 1 to 2 hours or until the patties are firm. This step prevents the patties from sticking together during long-term storage.
After the initial freeze, transfer the patties to a freezer-safe bag or container. Label the container with the date and type of burger. Ensure all air is squeezed out of the bag to prevent freezer burn.
These patties can be stored in the freezer for up to 3 months for optimal flavor and texture. You can either thaw them in the fridge overnight or air fry them frozen.
Note: Whether refrigerating or freezing, if you choose to coat your burgers in additional panko for a crunchier texture, it's best to do this right before cooking rather than before storing. This ensures the panko remains crispy when air fried.
How to Cook Frozen Chicken Patties in Air Fryer
For this recipe, you'll air fry the frozen chicken burger patties for about 15 minutes, flipping halfway through. They are done when they have reached a safe minimum internal temperature of 165°F.
What to Serve with Chicken Burgers
Make a complete meal with these sides:
How to Store and Reheat Leftovers
Storing and reheating leftovers properly ensures the flavor and texture remain as close to the original as possible. Here's how to store and reheat your leftover chicken burgers:
Storing Leftover Chicken Burgers
Before storing your chicken burgers, allow them to cool to room temperature but don't leave them out for more than 2 hours.
If you've assembled the chicken burgers with toppings (lettuce, tomato, etc.), it's best to disassemble and store the components separately to prevent sogginess.
Place the chicken patties in an airtight container or resealable plastic bag. If you're storing multiple patties, place a sheet of parchment paper between them to prevent sticking.
Stored in the refrigerator, the chicken burgers should be consumed within 4 days for best quality.
If you won't be eating the leftovers right away, you can freeze them. In the freezer, they'll maintain the best quality for up to 3 months, though they'll remain safe beyond that time.
Reheating Leftover Chicken Burgers
From the refrigerator:
Air Fryer: Preheat the air fryer to 370°F and heat the burgers for 3 to 4 minutes or until heated through.
Oven: Preheat the oven to 375°F. Place the patties on a baking sheet and heat for about 10 to 15 minutes or until they are warmed through.
Microwave: Place the chicken burger on a microwave-safe plate and cover with a microwave-safe lid or another plate. Heat on medium power for 1 to 2 minutes, checking halfway to ensure even reheating.
Ideally, for the best texture, thaw the frozen burgers overnight in the refrigerator before following the above reheating steps.
Directly from the freezer:
Air Fryer: Preheat to 370°F and reheat for 6 to 8 minutes.
Oven: Preheat to 375°F and reheat for 20 to 25 minutes.
Microwave: While it's quicker, the microwave might make the patties a bit more rubbery if reheating directly from frozen. Use the defrost setting first, and then heat on medium power until warmed through.
Always remember to reassemble with any toppings or buns after reheating, as these components are best added fresh.
More Delicious and Easy Air Fryer Dinners
Find lots of air fryer recipes right here on 2CM!
LOVE QUICK & EASY RECIPES? FOLLOW ME ON INSTAGRAM, FACEBOOK, & PINTEREST FOR ALL THE LATEST RECIPE INSPIRATION! PLUS JOIN MY EMAIL LIST AND RECEIVE A FREE E-BOOK.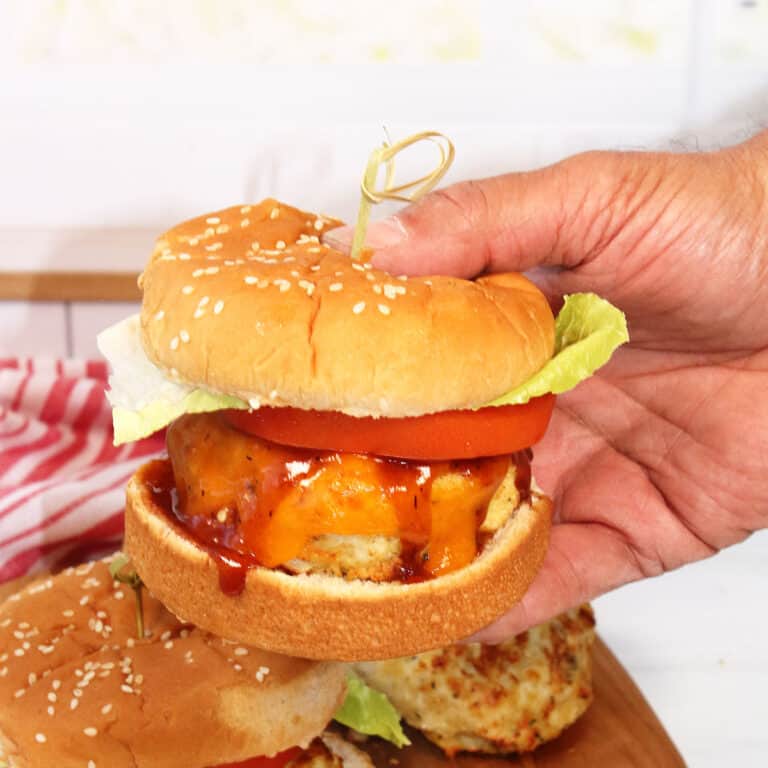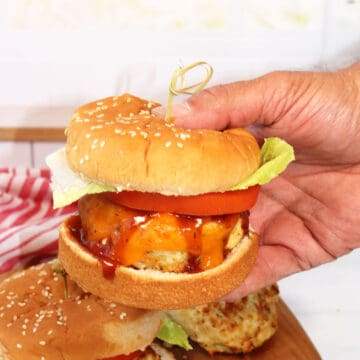 Air Fryer Chicken Burgers
Burger lovers will love these easy air fryer chicken burgers. They're crispy on the outside, juicy on the inside, and take just 15 minutes. Great for weeknight dinners.
Print
Rate
Ingredients
1

pound

ground chicken

1

large egg

½

cup

chopped onion

2

garlic cloves

minced

½

cup

panko crumbs + additional panko if you want to coat burgers prior to air frying

(I used Italian seasoned panko crumbs)

½

teaspoon

salt

¼

teaspoon

black pepper

4

slices

cheddar cheese, pepper jack, or mozzarella cheese

(optional)

4

burger buns

(optional)
Instructions
Preheat the air fryer to 390°F.

In a large bowl, combine ground chicken, egg, chopped onion, minced garlic, panko crumbs, salt and pepper. DO NOT OVERMIX!

Pat into 4 equal sized patties.

Option: Pour a little extra panko crumbs on a plate and dip the chicken patties into the crumbs, patting them in lightly. This will make the burgers crunchier.

Once the air fryer is preheated, spray the basket with cooking oil spray, then carefully lay the burgers in the bottom. Spray the tops of the burgers with more cooking oil spray.

Air fry for 10 minutes turning halfway through.

If you would like a slice of cheese on top, lay it on top of the burger and let it melt slightly then turn the air fryer on for another 20 seconds. Be careful because the slice can fly off the burger when the air circulates.

Serve burgers as is or place them on a burger bun complete with lettuce, tomato, and a little barbecue sauce. Sliced avocado and a red onion slice are also great on them.
Notes
Nutrition information includes the burger bun and a slice of cheese. All nutrition is just an estimate.
*See storing, reheating, and freezing tips in the article above.
Nutrition
Calories:
407
kcal
|
Carbohydrates:
30
g
|
Protein:
31
g
|
Fat:
18
g
|
Saturated Fat:
7
g
|
Polyunsaturated Fat:
3
g
|
Monounsaturated Fat:
6
g
|
Trans Fat:
0.1
g
|
Cholesterol:
155
mg
|
Sodium:
754
mg
|
Potassium:
724
mg
|
Fiber:
2
g
|
Sugar:
5
g
|
Vitamin A:
231
IU
|
Vitamin C:
3
mg
|
Calcium:
217
mg
|
Iron:
3
mg