Refreshing and nutritious, this cucumber tomato salad is a garden-veggie classic. Discover how to make cucumber salad the easy way.
Whether your garden is overflowing with juicy tomatoes or you just want a new salad idea, this tomato and cucumber salad is perfect for everyone. Eat it for lunch or as a side for dinner.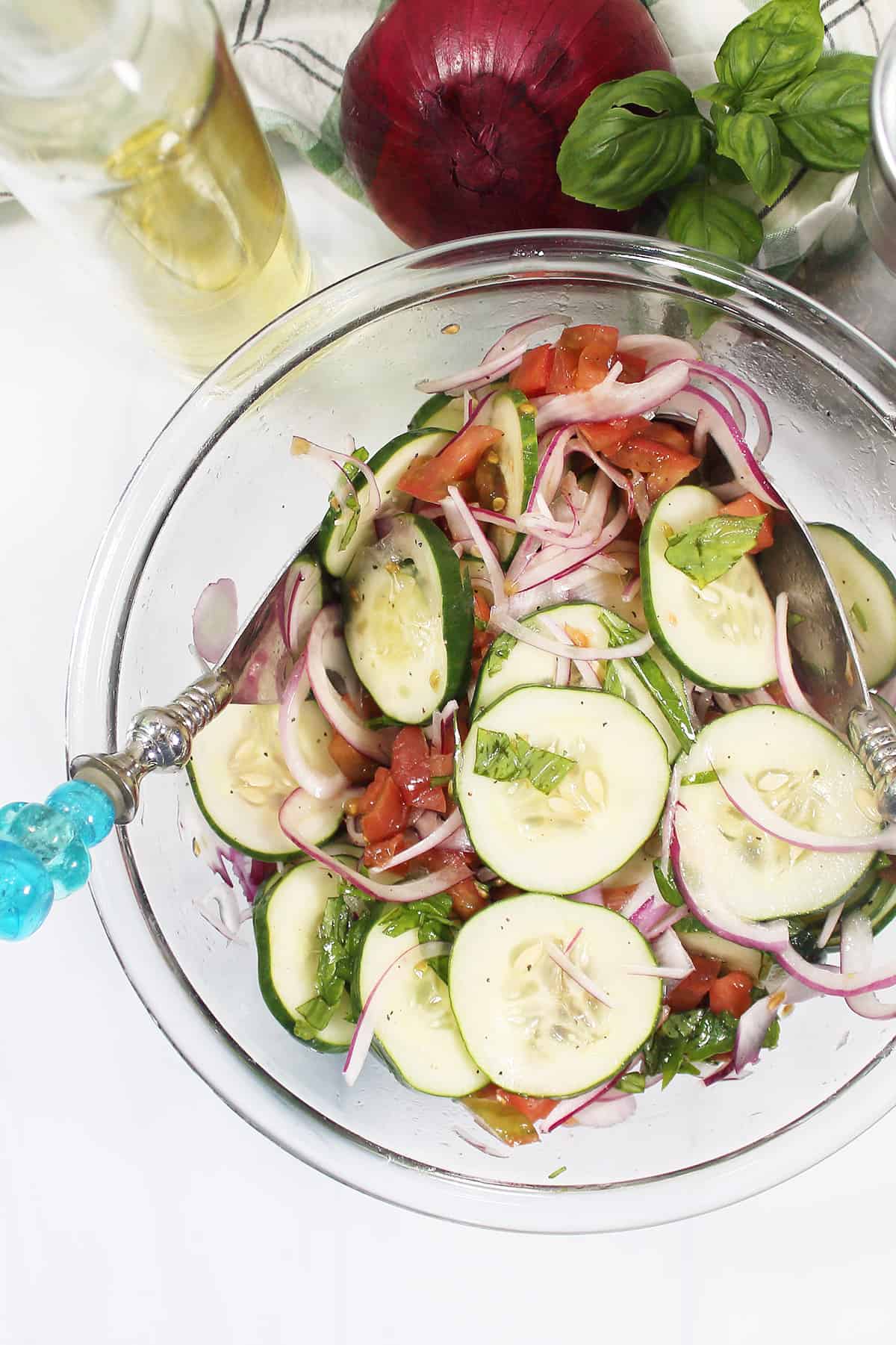 Simple Cucumber Salad with Tomatoes and Onions
Lunch just got easier! Tomato cucumber salad is one of the most effortless salads you will ever make. This summer cucumber salad is a recipe I've made every single year, as a way to use up the veggies from my garden.
There are so many different ways to change up this simple recipe. Maybe you want to add olives to make a Mediterranean cucumber salad. I'll share a lot of other variations below.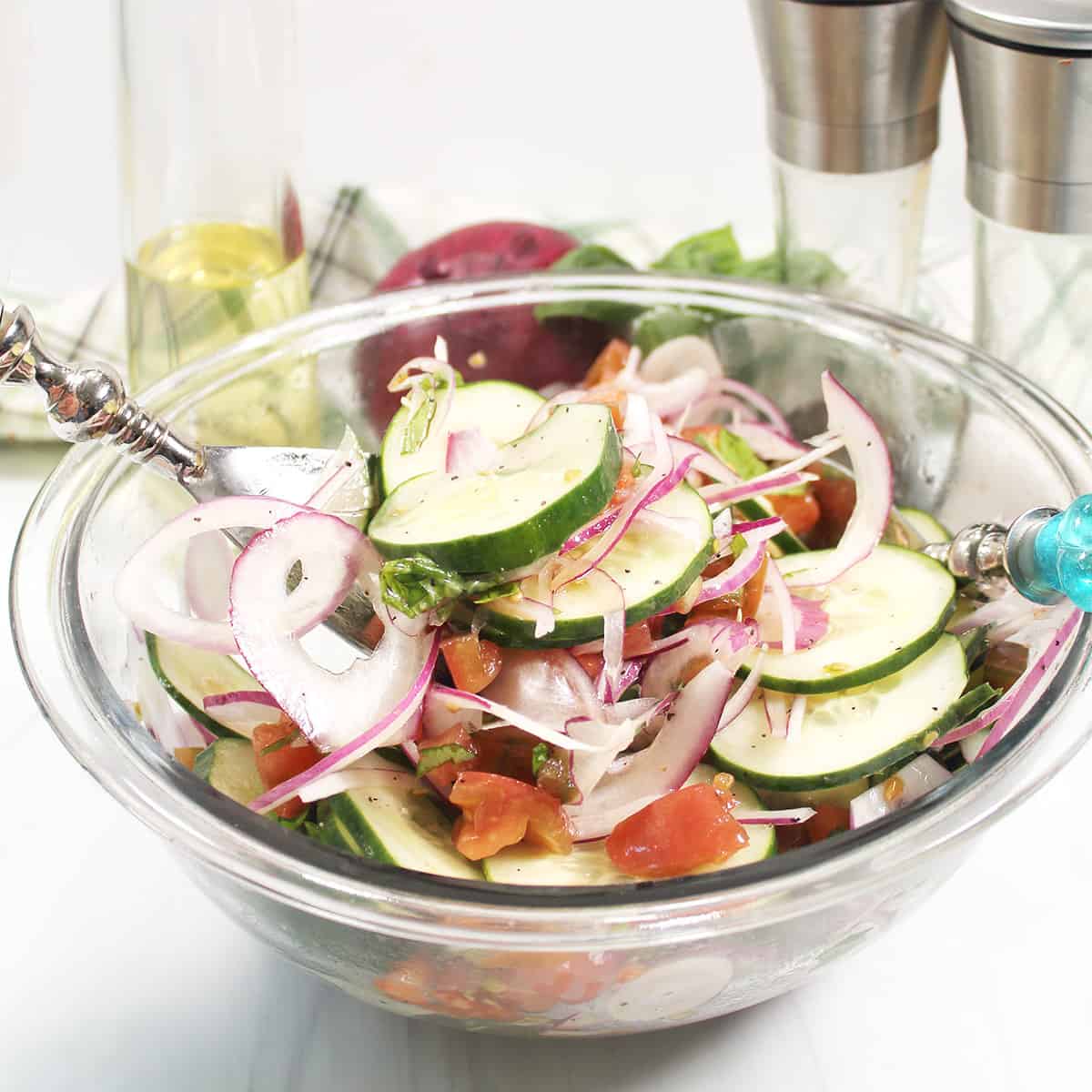 Serve this tomato cucumber onion salad with your favorite lunch or dinner. Eat it with a kicked up BLT or serve it at a BBQ with your favorite burger recipe. It also tastes perfect with some BBQ chicken skewers too.
Why You'll Love This Recipe for Cucumber Tomato Salad
Healthy - tomatoes, cucumber, and onion are all full of fiber, vitamins, and essential nutrients.
Keto-friendly - Tomatoes have natural sugars, but the entire recipe is still low-carb.
Low-Calorie - This cucumber salad with onions fits in with almost any diet plan you might be on.
Vegan - Everything in this recipe is plant-based.
Cucumber Salad Ingredients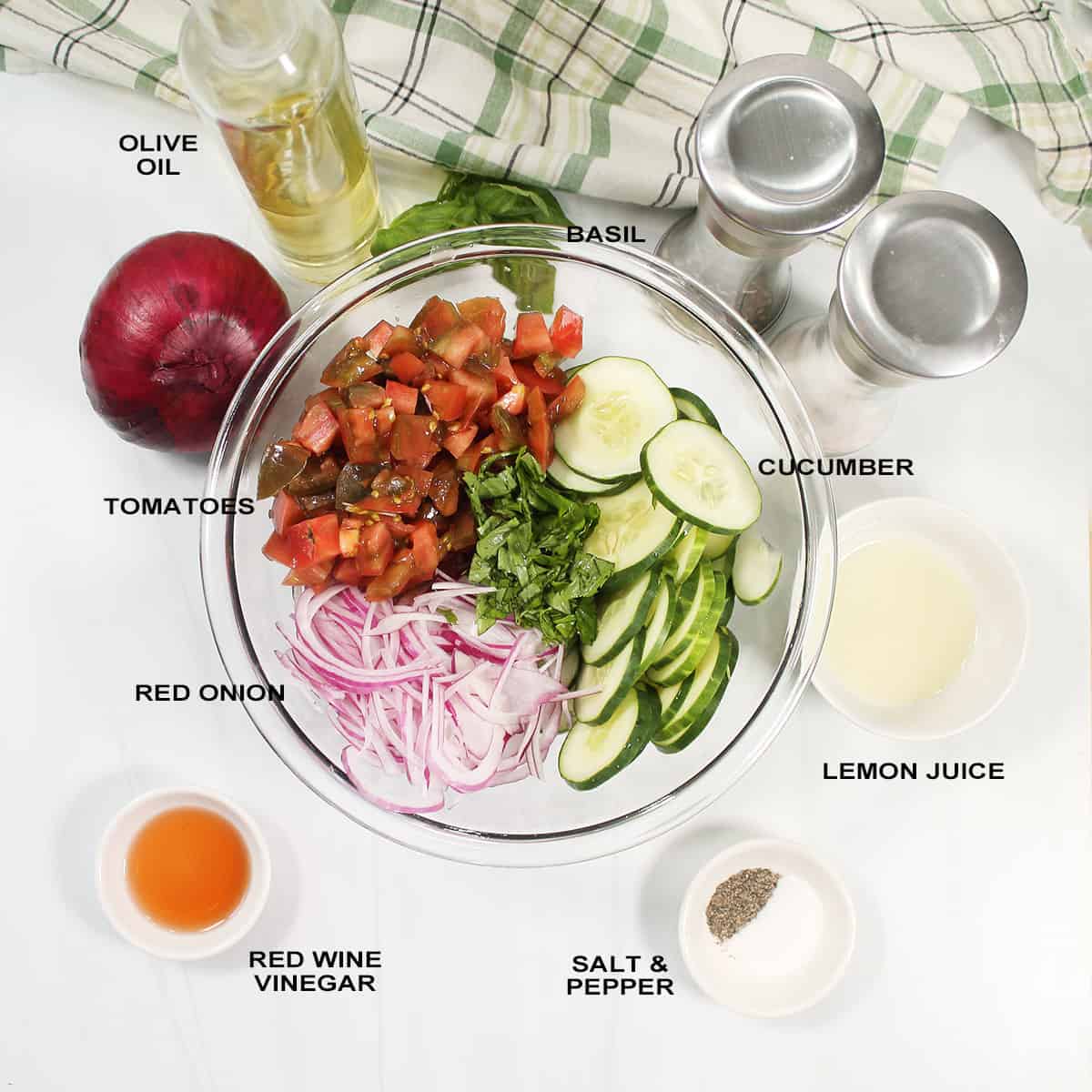 These are the veggies and herbs you'll need for a delicious cucumber salad with vinegar:
Cucumber - both regular and English cucumbers are great
Tomatoes - fully ripe and large in size
Red Onion - or sweet onion for a milder flavor
Fresh Basil
Here's what you'll need to make the dressing for cucumber tomato salad:
Olive Oil - You can use avocado oil for a milder flavor.
Red Wine Vinegar - The perfect tang to go with the tomatoes.
Salt and Pepper - Simple seasonings to boost the flavor.
How to Make Cucumber Salad
For the Dressing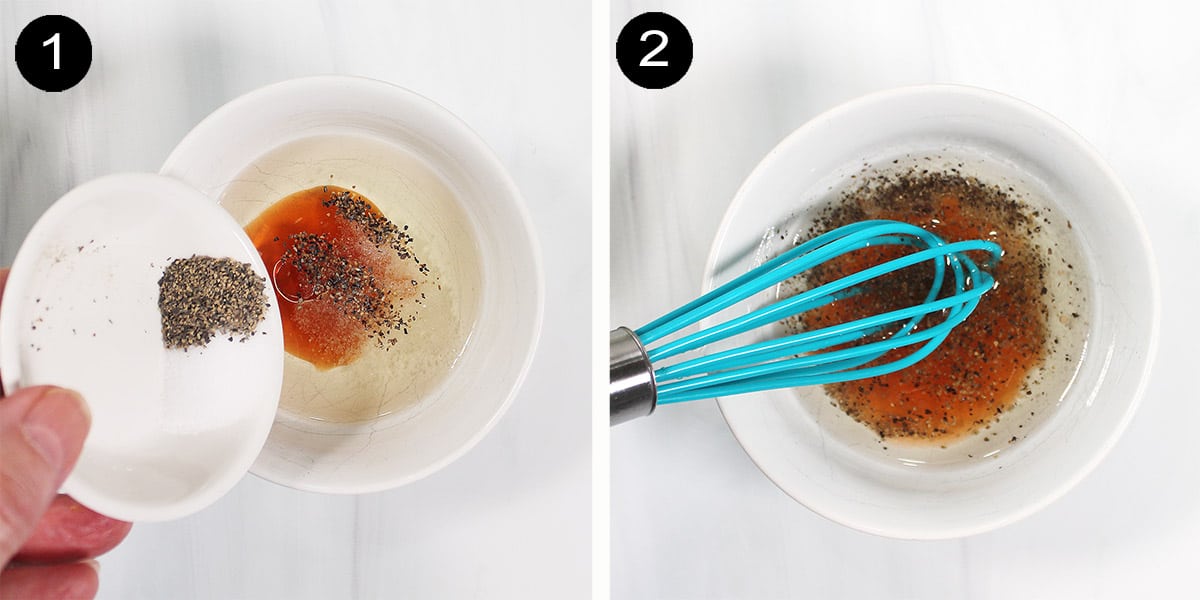 Add red wine vinegar to olive oil then season with salt and pepper.
Whisk well.
For the Salad
In a large bowl, combine tomatoes, cucumbers, red onions, and basil. Drizzle with salad dressing.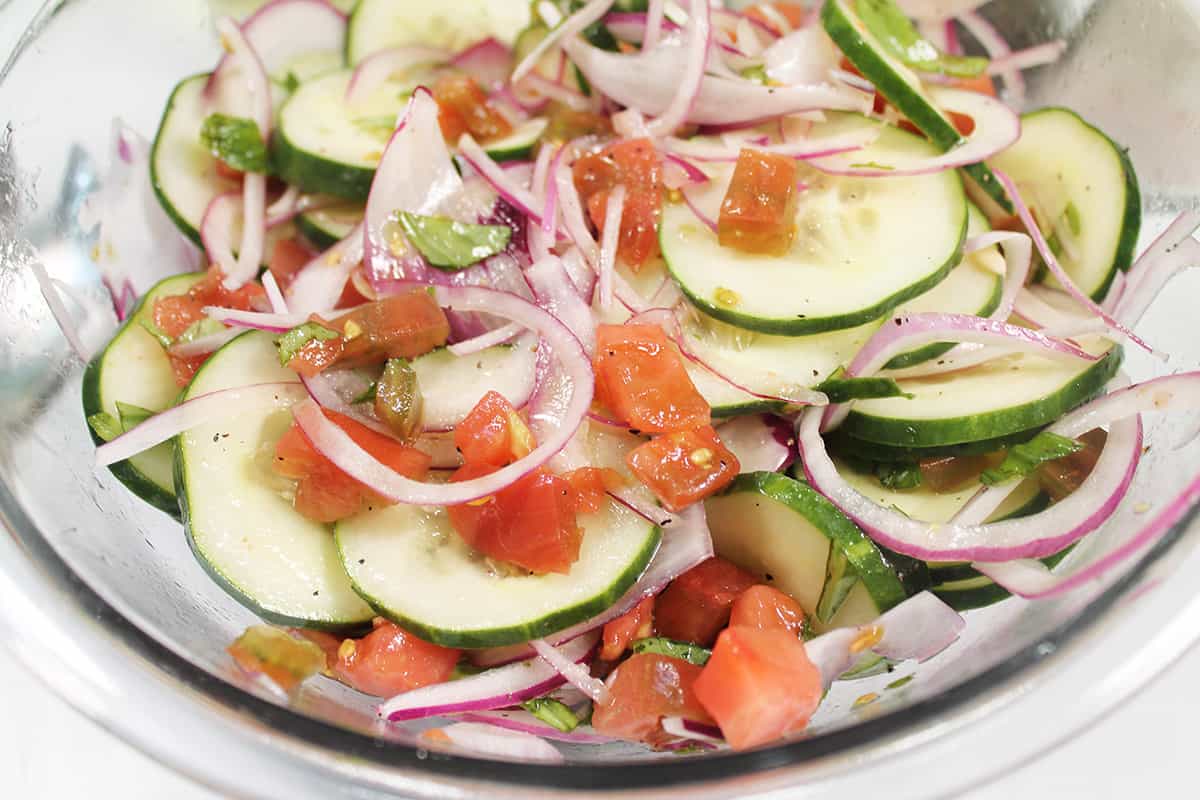 Toss well to coat and chill for at least 30 minutes before serving to marry all the flavors.
Recipe Variations
Add cheese - Feta will make a nice Greek cucumber salad. Mozzarella makes it an Italian cucumber salad.
Use other herbs - Substitute the basil with fresh dill, mint, or parsley.
Add avocado - Stir in half of a chopped avocado.
Use other vinegar - Substitute the red wine vinegar with apple cider vinegar or balsamic vinegar.
Use Italian dressing - Substitute the oil and vinegar with your favorite Italian dressing (vinaigrette).
Add a pinch of sugar - Just a tiny amount will cut the acidity of the salad.
Leave out the onion - Lots of folks prefer a cucumber salad with no onion.
Chopped or Diced - Simply chop or dice the vegetables instead of slicing them.
Tips for Making the Best Cucumber Tomato Salad
If using cherry tomatoes, cut them in half so they can better absorb the flavors of the dressing.
Slice the vegetables into the same thickness.
What to Serve with Tomato Cucumber Onion Salad
Are you wondering what goes with cucumber salad? This fresh salad with cucumbers, tomatoes, and onions pairs nicely with just about any main dish. The acidity elevates the flavor of meat and seafood dishes. Here are a few recommendations:
How to Store
Keep the leftover salad in an airtight container in the refrigerator. This salad does not freeze well.
How long does cucumber tomato salad last?
The salad will last up to 4 days in the fridge. Note the tomatoes will break down and become mealy the longer they sit in the dressing and refrigerator.
How to Make Ahead
This salad is best served right away. But if you want to go ahead and do some of the prep in advance, here's what to do:
Slice the cucumbers and place them in a plastic ziptop bag. Put the bag in the fridge.
Whisk the dressing together in a large bowl.
Slice and cut the onion. Place the slices in the dressing. Cover the bowl and put it in the fridge. The onion will mellow in flavor but stay crisp and crunchy.
When ready to serve, slice the tomatoes.
Chop the basil.
Add the cucumbers, tomatoes, and basil to the bowl with the dressing. Toss and serve.
Frequently Asked Questions
Is tomato cucumber salad good for you?
Yes! It is rich in essential vitamins and minerals including vitamin C, vitamin K, and calcium. It's low-fat, low-carb, and has a good amount of fiber.
Should I peel the cucumbers for this salad?
It's up to you. Since the peels contain so many nutrients it's better to make the salad with unpeeled cucumbers. However, some cucumbers from the store have thick bitter skin so you may want to peel them. English cucumbers have thin skin.
How do I prepare the tomatoes for this salad?
You will need to cut off and discard the stem end. Then slice the tomatoes. Cut the slices into quarters or bite-sized pieces. Cherry tomatoes will need to be cut in half.
LOVE QUICK & EASY RECIPES? FOLLOW ME ON INSTAGRAM, FACEBOOK, & PINTEREST FOR ALL THE LATEST RECIPE INSPIRATION! PLUS JOIN MY EMAIL LIST AND RECEIVE A FREE E-BOOK.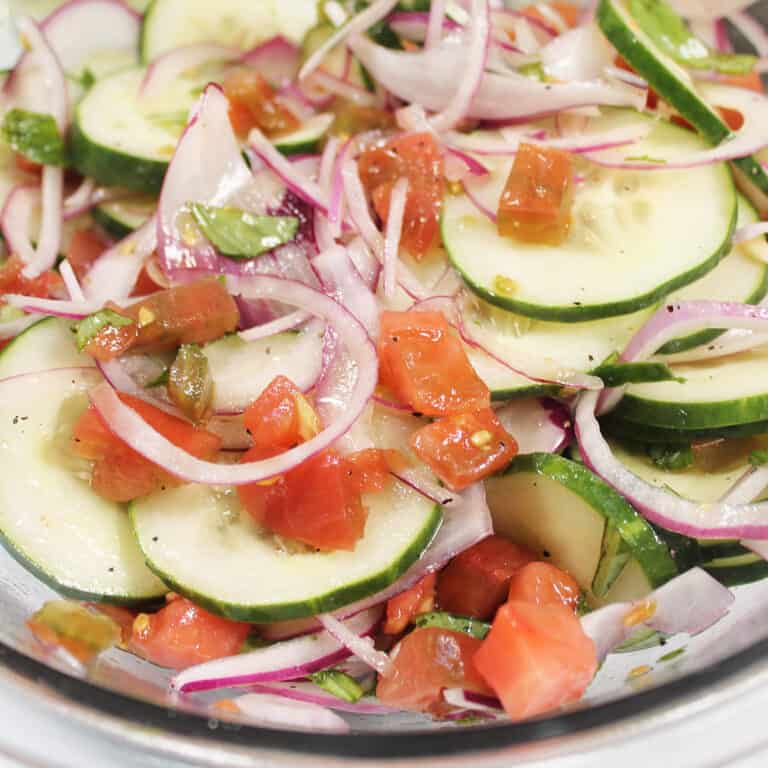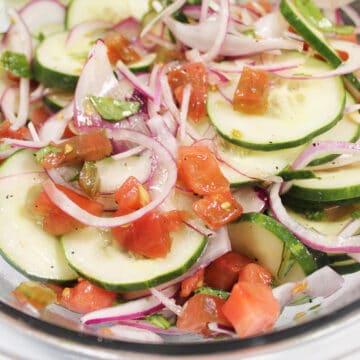 Cucumber Tomato Salad
Refreshing and nutritious, this cucumber tomato salad is a classic. Garden fresh tomatoes and cucumbers make this salad the perfect side for summer dinners.
Print
Rate
Ingredients
1

large cucumber

sliced

2

large tomatoes

diced

½

medium red onion sliced

1

tablespoon

fresh basil

chopped

2

tablespoons

olive oil

1

tablespoon

red wine vinegar

1

teaspoon

salt

½

teaspoon

black pepper
Instructions
Combine cucumber, tomatoes, red onion and basil in a bowl.

In a small bowl, whisk together olive oil, red wine vinegar and seasoning.

Add to cucumber-tomato mixture and toss well.

Refrigerate for 30 minutes for flavors to marry before serving.
Notes
TIPS FOR MAKING THE BEST SALAD
If using cherry tomatoes, cut them in half so they can better absorb the flavors of the dressing.
Slice the vegetables into the same thickness.
Nutrition
Calories:
59
kcal
|
Carbohydrates:
4
g
|
Protein:
1
g
|
Fat:
5
g
|
Saturated Fat:
1
g
|
Polyunsaturated Fat:
1
g
|
Monounsaturated Fat:
3
g
|
Sodium:
391
mg
|
Potassium:
183
mg
|
Fiber:
1
g
|
Sugar:
2
g
|
Vitamin A:
396
IU
|
Vitamin C:
8
mg
|
Calcium:
15
mg
|
Iron:
0.3
mg