Bite-sized air fryer jalapeno poppers are crispy, cheesy, spicy appetizers for parties, tailgating, and gameday. Bonus, they're ready in 20 minutes with just a few ingredients.
These air-fried jalapeno poppers are crispy with a gooey cheese filling and an amazing golden crunchy panko topping They can be prepped ahead of time and then popped into the air fryer when your guests arrive.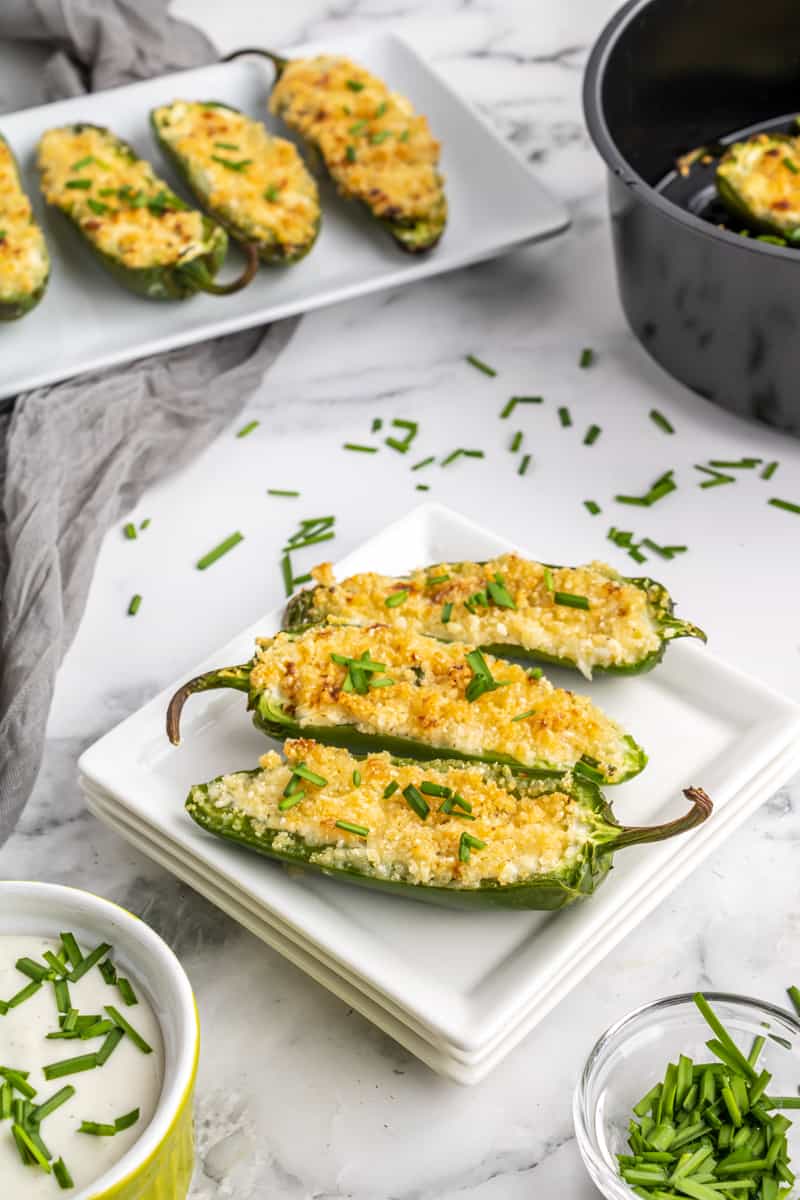 Air Fryer Appetizers
When you use your air fryer, making homemade jalapeno poppers is a cinch! Plus, clean-up is effortless, especially if you use parchment paper or aluminum foil to line the basket. This easy jalapeno poppers recipe is made with simple ingredients that are easy to find in the store.
The air fryer makes snacks and appetizers taste deep-fried but without the grease. You can make homemade onion rings, zucchini fritters, and even crispy coconut shrimp in the air fryer. It cooks fast and makes everything nice and crisp.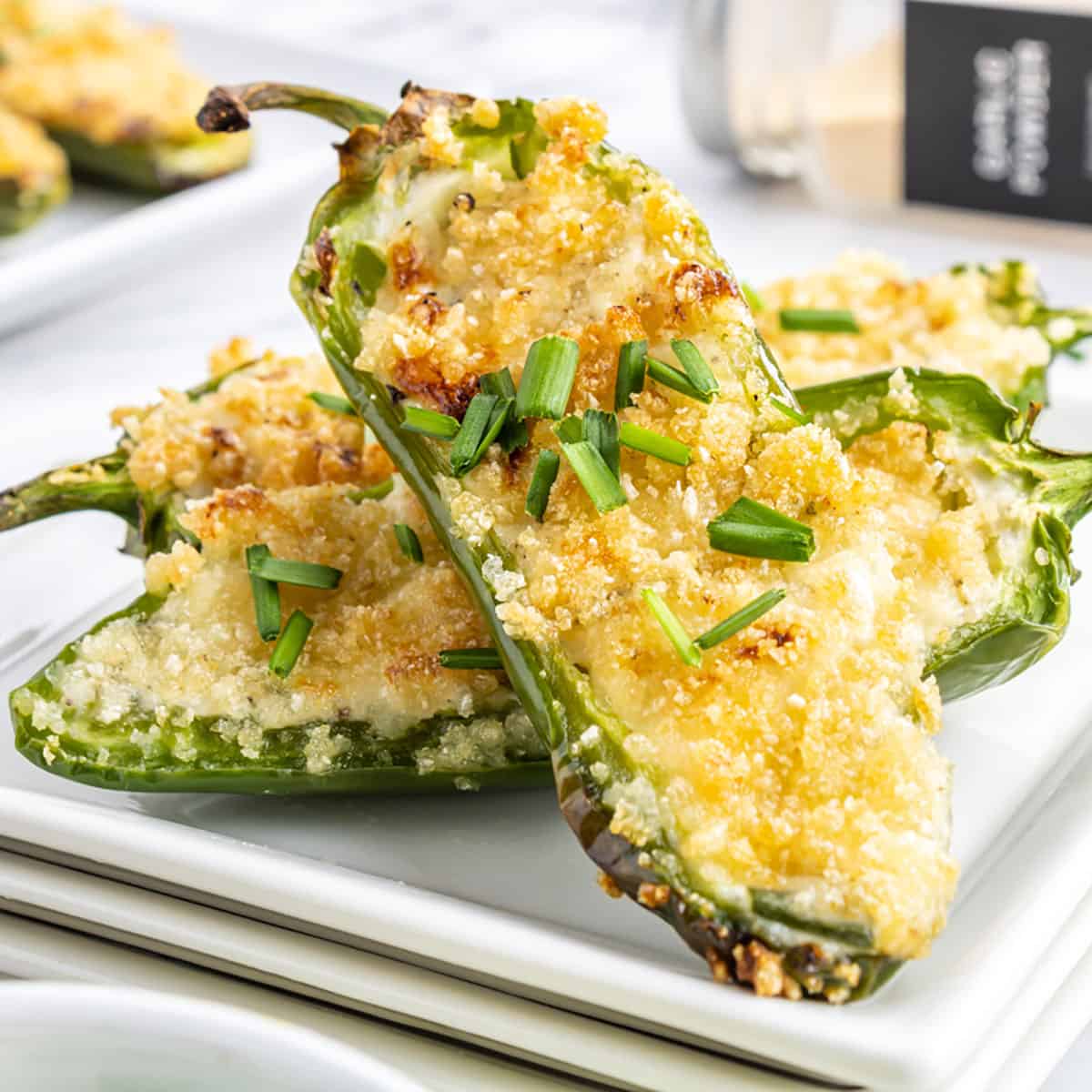 Why This is the Best Air Fryer Jalapeno Poppers Recipe
Easy & simple - no hard-to-find ingredients & takes just 20 minutes from start to finish
Each popper comes out crispy on the outside and rich and cheesy on the inside
Healthier than deep-fat frying and no mess to clean up afterward
Fun to eat with an explosion of heat and flavor with each bite
Ingredients for Jalapeno Poppers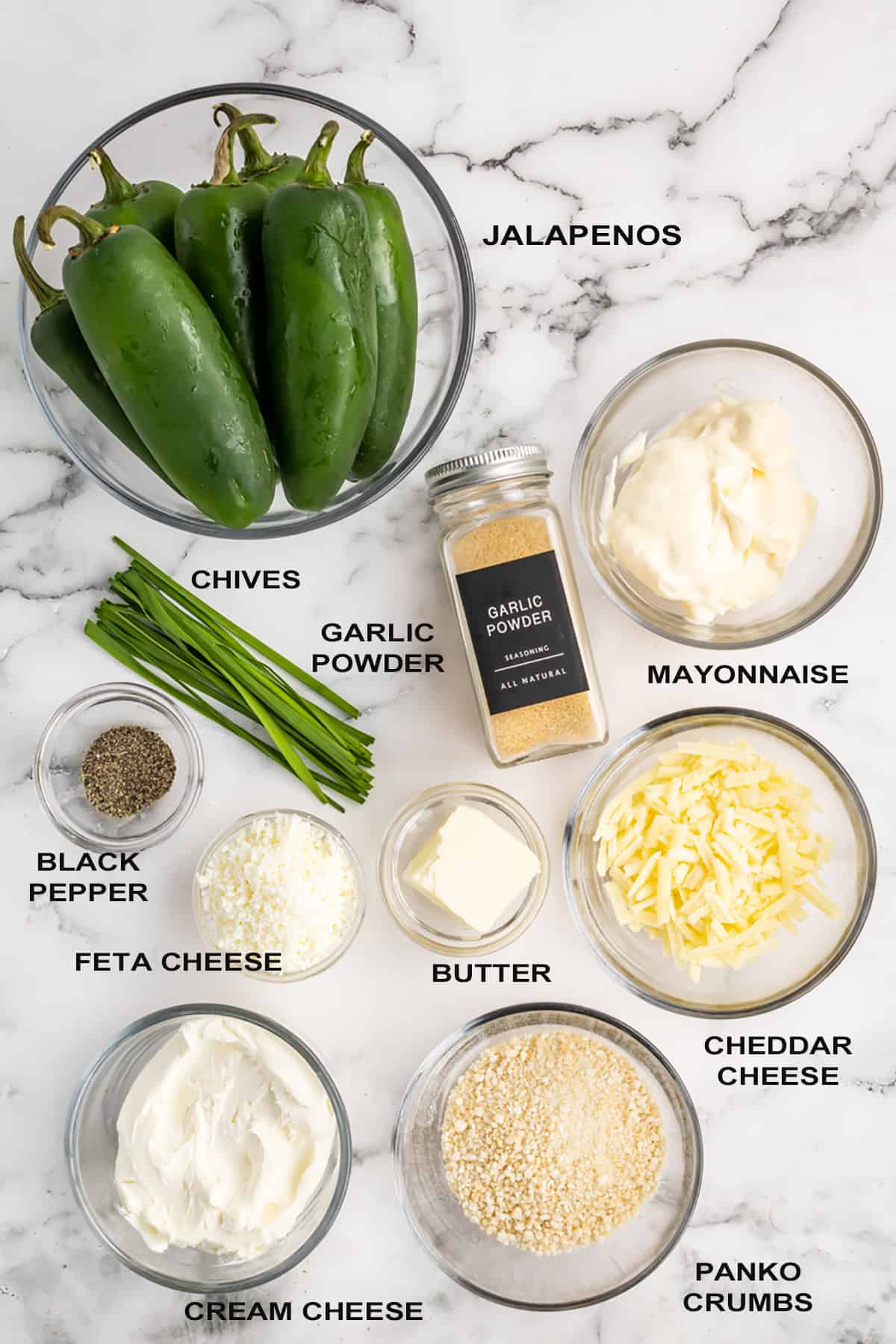 Fresh jalapeños
Cream Cheese
Shredded Cheddar Cheese
Crumbled feta cheese
Mayonnaise
Garlic powder
Ground black pepper
Fresh chives
Panko Bread Crumbs
Butter
Ingredient Notes and Substitutions
You can make different jalapeno poppers by changing out the cheese. Here are a few ideas:
Substitute the feta with blue cheese or goat cheese.
Substitute the cheddar with gouda.
Use only cream cheese or cheddar cheese.
Use pimento cheese instead of the mix of cream cheese, cheddar, and feta.
The breading for jalapeno poppers can be changed for flavor or diet preferences:
Regular bread crumbs (plain or seasoned).
Crusted corn tortilla chips or corn meal for gluten-free jalapeno poppers.
Crushed pork rinds for keto jalapeno poppers.
Best Cream Cheese for Poppers
I recommend using Philadelphia brand cream cheese or Organic Valley for making organic poppers.
Can I add bacon?
You can add ¼ cup of crispy cooked bacon pieces to the cheese filling or sprinkle the bacon on top instead of the breading.
How to Make Air Fryer Jalapeno Poppers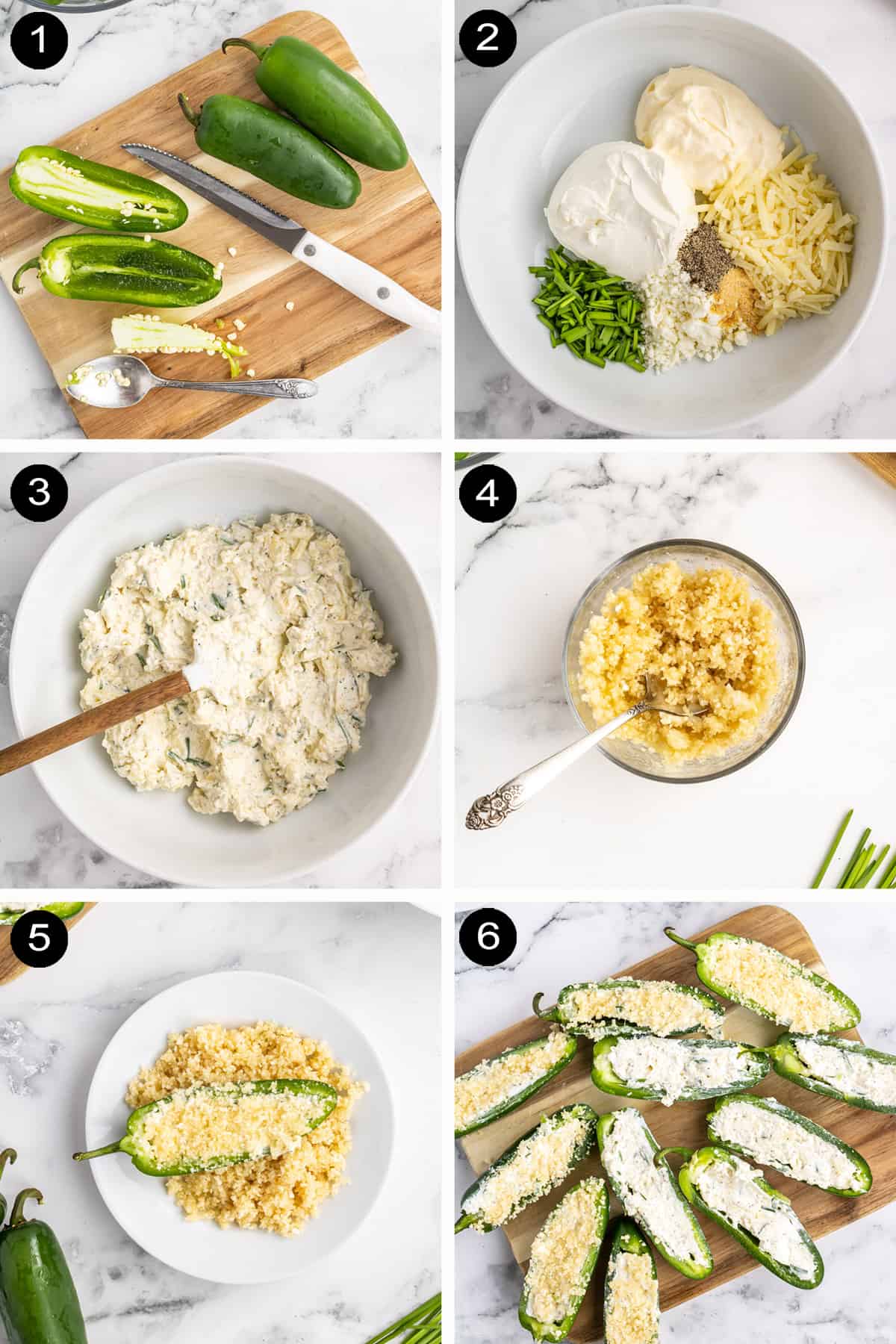 Wash the jalapenos then cut them half lengthwise. Scoop out the ribs and seeds with a spoon and discard them.
In a medium bowl, place the cream cheese, mayonnaise, cheddar and feta cheeses, garlic powder, black pepper, and chives.
Mix well to make the filling.
In a small bowl, combine the panko crumbs and melted butter.
Fill each of the jalapeno halves then coat in buttered panko crumbs.
Once coated they are ready to air fry.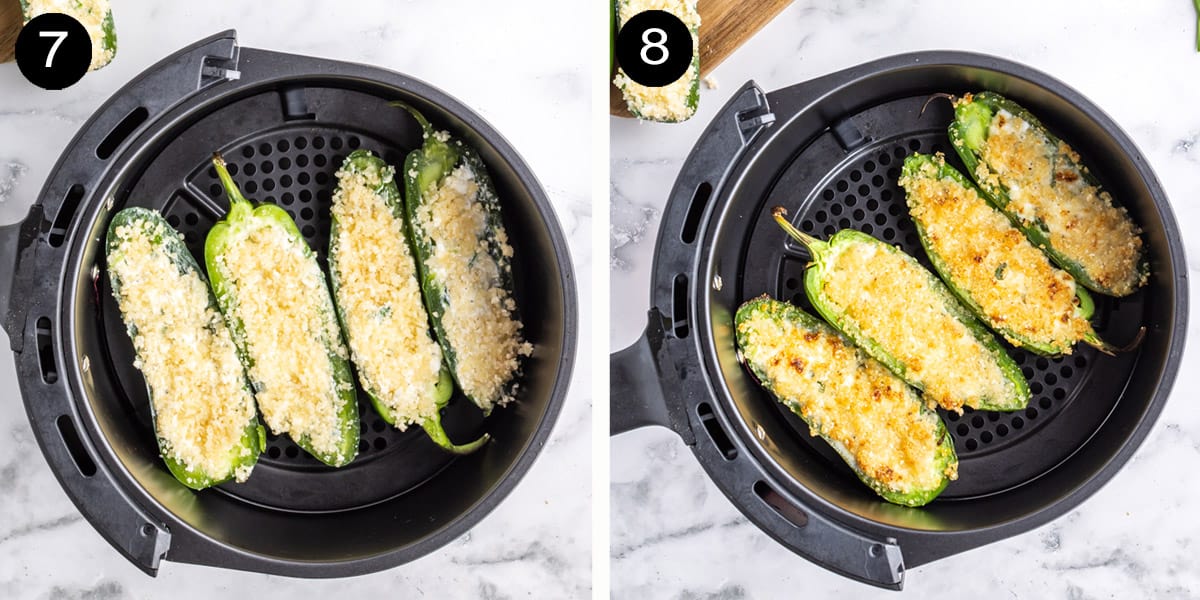 Place the jalapeno poppers in the air fryer being careful not to crowd them. It may take several batches.
Air fry poppers for 6 to 8 minutes at 325°F until the tops are golden brown. DO NOT OVERCOOK THEM!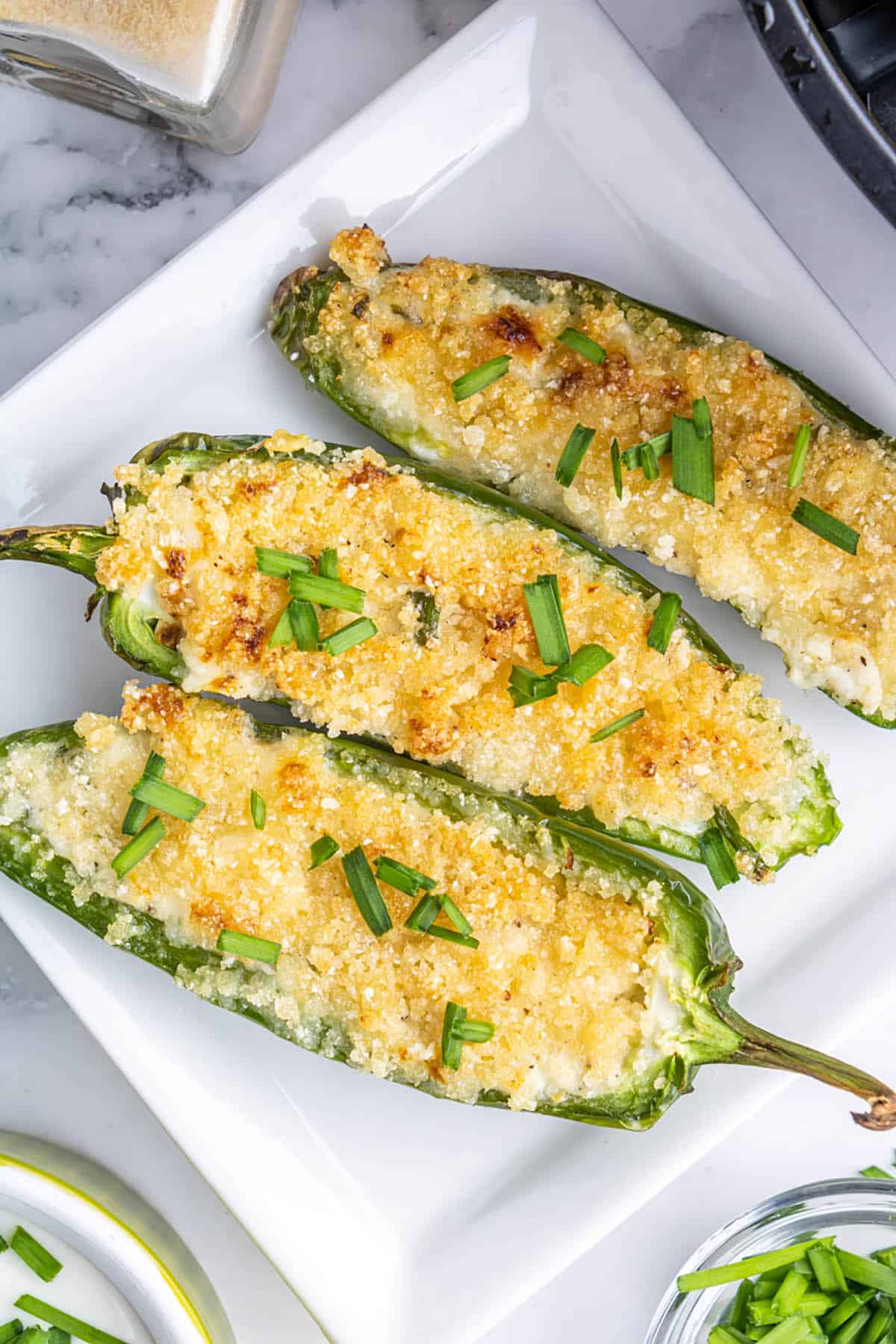 Remove the poppers from the air fryer and place them on a platter. Garnish with a sprinkle of chives. Eat them while they're hot.
2CM Pro Tip: Wear gloves when cutting jalapeno peppers and removing the seeds to prevent the capsaicin in hot pepper oil from burning your skin. Avoid touching your eyes while handling chili peppers. If you don't wear gloves, use dishwashing liquid to remove jalapeno oil from your hands.
Dips for Jalapeno Poppers
Serve your air-fried jalapeno poppers with a dipping sauce. Both sweet and savory sauces pair nicely with them. Here are a few suggestions:
Avocado Crema (Avocado Cream Sauce)
Mango Sauce
Ranch Dressing
Sweet Chili Sauce
Make Ahead
You can make jalapeno poppers in advance. Just prepare the poppers except for cooking them. Wrap the uncooked poppers with plastic wrap and place them in the fridge for up to 4 days or freezer for up to 3 months.
When ready to cook, air fry refrigerated ones as directed. Frozen ones will take a few minutes longer until they are golden brown and the cheese filling is bubbly.
Oven Baked Jalapeno Poppers
Don't have an air fryer? You can bake them instead. Simply place the poppers on a baking sheet lined with aluminum foil. Bake at 425°F for 9 to 12 minutes.
How to Store Jalapeno Poppers
Store cooked jalapeno poppers in an airtight container in the refrigerator for up to 2 days.
Can You Freeze Jalapeno Poppers?
Yes, freezing jalapeno poppers is easy. They are best frozen before being cooked because the cooked ones will tend to be soggy after thawing and reheating.
How to Freeze Jalapeno Poppers
The best way to freeze jalapeno poppers is to place them on a baking sheet with space between them. Freeze and then transfer the frozen poppers to a plastic freezer bag or airtight freezer-safe container.
How to Reheat Jalapeno Poppers in Air Fryer
Drizzle melted butter over the poppers or spray them lightly with oil to re-crisp the topping.
Refrigerated: Preheat the air fryer to 325°F and air fry for 3 to 5 minutes.
Frozen: Preheat the air fryer to 325°F and air fry for 8 to 10 minutes.
Frequently Ask Questions
Are Jalapeno Poppers Spicy?
Jalapenos are relatively low on the Scoville Scale compared to other hot peppers. They are around 2,500 to 8,000 Scoville Heat Units (the hottest peppers are 1,000,000). The spiciness of the poppers can vary depending on the ingredients used in the filling.
How Long to Cook Jalapeno Poppers in Air Fryer?
Homemade breaded jalapeno popper halves are air fried for 6 to 8 minutes, or until golden brown. Whole stuffed poppers are air fried for 12 to 15 minutes.
What Temp to Cook Jalapeno Poppers in Air Fryer?
Homemade jalapeno poppers are air fried at 325°F.
More Easy Appetizer Recipes
Find lots of delicious and easy appetizer recipes on 2CM!
LOVE QUICK & EASY RECIPES? FOLLOW ME ON INSTAGRAM, FACEBOOK, & PINTEREST FOR ALL THE LATEST RECIPE INSPIRATION! PLUS JOIN MY EMAIL LIST AND RECEIVE A FREE E-BOOK.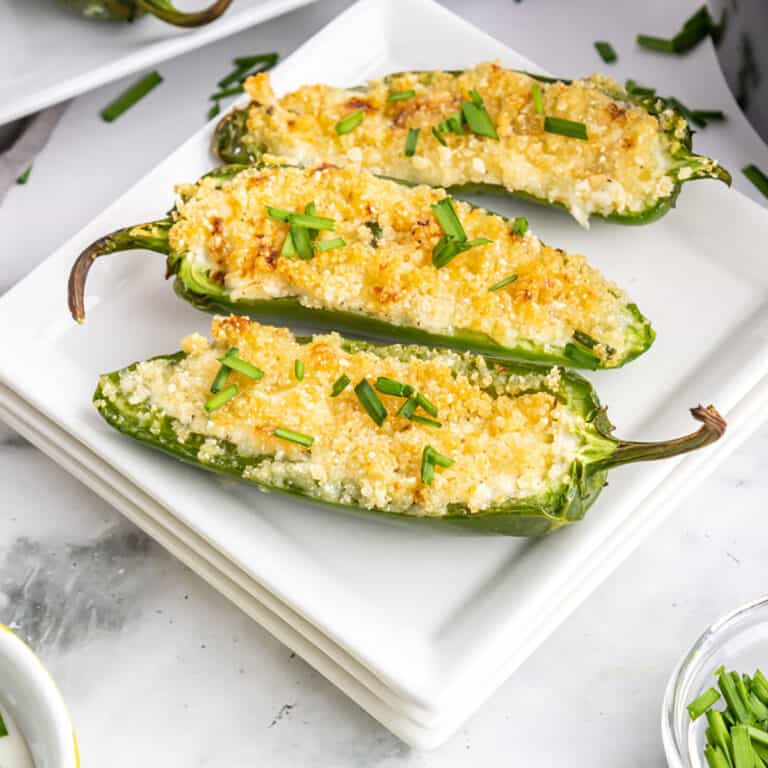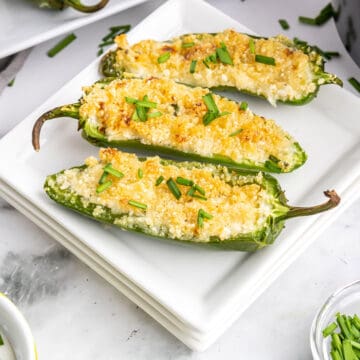 Air Fryer Jalapeno Poppers
Just 20 minutes gives you air fryer jalapeno poppers that are crispy on the outside with a gooey cheese filling. Great appetizer for parties and gameday.
Print
Rate
Ingredients
7

small -10 (medium) fresh jalapenos, cut in half lengthwise and seeded

4

oz

cream cheese

2

Tablespoons

mayonnaise

¼

cup

sharp shredded cheddar cheese

2

Tablespoons

crumbled feta cheese

1

teaspoon

garlic powder

½

teaspoon

ground black pepper

2

Tablespoons

chives

finely chopped

¼

cup

panko crumbs

1

Tablespoon

butter

melted

1

teaspoon

chives

finely chopped (for garnish)
Instructions
Cut each of the jalapenos in half longways. Remove the seeds with a spoon and discard them. Set the jalapenos aside. Note: It is best to do this with gloves on and absolutely keep your fingers away from your eyes.

In a medium-sized bowl, combine the cream cheese, mayonnaise, cheddar cheese, feta cheese, garlic powder, pepper, and 2 tablespoons of chives.

Fill each jalapeno half with the cheese mixture.

In a small bowl, combine the Panko breadcrumbs and melted butter.

Dip each of the cheese-filled jalapenos into the Panko crumbs to coat.

Cook for 6-8 minutes at 325˚F or until the tops are golden brown. Make sure not to overcook them as they can go soggy.

Remove from the air fryer and garnish with 1 teaspoon of chives. Serve hot.
Notes
TO MAKE IN OVEN
Cook on a foil-lined baking sheet at 425 degrees for 9 to 12 minutes or until golden brown on top.
STORE/FREEZE
Store: up to 2 days in the refrigerator.
Freeze: for up to 3 months. Can be cooked frozen. Time will be 3-5 minutes longer if they are frozen. Add more melted butter on top before cooking, whether from the refrigerator or freezer.
Nutrition
Calories:
142
kcal
|
Carbohydrates:
4
g
|
Protein:
3
g
|
Fat:
13
g
|
Saturated Fat:
6
g
|
Polyunsaturated Fat:
2
g
|
Monounsaturated Fat:
3
g
|
Trans Fat:
0.1
g
|
Cholesterol:
31
mg
|
Sodium:
187
mg
|
Potassium:
78
mg
|
Fiber:
1
g
|
Sugar:
1
g
|
Vitamin A:
526
IU
|
Vitamin C:
17
mg
|
Calcium:
76
mg
|
Iron:
0.3
mg