Crispy and fried to perfection, air fryer zucchini fritters are a healthy and low-carb side dish for all occasions. Pairs perfectly with steak, hamburgers chicken, or fish.
Zucchini fritters are nutritious and taste so delicious that you won't believe how good they are for you. The air fryer makes this a no-mess way to fry up healthy zucchini fritters without having to use lots of oil. Gluten-free and keto options given.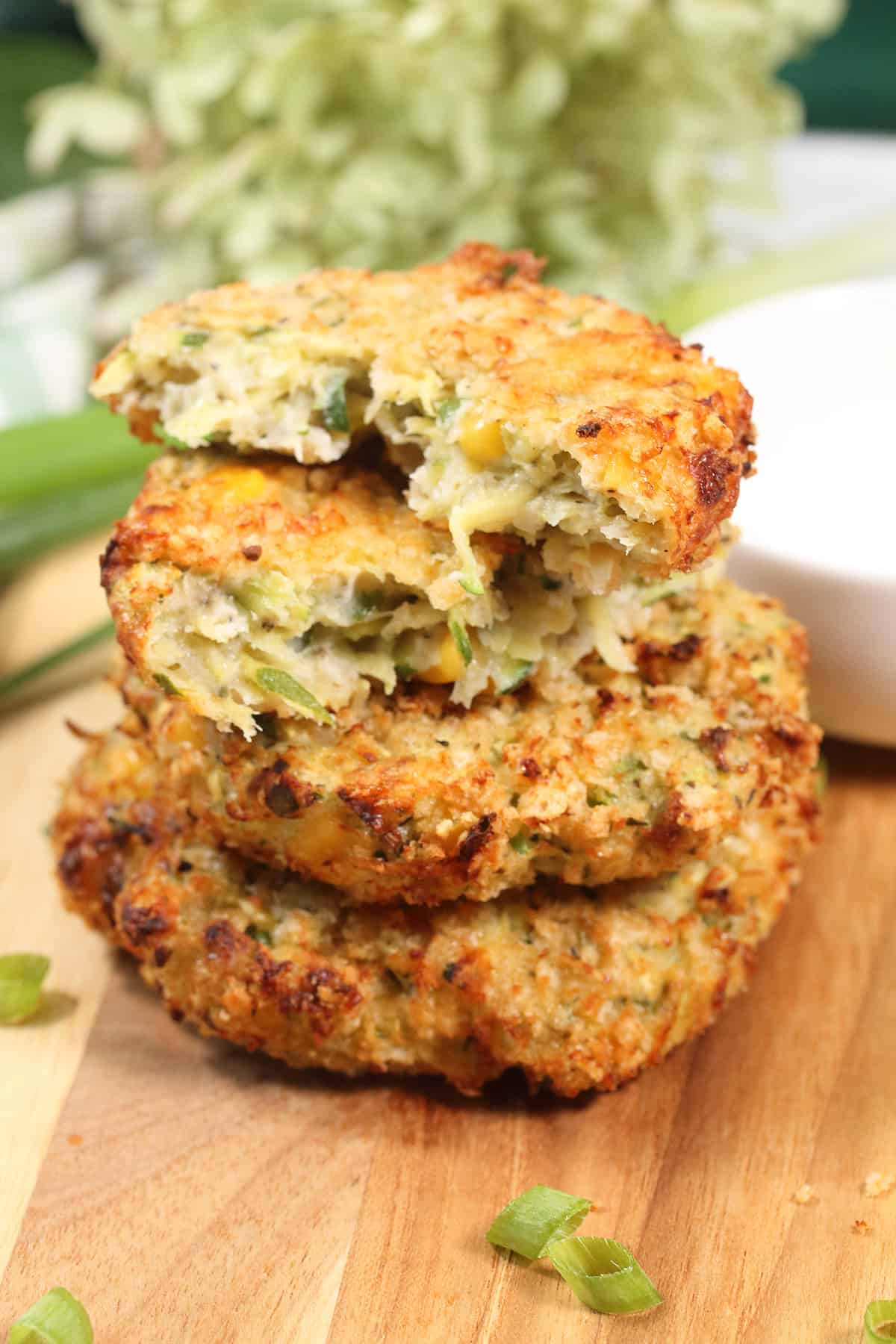 Crispy Air Fried Zucchini Fritters
Are you looking for a versatile side dish that goes with almost anything? This recipe for zucchini fritters is perfect. When you make this zucchini fritters air fryer recipe, you don't have to use lots of extra oils, which makes them so much better for you. They are filled with cheese and an aromatic blend of spices that will make you hungry while they bake.
I love using my air fryer to cook my favorite recipes. If you love fried foods but don't want all the greasy mess, try some air fryer shrimp or air fryer zucchini fries. Maybe you just want a quick and easy dinner. Try options like Air Fryer Turkey Burgers or Air Fryer Chicken Parmesan which need little prep and, even better, little clean-up.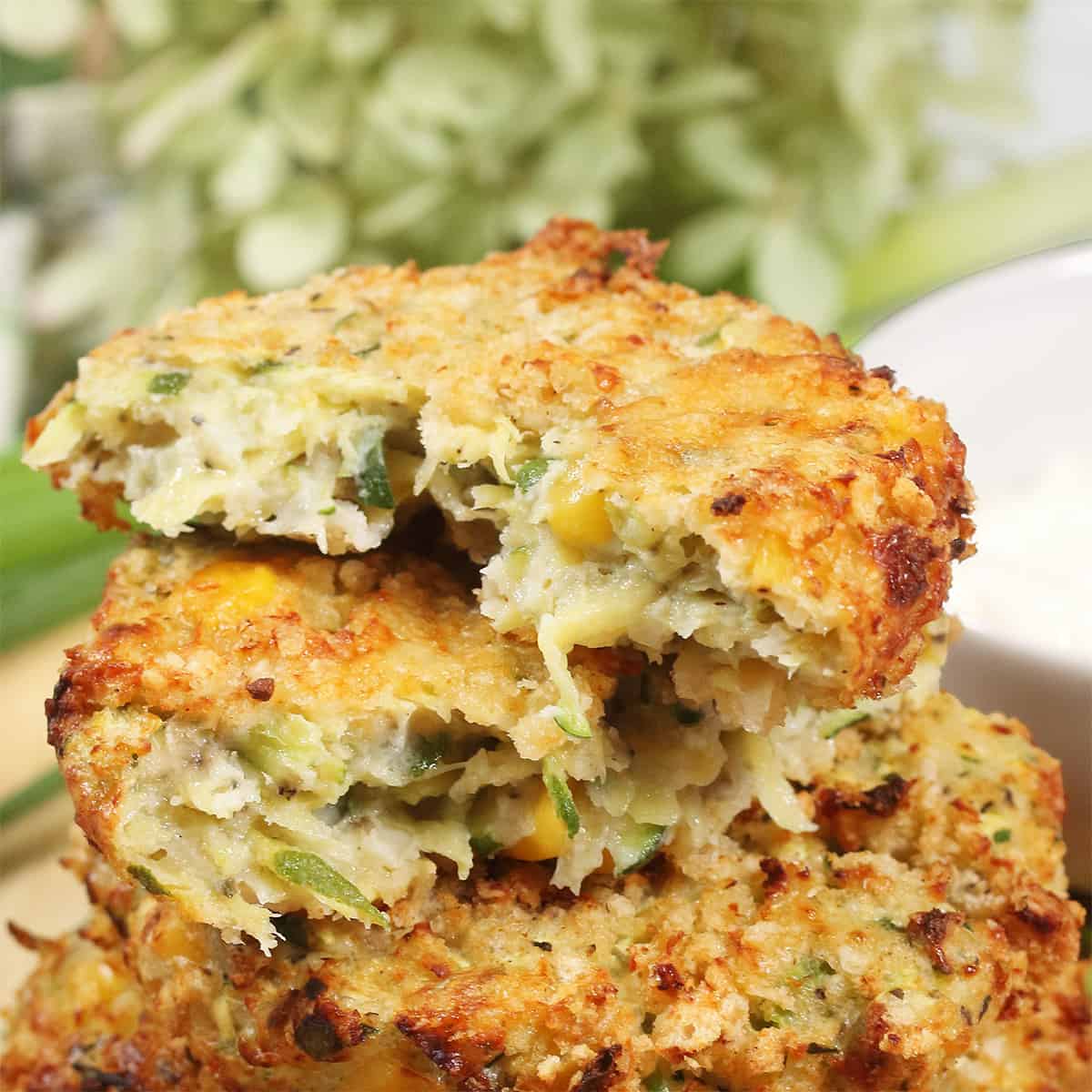 Why This is the Best Recipe for Zucchini Fritters in Air Fryer
Loaded with cheese. These cheesy zucchini fritters are loaded with Parmesan cheese.
Perfectly seasoned. The blend of spices is perfect and has the most welcoming aromas.
Crispy fritters. They are tasty veggie fritters with crispy Panko crust.
Easy to freeze. Prepare it, freeze it, and save it for later!
Tastes like corn fritters. These are the best zucchini fritters because they taste like an indulgent snack from the fair, but they are good for you.
Ingredients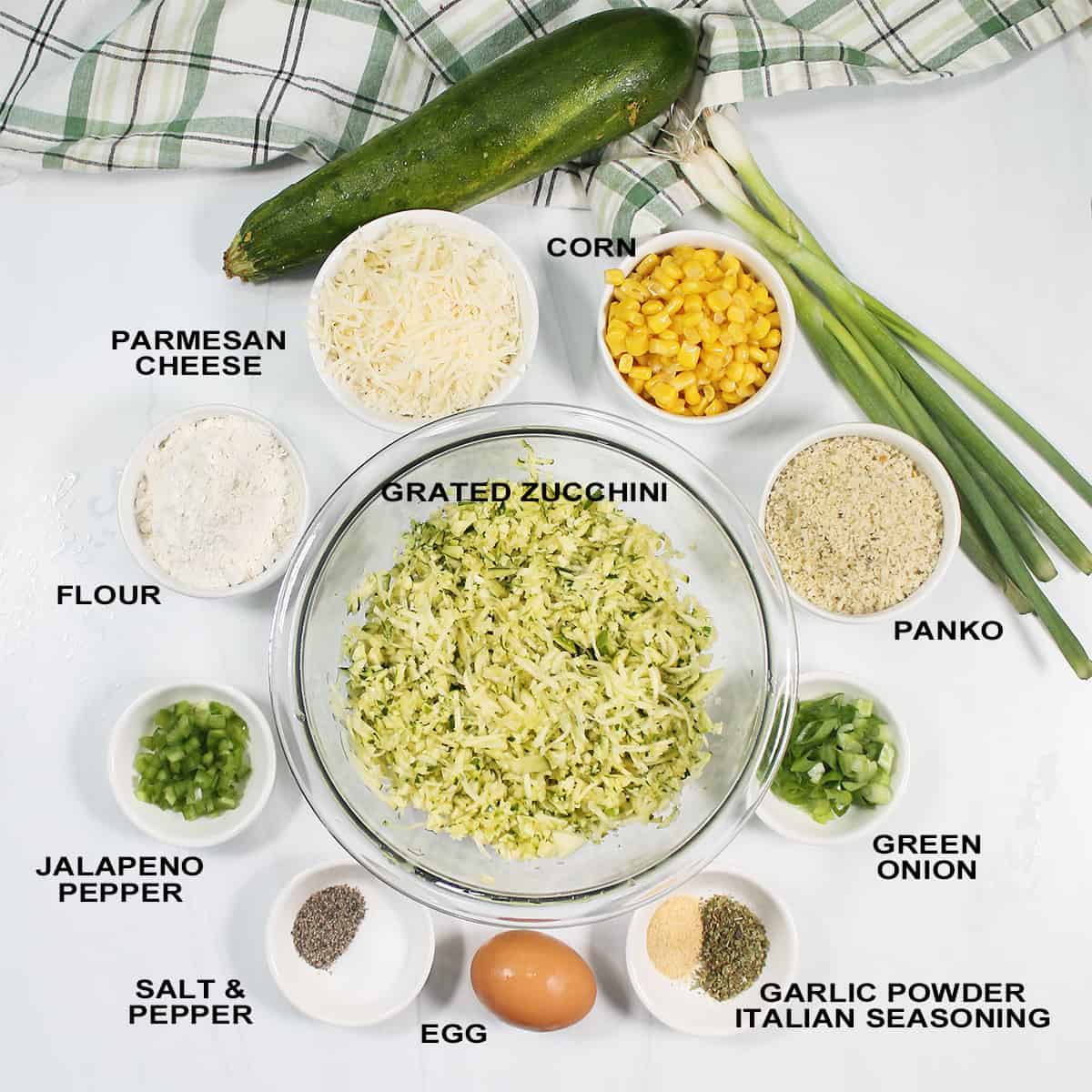 Zucchini - grate using the small side of a box grater then place in paper towels and squeeze excess moisture out.
Grated Parmesan Cheese
Egg - is the glue that helps hold the fritters together
All-purpose flour - works best. If making a gluten-free version use a 1:1 gluten-free flour or for keto diets opt for almond flour.
Italian Seasoning
Garlic Powder
Green Onion
Salt
Ground Black Pepper
Jalapeno Pepper or cayenne pepper (optional) - for those who like a little spiciness
Panko Breadcrumbs - use seasoned or plain. You can substitute gluten-free panko for gluten-free diets or pork panko for keto diets.
How to Make Zucchini Fritters in an Air Fryer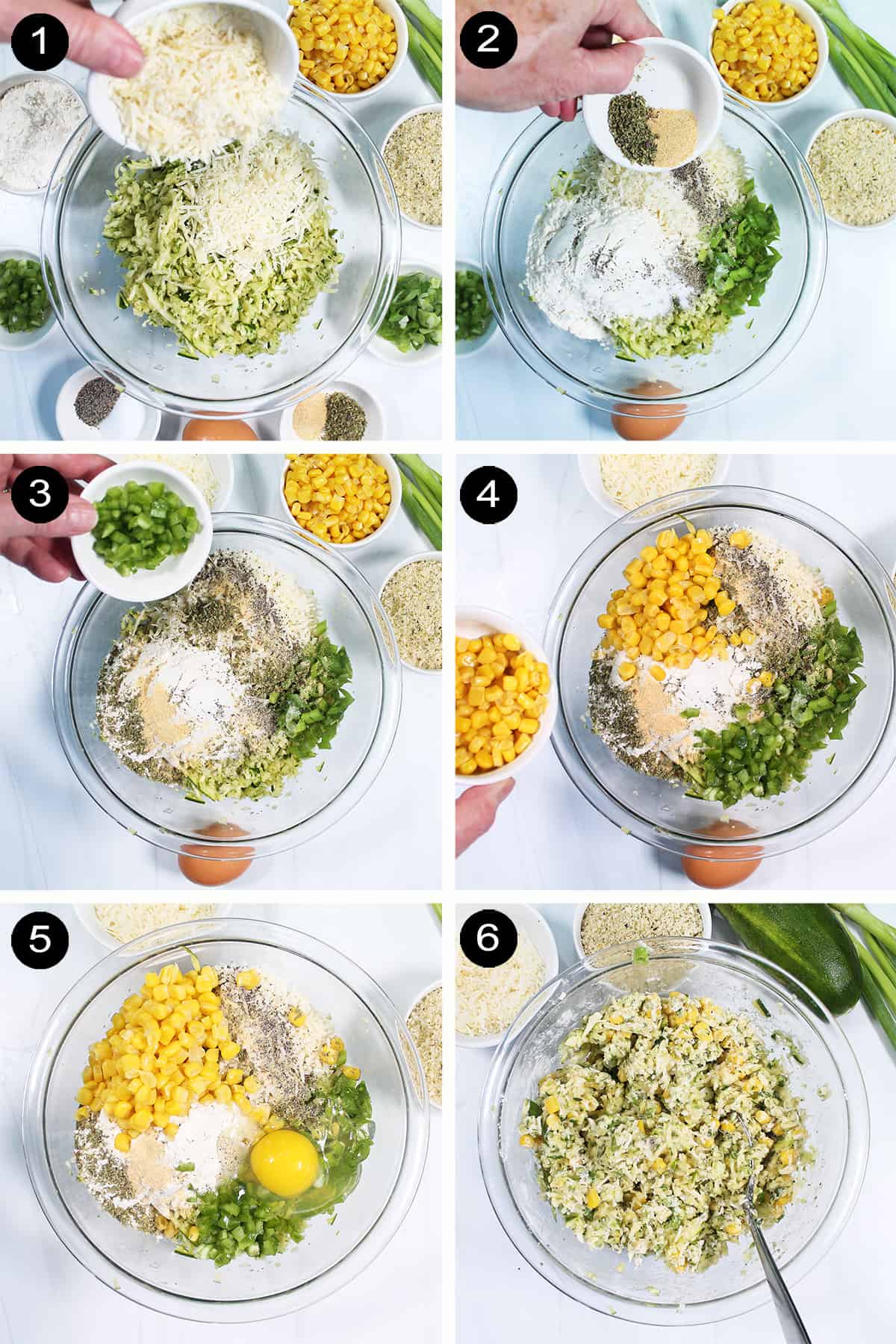 Prior to assembling, shred zucchini on the small side of a box grater. Place in paper towels and roll up then squeeze excess moisture out. (see step-by-step on how to shred zucchini in my Zucchini Cake post)
Place the zucchini in a large bowl. Add ½ cup parmesan cheese.
Add flour, seasonings, and sliced green onion.
Sprinkle in minced jalapeno or opt for a dash of cayenne pepper.
Add corn kernels if using.
Crack an egg into the mixture.
Stir well.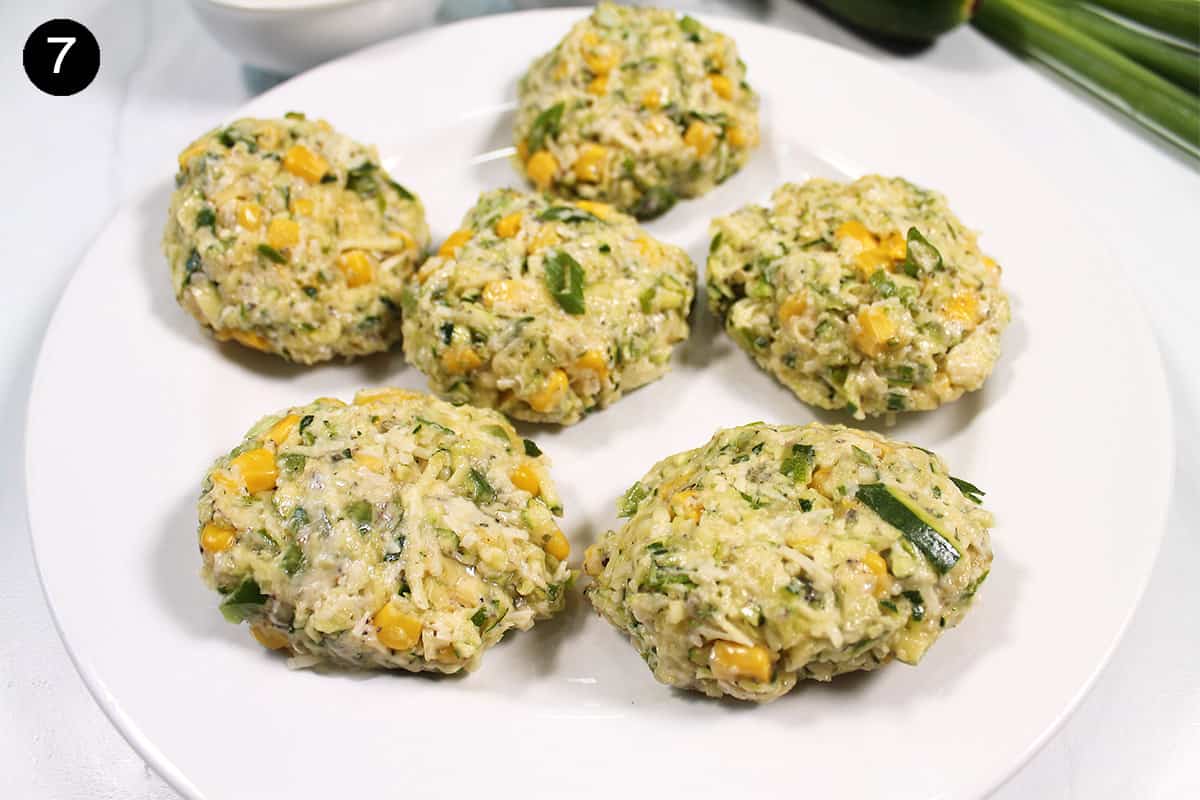 Using your hands, form into patties about the size of a small hamburger. I made six zucchini patties out of mine,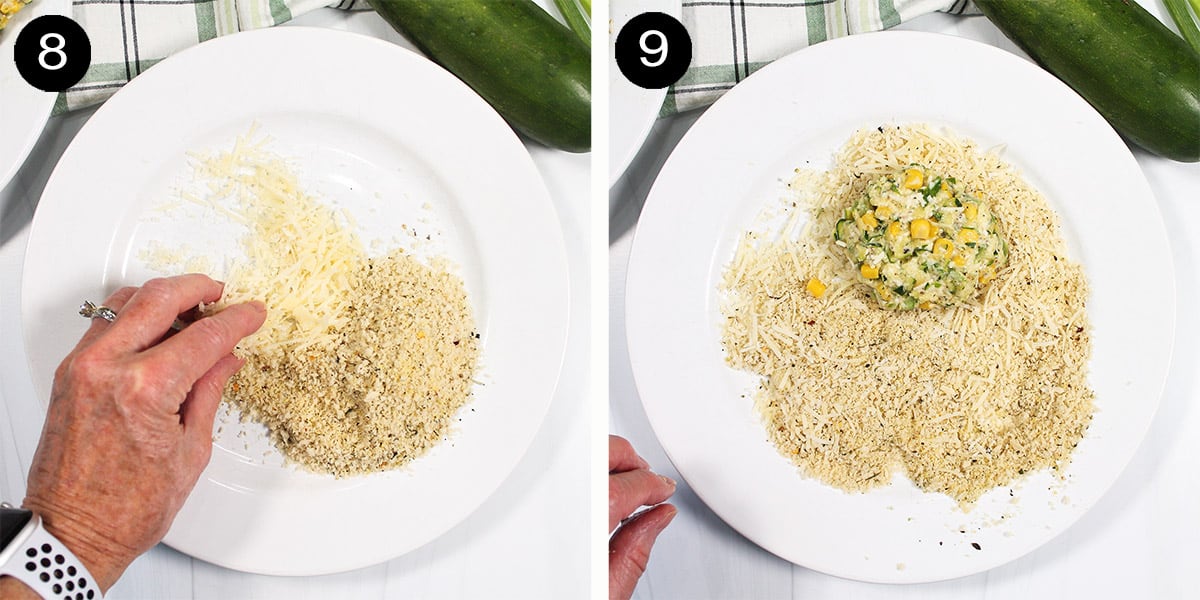 Combine panko crumbs and the remaining ¼ cup parmesan cheese. Stir together.
Place each pattie in the panko mixture and coat both sides. Pat lightly to help the crumb mixture adhere.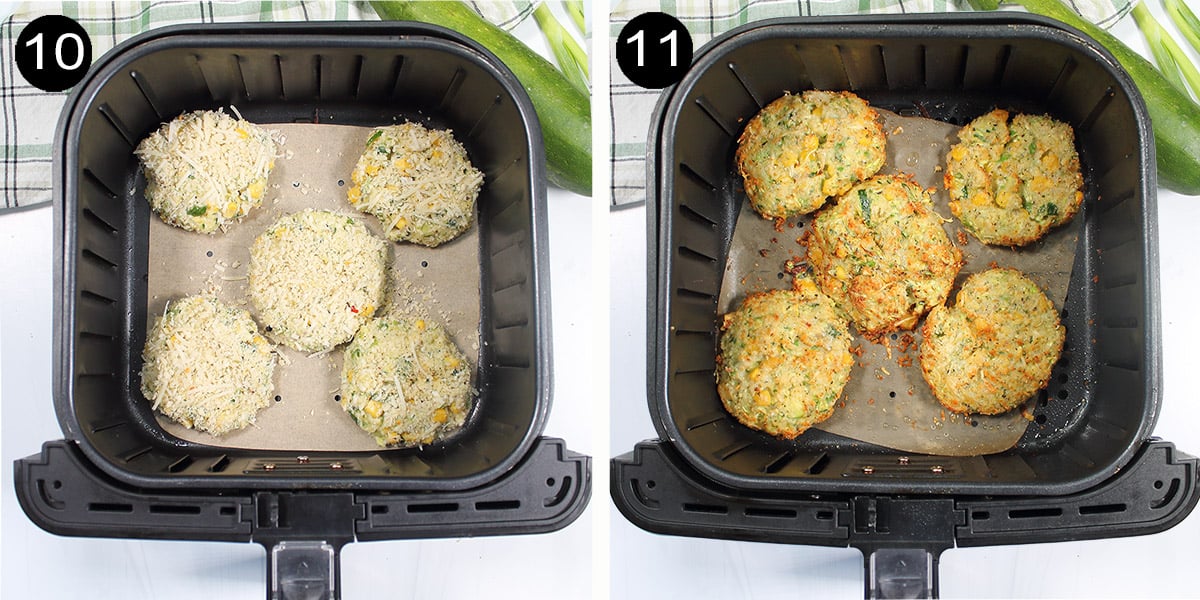 Place parchment in the bottom of your air fryer basket then gently place zucchini fritters in the basket. Make sure you leave room in-between so they cook evenly. Spray tops with cooking spray.
Air fry at 370 degrees for 12 minutes, turning halfway through and spraying tops again with cooking spray. When cooking is complete they should be golden brown.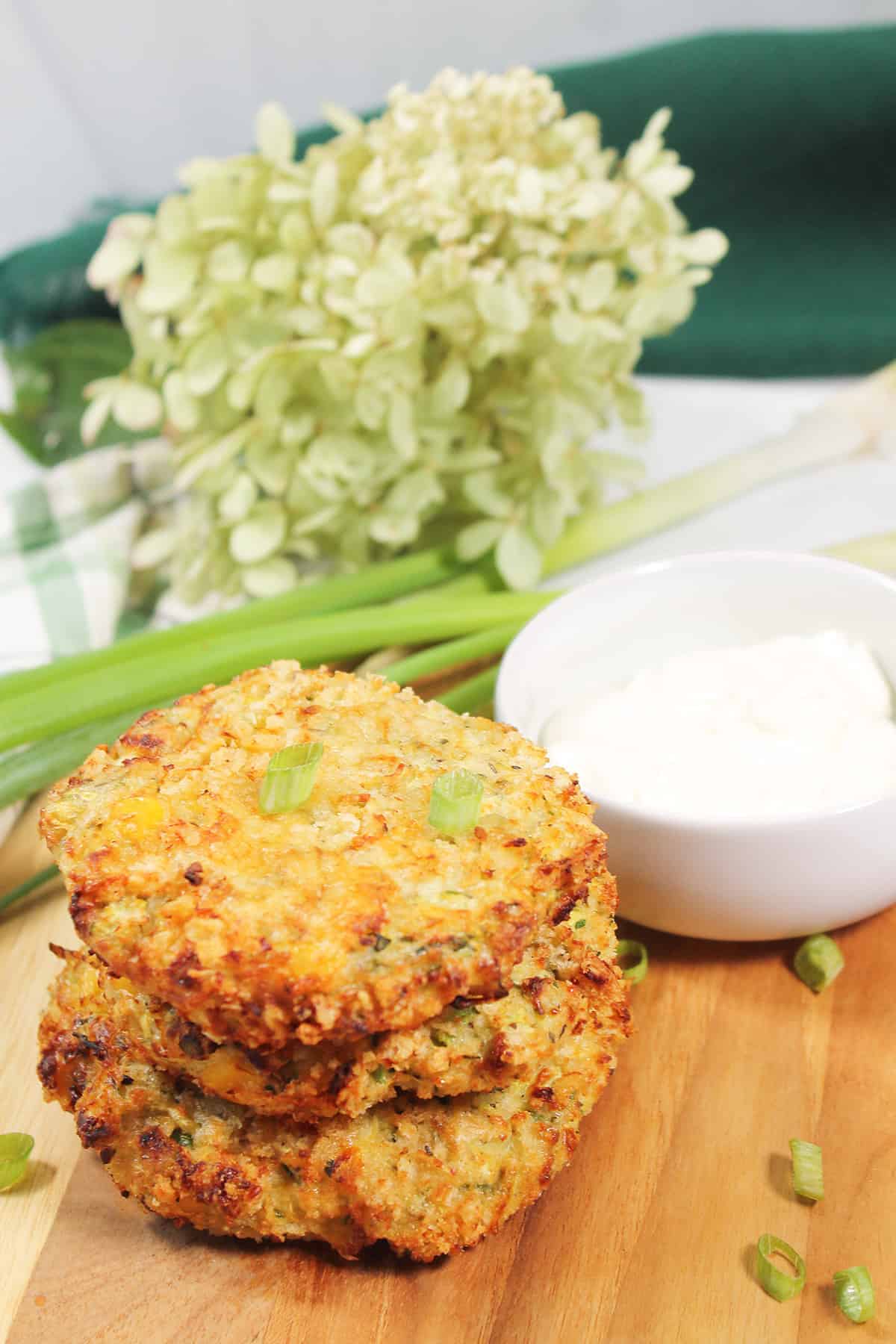 Look at those gorgeous fritters, so golden and crispy! I like to serve mine with sour cream and a sprinkling of green onions. They also pair well with ketchup, marinara, or ranch dressing. Enjoy!
Recipe Tips
Coarsely grate the zucchini for better texture. Use the large holes of a box grater or a food processor grater disk with larger holes.
Place the zucchini shreds in a colander or spread them out on a kitchen towel or paper towels. Sprinkle salt over them and let them sit for about 20 minutes to let the salt pull out the moisture.
Strain and squeeze as much liquid as possible from the zucchini.
Refrigerate the patties for 15 minutes before air frying them. This will help keep them firm and not fall apart.
Make sure there is space between the fritters in the air fryer basket.
After flipping the fritters over, gently press down on them with a spatula to ensure even cooking and help prevent them from being mushy in the middle.
Recipe Variations
These fritters are so easy to adapt and you can make them with many different flavors as well as for special diets.
Flavor Variations
Bacon and Zucchini Fritters: Add ¼ cup of cooked bacon pieces.
Add Fresh Herbs: Basil, thyme, rosemary, and mint pair nicely with zucchini.
Add Protein: Canned tuna, tofu, or quinoa are great choices.
Add Other Vegetables: Substitute some of the zucchini with broccoli, corn, carrot, cauliflower, eggplant, peas, shredded potato (hashbrowns), spinach, yellow summer squash, leeks, onion, pumpkin, or sweet potato.
Greek Zucchini Fritters: Substitute the parmesan with feta cheese and the Italian seasoning with Greek seasoning.
Italian Zucchini Fritters: Add a little ricotta to the batter.
Southwest Zucchini Fritters: Substitute the Italian seasoning with a spicy southwestern seasoning.
Special Diet Variations
Dairy Free Zucchini Fritters: Omit the parmesan cheese.
Flourless Zucchini Fritters: Some type of flour is necessary to hold the patties together. If you want to avoid using all-purpose flour, you can use almond, oat, or coconut flour.
Gluten-Free Zucchini Fritters: Substitute 1:1 gluten-free flour, almond flour, coconut flour, or cornmeal. Make sure the panko crumbs are designated gluten-free.
Keto Zucchini Fritters: Substitute the all-purpose flour with keto-friendly flour such as almond flour. Substitute the panko with pork panko or crushed pork rinds.
Vegan Zucchini Fritters: Substitute the parmesan with vegan cheese and the egg with 1 tablespoon ground flax meal mixed with 2.5 tablespoons of water.
Egg Free Zucchini Fritters: The patties need a binder to help hold them together. To make a zucchini fritter no egg batter, combine 1 tablespoon of ground flax meal with 2 ½ tablespoons of water. Let it sit for 10 minutes. Use the mixture in place of the egg.
What to Serve with Zucchini Fritters
A dipping sauce for zucchini fritters is a nice option. You can go with creamy or tomato-based sauces. Here are a few suggestions:
Marinara Sauce
Plain Greek Yogurt
Sour Cream
Ranch Dressing
Tzatziki Sauce from the View from Great Island
Zucchini Fritters Meal
Are you wondering what to serve zucchini fritters with to make it a complete meal? They are a great side dish for beef, chicken, and seafood. And I happen to have some tasty air fryer recipes that would be perfect:
How to Store
Wrap leftover fritters individually with plastic wrap or place them in an airtight container. Store them in the refrigerator for up to 5 days.
Can You Freeze Zucchini Fritters?
Yes! Zucchini fritters can be frozen both before and after cooking.
Before cooking: Individually wrap the formed fritter patties with plastic wrap (freezer wrap recommended). Thaw the patties in the refrigerator overnight and then cook them according to recipe directions.
After cooking: Place the cooked fritters on a baking sheet and put them in the freezer. Once they are frozen, transfer them to plastic freezer bags or an airtight freezer-safe container. Thaw them overnight in the fridge.
How to Reheat Zucchini Fritters
There are several ways you can reheat leftover zucchini fritters:
Air Fryer - Air fry at 360°F for 3 minutes or until heated through.
Microwave on high for 20 to 30 seconds. Additional 10-second intervals if needed.
Oven - Place on an oven-safe dish or baking sheet. Heat at 350°F for 10 to 15 minutes.
Note that whichever method you choose for reheating, they will not be as crispy as when they were originally air fried.
Frequently Asked Questions
Do you peel zucchini for making fritters?
You do not have to peel zucchini to make fritters.
Why are my zucchini fritters soggy?
The main reason is that zucchini has a lot of moisture. That's why it's important to get out as much of that moisture by squeezing the shreds and/or salting them and letting the salt leech it out.
Can zucchini fritters be baked?
Yes. Place the fritters on a greased baking sheet. Bake at 400°F for about 20 minutes, flipping them over halfway through.
Are zucchini fritters healthy?
Yes! Zucchini is a healthy vegetable with many vitamins and minerals. Parmesan is a low-fat cheese with protein. Seasonings also have many health benefits.
LOVE QUICK & EASY RECIPES? FOLLOW ME ON INSTAGRAM, FACEBOOK, & PINTEREST FOR ALL THE LATEST RECIPE INSPIRATION! PLUS JOIN MY EMAIL LIST AND RECEIVE A FREE E-BOOK.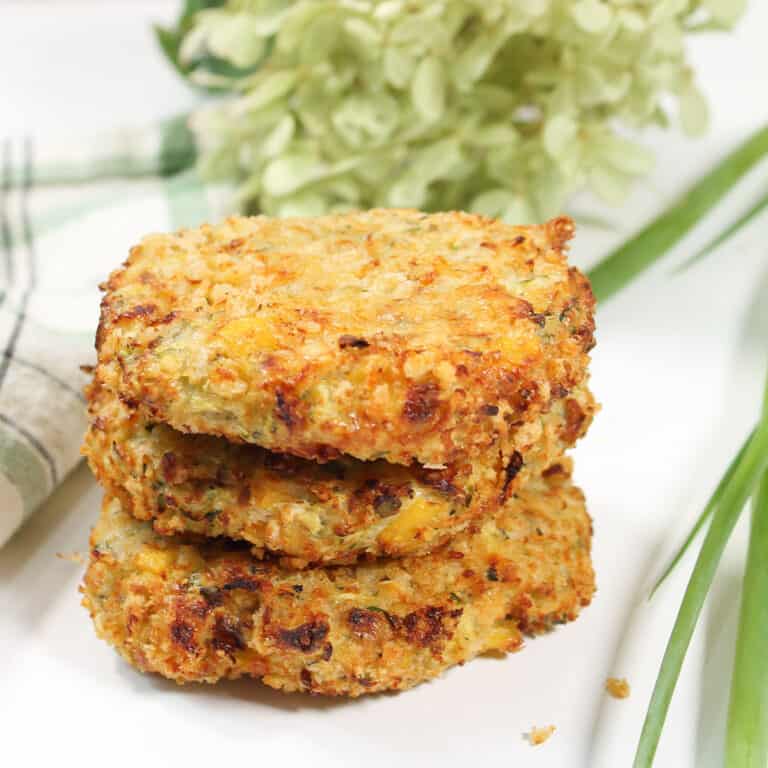 Air Fryer Zucchini Fritters
No mess, crispy fried Air Fryer Zucchini Fritters are so tasty you won't believe they're actually good for you! An easy side for busy weeknight dinners.
Print
Rate
Ingredients
2

medium zucchini, shredded & squeezed dry

(about 2 cups)

½

cup

corn kernels (optional)

¾

cup

parmesan cheese, grated, divided

1

egg

½

cup

all-purpose flour

or 1:1 gluten-free flour or almond/oat flour

1

green onion, thinly sliced

½

jalapeno pepper, minced

1

teaspoon

Italian seasoning

½

teaspoon

garlic powder

1

teaspoon

salt

1

teaspoon

black pepper

½

panko crumbs

(regular, gluten-free, or pork panko)
Instructions
Shred the zucchini then place on paper towel and squeeze as much water out as you can.

Place shredded zucchini in a bowl and mix with ½ cup parmesan cheese, egg, flour, green onion, diced jalapeno, and seasonings.

Form into 6-8 patties. (about the size of a small hamburger)

Place panko crumbs and remaining parmesan cheese on a flat plate and stir.

Coat both sides of the zucchini patties with crumbs.

Place parchment paper in the bottom of your air fryer basket. Place as many patties as you can fit comfortably, allowing enough air space for them to cook properly.

Spray tops of fritters with a light oil spray.

Fry at 370 degrees for 12 minutes, turning halfway through and spraying tops again once turned. Cook until well browned.

Garnish cooked fritters with more sliced green onion. Serve with sides of sour cream and/or tzatziki sauce.
Notes
How to reheat leftover zucchini fritters:
Air Fryer - Air fry at 360°F for 3 minutes or until heated through.
Microwave on high for 20 to 30 seconds. Additional 10-second intervals if needed.
Oven - Place on an oven-safe dish or baking sheet. Heat at 350°F for 10 to 15 minutes.
Nutrition
Calories:
125
kcal
|
Carbohydrates:
14
g
|
Protein:
7
g
|
Fat:
5
g
|
Saturated Fat:
2
g
|
Polyunsaturated Fat:
0.5
g
|
Monounsaturated Fat:
1
g
|
Trans Fat:
0.003
g
|
Cholesterol:
38
mg
|
Sodium:
651
mg
|
Potassium:
253
mg
|
Fiber:
2
g
|
Sugar:
2
g
|
Vitamin A:
325
IU
|
Vitamin C:
14
mg
|
Calcium:
136
mg
|
Iron:
1
mg