Air Fryer Stuffing Balls with sausage and cranberries is a mouthwatering twist on the classic stuffing, cooked to crispy perfection in the air fryer. They're easy to make with Stove Top stuffing and a few simple ingredients.
These delicious, bite-sized flavor bombs are the perfect side for your Thanksgiving dinner or as a tasty seasonal appetizer.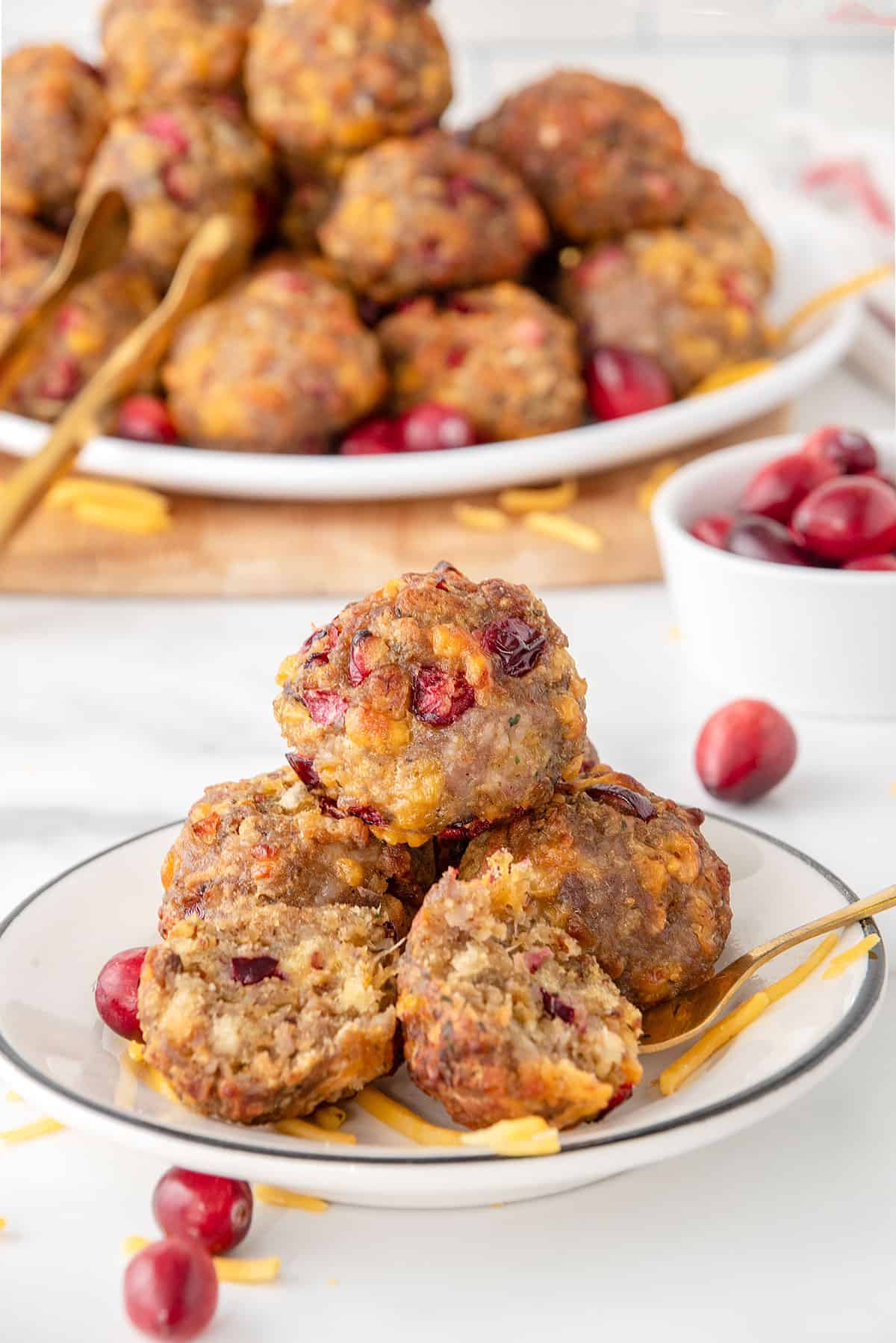 FYI - This post contains affiliate links. As an Amazon Associate, I earn from qualifying purchases. All links are products I use when making my recipes.
Tasty Holiday Appetizers and Sides
Holiday appetizers and sides bring tasty traditions to the Thanksgiving and Christmas table. They're the unsung heroes of the meal, adding sweet and savory flavors along with warm memories to the family gathering. And the aromas of these dishes wafting through the air will have everybody anticipating the mouthwatering feast of the day.
Appetizers like Cranberry Sauce Meatballs provide a sweet-sour note that complements the upcoming feast while holiday sides like Grilled Acorn Squash, drizzled with maple syrup and garnished with pomegranate seeds, bring seasonal color to the table. When thinking traditional, a Southern-style Corn Casserole is a must with its cheesy goodness, and Sweet Potato Puffs with their surprise marshmallow filling takes the sweet potato casserole to another level. These tasty holiday appetizers and sides set the mood for an awesome dinner.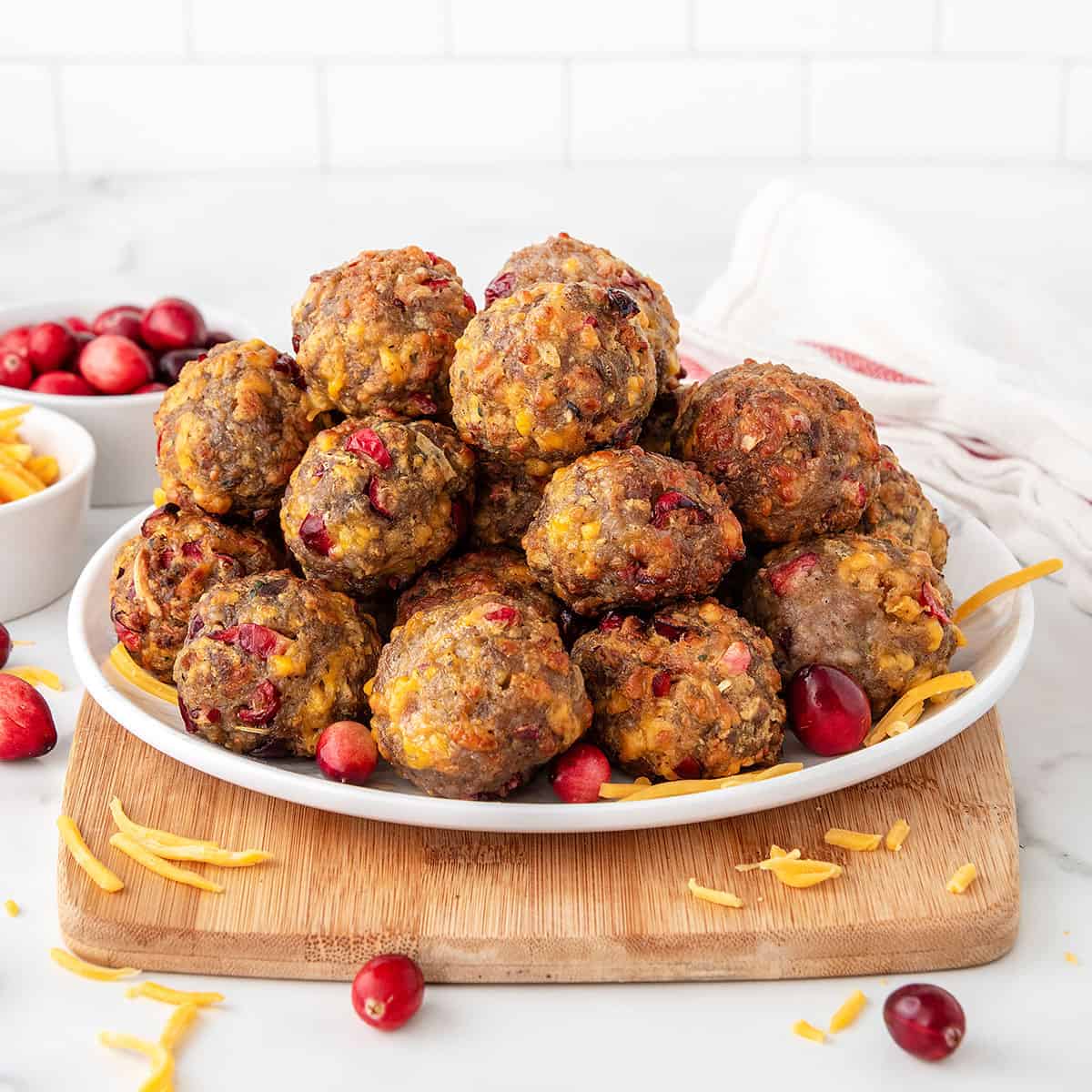 Why You'll Love These Quick and Easy Stuffing Balls
Easy to make - just toss everything together in a bowl, roll into balls and air fry.
Individual servings - make them larger for a holiday side and serve 1-2 to each guest.
Packed with flavor - no turkey needed! Just add chicken stock and poultry season for all the holiday flavor you'll need
No messy casserole - easy to make in the air fryer. No need to try to find room for another casserole in the oven and no need to stuff your turkey.
Not just for holidays - these stuffing balls, with or without sausage, are a great side to serve with weeknight chicken dinners.
Appetizer or Side Dish - depending on the size of the stuffing balls they can adapt to either situation. Great for potlucks too!
What are stuffing balls?
Stuffing balls are a delightful twist on the traditional stuffing or dressing that you might be familiar with from Thanksgiving dinners or festive meals. Instead of baking the stuffing in a casserole dish or inside a poultry cavity, the mixture is rolled into bite-sized balls and then cooked until they're golden brown and crispy on the outside, yet soft and flavorful on the inside.
The concept behind these balls is versatility and convenience. They are perfect as an appetizer, side dish, or unique snack. The beauty of them lies in their adaptability. While traditional stuffing might be made with breadcrumbs, herbs, and broth, stuffing balls can incorporate a myriad of ingredients.
In the case of the stuffing balls with sausage and cranberries, the savory taste of pork sausage, tartness of cranberries, creamy melt of cheddar cheese, and familiar flavor of Stove Top stuffing come together to create a delectable harmony in every bite.
Air frying these stuffing balls adds another layer of innovation. The rapid hot air circulation of the air fryer ensures that the balls achieve a crispy exterior without the need for excessive oil, making them a lighter option compared to their deep-fried counterparts.
Ingredients
Here's what you need to make this recipe for stuffing balls: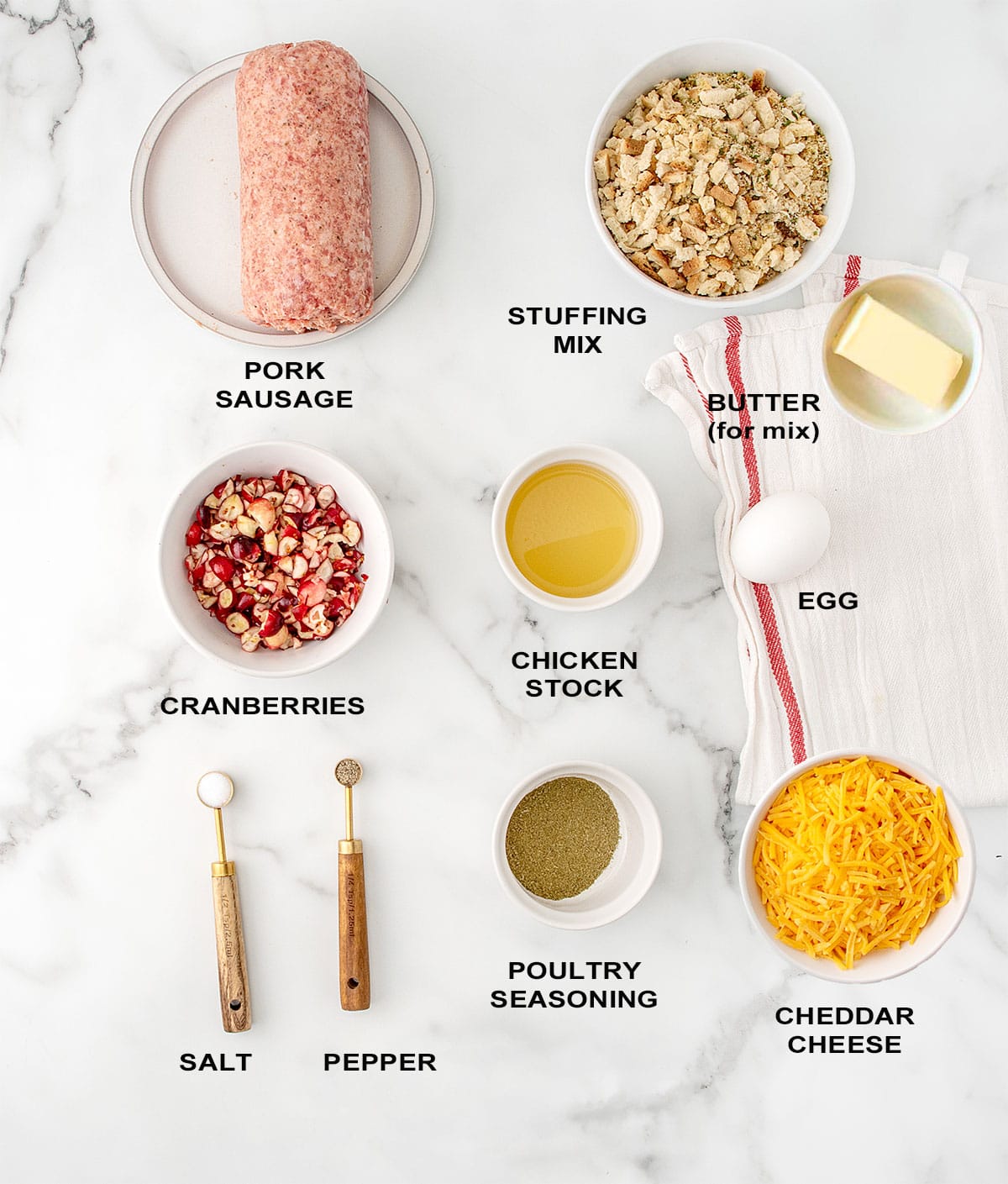 Stove Top stuffing mix uses butter & water
Pork sausage - you can substitute chicken or turkey sausage if desired
Shredded cheddar cheese
Cranberries - fresh, frozen, or dried
Egg - used as a binding agent
Chicken stock - gives the stuffing balls more flavor
Poultry seasoning
Salt
Pepper
How to Make Sausage Stuffing Balls in Air Fryer
Making stuffing balls is an easy process and it's quick to cook them in an air fryer!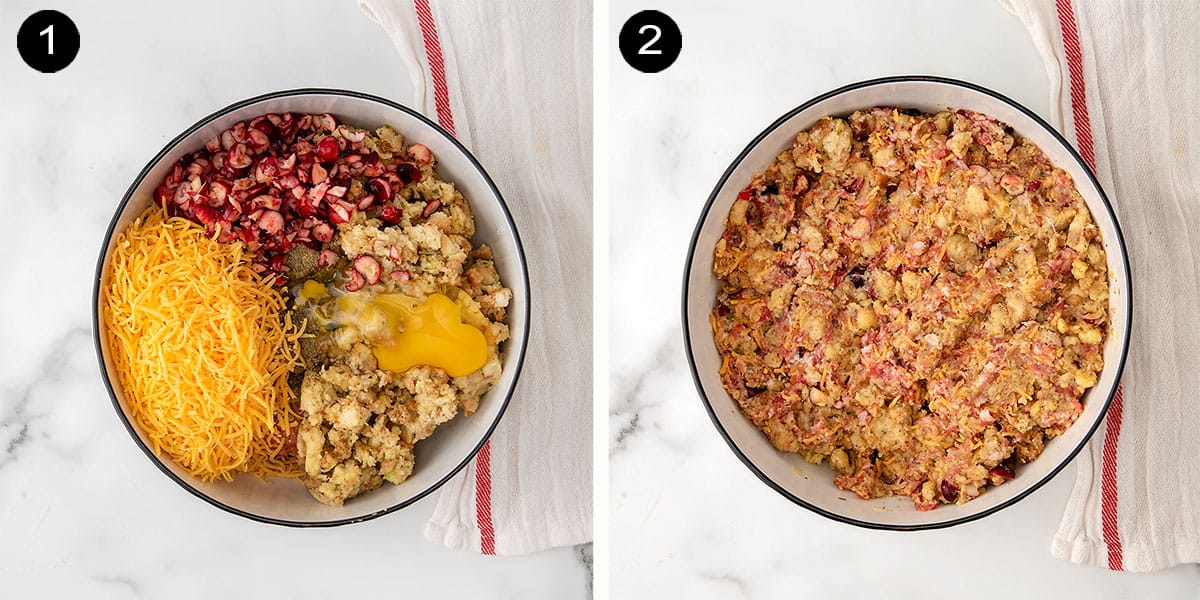 In a large bowl, combine prepared stuffing, pork sausage, chopped cranberries, egg, chicken stock, and seasonings.
Mix well.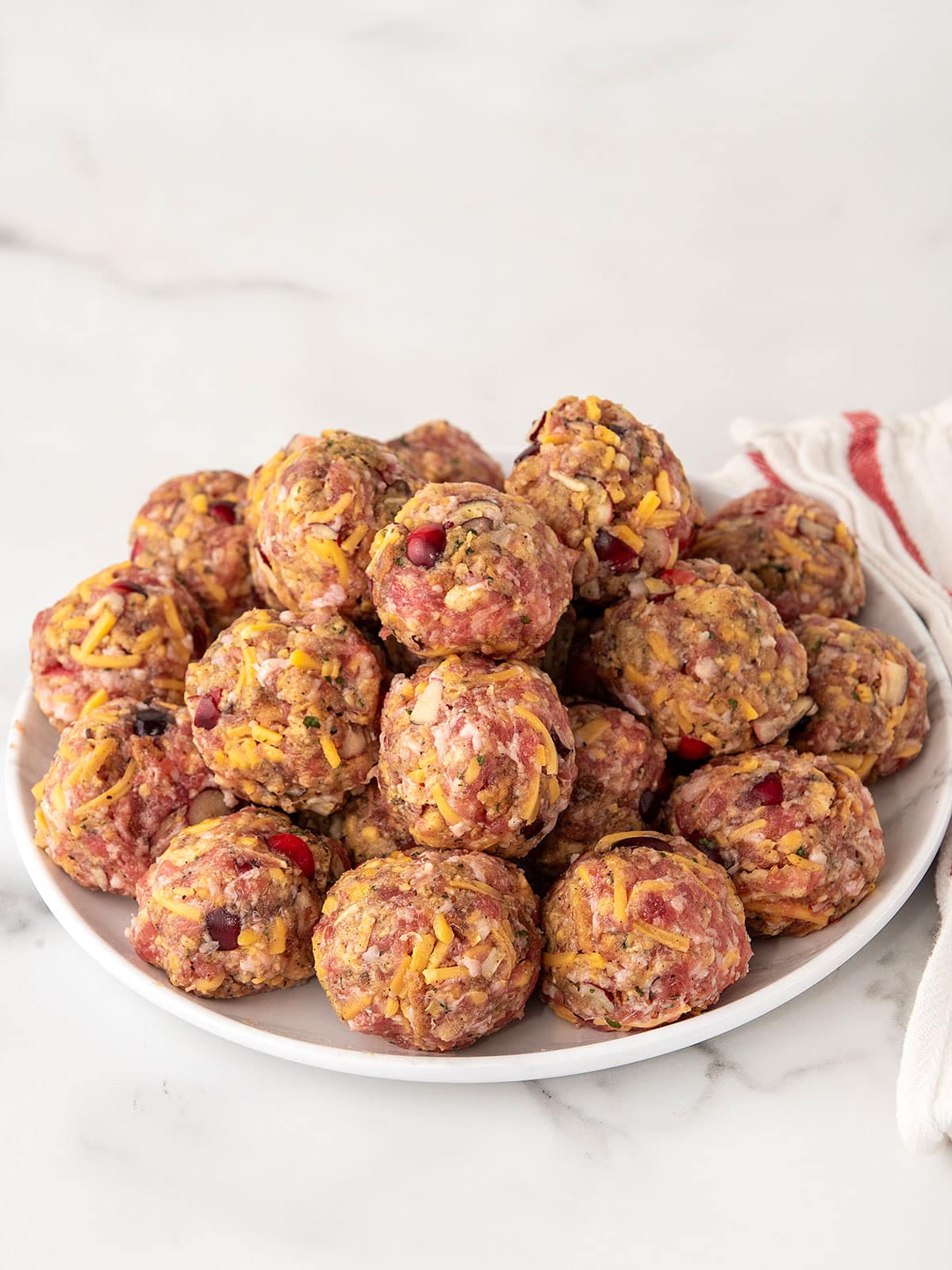 Form into golf ball-sized balls using a spoon or your hands. Pack them tightly so they keep their shape while air frying.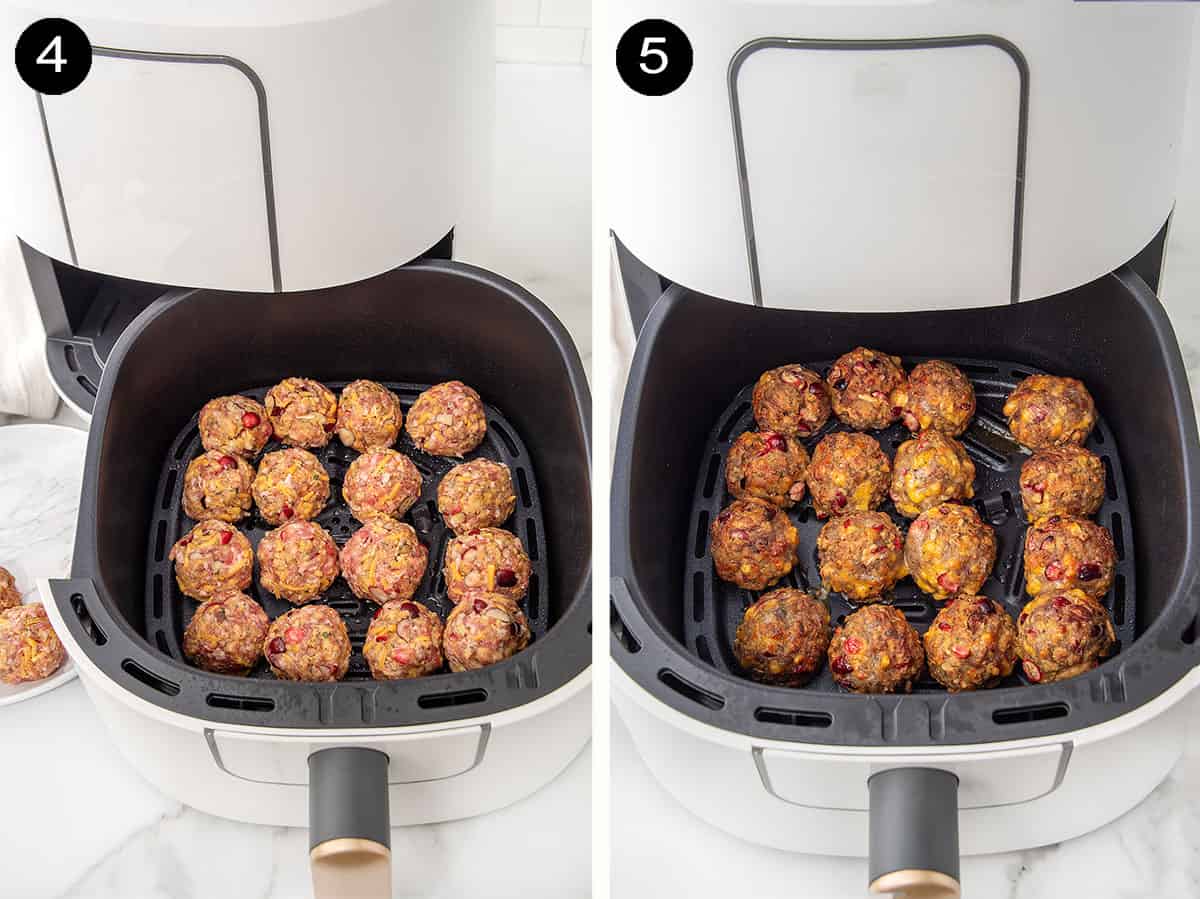 Spray the air fryer basket with olive or avocado oil then place the formed balls in the air fryer. Make sure there is enough spacing around them so they cook evenly.
Air fry at 350°F for 10 minutes.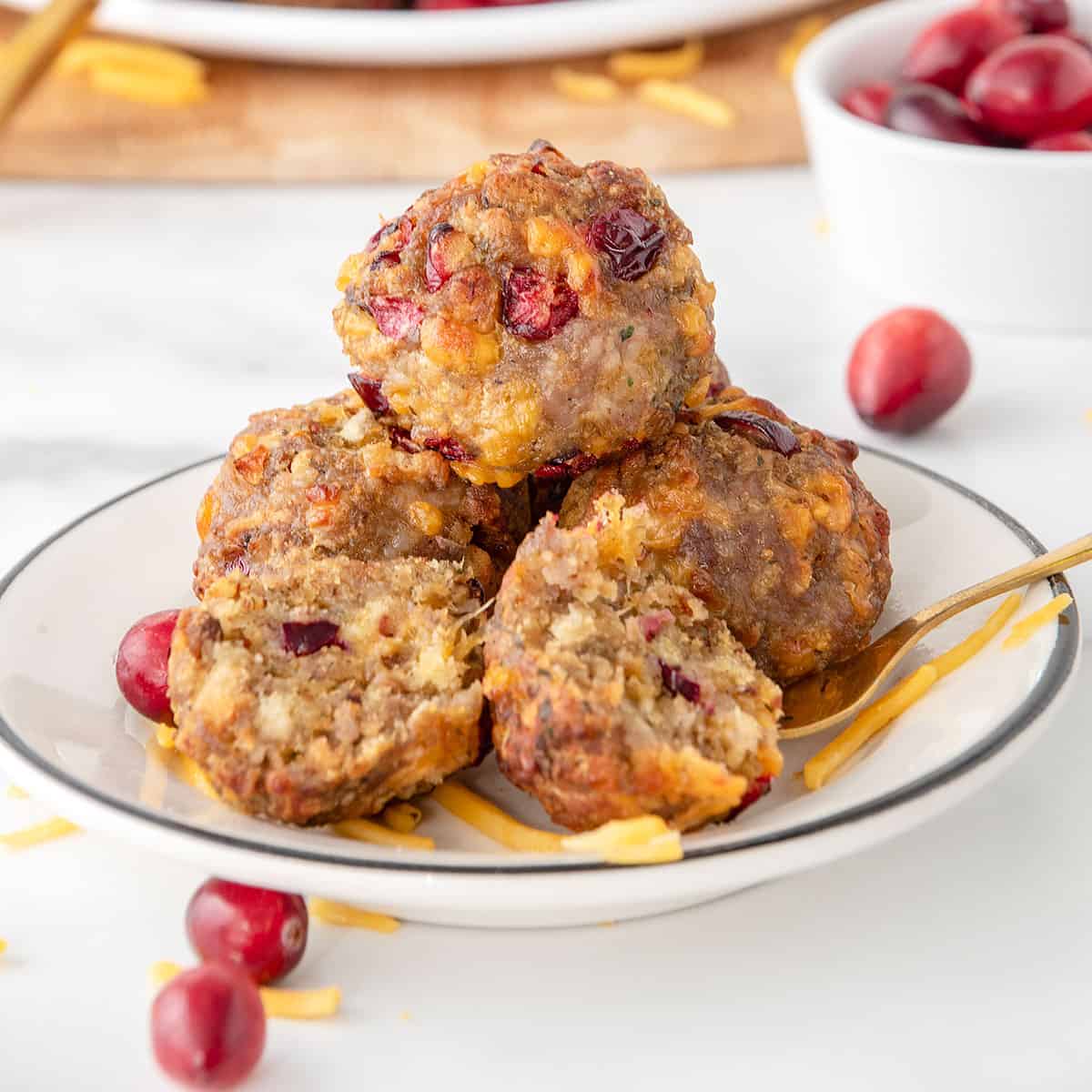 Serve as an appetizer or substitute for your classic dressing for Thanksgiving dinner. I like to serve mine with some cranberry dipping sauce (see recipe below).
Baked Stuffing Balls
Don't have an air fryer? No worries! You can cook stuffing balls in the oven. Here's how:
Preheat your oven to 375°F. Line a baking sheet with parchment paper or a silicone mat for easy cleanup.
Place the prepared stuffing balls on the lined baking sheet, ensuring they're spaced apart to allow for even cooking. Bake for about 20 to 25 minutes or until they're golden brown and crispy on the outside and the internal temperature is 165°F.
Allow them to cool for a few minutes on the baking sheet before serving, as this will help them firm up a bit.
Recipe Tips
Consider using a large cookie scoop or weighing each stuffing ball for consistent cooking results. Keep the balls as uniform as possible.
If the mixture seems dry and won't hold together, don't hesitate to use extra chicken stock, but add it slowly and in small amounts.
Ensure the stuffing mix thoroughly soaks up the cooking liquid before making the balls.
Remember to lightly coat your air fryer basket or tray with cooking oil spray to prevent sticking. Olive oil or avocado oil spray is best.
If you choose to make your stuffing balls larger, remember to adjust the cooking time accordingly.
Recipe Variations
It's so easy to swap out ingredients to make different versions of stuffing balls. Here are some ideas:
Chicken Stuffing Balls - Use ground chicken instead of sausage.
Clam Stuffing Balls - Use 1 can of clams instead of sausage and clam juice instead of chicken stock. Omit the cranberries.
Cornbread Stuffing Balls - Use Stove Top cornbread stuffing mix.
Spinach Stuffing Balls - Substitute sausage with 1 10-ounce package of frozen chopped spinach thawed and drained. Substitute cheddar cheese with Parmesan. Substitute poultry seasoning with Italian seasoning. Omit cranberries if desired.
Turkey Stuffing Balls - Use ground turkey instead of sausage.
Leftover Stuffing Balls
If you don't have or want to use a stuffing mix, homemade leftover stuffing works just as well. It may have slightly more or less moisture than the Stove Top so the cooking time will have to be increased or decreased. They will be fully cooked when the internal temperature is 165°F.
Cranberry Dipping Sauce
These homemade sausage balls are great with a cranberry dipping sauce. Here's how to make it:
Place 1½ cups of canned cranberry sauce with ¼ cup of orange juice in a saucepan over medium heat.
Cook, stirring occasionally, until the sauce is heated through. Serve warm with the stuffing balls.
Or for an adult-only sauce, make homemade Grand Marnier Cranberry Sauce with extra orange juice to thin it out.
Make Ahead
You can make the balls up to 3 days in advance before air frying them. Roll the stuffing mixture into balls, place them in an airtight container, and keep them in the fridge.
When ready, simply air fry the stuffing balls as directed.
How to Store and Reheat Leftovers
Transfer the cooled stuffing balls into an airtight container. This will help to preserve their freshness and prevent them from absorbing any odors from other foods in your refrigerator. Store the stuffing balls in the refrigerator if you plan to consume them within 4 days.
Can you freeze stuffing balls? Yes! Freezing stuffing balls is easy and here's how:
Place the balls in a single layer on a baking sheet and freeze until solid. Once they're frozen, transfer them to a freezer-safe bag or container, squeezing out as much air as possible before sealing. Properly stored, they should retain their quality for up to 3 months. Thaw them in the fridge overnight.
Reheating Stuffing Balls:
Reheat in the air fryer at 350°F for about 8 minutes.
Microwave in 30-second intervals.
Bake at 350°F for 10 minutes or until heated through.
More Holiday Appetizer and Air Fryer Recipes
Find lots of easy air fryer recipes and the best holiday appetizers right here on 2CM!
LOVE QUICK & EASY RECIPES? FOLLOW ME ON INSTAGRAM, FACEBOOK, & PINTEREST FOR ALL THE LATEST RECIPE INSPIRATION! PLUS JOIN MY EMAIL LIST AND RECEIVE A FREE E-BOOK.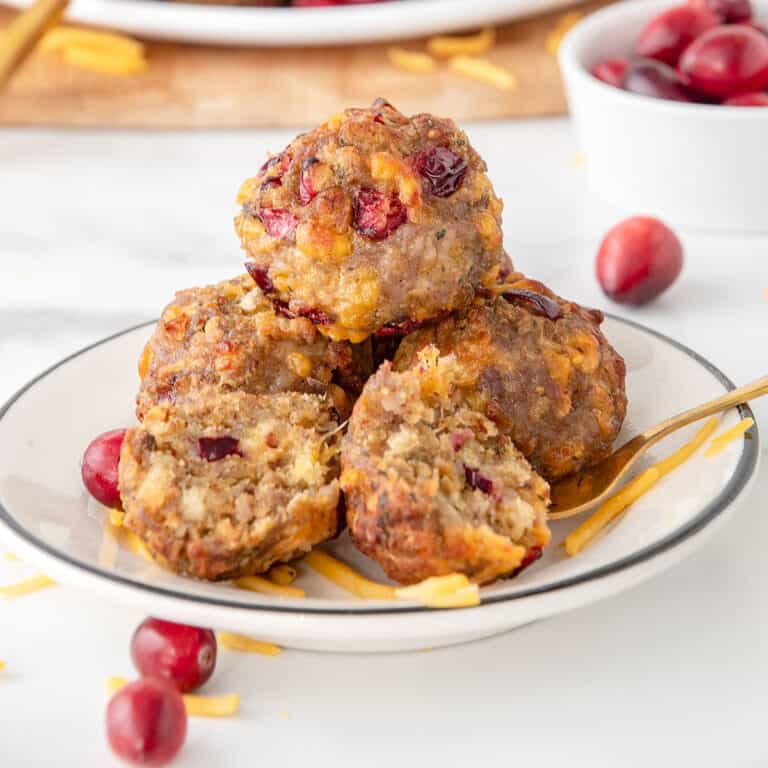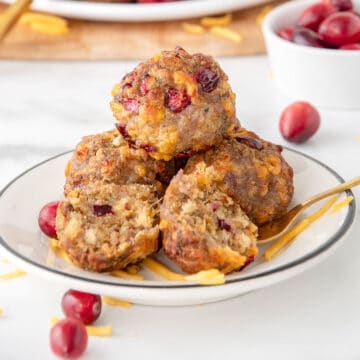 Air Fryer Stuffing Balls
Air Fryer stuffing balls with sausage and cranberries are a delicious appetizer or side dish for your holiday dinner.
Print
Rate
Servings:
24
servings (appetizer)
Ingredients
1

6-ounce package

Stove Top stuffing mix plus ingredients listed on the package

prepared per package directions or 3 cups leftover stuffing

1

pound

pork sausage

1 ½

cups

shredded cheddar cheese

¾

cup

fresh, frozen or dried cranberries

finely chopped

1

egg

¼

cup

chicken stock

1 ½

teaspoons

poultry seasoning

½

teaspoon

salt

¼

teaspoon

pepper
Instructions
Spray air fryer basket with olive oil or avocado oil.

Prepare the stuffing as directed on the package.

Combine all of the ingredients in a large bowl.

Form into golf ball-sized balls using a spoon or your hands. Make sure they are packed tightly.

Place sausage balls gently into the air fryer in a single layer. You may need to cook them in batches. Cook at 350°F for 10 minutes.

Serve them as an appetizer or side dish.
Notes
HOW TO REHEAT STUFFING BALLS
Reheat in the air fryer at 350°F for about 8 minutes.

Microwave in 30-second intervals.

Bake at 350°F for 10 minutes or until heated through.
Nutrition
Calories:
129
kcal
|
Carbohydrates:
6
g
|
Protein:
6
g
|
Fat:
9
g
|
Saturated Fat:
3
g
|
Polyunsaturated Fat:
1
g
|
Monounsaturated Fat:
3
g
|
Trans Fat:
0.04
g
|
Cholesterol:
28
mg
|
Sodium:
336
mg
|
Potassium:
84
mg
|
Fiber:
0.1
g
|
Sugar:
1
g
|
Vitamin A:
100
IU
|
Vitamin C:
1
mg
|
Calcium:
54
mg
|
Iron:
1
mg