Banana Upside Down Cake is a combination of the traditional upside down cake with bananas in lieu of pineapple. When you pair delicious caramelized bananas with Caribbean rum cake - you've got a winner! Perfect for dessert or, don't tell Mom, even breakfast.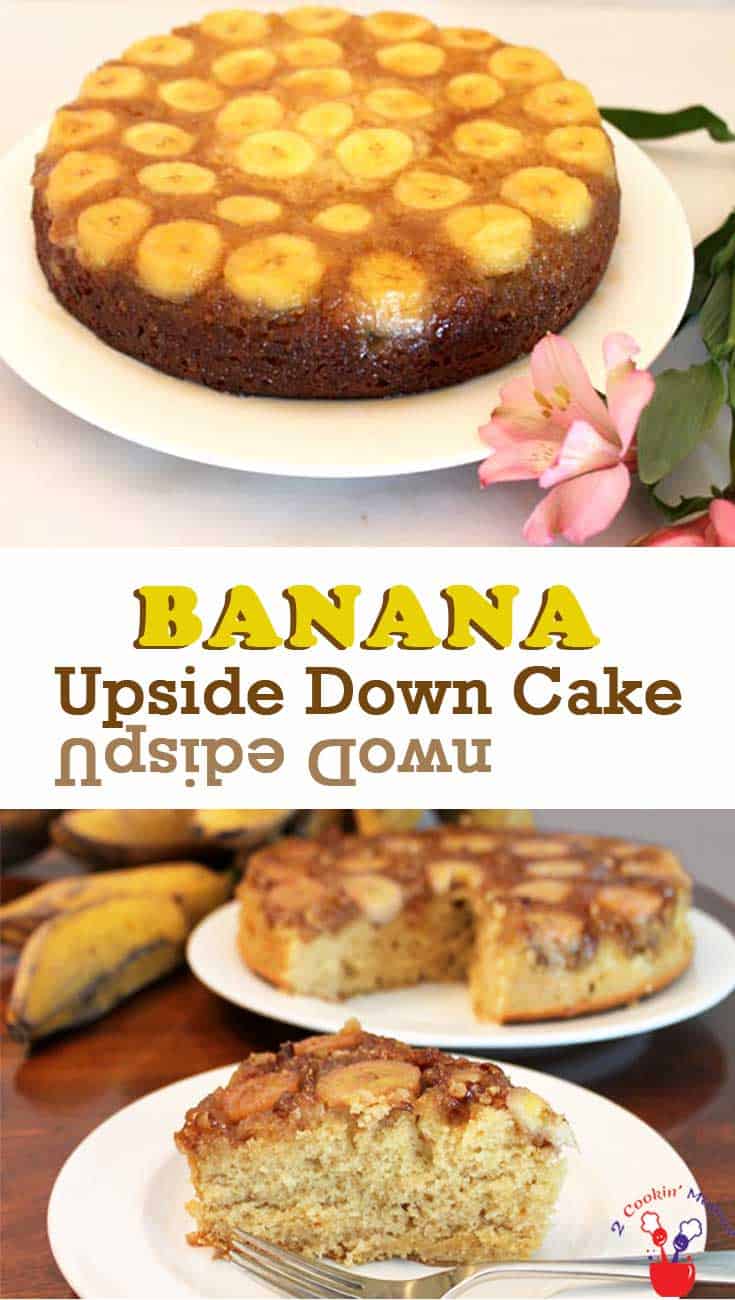 Here is the much-anticipated recipe for my banana upside down cake. If you've been reading my blog you know that our banana trees have been producing bunches of bananas like there is no tomorrow.
So, I have now become the banana queen of the neighborhood trying just about any recipe to use up my bananas. Luckily people are willing to take my bananas as well as some of the fruits of my labor off my hands.
I have made pineapple upside down cakes before and thought, why not try a version of that with my bananas. I used a different type of cake base and a little precooking of the caramel mixture and was really surprised at how delicious the recipe turned out to be.
It tasted like those delicious little Tortuga Rum Cakes only with caramelized bananas on top. Oh stop, I think I'm in heaven!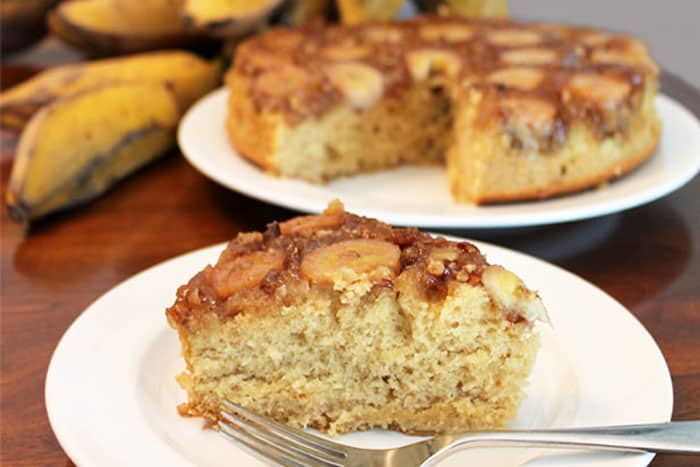 It was so good that I had to send the leftovers, after the two pieces my husband and I ate, into work with my husband so that I didn't eat it all up by myself. I made more new friends and saved myself from gaining 5 pounds.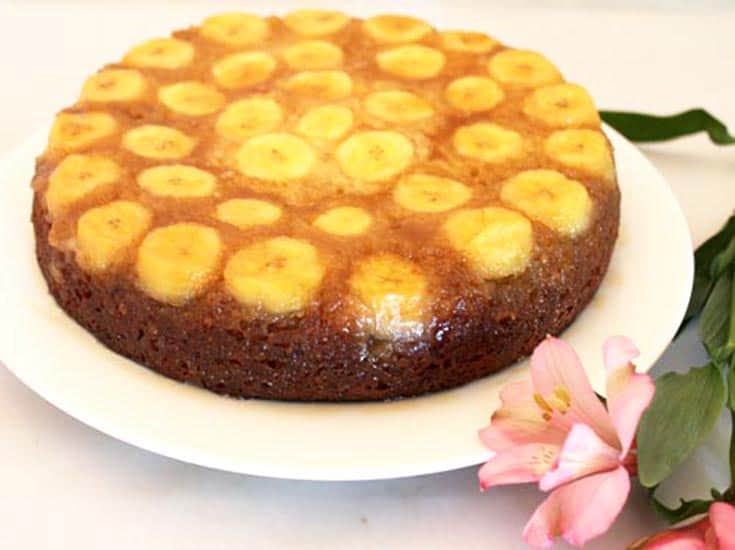 It takes a little work but the result is worth every minute. Enjoy!
Try my Banana Nut Cake for another delicious dessert made with bananas.
Find lots of healthy dessert recipes here on 2CM!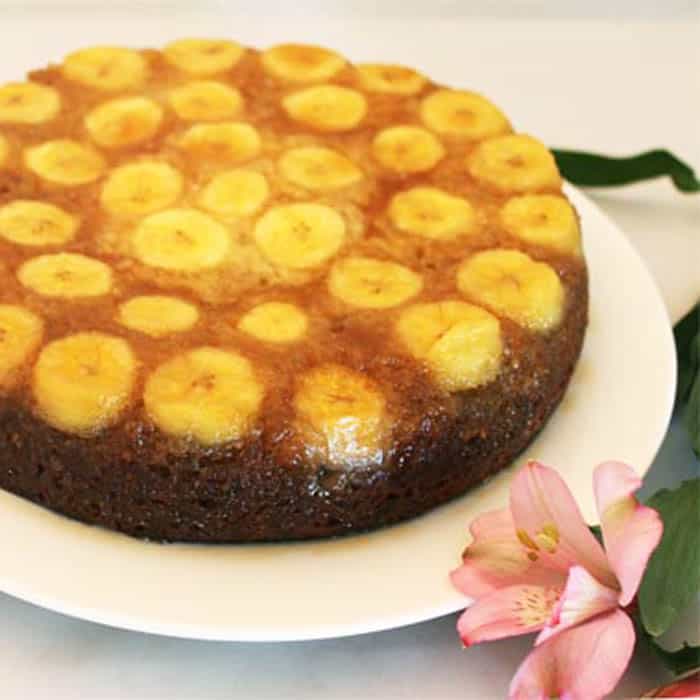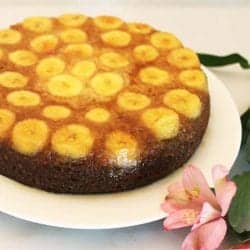 BANANA UPSIDE DOWN CAKE
A delicious combination of caramelized bananas and a Caribbean rum cake. The perfect summertime dessert.
Print
Rate
Ingredients
Cake
¾

cup

light brown sugar

¼

cup

granulated sugar

½

cup

butter

2

extra large eggs

1-½

teaspoon

vanilla extract

1-½

cup

flour

2

teaspoons

baking powder

¼

teaspoon

salt

½

teaspoon

lemon zest

½-3/4

cup

almond milk

1-2

Tablespoons

rum

(optional but really makes the cake)
Caramelized Bananas
¼

cup

butter

½

cup

brown sugar

2-3

bananas,

sliced (enough to cover bottom of 9? round cake pan)

½-3/4

cup

pecans,

chopped
Instructions
Preheat oven to 350 degrees.

In a large bowl, cream butter and sugars together until creamy. Beat in eggs until smooth. Add vanilla.

Combine flour, baking powder, salt and lemon zest. Add to creamed mixture and mix well. Pour in milk, enough to create a cake batter consistency, and mix until smooth. Finally add rum and stir well. Set aside.

In a medium skillet, melt butter over medium heat. Add sugar and stir while bringing to a boil. Turn down heat and simmer for 4 minutes until it begins to caramelize.

Place bananas on bottom of 9? cake pan, covering the entire surface. Sprinkle nuts over bananas. Pour the caramelized butter mixture over bananas and pecans spreading evenly. Carefully pour cake batter over caramelized mixture and even out top.

Place in oven, bake for 40-45 minutes. Remove and place on wire rack to cool for 10 minutes.

Place plate over pan and invert banana cake onto plate. Replace any bananas that may have stuck to pan. Allow to cool.
This post has been updated and was first published on June 24, 2014.
DON'T MISS A RECIPE!