Chicken Tinga is an easy to fix Mexican dish of shredded chicken in a tomato chipotle adobo sauce. It has loads of spicy, smoky flavor and works great served with tortillas for dinner or on a hoagie for lunch.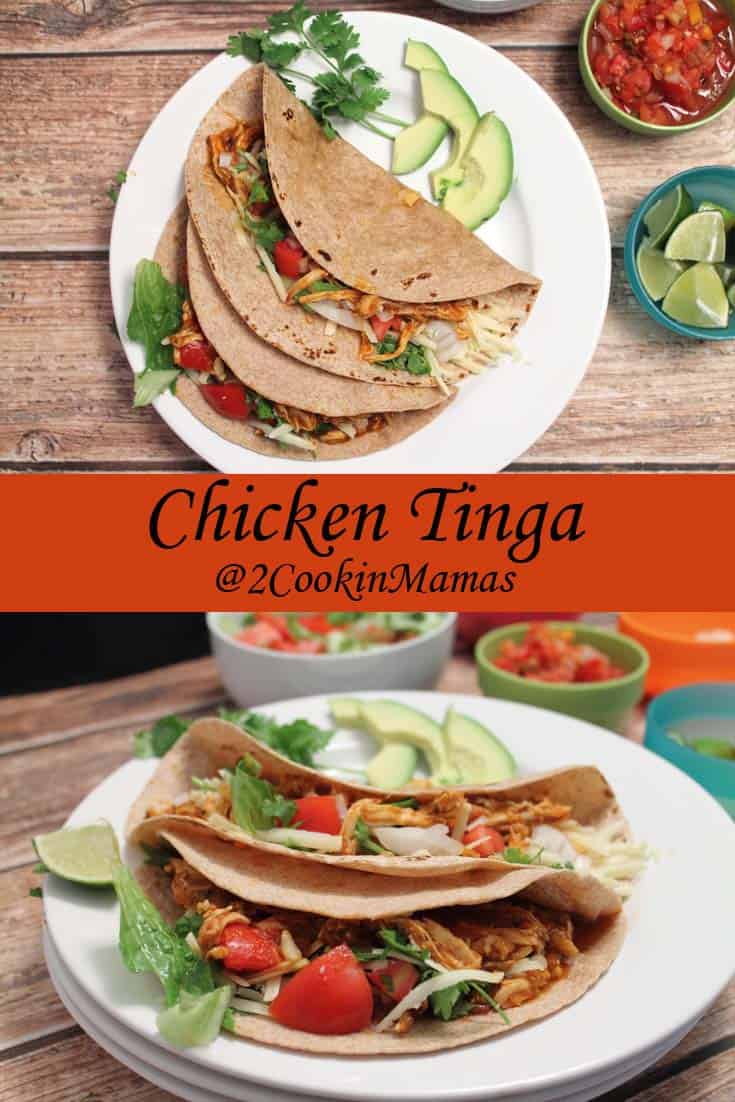 It's time for the Secret Recipe Club again, where a group of food bloggers get assigned to a fellow blogger's site, secretly of course, where we can choose any of their recipes to make. I've found some fantastic new food bloggers/friends this way and got to try delicious recipes that I might not have made otherwise.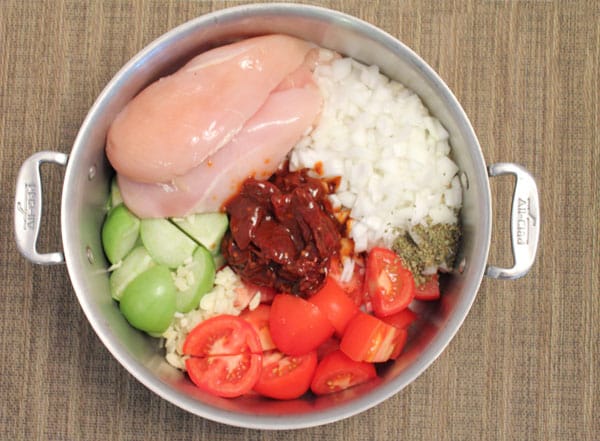 This month I was so excited to be assigned to The Hobo Kitchen, where Ellie, a native Bahamian, is baking up some delicious recipes that reflect her heritage. Now you are probably wondering where a name like the Hobo Kitchen came from. Well, this catchy and appropriate name is a short version of where she is residing now, Hoboken, New Jersey. Don't you just love her originality there!

Her blog is divided into different sections, kind of a cross section of her life, with reviews on restaurants, a section called Livin The Life which is a recap of what she has been doing (love the picture at Talde in NJ - and I have to agree those lamps are very cool), still another has stories and pics of her recent travels (I am kind of prejudiced towards the South Florida photos) and, of course, her DIY or food section.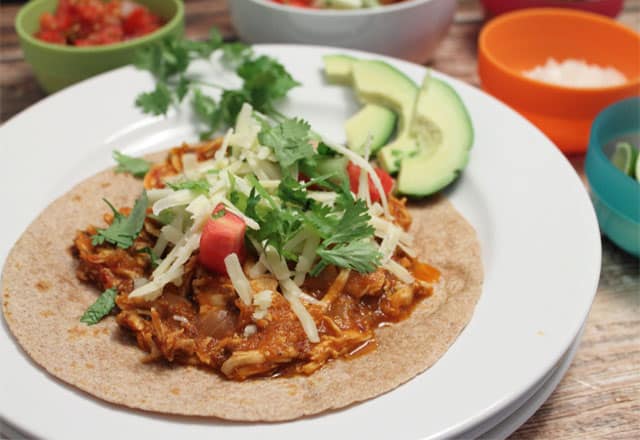 While perusing all her recipes to decide what to make, I couldn't help drooling over most of them. I decided to make her recipe for Chicken Tinga, which people kept telling me was delicious, but I hadn't tried before. In fact, I didn't even know what it was! It turns out that it is a recipe that originated in Puebla, Mexico, and is basically a dish of shredded chicken in a tomato and chipotle pepper adobo sauce. Yum! Don't you just love spicy, smoky Mexican food!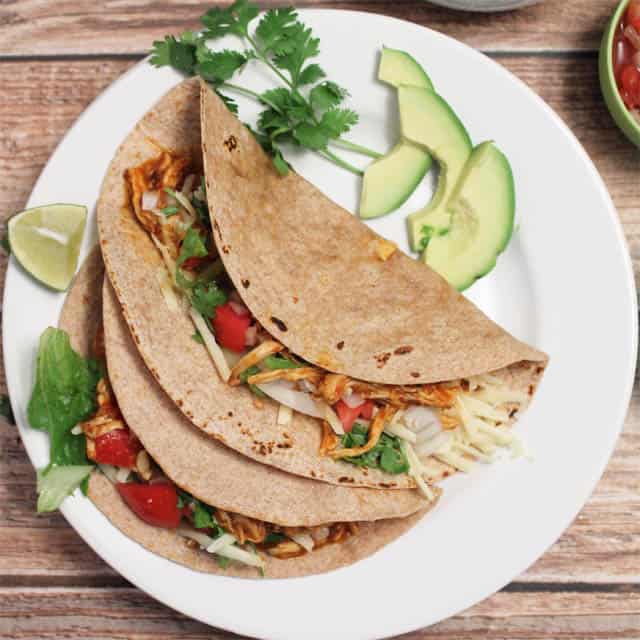 However, I have to be honest and tell you that I wanted to make most of them and have made a list of her recipes that I am going to be back to try. I mean, doesn't Bahamian Rum Cake sound delicious? I would have made it except I just finished making desserts like Chocolate Cherry Tart.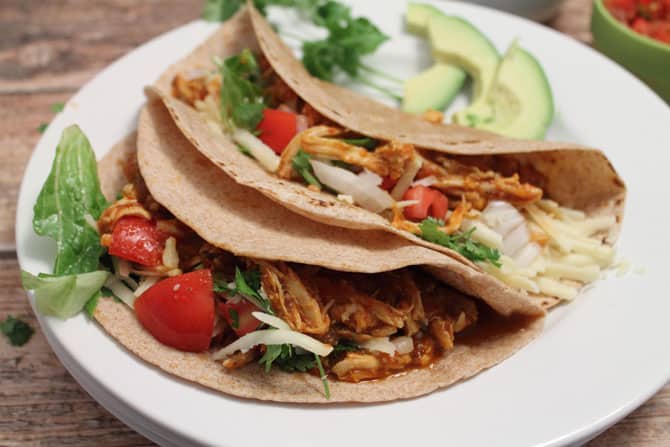 In making her recipe, we discovered that it was much too hot for us (and we like spicy food!) so I cut back on the chipotle peppers and adobo sauce in the recipe (the second time I made it) and it was perfect! We like to serve it on tortillas with a little salsa, lettuce, tomato and avocado. It really did have a fantastic flavor. If you follow the recipe that I adapted below, it should be fine for anyone's palate.
Try my easy chicken enchilada recipe for another delicious Mexican dinner.
Find even more easy Mexican recipes here on 2CM!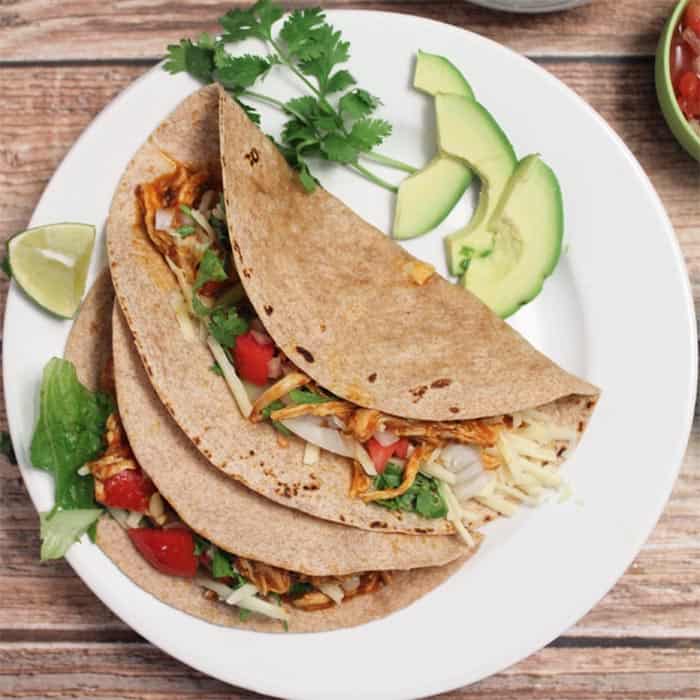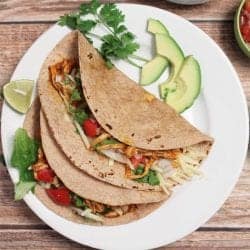 CHICKEN TINGA
Chicken Tinga is an authentic Mexican dish made with shredded chicken in a smoky & spicy chipotle adobo sauce. Serve on tortillas for dinner or a sub roll for lunch.
Print
Rate
Ingredients
2-3

lbs

boneless skinless chicken breast

5

Roma tomatoes,

quartered

3-4

tomatillos,

quartered

1

large sweet onion,

chopped

1

Tablespoon

garlic,

chopped (about 3-4 cloves)

1 - 2

teaspoons

dried oregano

1

teaspoon

salt

2

Tablespoons

adobo sauce

from a can of chipotle peppers in adobo sauce

2

cups

chicken broth + enough water to cover

Garnish: salsa,

shredded cheese, lettuce & tomato, guacamole, avocado, sour cream

Accompaniments: tortillas,

rice, refried or black beans, sandwich rolls
Instructions
Place all ingredients in a large pot. Add chicken broth and enough water to cover all ingredients. Do not cover!

Bring to a boil. After 30 minutes, remove chicken and shred.

Continue to cook remainder of ingredients for another 20-30 minutes. Now you want to puree the mixture by either using an immersion blender or placing the mixture in batches in a blender.

Place mixture back in pot and cook for another hour. This will help thicken the sauce.

When you have about 10 minutes left, return the shredded chicken to the pot and let it finish cooking.

Garnish with your favorite toppings.

Serve with tortillas, over rice or on a sandwich roll. I also found it delicious in quesadillas.
Notes
WARNING: You do not want to fill the blender too full of hot liquid as it could explode. Process in batches.
This post has been updated and was first published on October 12, 2015.