Crockpot Pot Roast is an easy one-pot dinner that's perfect for busy weeknights. Just place everything in the crockpot in the morning and come home to a tender pot roast dinner complete with carrots, potatoes and onions. Who wouldn't love that!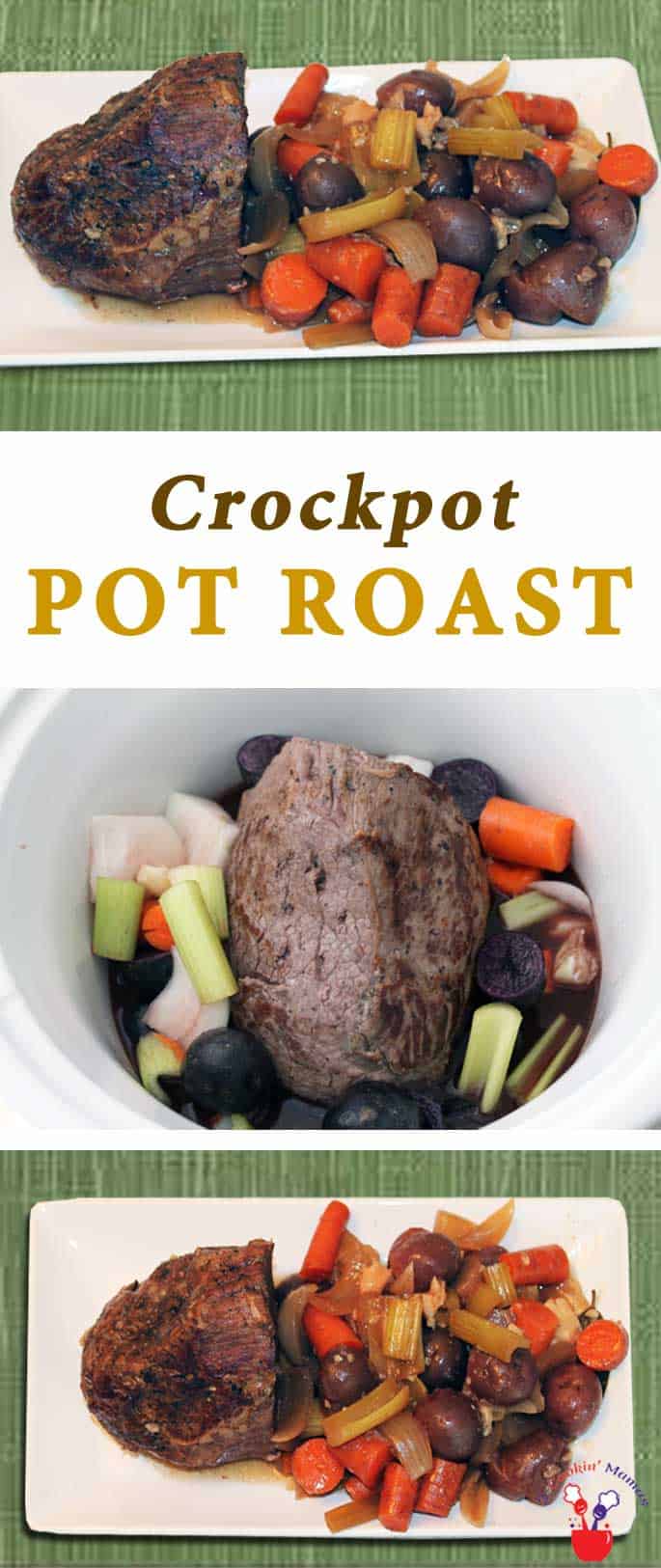 I love crockpots! Why? They are fantastic for busy weeknights and when you aren't feeling well and just want to get anything on the table so there is at least a dinner. And this week quick & easy are the key words. For the first time in my life I had to deal with a pinched sciatic nerve! Since Sunday, I haven't been able to sit, stand or sleep and am dealing with constant pain. Thank goodness for my doctor who gave me some medicine yesterday that is finally starting to relieve some of the pressure today.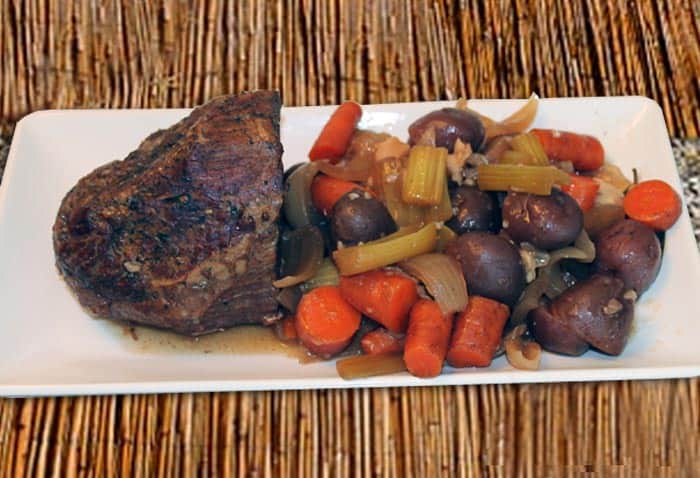 So I am finally getting around to putting out my Wednesday blog post (because my mind is back to thinking and not just taking up space). This recipe was perfect for my situation as it takes little time to prepare and is ready when the crockpot goes off. The picture doesn't do it justice but it was tender, juicy and surrounded by all sorts of tasty goodies including purple potatoes.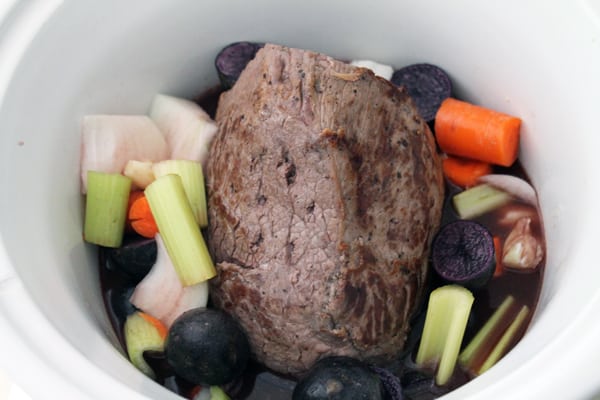 Purple potatoes are healthier potatoes
Yep, I said purple potatoes! If you have never eaten purple potatoes they are really delicious. You may have heard of the rule of thumb where the deeper the color of the vegetable or fruit the more nutritious it is. Well, these purple potatoes are no exception, as they contain huge amounts of anitoxidants, the same ones contained in blueberries and pomegranates. These antioxidants are known for their immunity boosting and cancer fighting properties. And they taste much the same as a white potato just slightly nuttier and a little more creamy, so you won't be missing your old white potatoes at all! Cook them with the skin on as this provides the majority of the nutrients.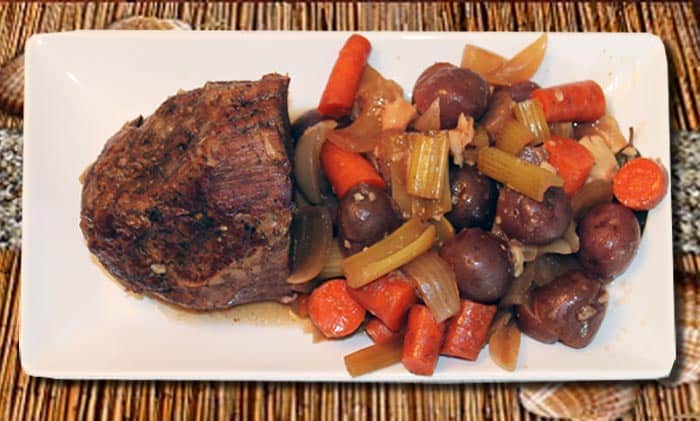 I used an eye of round roast in this dinner, a leaner less fatty red meat, then pumped up the nutrition with carrots, celery, onions and garlic. Along with the purple potatoes this makes a very nutritious and all around healthy dinner.
Enjoy!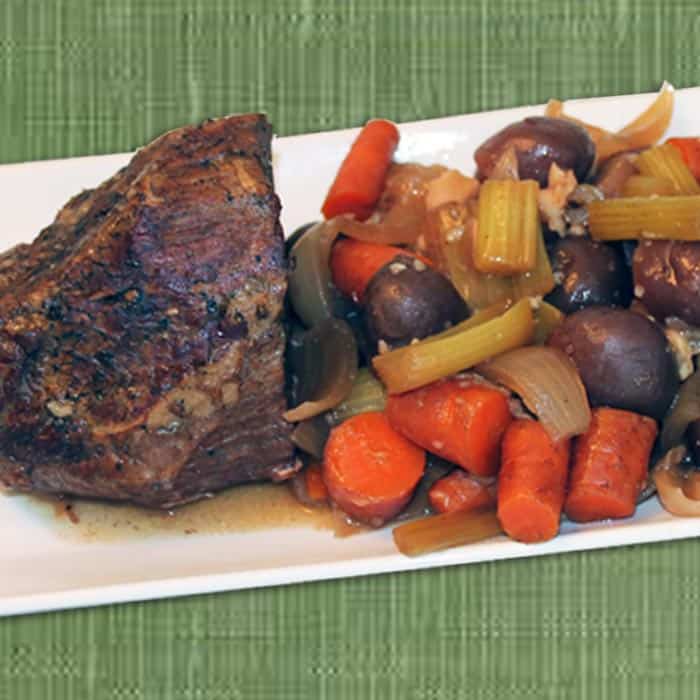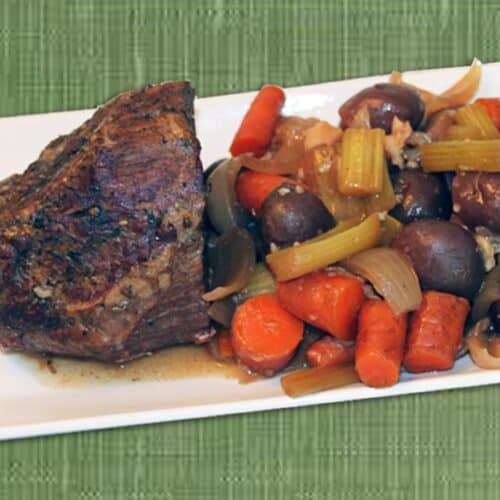 EASY & DELICIOUS CROCKPOT POT ROAST
An easy one-pot dinner that's perfect for busy weeknights. Put on in the morning & come home to a tender & delicious dinner.
Keywords:
crockpot pot roast, pot roast
Ingredients
2

Tablespoons

oil

Salt & pepper to taste

3

lbs

eye round roast

3/4

lb

or 6-8 small purple potatoes, washed, skin left on

1 1/2

cups

carrots, cut into 2" pieces

2

onions, cut into wedges

3

celery stalks, cut in 1" diagonal pieces

3

cloves

garlic, sliced thin

1

bay leaf

2

cups

beef broth

1/2

cup

red wine

1/4

cup

flour or cornstarch if gluten-free

(optional)
Directions
Heat oil in large skillet. Salt & pepper meat to taste. Place in skillet and brown meat on all sides.

Place half of the cut-up vegetables in crockpot. Place meat on top. Scatter remaining vegetables around roast.

Add bay leaf, beef broth and red wine.

Cover and cook on low 8-9 hours or on high for 6-7 hours.

When roast has about 30 minutes to go, prepare gravy.

Mix flour with enough water to make a smooth liquid-y paste. Take a little of the broth from the crockpot and mix with flour-water mixture, to temper it, so that when mixing it with all the broth it does not lump up. Add to broth and stir.

Recover roast and finish cooking.

Remove roast to serving plate and place vegetables around it. Drizzle a little gravy over roast and serve the rest on the side.
Nutrition Facts
EASY & DELICIOUS CROCKPOT POT ROAST
Amount Per Serving
Calories 477
Calories from Fat 144
% Daily Value*
Fat 16g25%
Cholesterol 140mg47%
Sodium 468mg20%
Potassium 1294mg37%
Carbohydrates 22g7%
Protein 53g106%
Vitamin A 5435IU109%
Vitamin C 16.8mg20%
Calcium 84mg8%
Iron 5.8mg32%
* Percent Daily Values are based on a 2000 calorie diet.
DON'T MISS A RECIPE!