Crockpot Eye of Round Roast is an easy one-pot dinner that's perfect for busy weeknights. Just place everything in the crockpot in the morning and come home to a fork tender pot roast dinner complete with carrots, potatoes, and onions. Who wouldn't love that!
FYI - This post contains affiliate links. As an Amazon Associate, I earn from qualifying purchases. All links are products I use when making my recipes.
Easy Slow Cooker Meals
This crock pot roast recipe is a tender, fall-apart roast, cooked low and slow with potatoes and vegetables to make a hearty, delicious one-pot meal. It is an easy-to-make hands-off dinner that is made even better when smothered in its own rich red wine gravy that brings out all the flavors of the beef.
It's one of the reasons I just love my crockpot! Whether it's a crockpot or Instant Pot/ Crockpot combo they are a quick and easy way to get dinner on the table on busy weeknights. Dinners like Crockpot Beef Stew, White Chicken Chili, and even Meatloaf are always on the menu for a delicious meal.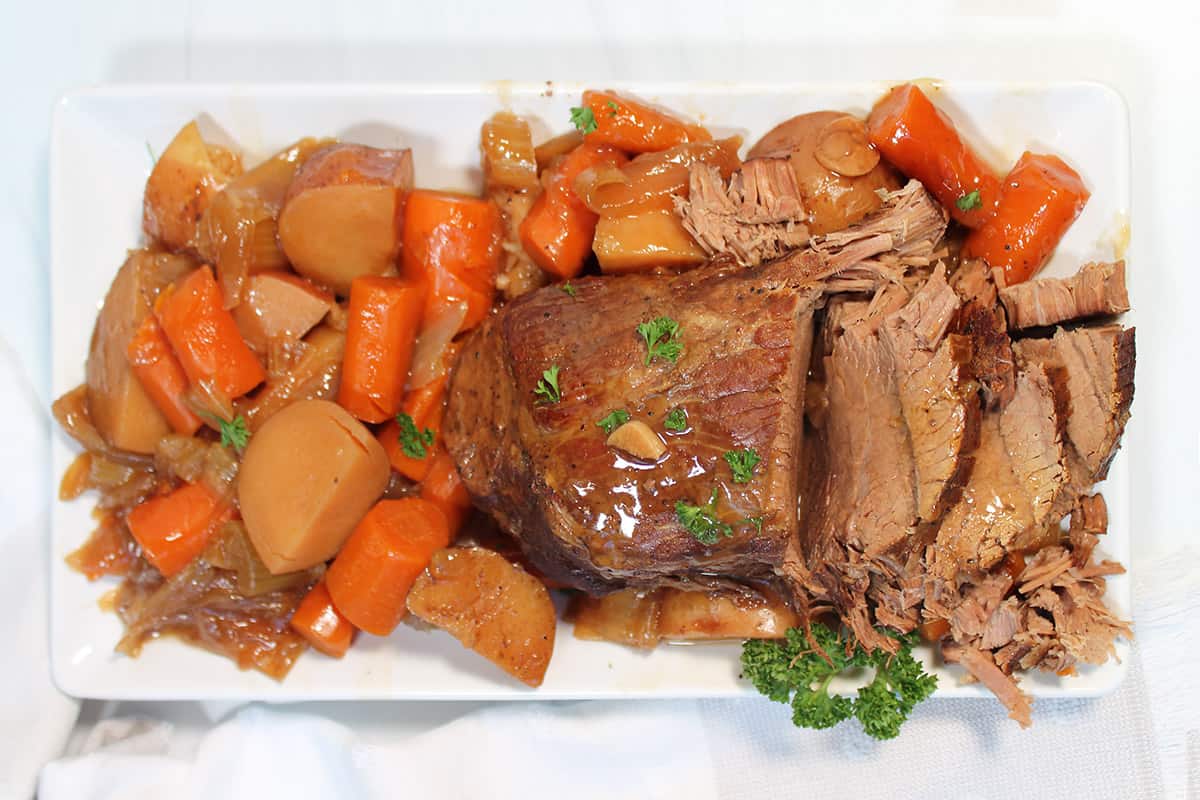 In the case of this slow cooker eye of round roast with potatoes and carrots, the crock pot couldn't be put to better use. Slow cooker meals are one of the easiest and most foolproof way to get tender roast beef with minimal effort. It can even do its magic while you're working! Arrive home to a houseful of enticing aromas and a delicious comfort food dinner that's ready to serve.
Why I Love This Recipe
Easy – pretty much just dump all the ingredients in the slow cooker and come back 8 hours later ready for dinner time!
Simple – as it uses ingredients that you probably have on hand
Foolproof - comes out perfect each and every time
Little Cleanup – one pot means cleanup is quick and easy
Delicious – tender comfort food at its best!
What is Eye of Round Roast
Eye of Round Roast is a lean cut of beef that comes from the hindquarters or "round" of the cow. It is leaner and less tender than more expensive cuts but when cooked long and over low heat it becomes extra tender and flavorful.
What is a Pot Roast?
It is a cheaper, leaner cut of beef that is seared then cooked low and slow with a flavorful broth. In this case, the beef roast is cooked with beef broth and red wine, and usually contains vegetables and potatoes. The result is a fall-apart tender comfort food dinner.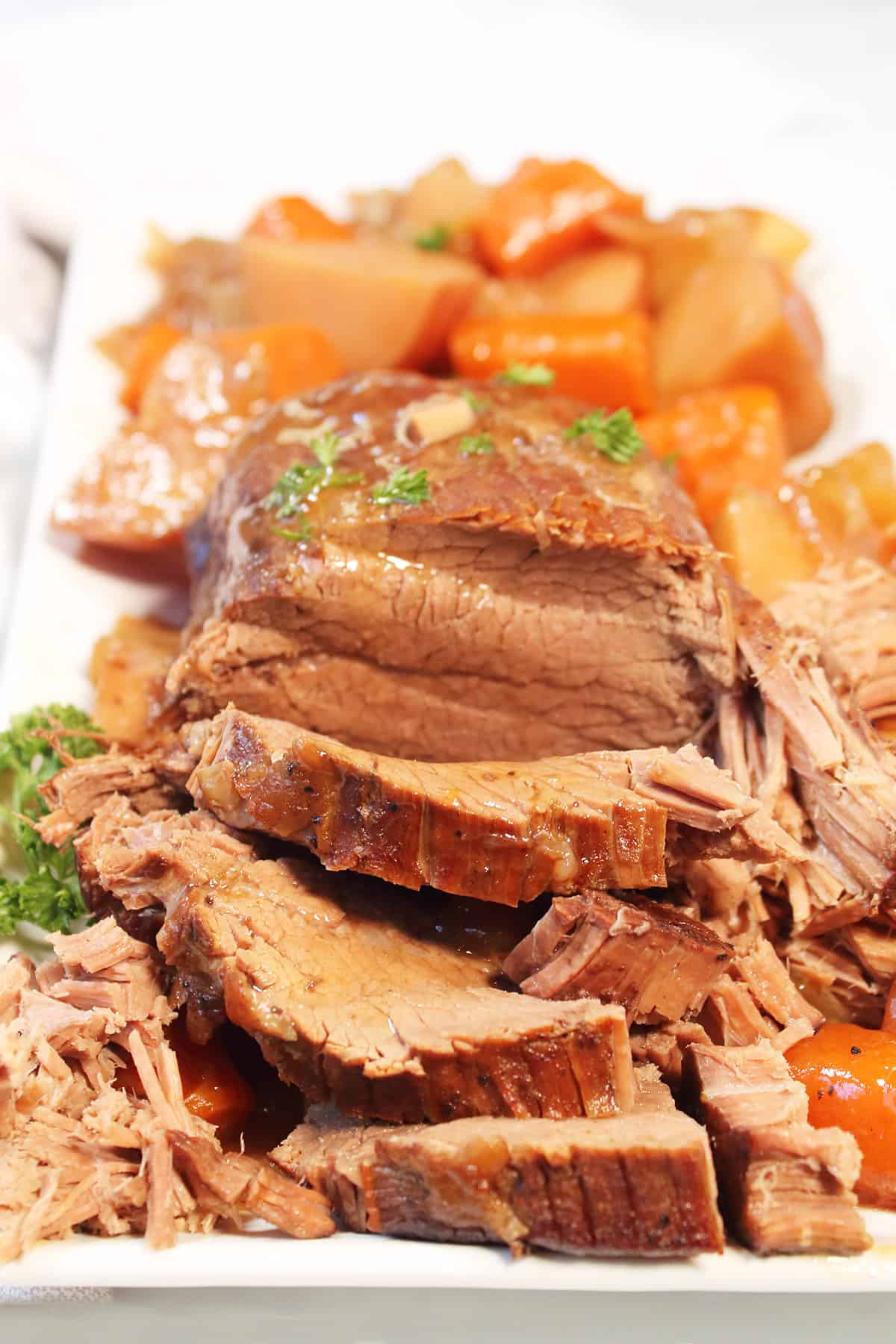 Best Roast for Crock Pot
There are different cuts of beef that work best when making crockpot roasts. They are not the most expensive cuts of beef as the cooking process does the work of tenderizing the tougher cuts of meat for you. I've listed several that I consider the best choice for this recipe.
Eye of Round Roast – has very little fat but is great for slow cooking, braising, slow-roasting, and pressure-cooking. It is a less expensive cut of meat that becomes very tender when cooked and slices easily. It is my favorite cut to use and it was my mother's as well.
Chuck Roast – is a really tough cut of meat, cut from the shoulder, but breaks down beautifully when cooked for 8-10 hours. When it slow cooks it will fall apart and shred easily. One of the favorites for pot roasts.
Rump Roast – comes from the hindquarters of a cow. It is also a well-used part of the cow and is a really tough cut of meat. When cooked low and slow it becomes even more tender than the chuck roast.
Top Round Roast / Bottom Round Roast – are both from the rear leg of a cow. They are lean and muscular cuts as well and can make a very tender pot roast. However, since they are so lean, extra fat may be needed to keep them from drying out.
Ingredients for Crockpot Eye of Round Roast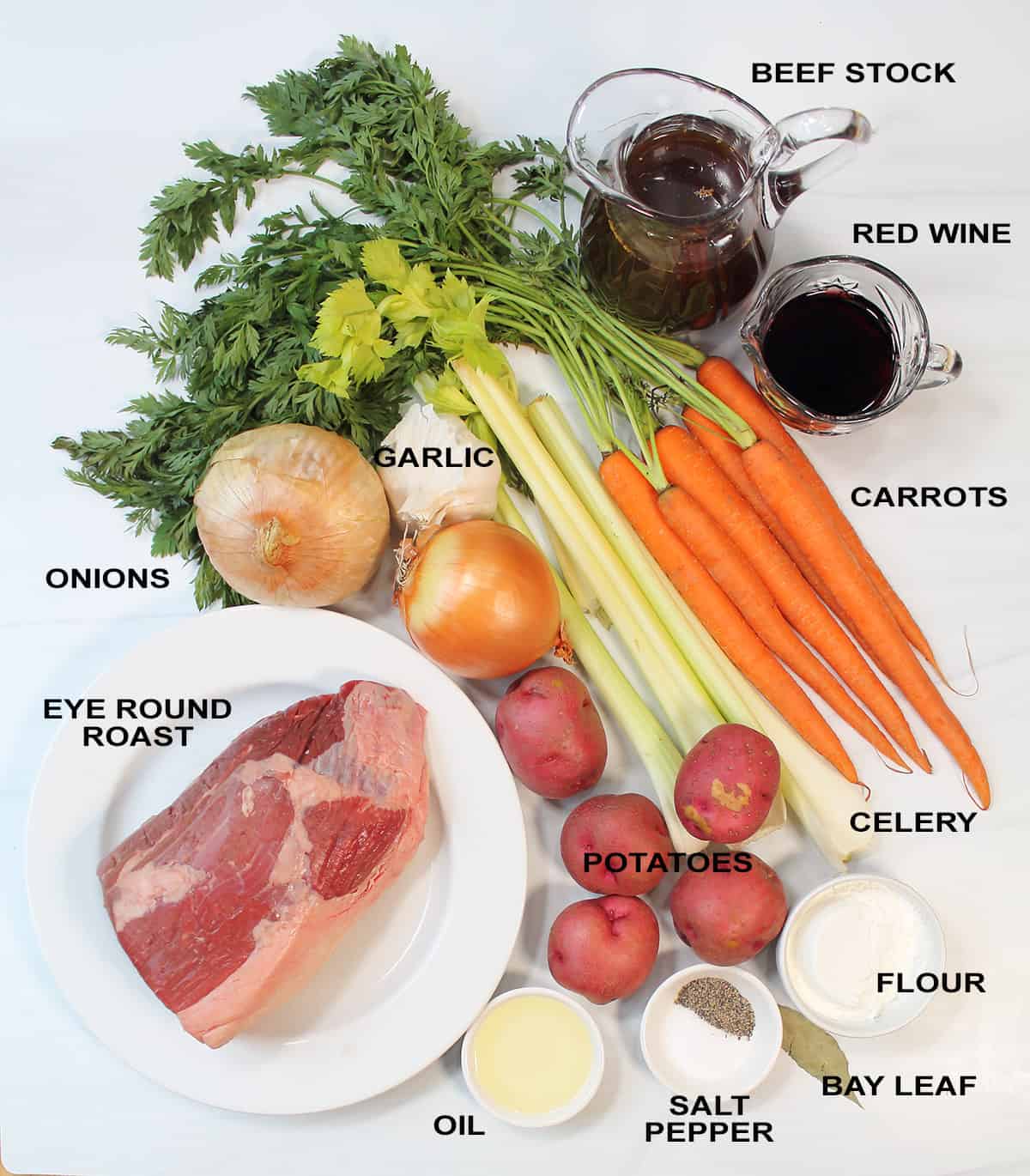 Eye of Round Roast – is an excellent choice for the crock pot as it is a cheaper cut of meat but when cooked slow and long becomes so tender that it falls apart. You can also use other meat cuts as mentioned above.
Olive oil – I use light olive oil, which is a more refined oil and has a higher smoke point, for searing the roast. You can also use avocado oil or vegetable oil.
Salt and black pepper – are used to season the roast. Use a little more salt than usual since it flavors both the roast, the vegetables, and the flavorful gravy. Not adding enough will cause the finished eye of round roast to be bland.
Adding vegetables makes it a one-pot dinner
Red potatoes – are less starchy potatoes that hold up very well in the crockpot. Plus they do not need to be peeled. Cutting them into fourths or large pieces will slow down the cooking and help keep them from getting mushy. Yukon gold potatoes are also a good choice.
Carrots – give the gravy a richer flavor. Cut them thicker so they hold up during the long cook cycle.
Yellow onions – I like to cut my onion in wedges as it is easier to prepare and will break apart more slowly as it cooks. White onions can also be used.
Celery – along with the onion and carrots makes a great base flavor. It is the mirepoix of the cooking world.
Garlic – using fresh garlic provides more flavor than garlic powder and enhances both the meat and the broth.
Bay leaf - Bay leaves help add a layer of flavor. Its slight menthol aroma helps to lighten this hearty dish.
There is no need to cover the roast completely with liquids.
Beef broth – You can use homemade or store-bought beef broth or beef stock, all work just fine. But leave off the water! The beef broth adds a rich depth to the pot roast gravy that water just can't match.
Red Wine – use a dry red wine, such as merlot or cabernet sauvignon, as the tannins present bring out the flavor of the meat. It also helps to tenderize the outside of the meat. If you prefer, you can eliminate the wine and increase the beef broth by ½ cup.
Flour/Cornstarch – is used to help thicken the broth to a gravy consistency. This added thickness allows the gravy to cling to the meat and vegetables. This step is totally optional as you can also serve the au jus or juices on the side.
How to Cook Eye of Round Roast in Slow Cooker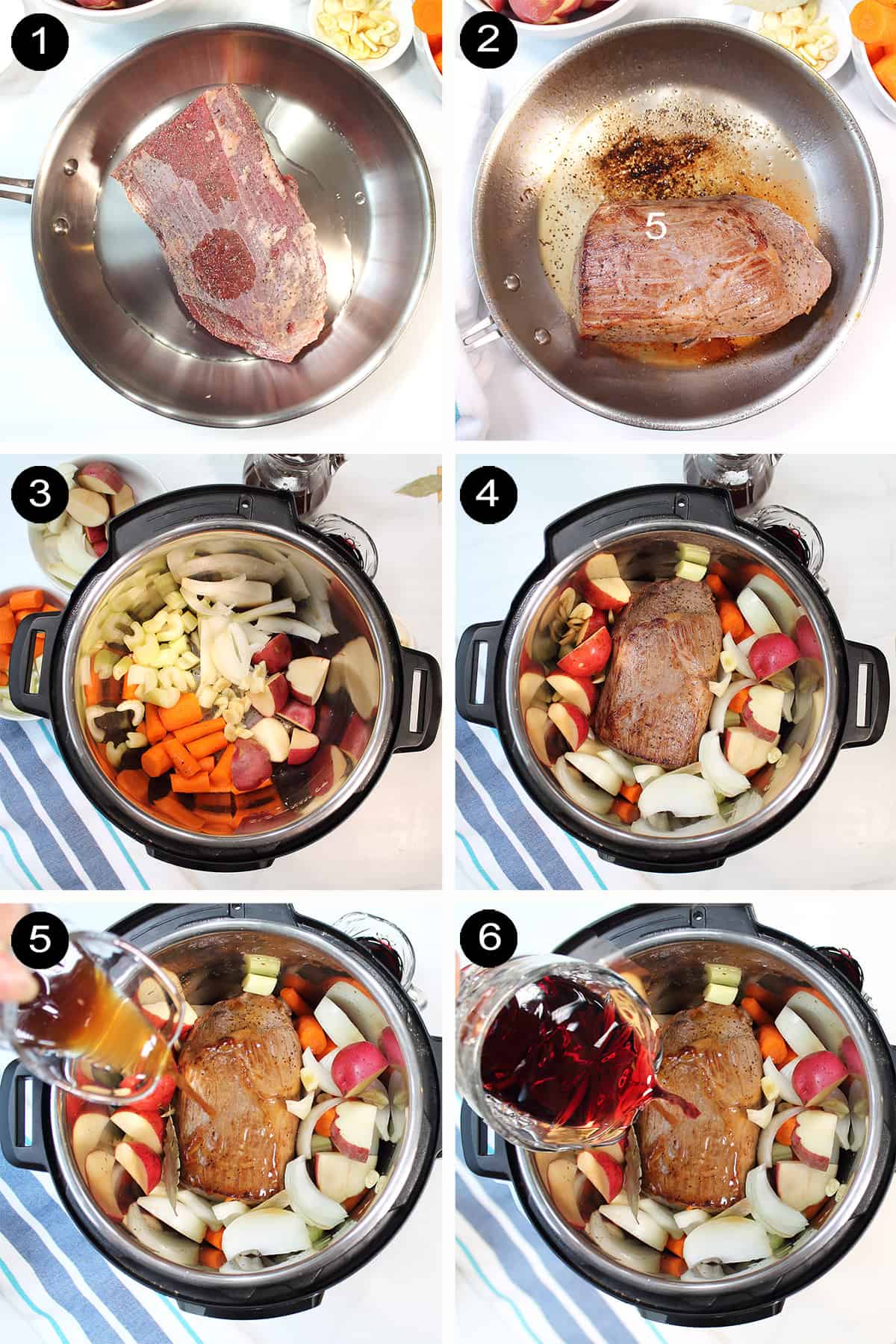 Heat olive oil in a large skillet over medium-high heat. Place eye of round roast that has been seasoned with salt and black pepper carefully into the pan.
Sear the roast well on all sides. This searing helps to seal in the juices for a moist, delicious result.
TIP: Make sure the oil is hot, add the roast, and let it sear on each side for 1-2 minutes. You only need to brown each side once.
Place half of the potatoes and vegetables on the bottom of the crockpot.
Place the seared roast on top then scatter the remaining potatoes and vegetables around it.
Pour in beef stock.
Add red wine. (or another ½ cup of beef stock if preferred)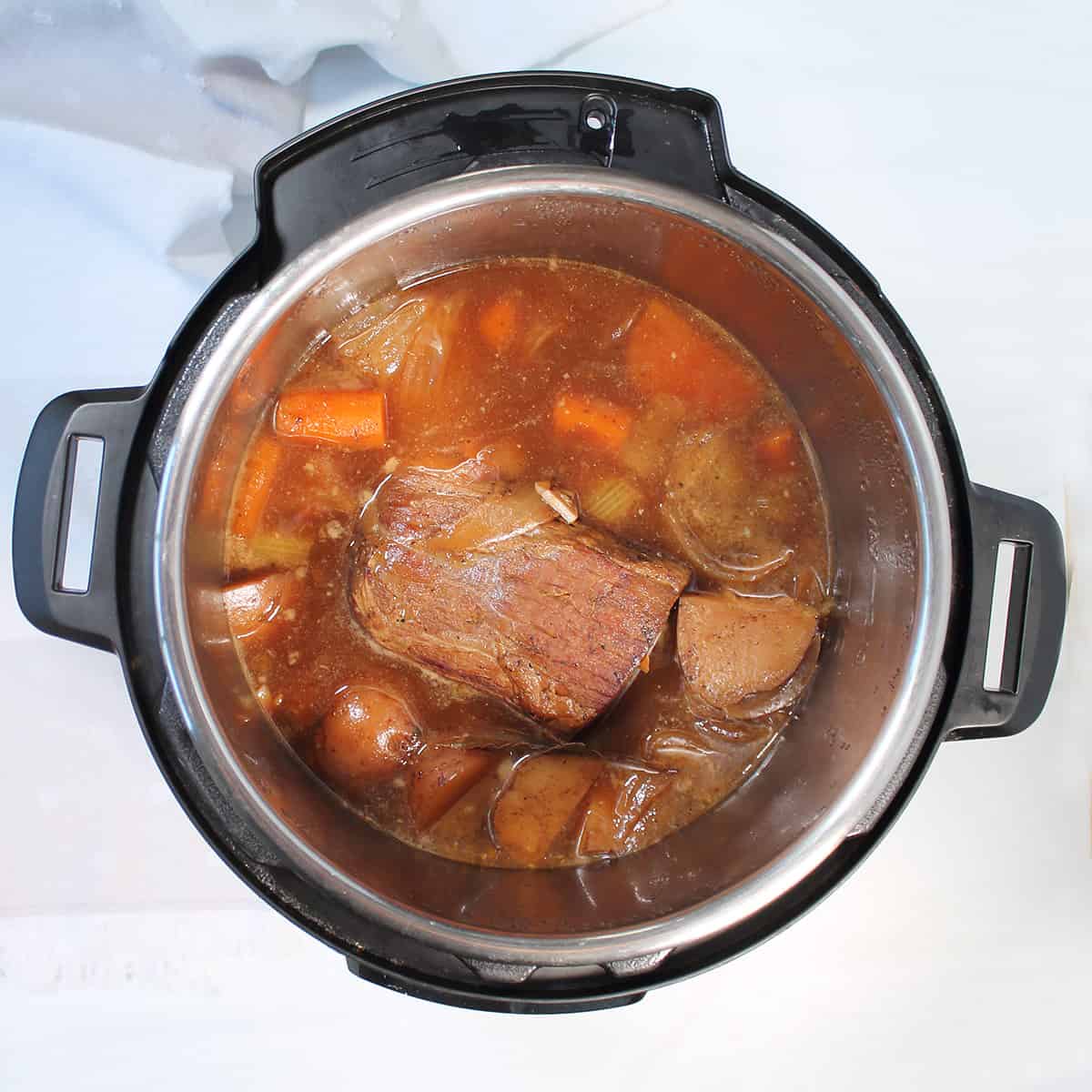 Cover and cook on low for 8-10 hours. If you are making gravy, you will need to pause cooking with about 30 minutes to go.
TIP: IT IS BETTER TO COOK THE ROAST ON LOW RATHER THAN HIGH FOR THE MOST TENDER MEAT.
How to Make Gravy for Crockpot Pot Roast
Gravy is an option with this crockpot roast with vegetables but I wouldn't make mine without this liquid gold! Thickening the juices with a little corn starch or flour will help the gravy adhere to the vegetables and meat lending extra moistness and flavor.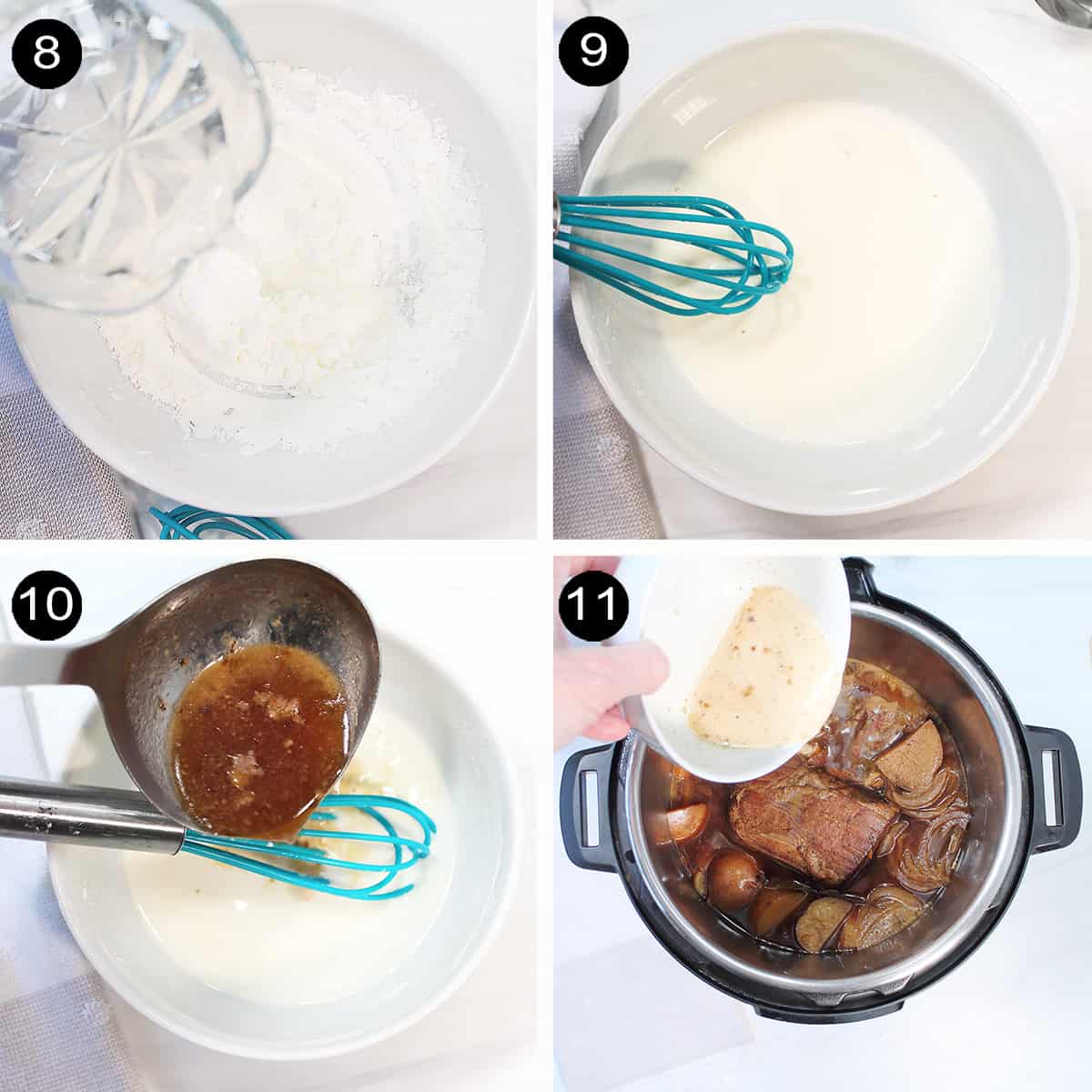 Place flour or cornstarch in a small bowl and add a little cold water. The cold water will help keep the cornstarch from clumping.
Whisk the cornstarch slurrry until well combined and has a thick consistency. If it is too liquidy, add a little more flour, and if too thick, a little more cold water.
Temper the cornstarch slurry before adding to the crock pot with a little bit of the hot liquid from the crock pot. This will help avoid lumps in your gravy.
Add the slurry to the crockpot and stir well. Return the lid to the crock pot and continue cooking for another 30 minutes to allow the gravy to thicken.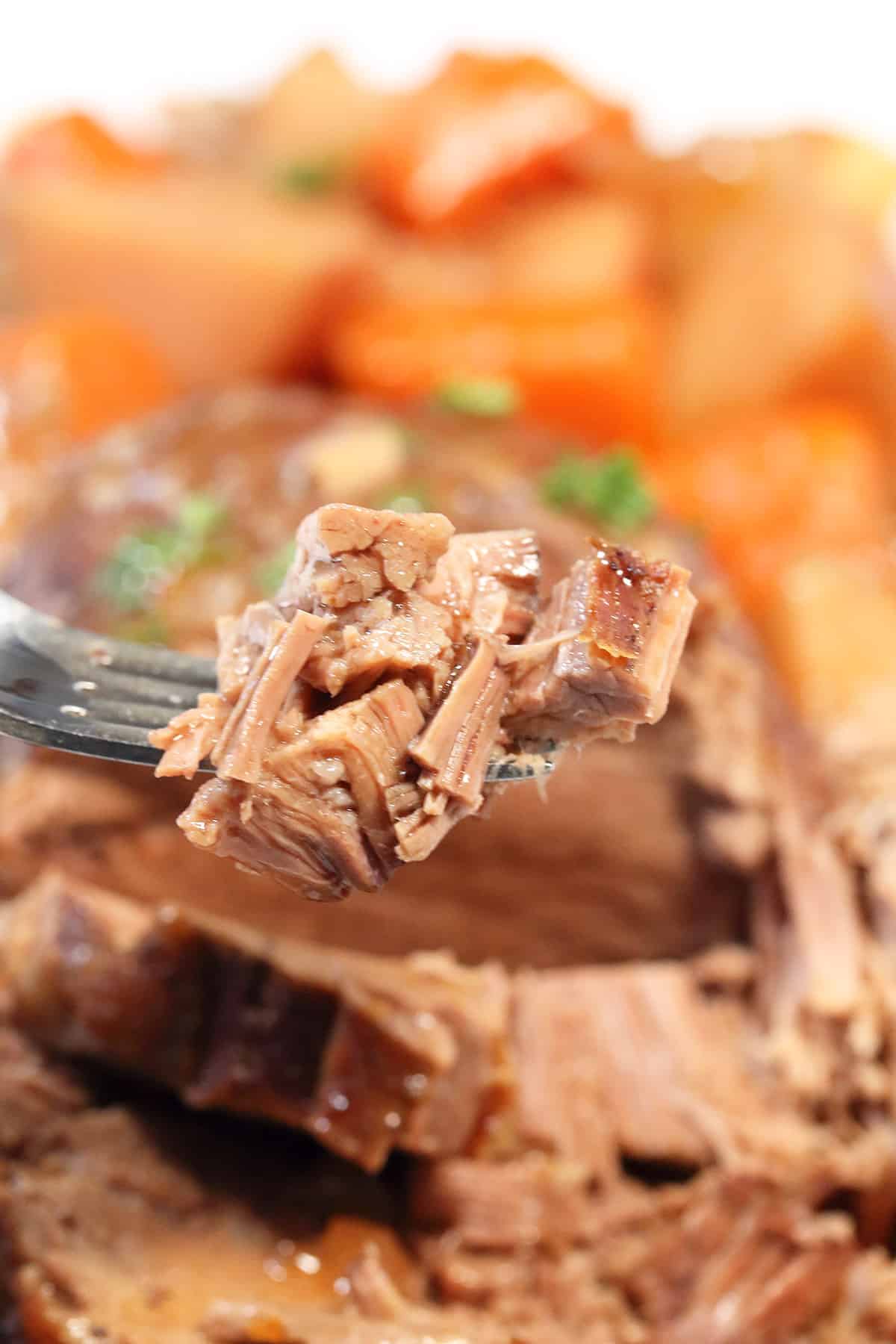 When ready to serve, place the tender eye of round roast on a serving platter, pour a little of the flavorful gravy over the top, add the vegetables, and garnish with some chopped parsley. It's an easy meal for weeknight dinners but delicious enough for a special occasion.
What to Serve with Crockpot Eye of Round Roast
This red wine pot roast dinner is a hearty dish that stands on its own. If you want to add something extra I would tend towards a side salad and some warm bread. You can also omit the potatoes from the recipe and serve up some mashed potatoes that go absolutely wonderful with all that gravy!
Variations
Vegetables - add different vegetables such as turnip, squash, and parsnips.
Potatoes - omit or replace red potatoes with peeled sweet potatoes.
Seasoning - add a few sprigs of fresh thyme for added flavor.
No crock pot, no problem! Try making this Melt in Your Mouth Perfect Oven Pot Roast for the same low and slow tender result.
Frequently Asked Questions
Do I have to brown the roast before adding to crockpot?
No, this step just adds more flavor to the end result as well as sealing in the juices. Cooking a roast in the crockpot will still taste good with or without browning.
Should I cook the pot roast on high or low in a crockpot?
This is one crockpot recipe that I would never cook on high. It is the lower temperature and longer cook time that breaks down the connective tissue, tenderizing this tougher cut of beef. Stick with the low setting.
Why is my crockpot roast not falling apart?
It most likely needs to cook longer as an undercooked roast will be tough.
Can I cook this pot roast in the Instant Pot?
Yes, you can. Use the saute setting to brown the beef then add the remaining ingredients and cook on high pressure for 90 minutes. Let the pressure release naturally for 15 minutes then release the remaining pressure. To make gravy, remove meat and vegetables from the Instant Pot then set the Instant Pot to saute. Add cornstarch mixture, stir, then let it cook until the liquid starts to thicken. Serve on the side.
More Beef Recipes
Beef Enchiladas have all your favorite Mexican flavors rolled up in tortillas and covered with cheese. Just 20 minutes prep then bake!
Italian Stuffed Peppers are a delicious mix of ground beef, orzo, and tomato sauce, all stuffed into tri-color peppers and baked. A hearty low-card dinner with just 20 minutes of prep time!
Beef and Mushroom Stew turns an ordinary beef stew into something extraordinary. Earthy mushrooms, pearl onions, and bacon make this one-pot dinner a hit!
Braised Short Ribs are cooked in a Dutch oven and simmered in a wine-beef broth that results in the best fall-off-the-bone ribs ever!
Find more beef recipes here on 2CM!
LOVE QUICK & EASY RECIPES? FOLLOW ME ON INSTAGRAM, FACEBOOK, & PINTEREST FOR ALL THE LATEST RECIPE INSPIRATION! PLUS JOIN MY EMAIL LIST AND RECEIVE A FREE E-BOOK.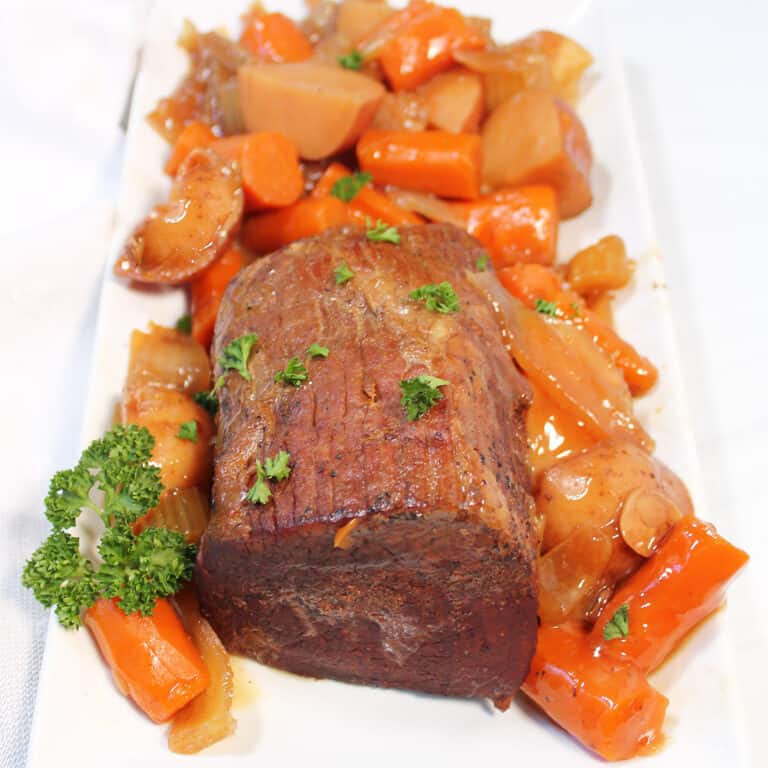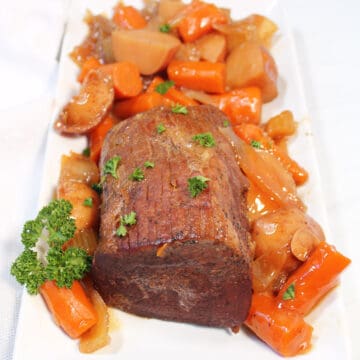 Crockpot Eye of Round Roast
An easy one-pot dinner that's perfect for busy weeknights. Put on in the morning & come home to a tender & delicious dinner.
Print
Rate
Ingredients
2

Tablespoons

olive oil

1

teaspoon

salt

½

teaspoon

black pepper

3

lbs

eye round roast

¾-1

lb

red potatoes

washed, skin left on, quartered

1 ½

cups

carrots

cut into 2" pieces

2

medium onions

cut into wedges

3

celery stalks

cut in 1" diagonal pieces

3

cloves

fresh garlic

sliced thin

1

bay leaf

2

cups

beef broth

½

cup

red wine

¼

cup

flour or cornstarch if gluten-free

(optional)
Instructions
Heat oil in large skillet. Season meat with salt and pepper. Place in skillet over medium-high heat and brown roast on all sides.

Place half of the cut-up vegetables into the crockpot. Place meat on top. Scatter remaining vegetables around roast.

Add bay leaf, beef broth and red wine.

Cover and cook on low 8-10 hours or on high for 6-7 hours.

When the roast has about 30 minutes to go, prepare the gravy.

Mix flour with enough water to make a smooth liquid-y paste. Take a little of the beef broth from the crockpot and mix with the flour-water mixture to temper it. This will prevent any lumps from forming when adding it to the hot broth in the crockpot. Add to the crockpot and stir.

Replace the cover on the crockpot and finish cooking.

Remove roast to serving plate and place vegetables around it. Drizzle a little gravy over roast and serve the rest on the side.
Notes
BEST BEEF CUTS FOR CROCKPOT
Eye of Round Roast, Chuck Roast, Rump Roast or  Top Round Roast / Bottom Round Roast 
Nutrition
Calories:
477
kcal
|
Carbohydrates:
22
g
|
Protein:
53
g
|
Fat:
16
g
|
Saturated Fat:
4
g
|
Cholesterol:
140
mg
|
Sodium:
468
mg
|
Potassium:
1294
mg
|
Fiber:
3
g
|
Sugar:
4
g
|
Vitamin A:
5435
IU
|
Vitamin C:
16.8
mg
|
Calcium:
84
mg
|
Iron:
5.8
mg
This post has been updated with new photos and more helpful information. It was first published on June 18, 2015.