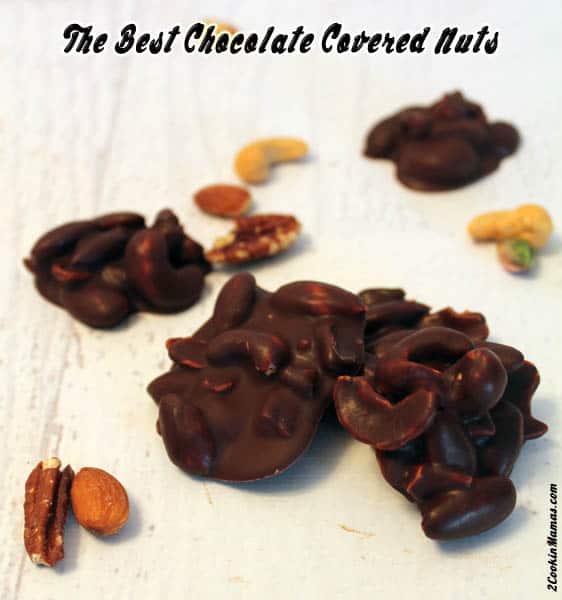 Since tomorrow is National Chocolate Covered Peanut Day I thought it was the perfect time to bring you this easy recipe. In fact, this recipe is so easy I am almost embarrassed to do an entire post about it.
I have since seen many recipes on Pinterest on how to chocolate cover the nuts and some included the crockpot method but this one is just one I know always comes out delicious and all it takes is about 1-2 hours. It takes just minutes to blend and the rest of the time it is just sitting in the refrigerator getting happy!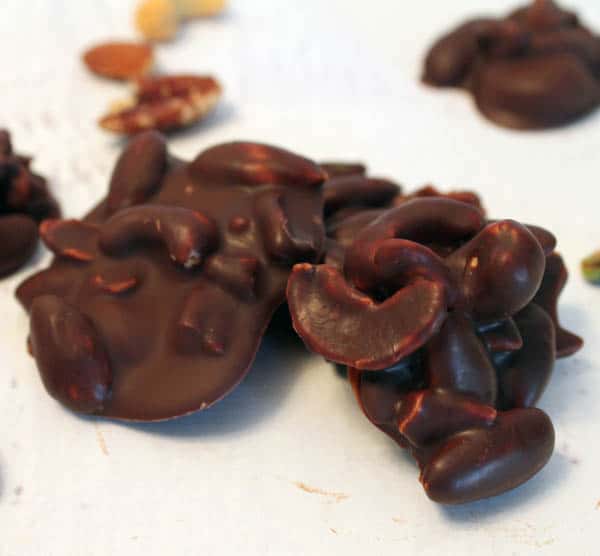 So if your kids, or big kid, are into chocolate and nuts this is definitely the candy for them. And if you use dark chocolate and unsalted nuts that include almonds, walnuts and pecans, it is actually good for you. My husband and I actually have one almost every night after dinner instead of splurging on a high calorie dessert. At least there is a little less guilt that way, if you know what I mean.
Hope you enjoy!
Easy Chocolate Covered Nuts
Ingredients:
8 squares Ghiradelli Dark Chocolate (at least 72% cacao)
1 cup unsalted mixed nuts (or for today you could use peanuts)
Directions:
Prepare a cookie sheet by covering with wax paper.
In a microwave safe measuring cup or bowl, break up pieces of chocolate and cook in microwave on high for 30 seconds. Stir and repeat in 30 second intervals until the chocolate is almost melted. It usually takes about 1-1/2 minutes. Stir until completely smooth.
Add nuts to chocolate and stir to coat. Drop by heaping teaspoonfuls onto prepared cookie sheet. When all candies are made, place cookie sheet in refrigerator until set, about 1 hour. Once set, you can store them in a ziploc bag  until your next chocolate craving.
You might want to make a double batch as they don't seem to last very long at our house.
Follow us on Pinterest for more mouth-watering goodies.