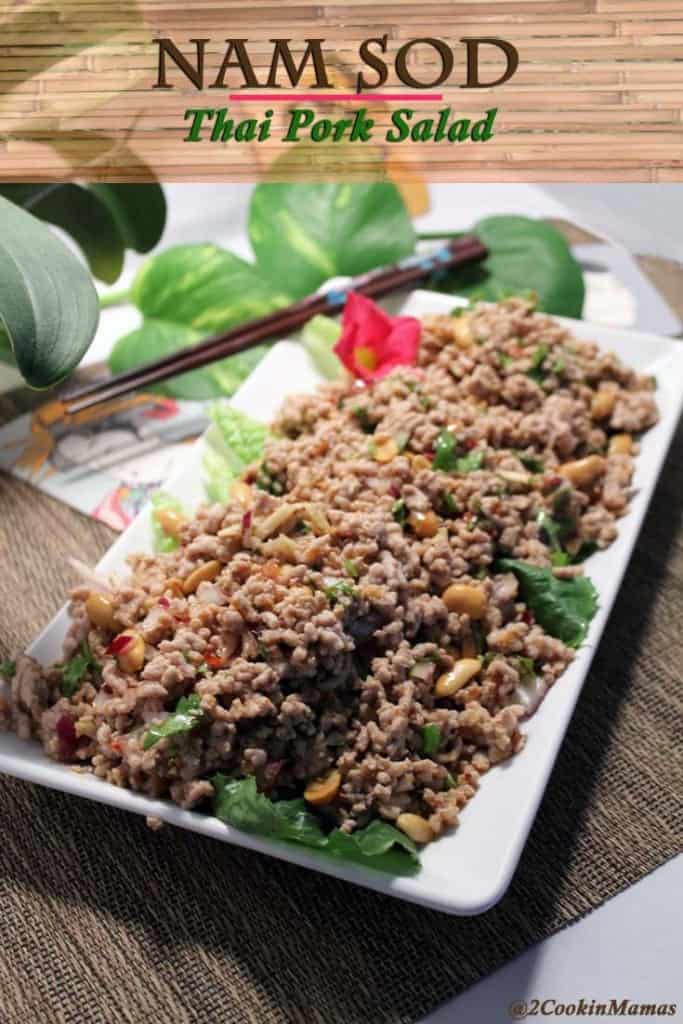 Nam Sod, or Thai Pork Salad, has always been one of my favorite dishes to order whenever I dine at a Thai restaurant. But making it myself never occurred to me until I saw a recipe for it on Magnolia Days and just had to try it for myself.
After reading through the recipe, I couldn't believe I'd never tried making it way before now. I have to thank Renee for opening my eyes to how easy it is to make. I adapted her recipe slightly by cutting the ginger up into smaller pieces, adding a little shredded carrot, and serving it on a bed of lettuce as my favorite restaurant often does. I also made mine a bit spicier as we have a love of hot food in our house. But you can easily change the heat just by varying the amount of chile paste used.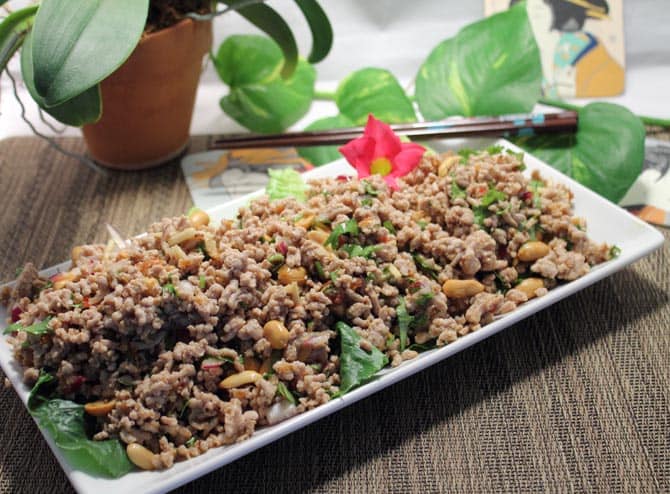 This is such a healthy salad and perfect for weekday lunches. The pork provides an excellent source of protein, with little fat and calories, while the ginger adds anti-inflammatory properties as well potassium, an important mineral in maintaining a healthy blood pressure. And we don't want to forget the chile paste as that helps kick everyone's metabolism into high gear to help burn those extra calories.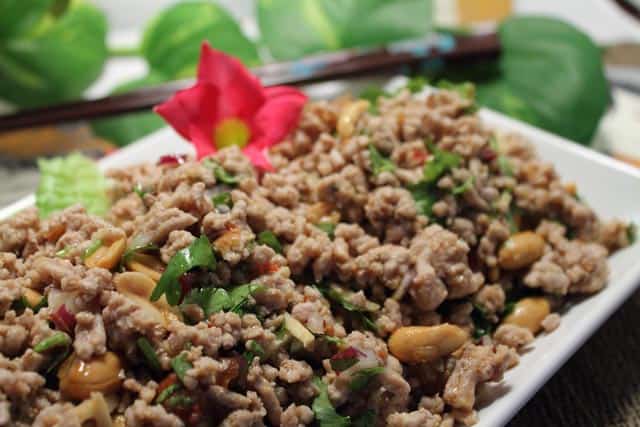 So what are you waiting for? Get your chopsticks out and chow down on this yummy and healthy Thai pork salad!
Nam Sod (Thai Pork Salad)
Ingredients:
1 lb. lean ground pork
2 Tablespoons water
1 fresh lime, juiced (about 2 Tablespoons)
2 Tablespoons fish sauce
2 teaspoons red chile paste (or roasted red chile paste is great too!)
2 Tablespoons red onion, sliced thinly then halved
1/2 cup carrots, shredded
2 Tablespoons fresh ginger root, cut into small matchsticks
1/4 cup cocktail peanuts
2 Tablespoons fresh cilantro, chopped
Lettuce (choose Romaine as it has more health benefits than iceberg) or cabbage leaves
Garnish: thinly sliced red bell peppers  (optional)
Directions:
In a large skillet, cook pork and water until pork is thoroughly cooked. Make sure to break up as you are cooking it. Remove from heat and add next 3 ingredients. Stir and allow to sit for 5 minutes. Add remaining ingredients except for lettuce leaves. Stir.
To plate, lay a large lettuce leaf on each of 4 plates.  Divide salad between plates and serve. I like to add another topping of peanuts to the salad as garnish.
You can serve with rice on the side or just as it is. Try rolling the salad in the lettuce leaves and serve with additional lettuce leaves for an even healthier meal.
Serves 4.