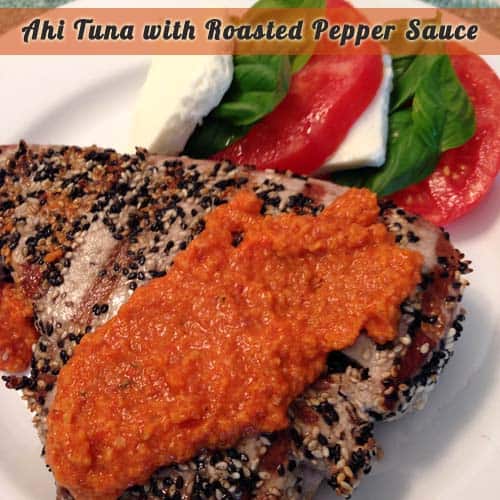 Ahi tuna, or yellowfin tuna, is really a simple meal to fix and only takes about 6-8 minutes on the grill. It is also good for you, supplying only 146 calories for a 4-oz serving, 33 grams of protein and no carbohydrates or fat to speak of. It contains plenty of Vitamins B & D, niacin, thiamine, potassium and magnesium. These are important to your overall health, helping in digestion, metabolism, healthier skin and glucose regulation. So what are you waiting for - eat up!
For a complete dinner, serve with a caprese salad and grilled asparagus.
Grilled Ahi Tuna with Roasted Red Pepper Sauce
Ingredients:
Ahi Tuna
2 1"-thick ahi tuna steaks
2 Tablespoon light olive oil
1 Tablespoon toasted sesame oil
6 Tablespoons black sesame seeds
6 Tablespoons white sesame seeds
Cracked black pepper & salt to taste
Roasted Red Pepper Sauce
⅓ cup smoked almonds
¼ cup breadcrumbs
1 garlic clove
2 plum tomatoes, chopped
1 small jar roasted red peppers, drained
½ teaspoon balsamic vinegar
¼ teaspoon smoked paprika
½ cup light olive oil
¼ cup cilantro
salt & pepper to taste
Directions:
Pepper Sauce
Prepare pepper sauce prior to grilling.
Mix all ingredients in blender or food processor until smooth. Heat in the microwave for 1 minute just prior to serving.
Ahi Tuna
Preheat grill to highest heat.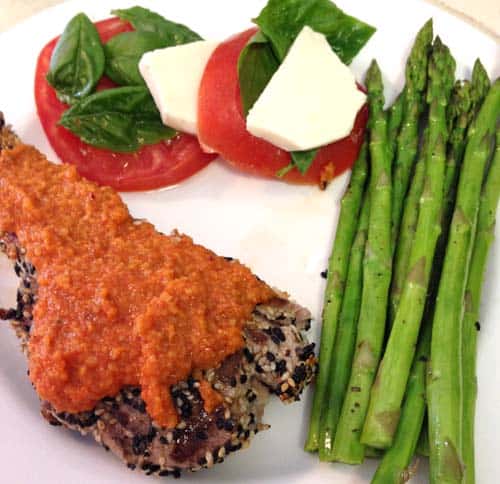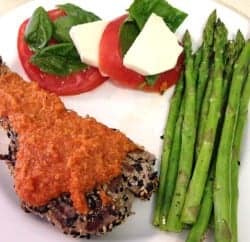 Mix the oils together and brush over all sides of tuna. On a flat plate, mix the sesame seeds and seasonings. Dip the tuna steaks into the sesame seeds and cover all sides, pressing into steaks to make sure they remain during grilling.
Grill quickly, 2-4 minutes a side, depending on the thickness and your preference for doneness. You want a nice sear with grill marks on the outside and rare in the center.
Serve immediately with a little pepper sauce drizzled over the top and additional on the side.
Serves 2.
Want to dine on more healthy seafood - check out these recipes: