These chocolate meringue cookies are as light as air and full of delicious chocolate flavor. Just whip up some egg whites, add a little sugar and rich dark cocoa and bake. They're perfect dipped in white chocolate for Valentine's Day or eaten just as they are. And they're gluten-free too!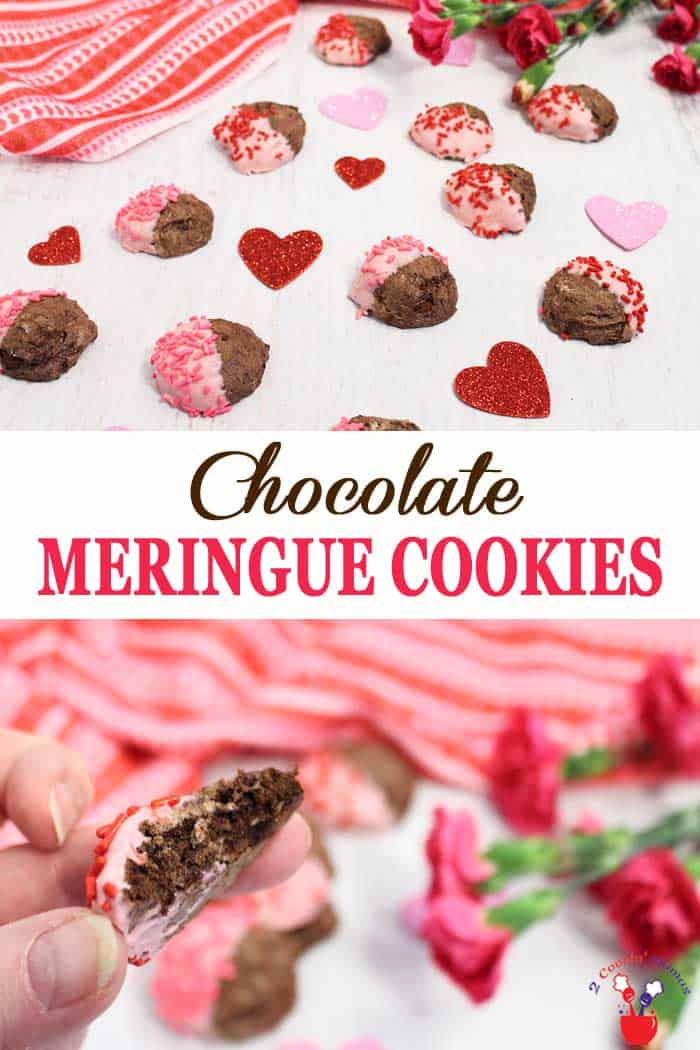 It's that time again - time to bake up cookies with some of my favorite food bloggers. This month the CCE is taking on chocolate. And what better time to do that than when Valentine's Day is just around the corner.
I love chocolate! Of course, I don't know anyone that doesn't, and, not only is it healthy (and I'm sticking with that excuse), there are also so many delicious ways to use it. You can make cakes, pies, doughnuts, granola, breads, hot chocolate and so much more.  Then there are cookies!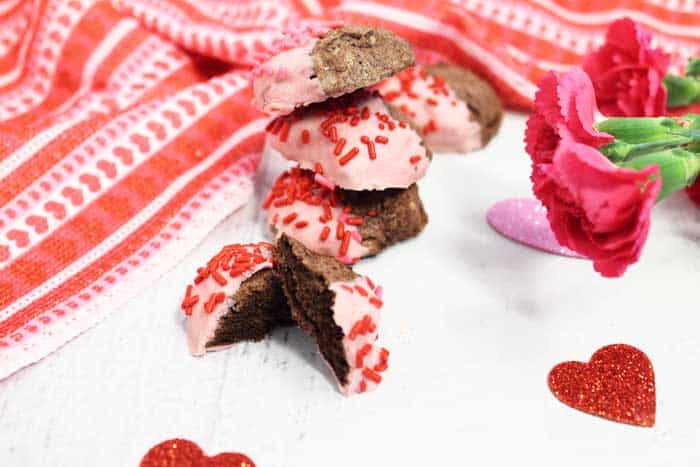 Cookies have to be one of the easiest desserts to bake. And they're so darn good. And chocolate flavor has got to be one of the all time favorites for all us cookie monsters. C'mon, admit it, it would be hard to go through life without being able to eat chocolate cookies, or any cookie, right? I knew you'd agree! 🙂
So today I wanted to bake a different kind of chocolate cookie. I've baked ones using pudding, like my Chocolate Pudding Cookies, ones with candy, like these Chocolate Cookies with M&Ms and ones with liqueur, as in my Kahlua Hot Chocolate Cookies, but I've never baked meringue type cookies, on the order of macarons. Finally, I can say I've done it.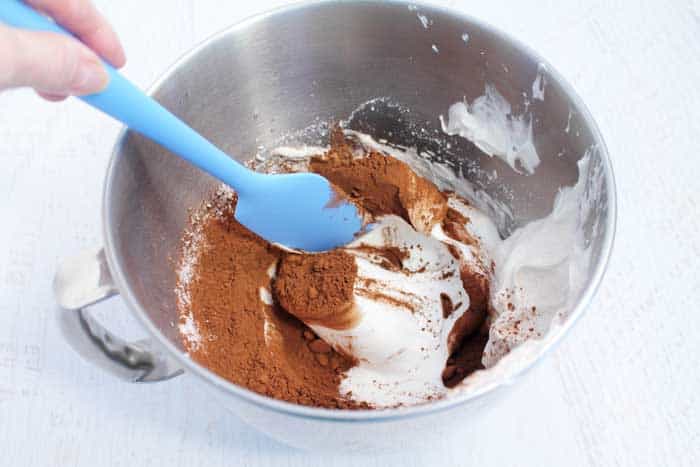 These cookies are really simple to make with only a few ingredients. They are light, airy and gluten-free too. The hardest part is whipping the egg whites, which is basically the whole cookie, with a little sugar added in. These are best to bake when it's not humid, which is not very often in my neck of the woods, so they come out nice and crunchy.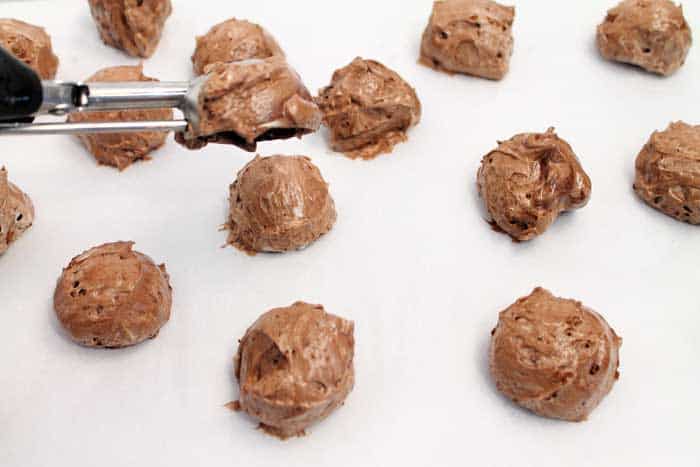 I've seen a lot of recipes where these cookies are piped but that can be a little tricky, plus you need a tip, so I used a medium cookie scoop and just scooped them onto the cookie sheet. See, easy right?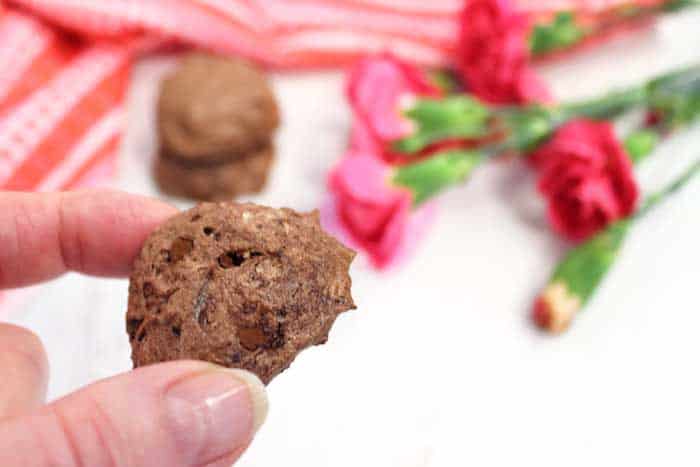 These cookies are delicious just as they are but, since it's so close to Valentine's Day, I added a little dip in some white chocolate, colored pink for the holiday, then sprinkled with colorful sprinkles to make them look more festive.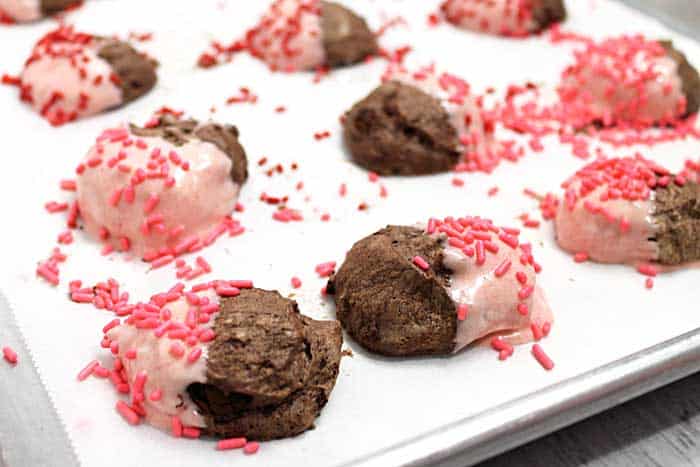 How did they come out? Simply delicious! Now sit down, relax, grab a cup of coffee and enjoy two, OK maybe three, while you drool over the other chocolate cookies the CCE put together for you below.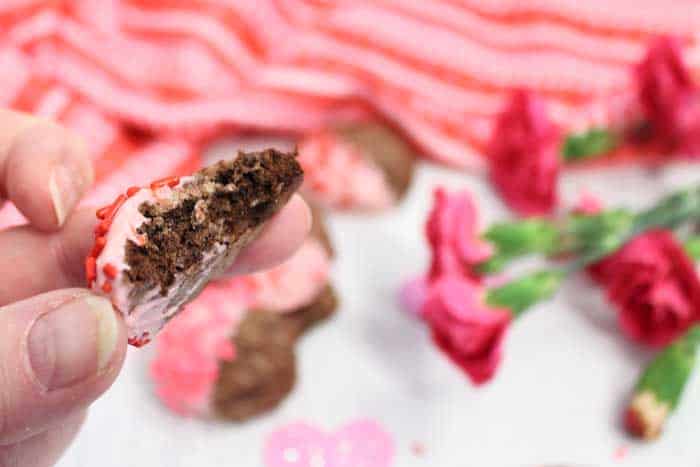 P.S. Make Valentine's Day special by packing a few of these cookies in your husband's or child's lunch for a special surprise treat. They'll love you for it!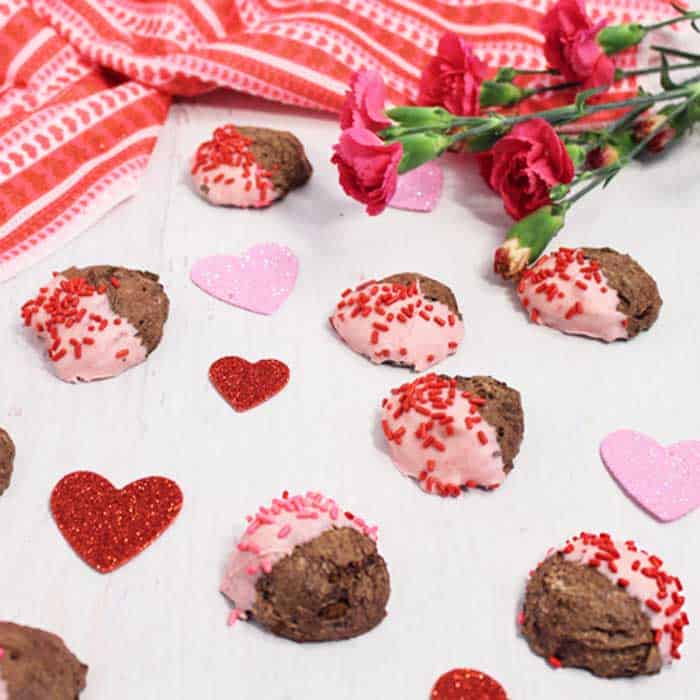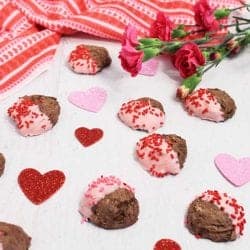 CHOCOLATE MERINGUE COOKIES
Light as air cookies and full of delicious chocolate flavor. They're perfect dipped in white chocolate for Valentine's Day or eaten just as they are. And they're gluten-free too!
Print
Rate
Ingredients
2

egg whites,

room temperature

¼

teaspoon

cream of tartar

1

teaspoon

vanilla extract

pinch

of salt

¾

cup

powdered sugar

1

teaspoon

cornstarch

¼

cup

cocoa powder

2

cups

white chocolate chips or bar, broken up
Instructions
Preheat oven to 250 degrees. Line cookie sheet with parchment paper.

Place the egg whites in a clean, dry mixing bowl. Beat at medium speed until frothy.

Add cream of tartar, vanilla extract and salt. Increase to medium-high speed and beat until soft peaks form

Add powdered sugar gradually, a couple tablespoons at a time, and cornstarch and beat until stiff peaks form.

Fold in cocoa until just incorporated.

Using a medium cookie scoop, scoop batter onto prepared cookie sheet.

Bake for 1 hour then turn off oven and leave in until cool, approximately 2-4 hours.

When cookies are ready, place chocolate in a microwave-safe measuring cup or bowl.

Microwave in 30-second increments, stirring in-between, until completely melted.

You can either leave the chocolate as is or tint with red or pink food coloring. (paste works best)

Dip cookies in chocolate and place back on parchment paper. Let set.

Store in airtight container at room temperature for up to 2 weeks.
Notes
Best made on days that are not humid so they stay light and crisp.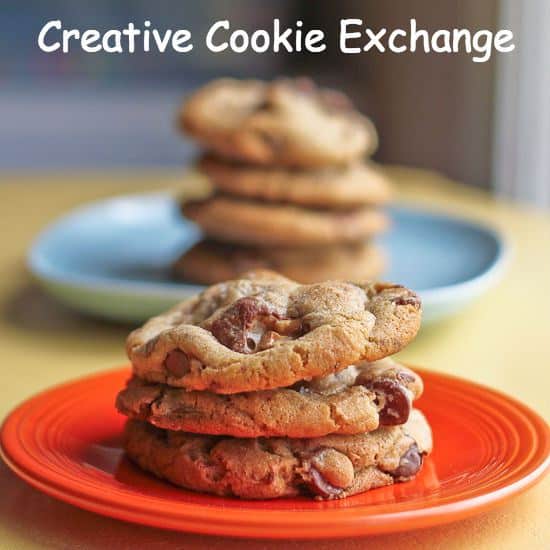 Chocolate is always in fashion--but no time more so than in the weeks leading up to Valentine's Day. So whether you are baking for your honey or just baking for fun, we have chocolate cookies to inspire you!
You can also use us as a great resource for cookie recipes. Be sure to check out our Pinterest Board and our monthly posts (you can find all of them here at The Spiced Life). You will be able to find them the first Tuesday after the 15th of each month! If you are a blogger and want to join in the fun, contact Laura at thespicedlife AT gmail DOT com and she will get you added to our Facebook group, where we discuss our cookies and share links.
If you are looking for inspiration to get in the kitchen and start baking, check out what all of the hosting bloggers have made:
DON'T MISS A RECIPE!