These chocolate meringue cookies are as light as air and full of delicious chocolate flavor. Just whip up some egg whites, add a little sugar, and rich dark cocoa, then bake. They look so pretty in pink-tinted white chocolate for Valentine's Day or eat them just as they are. And they're gluten-free too!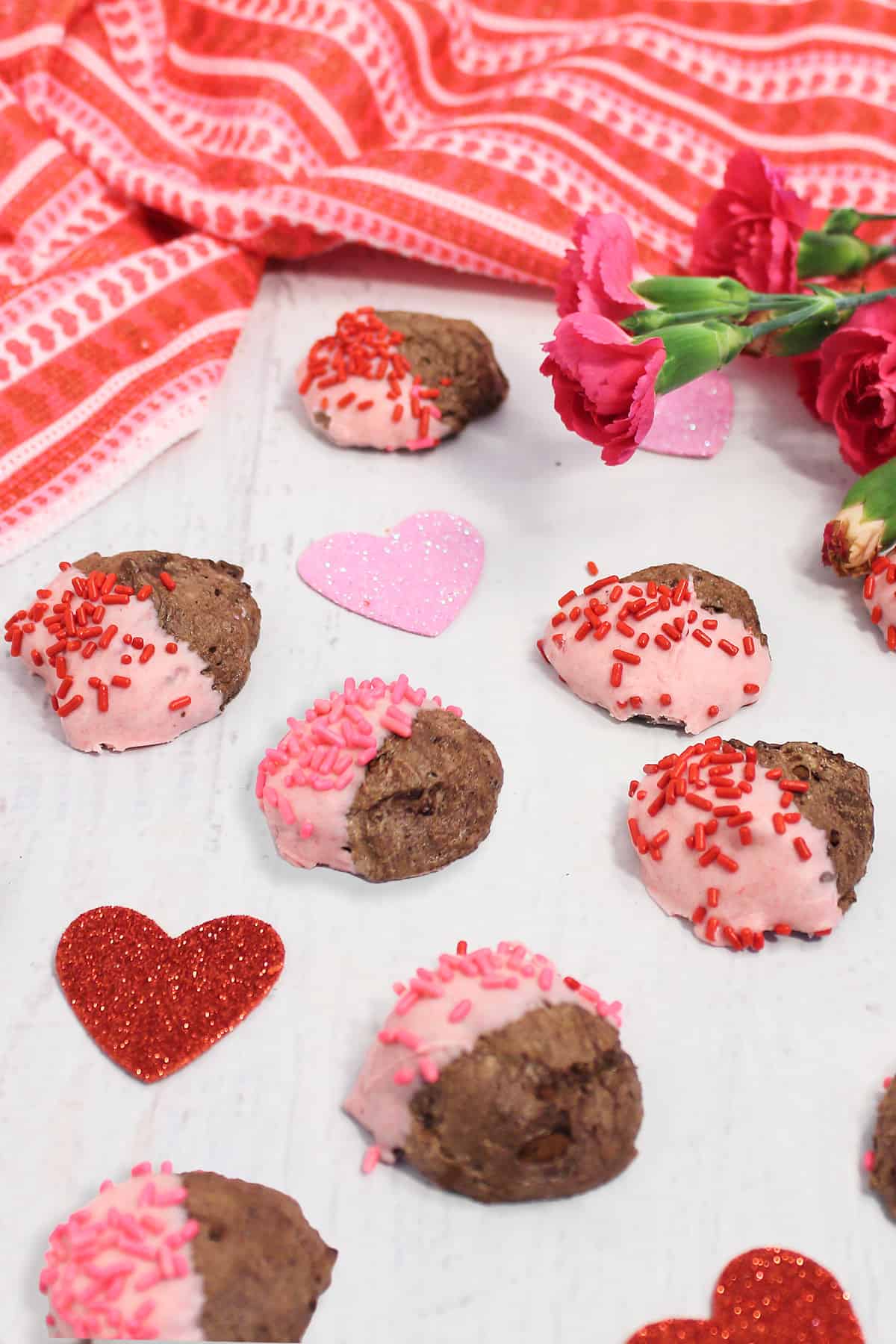 FYI - This post contains affiliate links. As an Amazon Associate, I earn from qualifying purchases. All links are products I use when making my recipes.
Chocolate Cookies
I love chocolate! There are also so many delicious ways to use it. You can make cakes, pies, doughnuts, granola, breads, hot chocolate and so much more.  Then there are meringue cookies with chocolate!
These chocolate meringue cookies are some of the lightest cookies you can make. They're easy to whip up and have only 6 simple ingredients. Plus they're scooped instead of piped making them a quick and easy treat for any time of the year.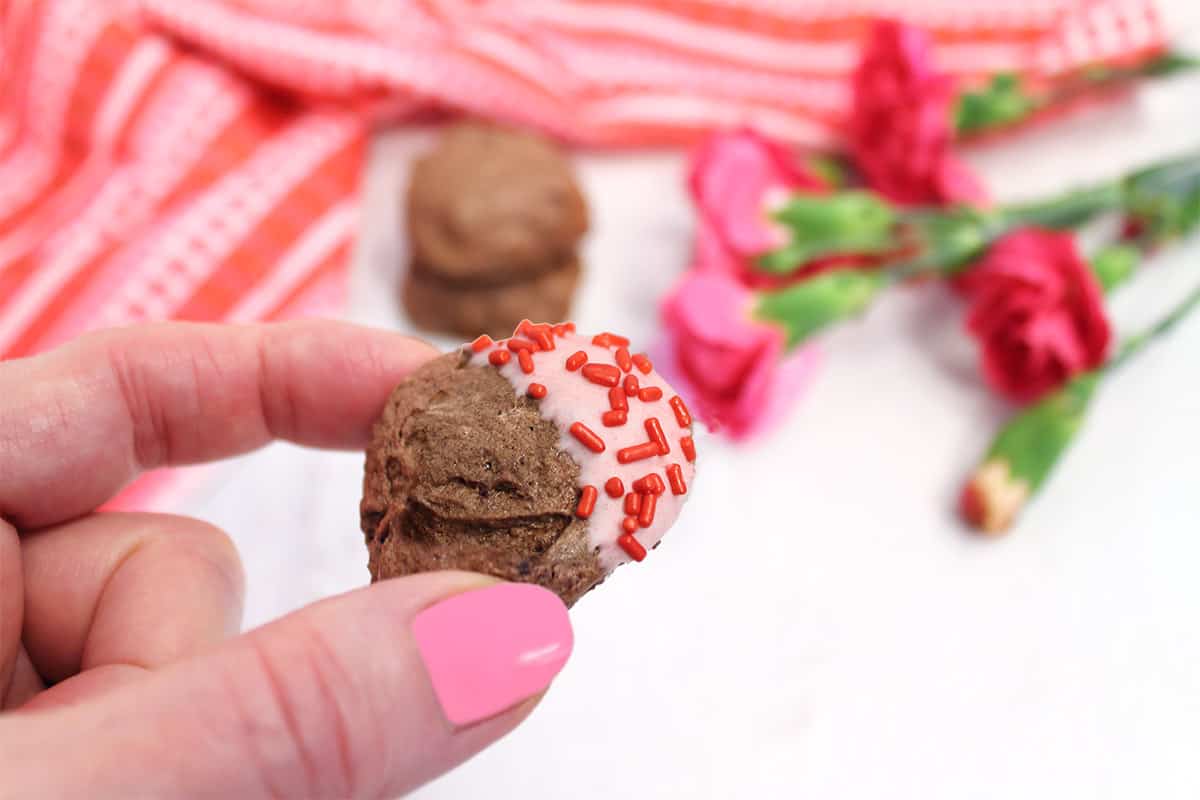 If you love anything chocolate, these are the cookies for you! And if you're looking for more chocolate cookie deliciousness, try my Chocolate Pudding Cookies, Kahlua Hot Chocolate Cookies, and Flourless Caramel Chocolate Cookies.
What are meringue cookies?
Meringue cookies are small cookies comprised of whipped egg whites and sugar. They are baked low and slow and have a crisp outside with a light and airy inside.
Why You'll Love This Chocolate Meringue Cookies Recipe
These egg white meringue cookies are really simple to make with only a few ingredients.
The cookies are light, airy, and naturally gluten-free.
Easy to make using a medium cookie scoop in place of piping them.
The dip in white chocolate makes these doubly chocolatey and perfect when tinted with pink for Valentine's Day.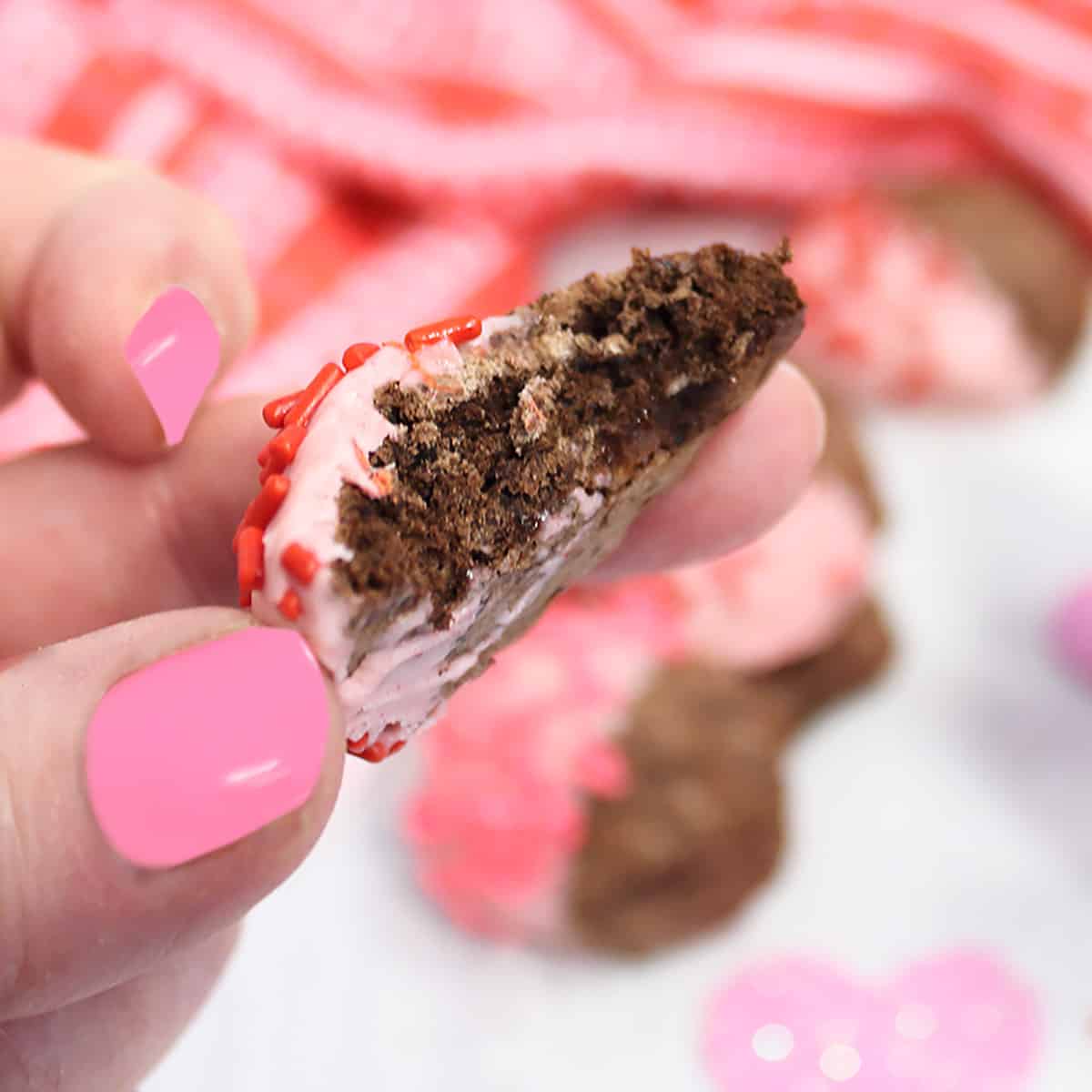 Ingredients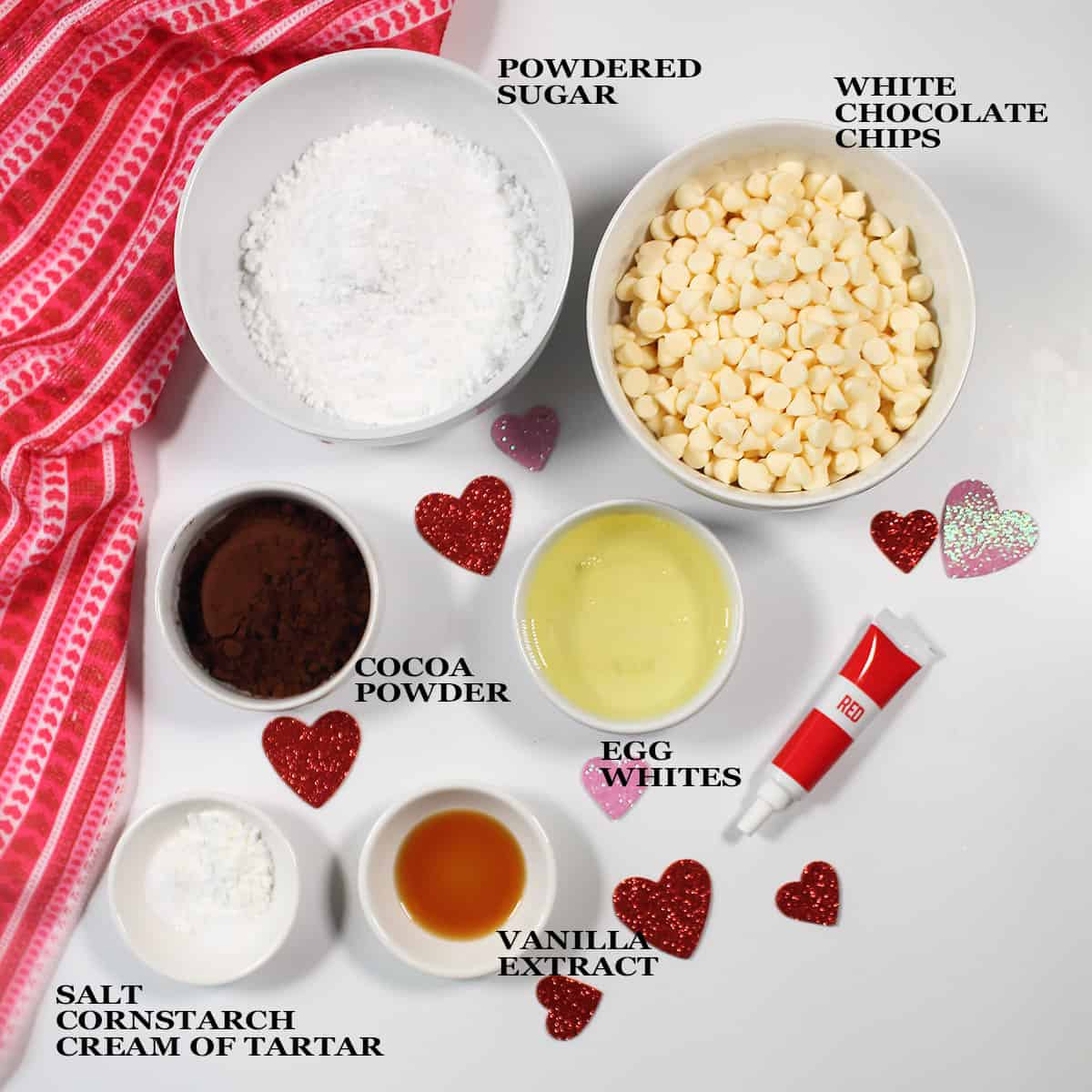 Egg Whites - make sure to separate each of the eggs over a separate bowl to avoid any yolk ruining the batter
Cream of Tartar - helps to stabilize the meringue
Vanilla Extract
Salt - enhances the flavor
Powdered Sugar - blends better with the egg whites
Cornstarch - helps to soak up extra liquid in the meringue (especially useful on humid days)
Cocoa Powder
White Chocolate Chips or Bar - totally optional but adds extra richness to the cookies
Chocolate Meringue Cookies Without Cream of Tartar
Cream of tartar helps stabilize the meringue and hold its shape when incorporating other ingredients and when being baked.
It is possible to make chocolate meringue cookies without cream of tartar. All you need to do is substitute twice the amount of vinegar or lemon juice for the cream of tartar. For this recipe, you would use ½ teaspoon of vinegar instead of ¼ teaspoon of cream of tartar.
How to Make Chocolate Meringue Cookies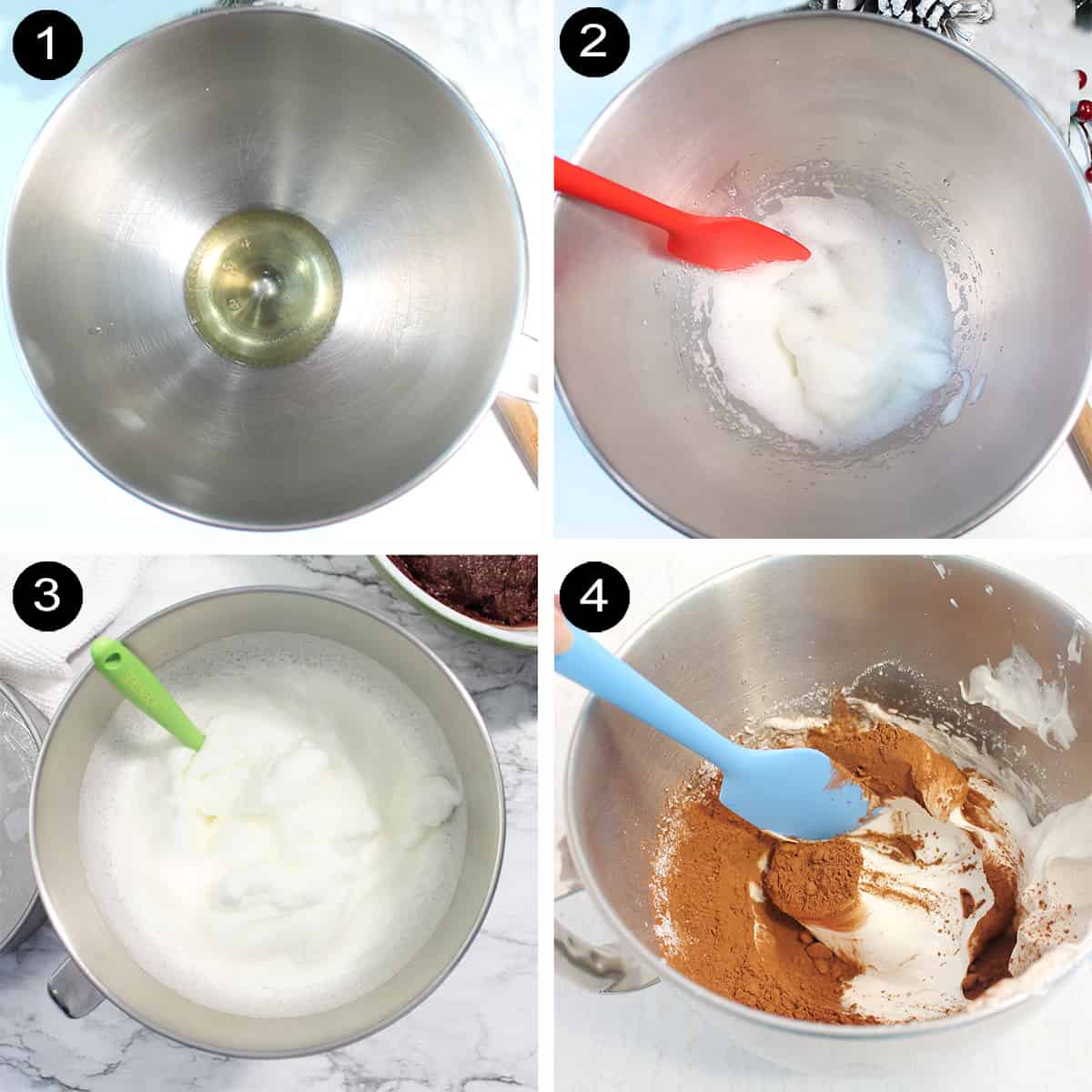 Separate cold eggs then place just the egg whites in a large, dry mixing bowl. Store the egg yolks in the refrigerator for other uses.
Whip the egg whites until frothy then add cream of tartar, vanilla extract, and salt.
When soft peaks form, gradually add sugar and cornstarch. Continue beating until the egg whites form stiff peaks. DO NOT UNDERBEAT!
Fold in cocoa powder.
These easy meringue cookies are best made when humidity is low so they come out crispy on the outside and light and airy on the inside.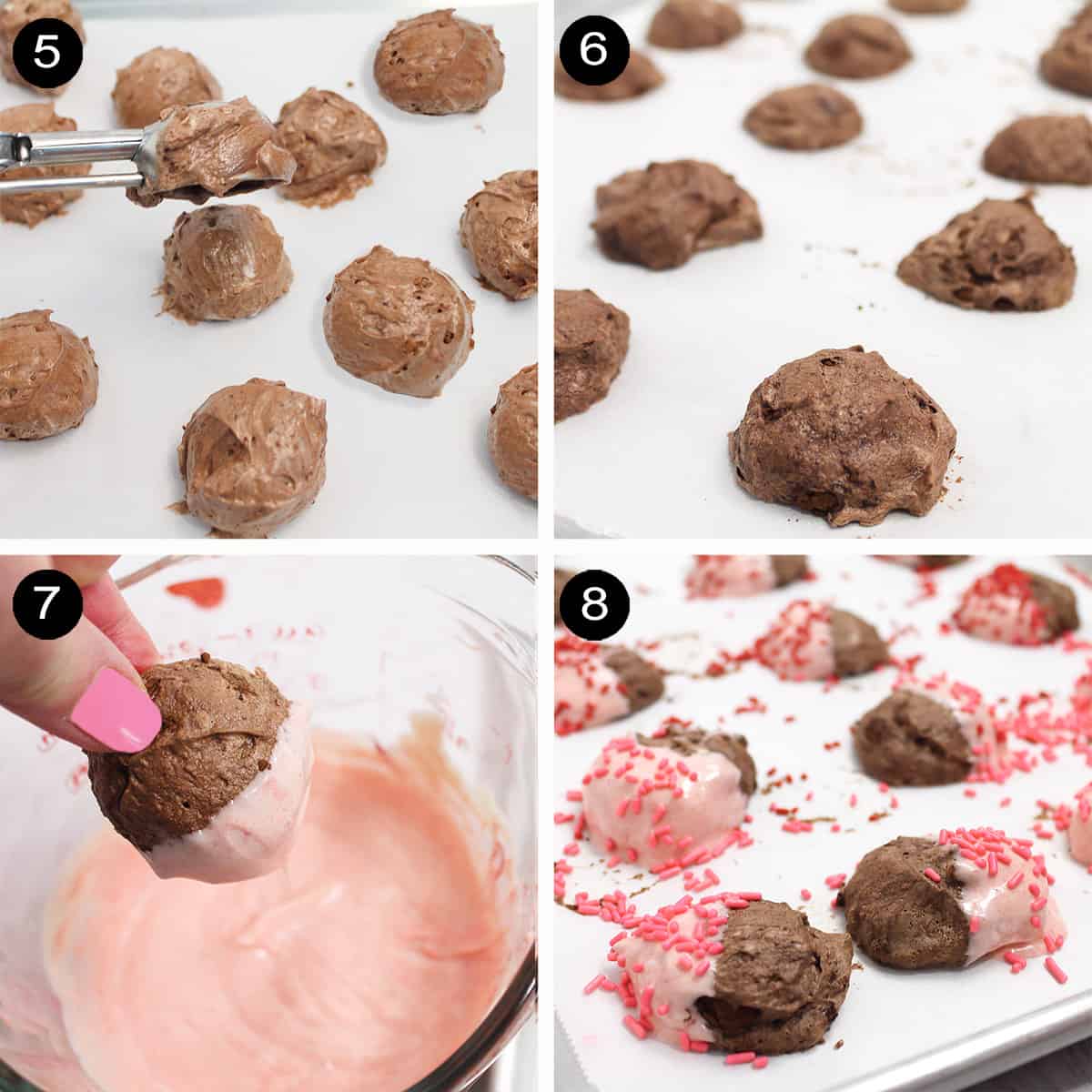 Using a medium cookie scoop (or opt to pipe them if desired), scoop them onto a parchment-lined baking sheet.
Bake cookies at 250 degrees for 1 hour then turn off the oven and leave them in the oven for another 2-4 hours.
Melt the white chocolate in a microwave-safe bowl in 30-second increments, stirring in between until melted. Add a little red food coloring for the desired shade then dip the cookies in. You can either dip half of the cookie in or just the bottom.
If dipping half the cookie in chocolate, immediately sprinkle with seasonal sprinkles. Place back on parchment lined baking sheet and let set.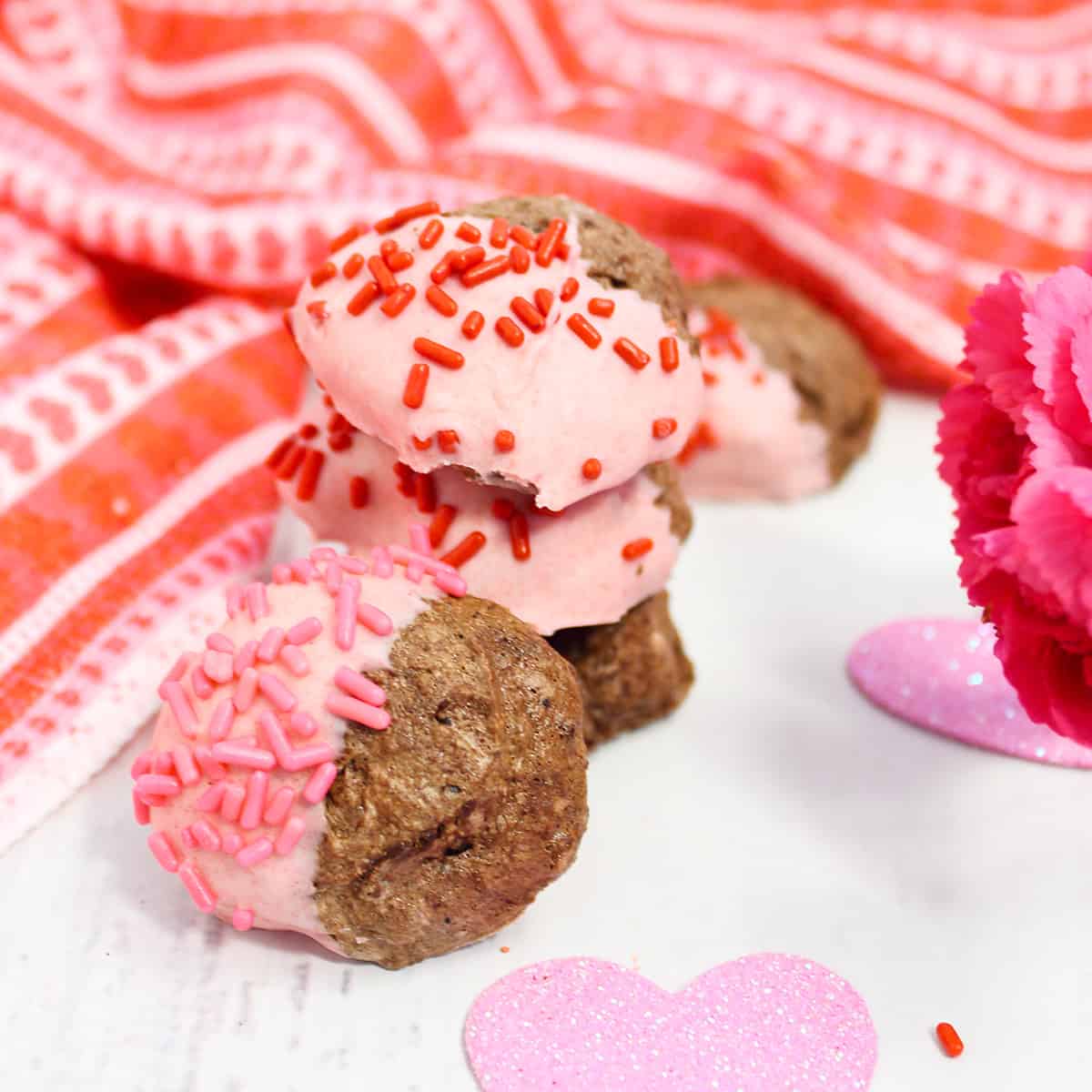 Make Valentine's Day special by packing a few of these cookies in your husband's or child's lunch for a special surprise treat. They'll love you for it!
How to Decorate Meringue Cookies
It's easy to make fancy meringue cookies by dipping them in chocolate, white chocolate, or colored white chocolate, and then covering them with colorful sprinkles.
Dip the bottoms in any type of chocolate.
Use a piping bag and star tip and pipe the batter onto a parchment-lined baking sheet. Either make them all chocolate, all vanilla, or divide the two flavors in the piping bag and create a swirled meringue cookie.
Recipe Tips
Use fresh and cold egg whites because cold egg whites will whip up faster and make a sturdier foam. Plus cold eggs are easier to separate.
Make sure the bowl you're whipping the egg whites in and the whisk or beaters you're using are completely clean.
Use a stand mixer with a whisk when possible. A hand mixer with regular beaters may also be used, but the mixing time will take longer. Some hand mixers have a whisk beater which would work. Hand whisking will take a lot of time and effort.
It's critical for meringue that the egg whites do not have even the tiniest speck of yolk in them or they won't whip up properly.
Separate the eggs one at a time in smaller bowls (one for the white and one for the yolk) and then pour each egg white into the mixing bowl.
Do not overbeat the egg whites. Beat them just until stiff peaks form. Otherwise, larger bubbles will be produced and weaken the structure of the meringue.
Be certain to bake the cookies right away. Waiting may cause the batter to deflate
Instead of using a cookie scoop, you could also pipe the meringue onto the baking sheet
Line your baking sheet with parchment paper or a silicone mat.
Recipe Variations
There are many different types of meringue cookies and here are some ideas:
Chocolate Chip Meringue Cookies - Add ½ cup of mini chocolate chips.
Chocolate Meringue Cookies with Nuts - Add ½ cup of finely chopped nuts. Pecan, walnut, and hazelnut are the most popular ones.
Mint Chocolate Meringue Cookes - Add ¼ teaspoon of mint extract.
Chocolate Meringue Sandwich Cookies - Use some vanilla, cream cheese, or chocolate frosting for a filling.
Holiday Meringue Cookies
I decorated the cookies for Valentine meringue cookies but you can change them up for other holidays.
Christmas Meringue Cookies - Color the white chocolate with Christmas colors (red and green). You can also make them chocolate peppermint meringue cookies by adding ¼ teaspoon of peppermint extract. Use festive Christmas sprinkles.
Easter Meringue Cookies - Color the white chocolate with various pastel colors. Use pastel sprinkles.
Halloween Meringue Cookies - Color the white chocolate with Halloween colors (orange, purple, and green). Use Halloween sprinkles.
Passover Chocolate Meringue Cookies - These dairy-free and flourless cookies are already great for Passover. No need to make any changes other than perhaps not coloring the white chocolate.
Thanksgiving Chocolate Meringue Cookies - Color the white chocolate orange. Use Halloween sprinkles.
How to Store
Store the cookies in an airtight container at room temperature for up to 2 weeks. Remember that humidity affects meringue so it's important for them to be in a sealed container.
Meringue cookies do not freeze well. If you do want to freeze them, be sure they are in an airtight container with parchment between the layers or in a heavy-duty freezer bag. Any moisture during freezing or thawing will cause the cookies to soften and change their texture. They will last up to 3 months in the freezer. Thaw either in the fridge or at room temperature.
LOVE QUICK & EASY RECIPES? FOLLOW ME ON INSTAGRAM, FACEBOOK, & PINTEREST FOR ALL THE LATEST RECIPE INSPIRATION! PLUS JOIN MY EMAIL LIST AND RECEIVE A FREE E-BOOK.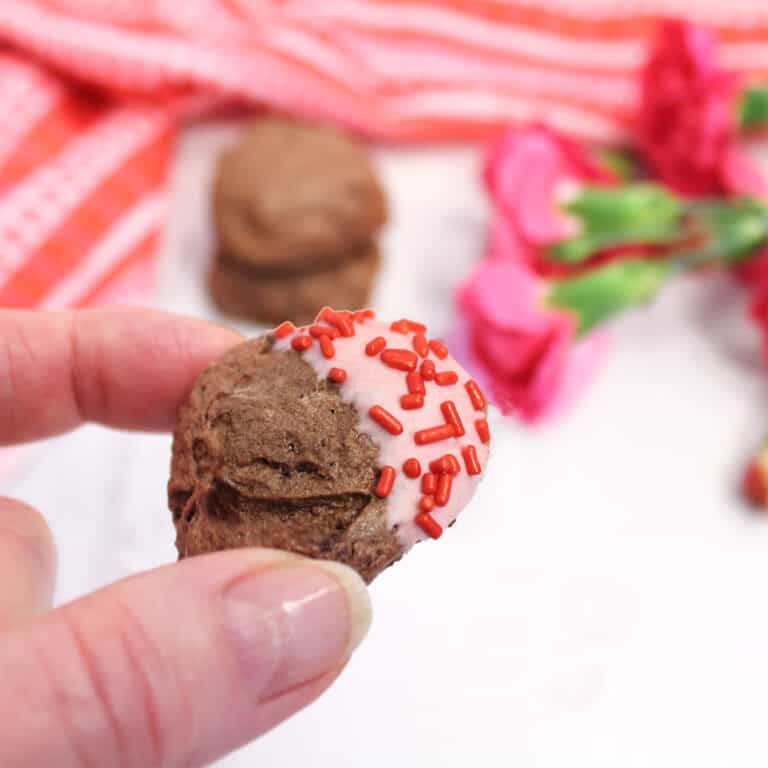 Chocolate Meringue Cookies
Light as air cookies and full of delicious chocolate flavor. They're perfect dipped in white chocolate for Valentine's Day or eaten just as they are. And they're gluten-free too!
Print
Rate
Ingredients
2

egg whites

¼

teaspoon

cream of tartar

1

teaspoon

vanilla extract

pinch

of salt

¾

cup

powdered sugar

1

teaspoon

cornstarch

¼

cup

cocoa powder

2

cups

white chocolate chips or bar, broken up
Instructions
Preheat oven to 250 degrees. Line cookie sheet with parchment paper.

Place the egg whites in a clean, dry mixing bowl. Beat at medium speed until frothy.

Add cream of tartar, vanilla extract and salt. Increase to medium-high speed and beat until soft peaks form

Add powdered sugar gradually, a couple tablespoons at a time, and cornstarch and beat until stiff peaks form.

Fold in cocoa until just incorporated.

Using a medium cookie scoop, scoop batter onto prepared cookie sheet.

Bake for 1 hour then turn off oven and leave in until cool, approximately 2-4 hours.

When cookies are ready, place chocolate in a microwave-safe measuring cup or bowl.

Microwave in 30-second increments, stirring in-between, until completely melted.

You can either leave the chocolate as is or tint with red or pink food coloring. (paste works best)

Dip cookies in chocolate and place back on parchment paper. Let set.

Store in airtight container at room temperature for up to 2 weeks.
Notes
Best made on days that are not humid so they stay light and crisp.
Nutrition
Calories:
199
kcal
|
Carbohydrates:
27
g
|
Protein:
3
g
|
Fat:
10
g
|
Saturated Fat:
6
g
|
Polyunsaturated Fat:
0.3
g
|
Monounsaturated Fat:
3
g
|
Cholesterol:
6
mg
|
Sodium:
36
mg
|
Potassium:
132
mg
|
Fiber:
1
g
|
Sugar:
25
g
|
Vitamin A:
9
IU
|
Vitamin C:
0.1
mg
|
Calcium:
62
mg
|
Iron:
0.3
mg
This post has been updated with more helpful tips and step-by-step directions. It was first published on January 23, 2018.