Easy ice cream truffles are the perfect cool treat for a hot summer day. Just a mini scoop of ice cream, a dunk in dark chocolate, and loads and loads of your favorite toppings.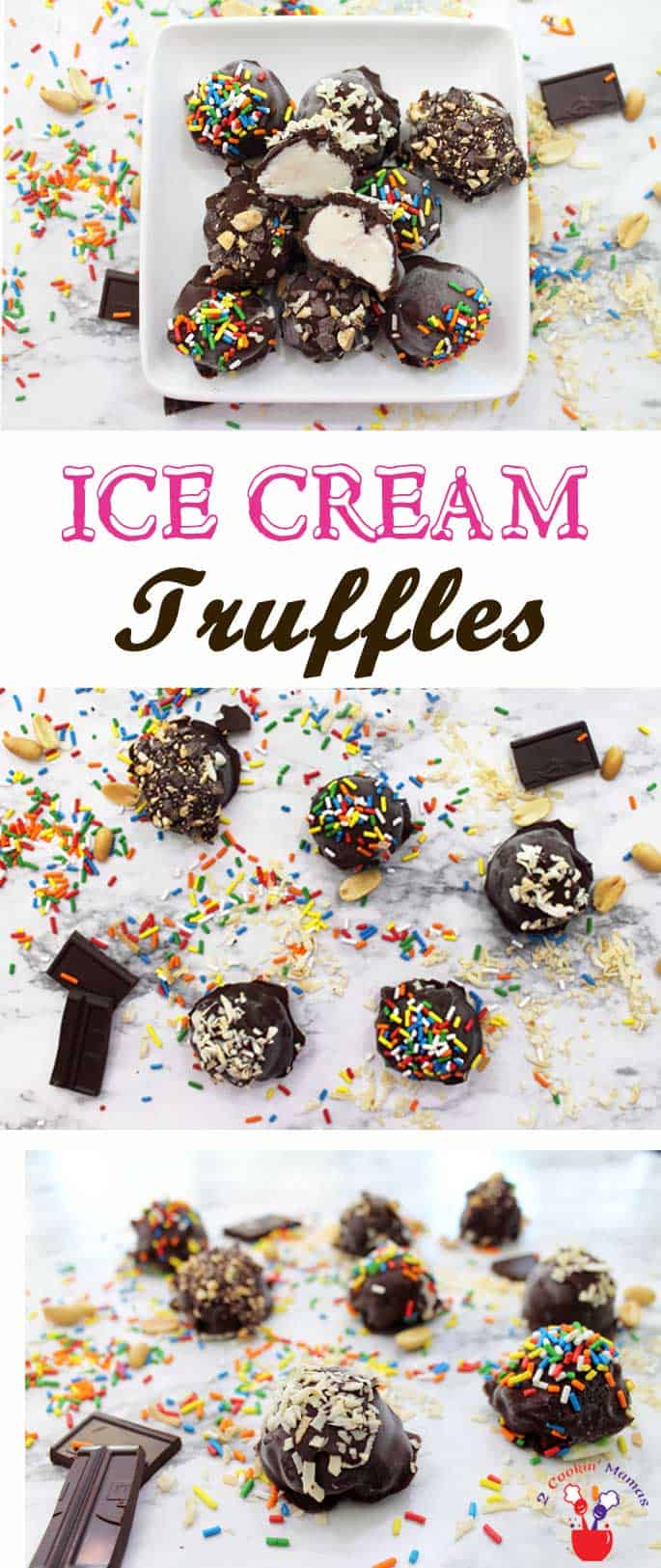 Anyone that knows me, knows that I love ice cream! Give me multi-scoops of coffee ice cream (absolutely my favorite),  chocolate ice cream or ice cream sandwiches and I'm down with it. But these little babies are the perfect sweet treat that I never feel guilty about having. They're just about bite size and covered with lots of dark chocolate then sprinkled with your favorite toppings.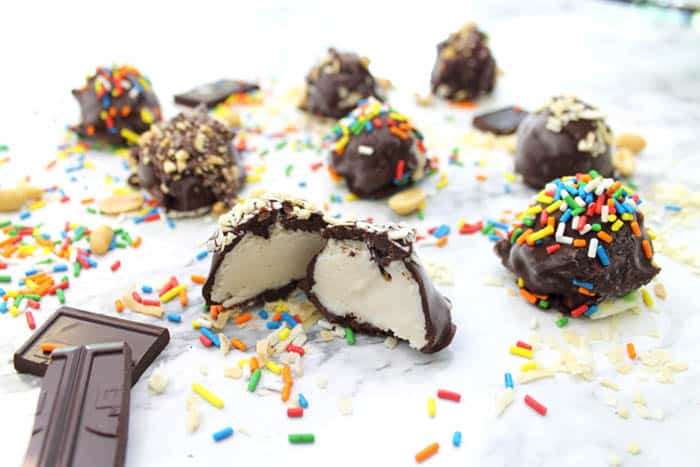 They are so simple to make too! First, just a mini scoop of your favorite ice cream flavor. I used a french vanilla bean for mine. Then freeze for about 30 minutes.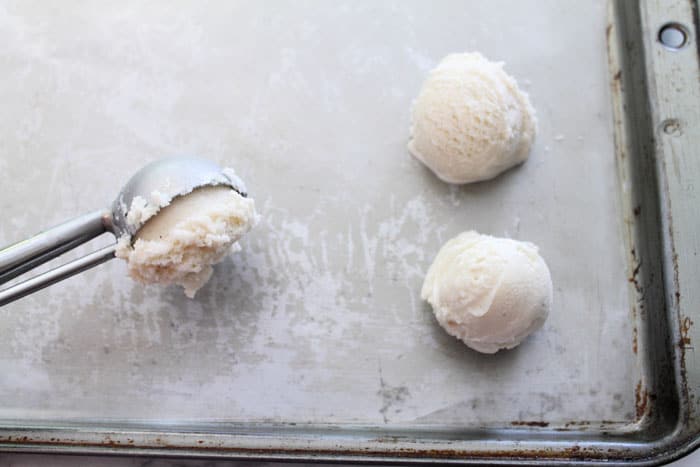 Melt some dark chocolate, white chocolate or any kind of chocolate for that matter. Take each ball, hold with a toothpick and dip into the chocolate.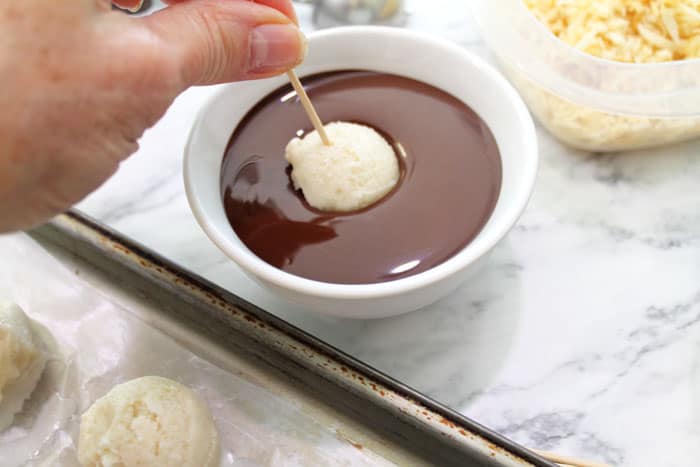 After each dip, work quickly, and sprinkle on your favorite topping. I used toasted coconut, chopped chocolate chips and peanuts and, of course, colored sprinkles. 'Cause who doesn't like colored sprinkles!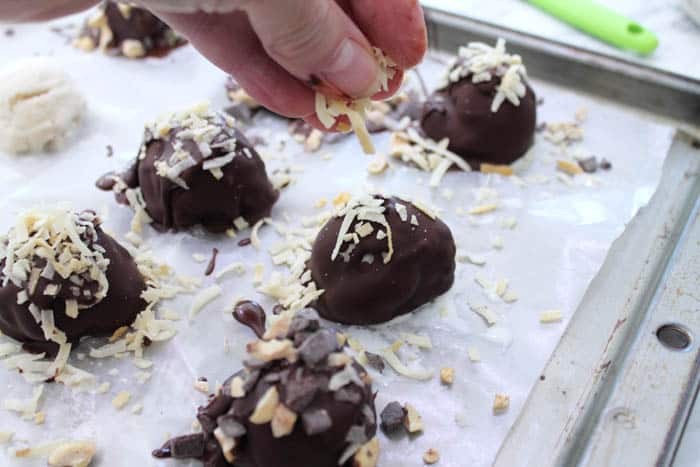 Aren't they just the cutest, most delicious looking, ice cream treats?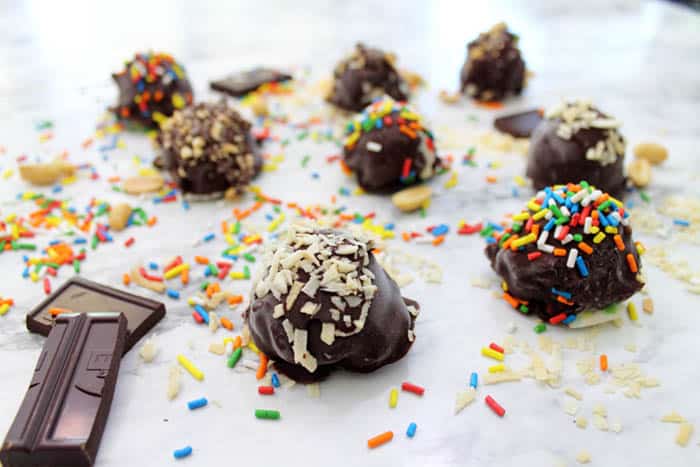 Chill them one more time. Now take a big bite. Ummm, they're so good!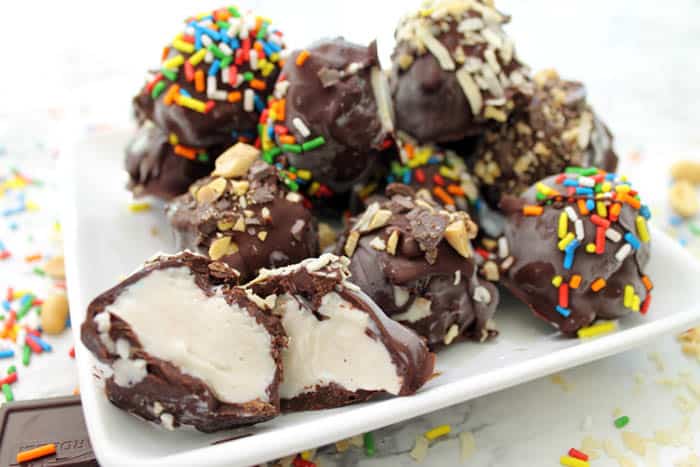 Perfect to serve as a treat for the kids afternoon break. Make as many as you like at a time as they keep really well in a ziploc baggie in the freezer.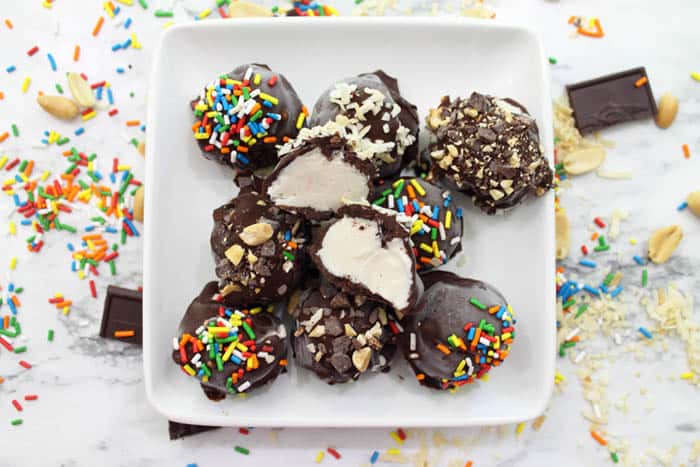 What a great way to keep cool this summer!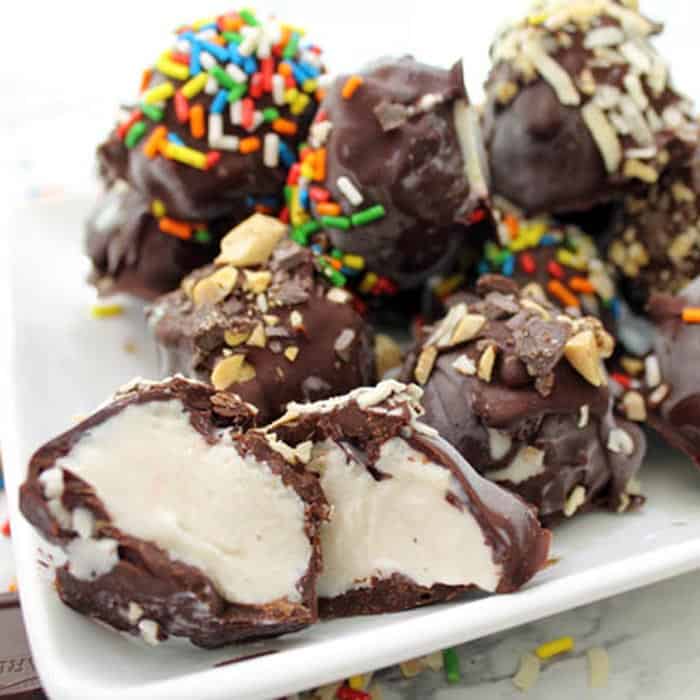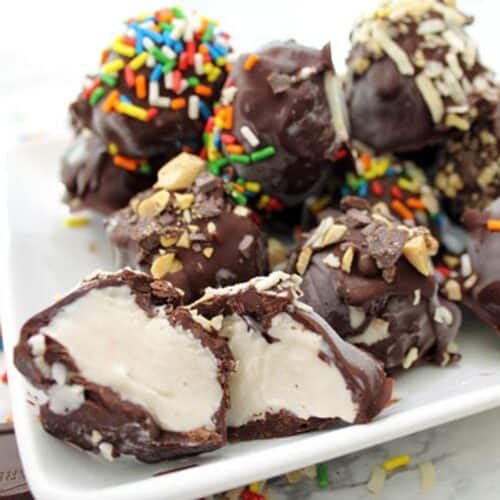 ICE CREAM TRUFFLES
Easy ice cream truffles are the perfect cool treat for a hot summer day. A mini scoop of ice cream, a dunk in dark chocolate & your favorite toppings.
Servings
:
12
-24 truffles
Ingredients
1

pint

vanilla ice cream

or your favorite flavor

2

3.5-oz bars dark chocolate,

broken up

1-1/2

teaspoons

vegetable oil

(I like to use a combo of almond & coconut oil)

Garnishes: sprinkles,

chopped peanuts, toasted coconut, crushed cookies, chopped candy bars
Directions
Linda small cookie sheet with waxed paper.

Using a small cookie scoop, scoop vanilla ice cream into balls and place on prepared cookie sheet.

Freeze for at least 30 minutes.

When ready to assemble, line up all garnishes so they are ready to go.

Place chocolate and oil into a microwave safe measuring cup or bowl. Melt in 30 second increments, stirring in-between, until melted.

Remove ice cream balls from freezer. Working quickly, dip into melted chocolate mixture then immediately sprinkle with topping of your choice.

If chocolate hardens too quickly for topping just spoon a little extra on top and sprinkle topping quickly.

Return to freezer for at least 30 minutes then enjoy.
Recipe Notes
Total time does not include chill time.
If you love summertime treats, follow our Cool Refreshing Summer Recipes board for some delicious ways to keep cool.