Easy to make icebox treats for the heat of summer. Key Lime Bites are like a bite-sized piece of key lime pie covered in chocolate – it's like heaven in your mouth!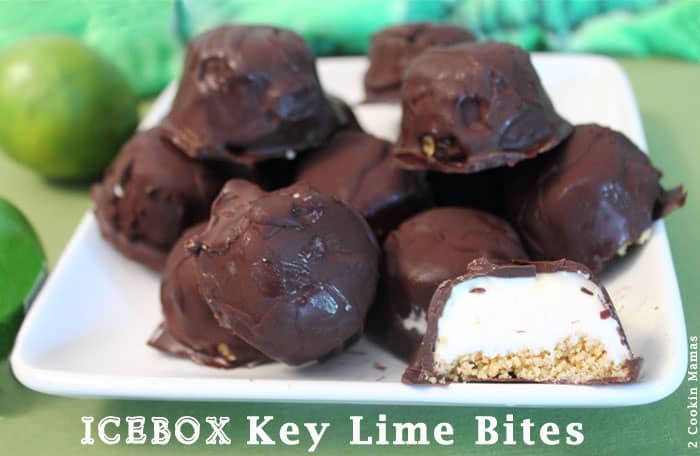 Ah summertime! I love the summer but about now I am starting to wish for just a bit less heat and a little more cool breezes. But since that is not happening any time soon, especially here in Southern Florida, I love to fix cool desserts that will give that extra bit of cold refreshment at the end of the day, like these small but mighty Key Lime Bites.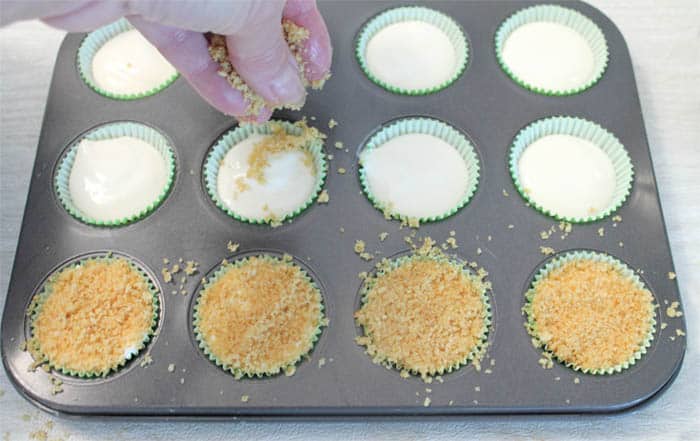 Now if you've been following me for a while you know that I have a love for anything key lime, Key Lime Pie, Key Lime Coolers, Key Lime Pie Martini, Key Lime Smoothies, well you get the idea. And it's also nice to have my own tree in the backyard to feed my addiction (there are some great benefits to living in the deep south 🙂 ). So today I'm bringing you an easy frozen dessert that you can pop in your mouth for instant cool!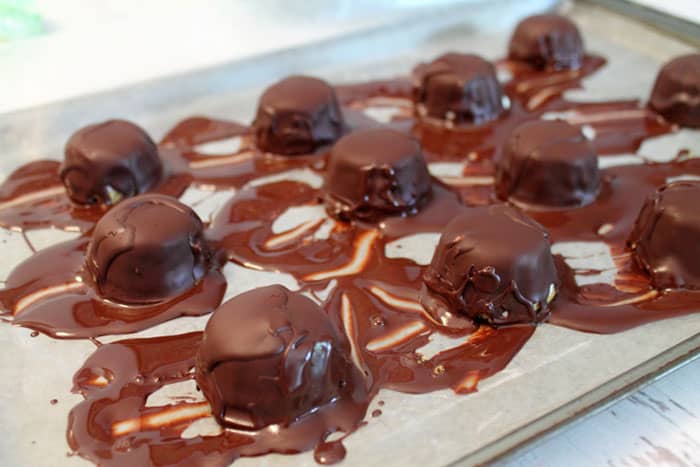 I guess this is not technically a "key lime" dessert since I used a canned limeade but it tastes just like key lime pie and helps make this dessert extra easy to put together. All you need is a can of limeade, some cool whip and sweetened condensed milk for the frozen deliciousness, add some graham crackers and deep dark chocolate and you have yourself a bite of pure heaven. Just look at all that chocolate!
Once it's frozen I put mine in some tupperware and just grab one when I want to chill. These are just as popular with kids as they are with adults so just a word of advice, guard them well if you have kids in the house because they disappear really fast!
You can even make these into more of a company dessert by making little mini-dessert parfaits. I placed the graham cracker crust in the bottom, added the key lime mixture then froze it.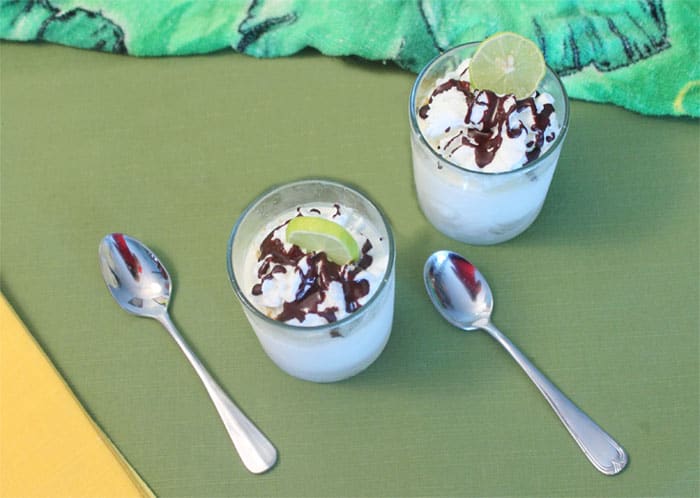 Just before serving I placed whipped cream on top, drizzled with chocolate then sprinkled a few more graham crumbs on top and garnished with a slice of key lime. Don't they look pretty? And here's a great money saving tip –  if you don't have little parfait glasses, don't buy them, just save your Glade candle glasses when the candle is finished, clean them out (put them in the freezer to harden any leftover wax and when frozen just pop it out) and they are the perfect size for any mini dessert. Keepin' it cool! Enjoy!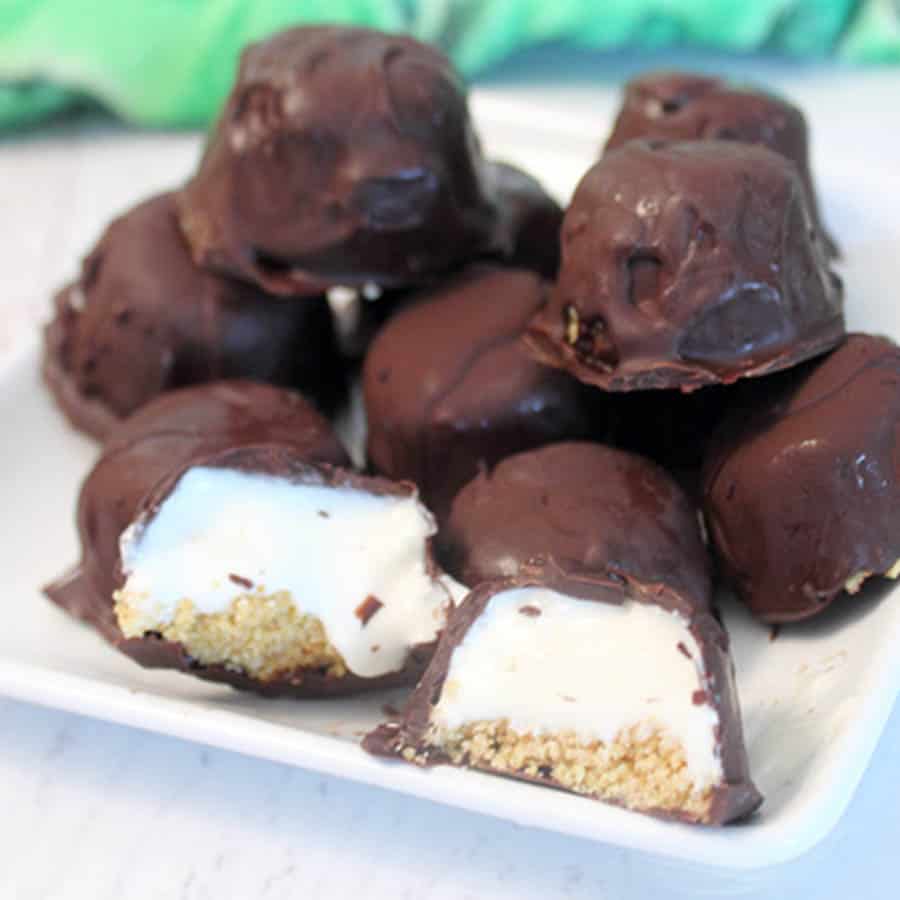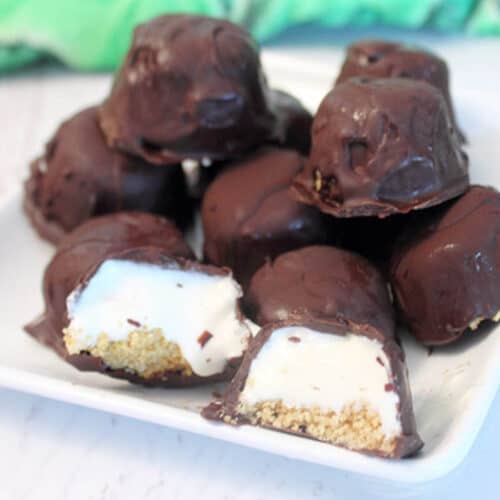 ICEBOX KEY LIME BITES
Easy to make icebox treats for the heat of summer. Key Lime Bites are like a bite-sized piece of key lime pie covered in chocolate - it's like heaven in your mouth!
Ingredients
Key Lime Mixture
1

can frozen limeade concentrate,

thawed

1

can sweetened condensed milk

12

oz

Cool Whip,

thawed
Graham Cracker Crust
1

cup

graham cracker crumbs

1/4

cup

butter,

melted

1

Tablespoon

sugar
Chocolate Covering
2

cups

chopped 72% dark chocolate bar

2

Tablespoons

vegetable oil
Directions
Have 3 12-cup mini muffin pans with paper liners ready to go. I had to do mine in 3 batches as I only had one pan.

In a large bowl, whisk together all key lime mixture ingredients. Ladle into muffin cups, filling almost to top. You want to leave room to put the graham cracker crumbs.

In a medium bowl, mix together all graham cracker crust ingredients. Spoon a little on top of each key lime bite.

Place in freezer for at least 6 hours or overnight. (If you need to re-use muffin pan, the bites can be taken out after 1-2 hours and placed on shelf in freezer. Repeat above process with each batch.)

When ready to coat with chocolate, cover a cookie sheet with wax paper.

Place chopped chocolate and vegetable oil in microwave safe dish and melt in 30-second increments, stirring in-between, until completely melted.

Remove bites from freezer, 12 at a time, and remove paper liner. Place graham cracker crust side down on cookie sheet. Spoon chocolate over bites, covering as well as possible. Place back in freezer and repeat with remaining bites.

When ready to serve, remove from freezer, cut chocolate away from edges, if want to make look a little neater, and serve immediately. Great for backyard picnics and afternoon snacks.

DON'T MISS A RECIPE!