This Key Lime Pie is the real deal. Slightly tart, super creamy and yes, it's yellow, just like an authentic Key Lime Pie should be. It's simply the best summer pie ever - cool, delicious and oh so easy to make. A tasty tropical dessert brought to you straight from the Florida Keys. Gluten-free option available.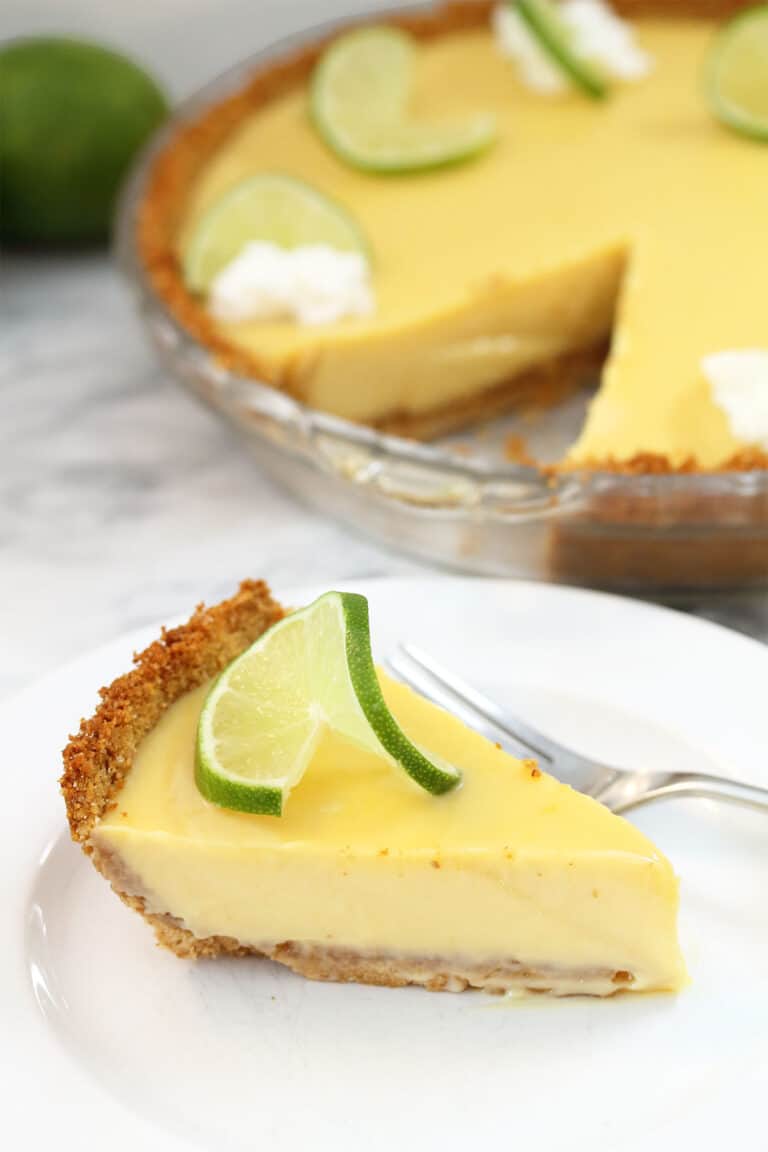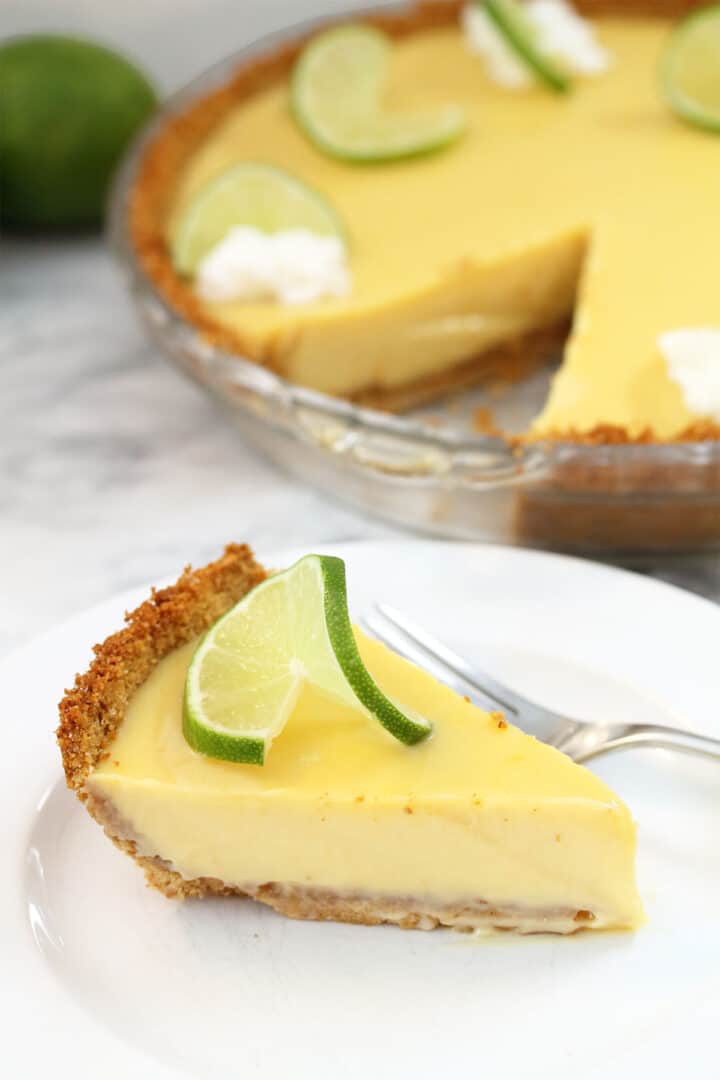 I feel so blessed to live in sunny South Florida with beautiful sunny days and year-round warm weather. And having an abundance of fresh fruit growing right in my backyard makes it even better!
One of the desserts that South Florida and the Florida Keys are known for is authentic key lime pie. And I am definitely spoiled being able to make it with fresh key limes right off my very own tree!
Key Lime Pie origin
Key Lime Pie has long been known to have originated in Key West. It's been traced back to the early 1800s where Aunt Sally, a cook for ship salvager William Curry, one of Key West's first millionaires, made this very pie for him.
It's a super simple pie to make and a cool refreshing treat for those long hot summer days. If you ever make it down to the southernmost point, try a delicious slice of the best key lime pie in Key West at Blue Heaven or Kermit's Key Lime Shoppe.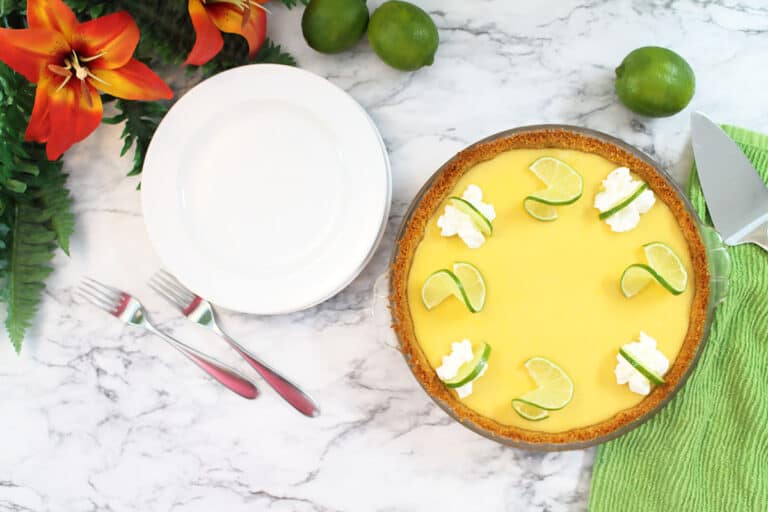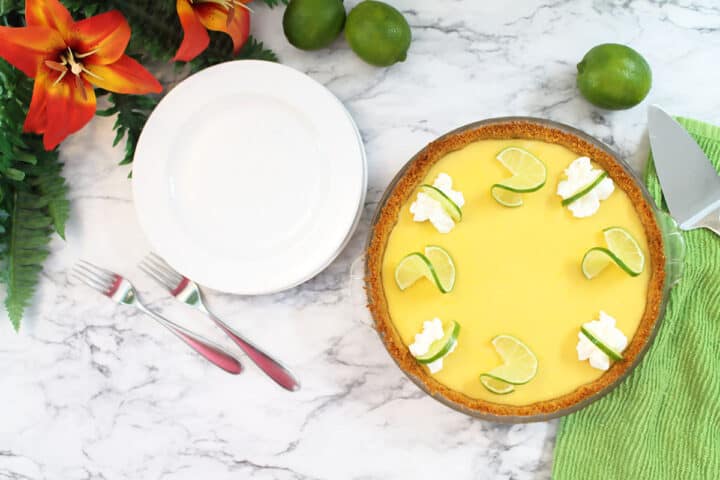 What is Key Lime Pie
Key Lime Pie consists of a shortbread or graham cracker crust topped with a filling of key lime juice, egg yolks, and sweetened condensed milk. It can be served plain, with a meringue topping or whipped cream. Traditionally, it was not baked but, since it uses raw egg yolks in the filling, most people prefer the cooked version.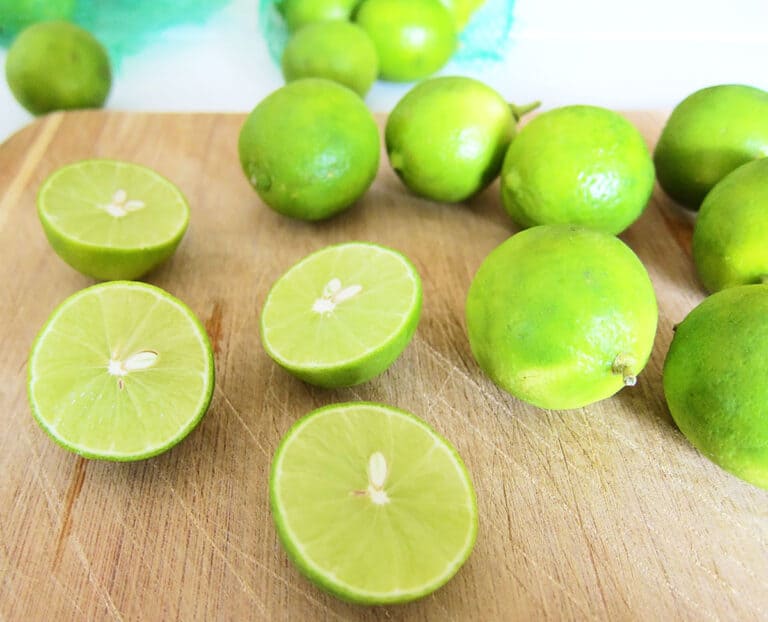 Key Lime vs Regular Lime
Key limes, aka Mexican or West Indian limes, are small, about the size of a golf ball, and are tarter and more aromatic than a regular or Persian lime. They are more yellow in color and contain more seeds but well worth the effort of squeezing them for that prized juice.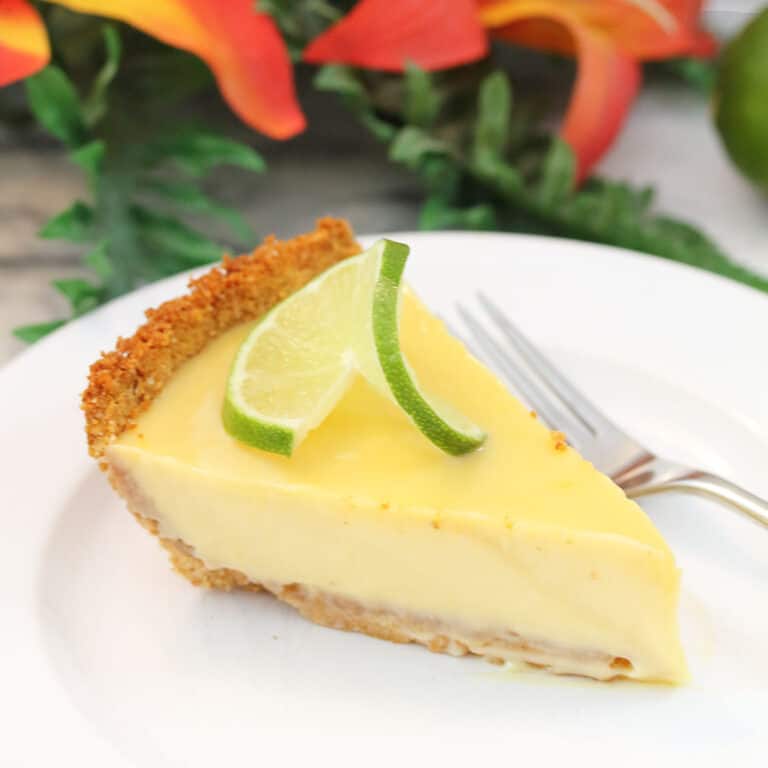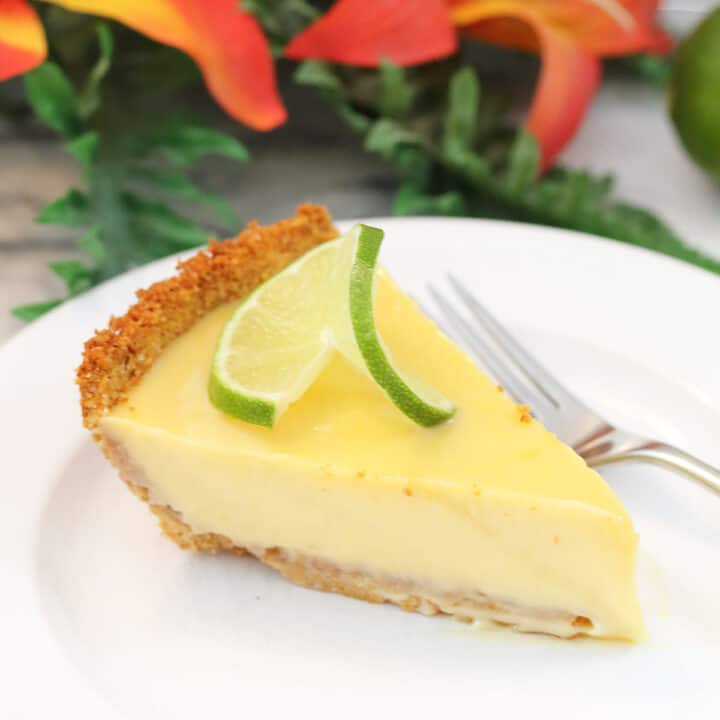 Fresh Juice vs Bottled Juice
Don't have key limes in your backyard or neighborhood grocery store? Check the juice aisle for Nellie and Joe's Key Lime Juice. It's about as close to the real deal as you can get!
FAQs about Traditional Key Lime Pie
Can I use regular limes in place of key limes?
Yes, you can but the taste won't be quite the same. Key limes have their own unique flavor. They are smaller than a regular lime, higher in acidity, taste a bit more tart with more of an herbal flavor, and have a much stronger aroma.
Why does my pie have a spongy texture?
When a key lime pie is overcooked, it loses its creamy texture and turns spongy. Remember to only cook the pie for 15 minutes.
Do I have to refrigerate a key lime pie?
Absolutely. The initial refrigeration will help the pie to firm up. Once the baked pie has cooled, it needs to be refrigerated due to its milk and egg base. It also tastes best served chilled.
How long will a key lime pie keep?
I keep mine in the refrigerator for 4-5 days. If it starts to turn dark or separates out, it should be thrown out.
How do I know when it's done?
When done, the center will be slightly jiggly when shaken but otherwise firm to the touch with no hint of browning. It will continue to solidify as it cools.
Can I freeze this pie?
Yes, it actually freezes very well. It keeps for months if kept at zero degrees. Thaw overnight in the refrigerator prior to serving.
How to Make a Key Lime Pie
Graham Cracker Crust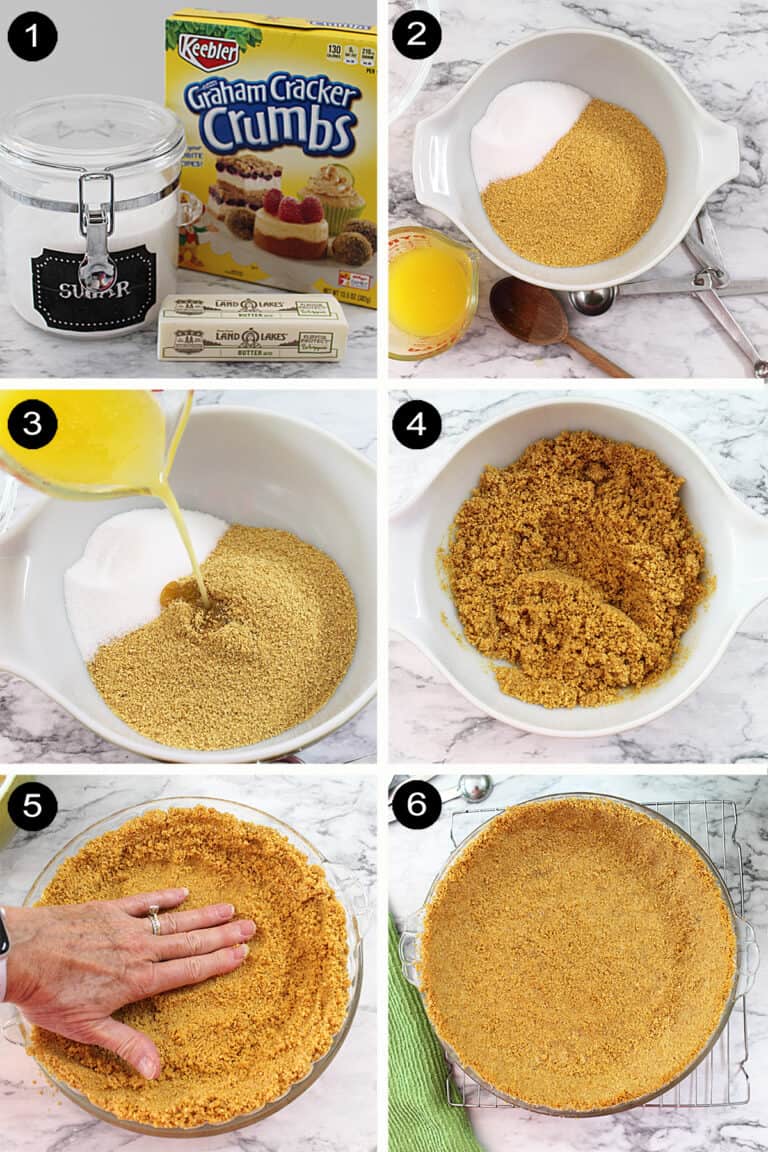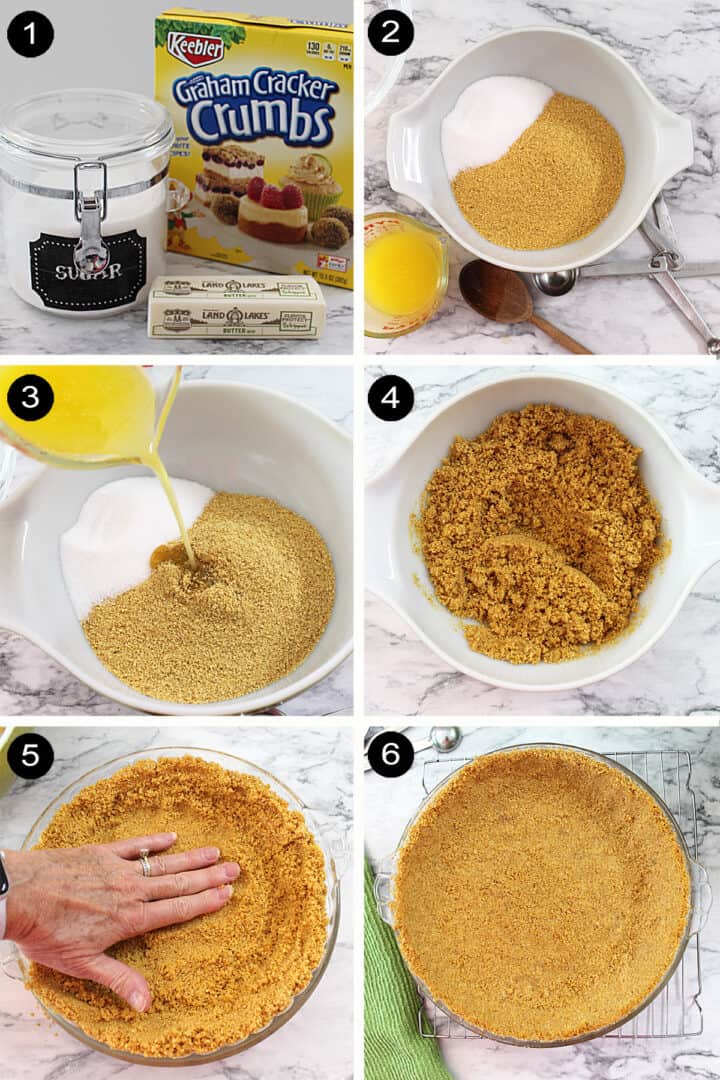 The graham cracker crust has more steps than the actual pie so you know this is going to be easy! (Gluten free key lime pie nut crust instructions can be found in the recipe card below)
Gather the ingredients - graham cracker crumbs, sugar, and butter. (step 1)
Place graham cracker crumbs and sugar in a bowl. (step 2)
Pour melted butter over sugar-crumb mixture. (step 3)
Stir the mixture until it resembles small moist crumbs. (step 4)
Pat into 9" pie plate. (step 5)
Bake at 350 degrees for 8 minutes. Let cool. (step 6)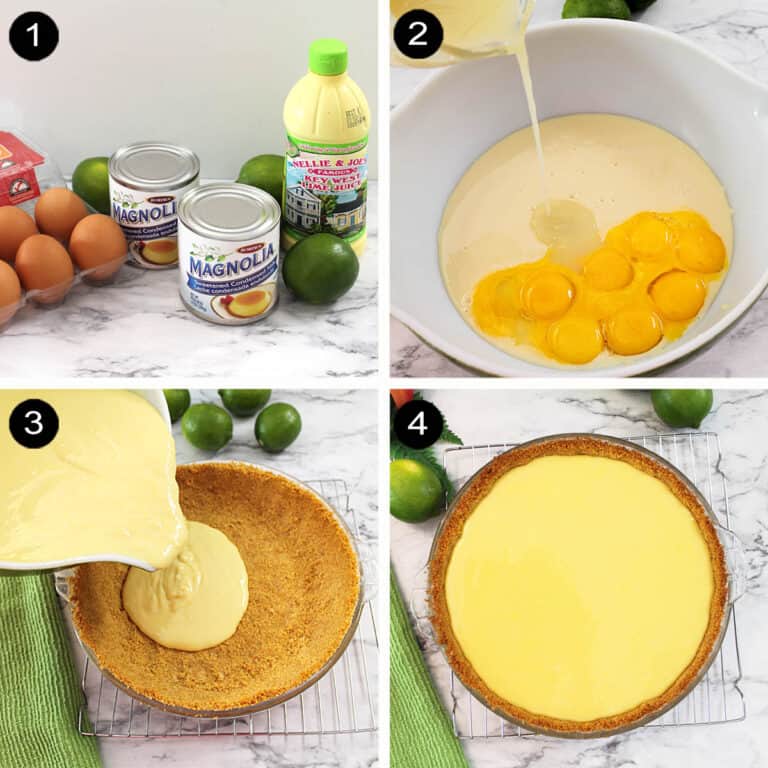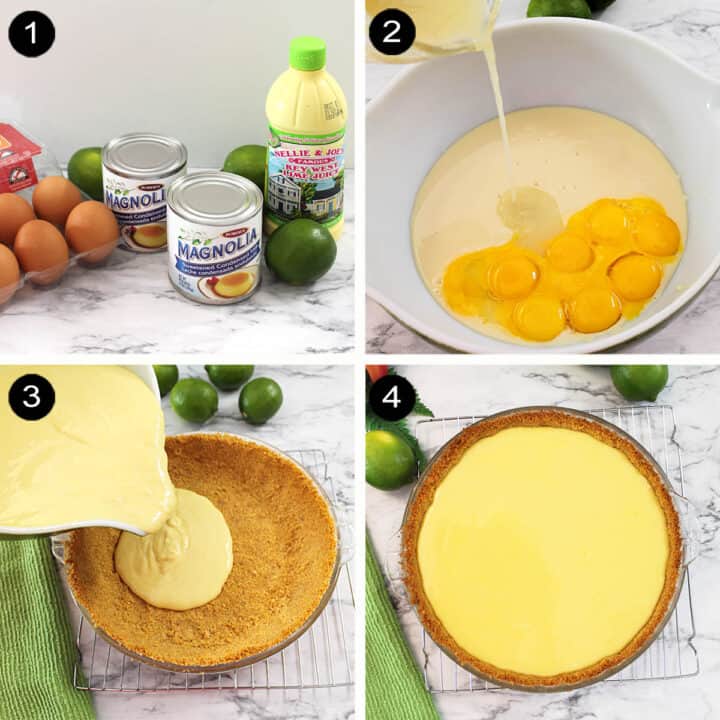 Key Lime Pie Filling
Key lime pie filling is made with sweetened condensed milk, egg yolks, and key lime juice. Here are the steps to make this creamy pie filling:
Gather ingredients - condensed milk, key lime juice (either fresh or bottled), and eggs. (I double my ingredients to make a deep dish pie) (step 1)
Place condensed milk and egg yolks into a bowl. Pour lime juice over it and stir well. (step 2)
Pour filling into baked graham cracker crust. (step 3)
Bake at 350 degrees for 15 minutes. Remove to a wire rack to cool. (step 4)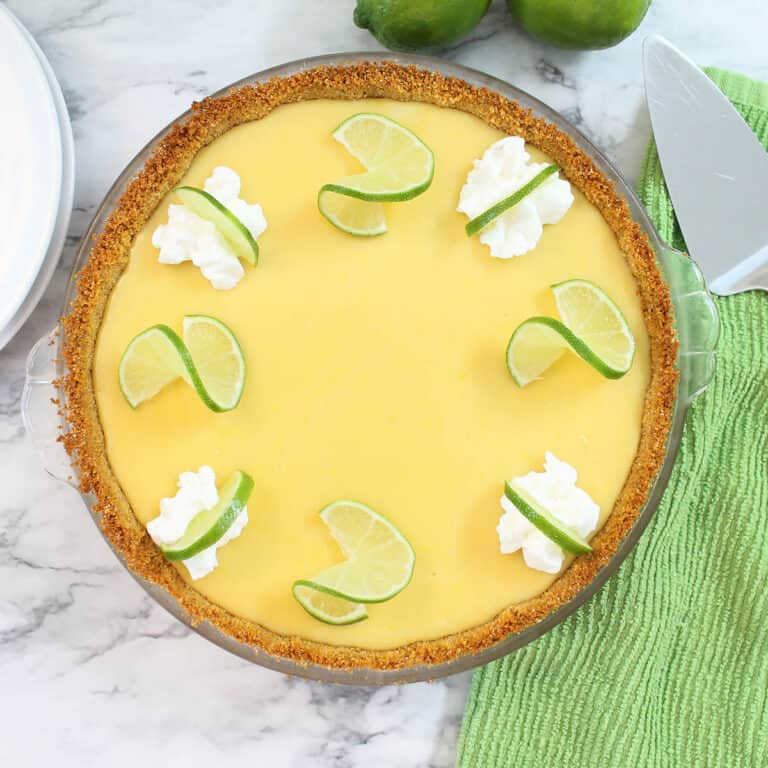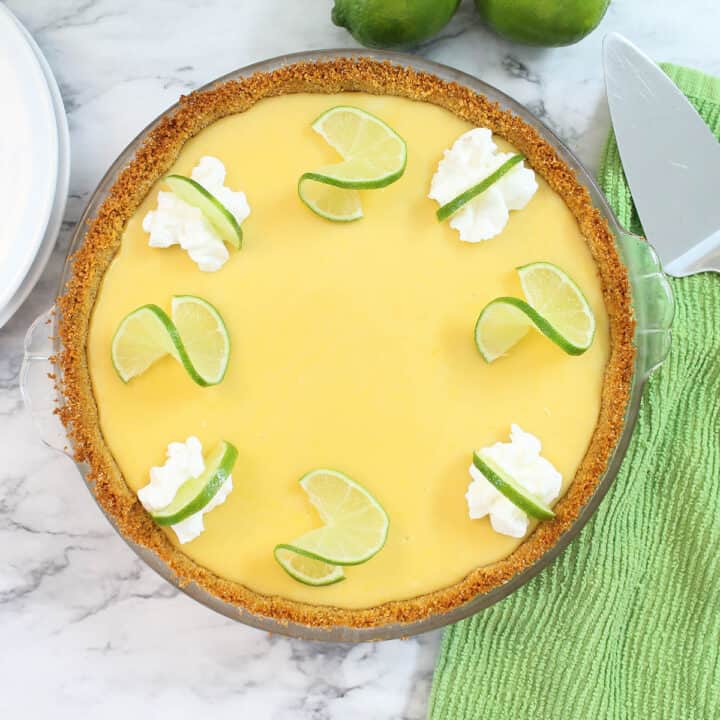 Key Lime Pie Garnishes
Everyone has their favorite way to decorate a key lime pie. I like to leave mine au naturel with a twist of key lime while others like to use the leftover egg whites for a meringue topping. Another options is to decorate it with dollops of whipped cream or spread on the top a la frosting.
What else can key limes be used for?
Key limes make a fantastic ingredient in salsas and marinades, liven up the standard limeade, and look great as a garnish on cocktails, pies and cakes. It also lends its unique tartness to my magic Key Lime Pudding Cake and Key Lime Smoothie.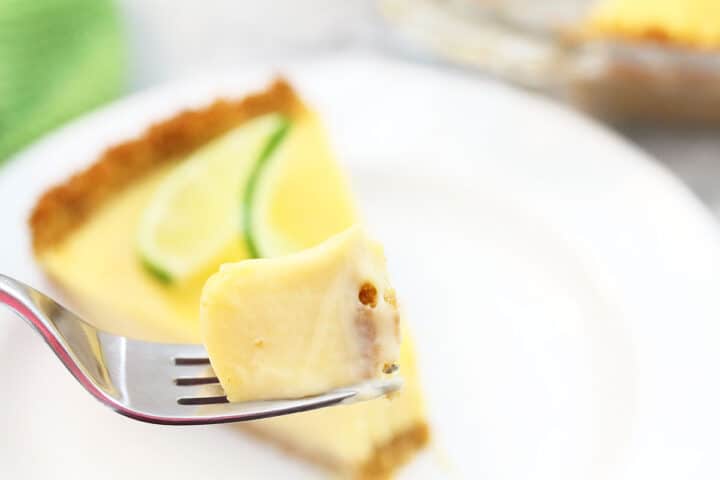 This homemade key lime pie is perfect to serve for a creamy, fresh, and tart spring or summer dessert or, if you're like me, just make it because you can't get enough of it. 🙂
More Key Lime Recipes
Key Lime Cookies are the perfect sweet-tart combination.
Chocolate Covered Key Lime Bites are creamy and have graham cracker crust.
Key Lime Cupcakes with Key Lime Buttercream Frosting from House of Nash Eats
Key Lime Bread with white chocolate and macadamia nuts.
Want more? Find lots of easy dessert recipes here on 2CM!
LOVE QUICK & EASY RECIPES? FOLLOW ME ON INSTAGRAM, FACEBOOK, & PINTEREST FOR ALL THE LATEST RECIPE INSPIRATION! PLUS JOIN MY EMAIL LIST AND RECEIVE A FREE E-BOOK.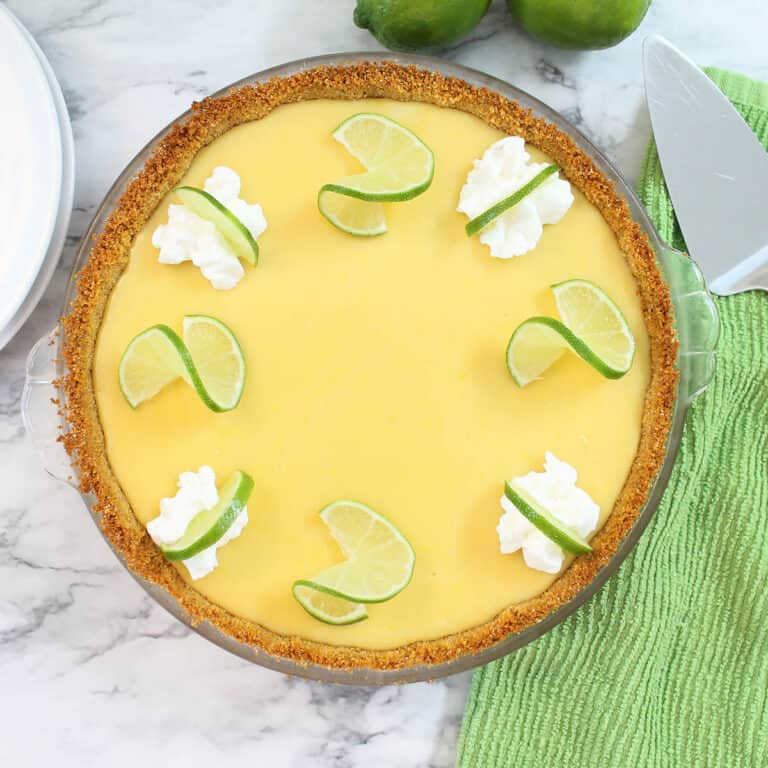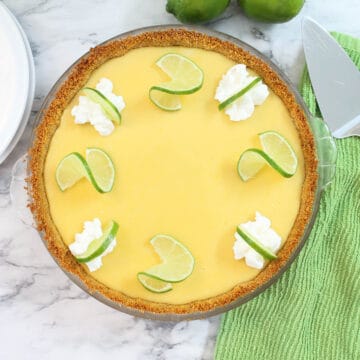 Authentic Key Lime Pie
Take a bite out of this slightly tart & creamy key lime pie and you will think you're in the tropics! It is the real deal & a Florida Keys favorite.
Print
Rate
Ingredients
Pie Filling (double quantities for deep dish pie)
4

egg yolks

20-25

key limes,

juiced (about ½ cup)

14

oz

can sweetened condensed milk
Graham Cracker Crust (optional gluten-free nut crust recipe can be found in notes)
2

cups

graham cracker crumbs

5

Tablespoons

sugar

½

cup

butter

melted

Garnishes: whipped cream, lime slices

(optional)
Instructions
Preheat oven to 350 degrees.
Graham Cracker Crust
Prepare crust by combining the graham cracker crumbs and sugar with melted butter.

Press into bottom and up sides of an 8" pie plate or, if doubling filling, press into a 9" deep dish pie plate. 

At this stage you can either chill the crust for 1 hour or bake in 350 degree oven for 8 minutes and let cool.
Key Lime Filling
Combine egg yolks, key lime juice and sweetened condensed milk.

Pour key lime pie filling into prepared crust. Bake for 15 minutes.

Cool on wire rack then refrigerate.

Just before serving, pipe whipped cream into mounds then garnish with lime slices.
Notes
Gluten-free Nut Crust
Ingredients: 2-½ cups ground pecans, ¼ teaspoon cinnamon, ⅓ cup sugar, 4 Tablespoons melted butter
Directions: Mix all the ingredients in a medium bowl. Press into the bottom and up sides of an 8" pie plate. Refrigerate at least 30 minutes prior to filling.
Nutrition
Calories:
427
kcal
|
Carbohydrates:
57
g
|
Protein:
7
g
|
Fat:
20
g
|
Saturated Fat:
11
g
|
Trans Fat:
1
g
|
Cholesterol:
145
mg
|
Sodium:
309
mg
|
Potassium:
322
mg
|
Fiber:
1
g
|
Sugar:
41
g
|
Vitamin A:
654
IU
|
Vitamin C:
24
mg
|
Calcium:
183
mg
|
Iron:
1
mg
This post has been updated with new photos and easy-to-follow instructions. It was first published on March 16, 2014.