This Grilled Corn on the Cob with Parmesan Chili Butter is the most delicious and easy way to fix fresh corn. It's sweet, juicy and, when smeared with the butter, achieves the perfect balance between sweet and spicy. It's one mouthwatering summer treat!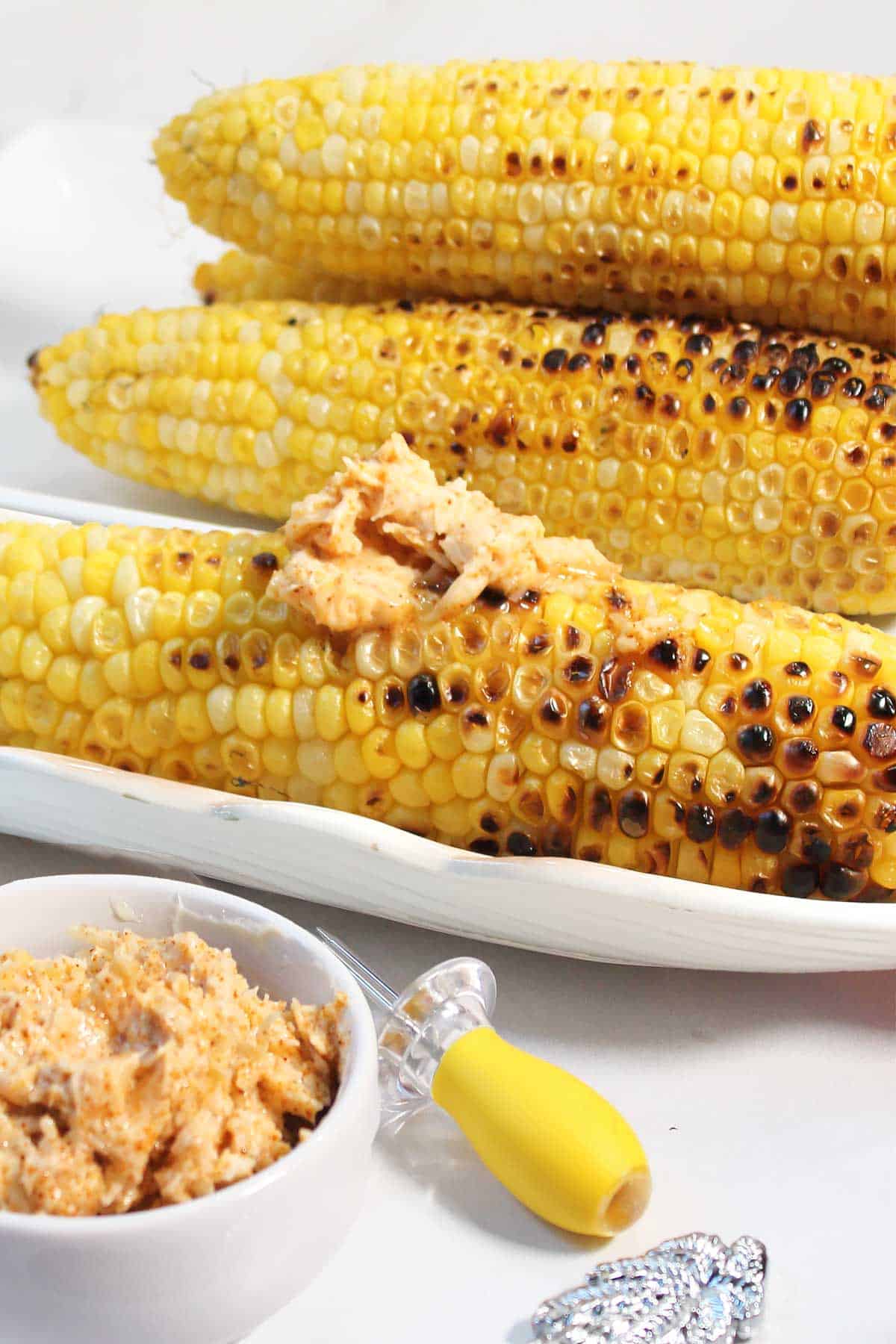 Mexican Grilled Corn
When summer rolls, corn season is here, and I can't wait to pick up some delicious fresh corn on the cob. My family adores corn in any form and I get a chance to use my corn holders and corn-shaped dishes, perfect for rolling those cobs around in the melted chili butter. I prefer the silver queen corn, or white corn, which is always sweet and juicy, and a favorite of mine when I lived in Maryland. If I can't find the white corn, I opt for a mix of yellow and white.
How to Choose Sweet Corn
Choosing corn that has been picked at the peak of ripeness can result in the juiciest and sweetest corn imaginable. Here are some things to look for.
The husk should be bright green and tightly wrapped against the corn.
If the husks are starting to yellow or they feel dry, avoid that corn.
Look for small holes in the husks as those are indicative of worms. Ugh!
Check the tassels or silks. They should be brown and feel a bit sticky. If they are black, very dry or even very wet, the corn is a few days old.
Feel the kernels through the husk. They should feel plump and firm from the tip to the base. No need to pull the husk back as the corn will dry out sitting there.
If you must peek at the corn, make sure it looks plump and not shriveled or dented as that means the corn will be dry, chewy, and tough.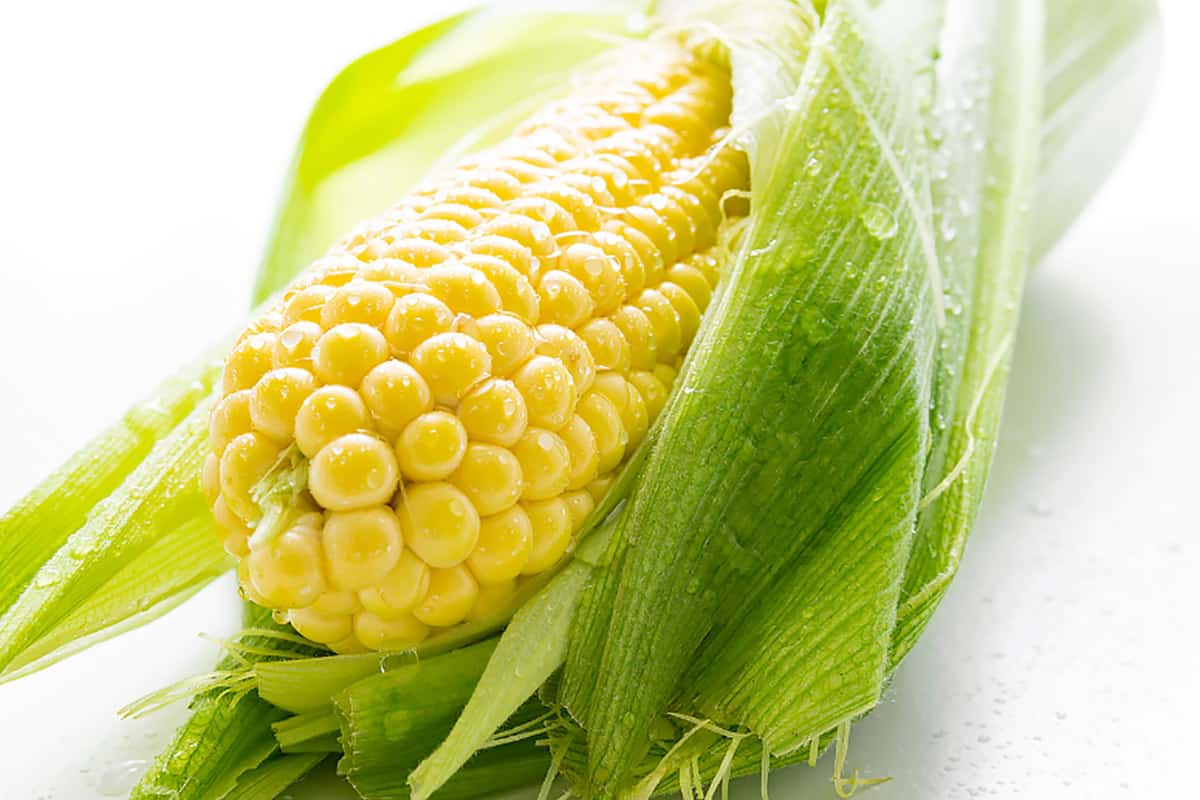 I love dinners on the grill. And during the hot summer months if I can get out of kitchen duty so much the better. Needless to say, every chance I get when the weather is cooperating (and sometimes when it's not) I opt for something on the grill. When I can accompany my main dish with some grilled side dish it's a win win for everyone. Favorites like Roasted Corn Salad, Roasted Potato Salad, and, of course, this Mexican-style corn on the cob.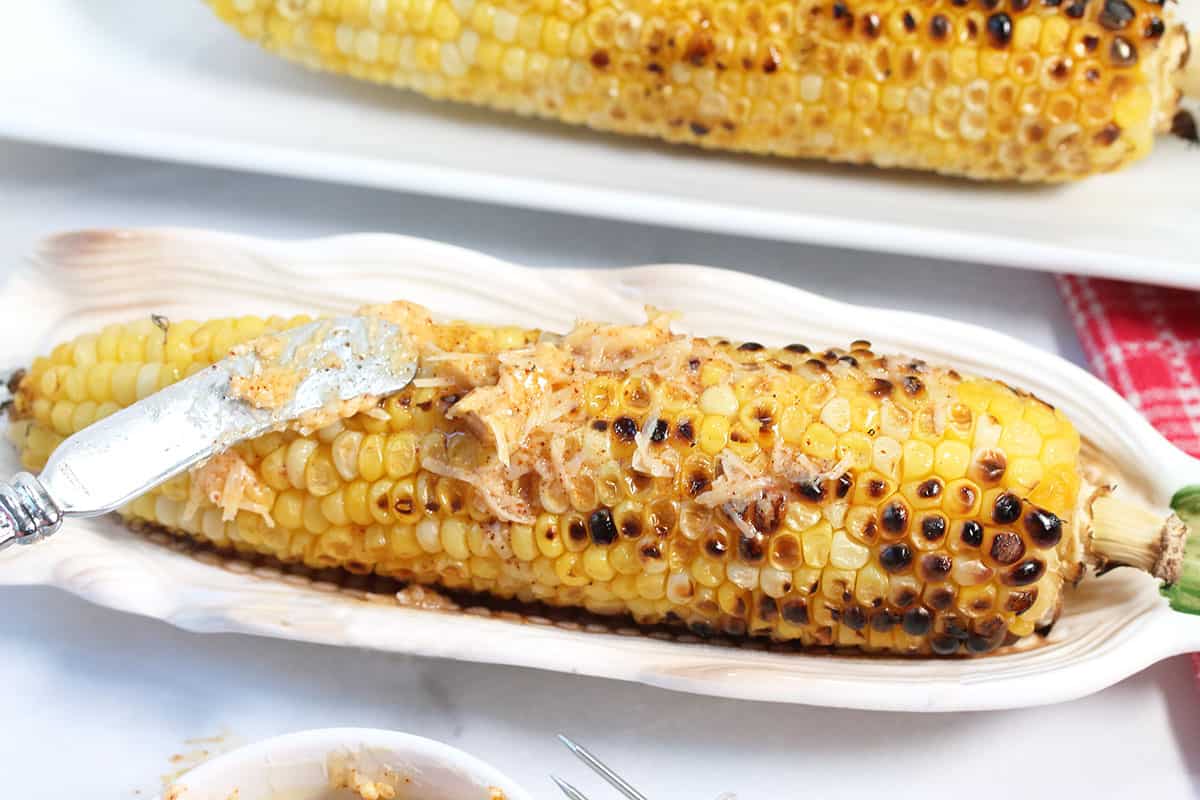 This grilled corn with parmesan and chili butter seasoning is similar in flavor to elotes corn, aka Mexican grilled corn, but replaces the cojita cheese with parmesan and the mayo cream sauce with butter. Of course, you can always add the traditional squeeze of lime too.
The Best Way to Grill Corn
There are many ways to cook corn but fire-roasted corn on the cob has the most flavor by far over any other method. It can be cooked with the husk on, after being soaked in salty water for about 10 minutes, but I much prefer cooking it without the husk which allows the corn to develop a more smoky, charred flavor.
If the weather isn't cooperating, try making it in the microwave. Just wrap each husked corn on the cob in a damp paper towel and cook it on high for 3 minutes per cob.
If you are having a large crowd, the cooler method is a neat trick to make a ton of corn. Just put the shucked corn on the cob in the bottom of a cooler, cover with boiling water, and close cooler for 30 minutes. Neat, huh?!
Of course, there is always the boiling method. Place shucked corn in a large pot. Cover with water and bring to boiling. Boil the corn for 5-7 minutes then remove with tongs and butter.
How to Grill Corn on the Cob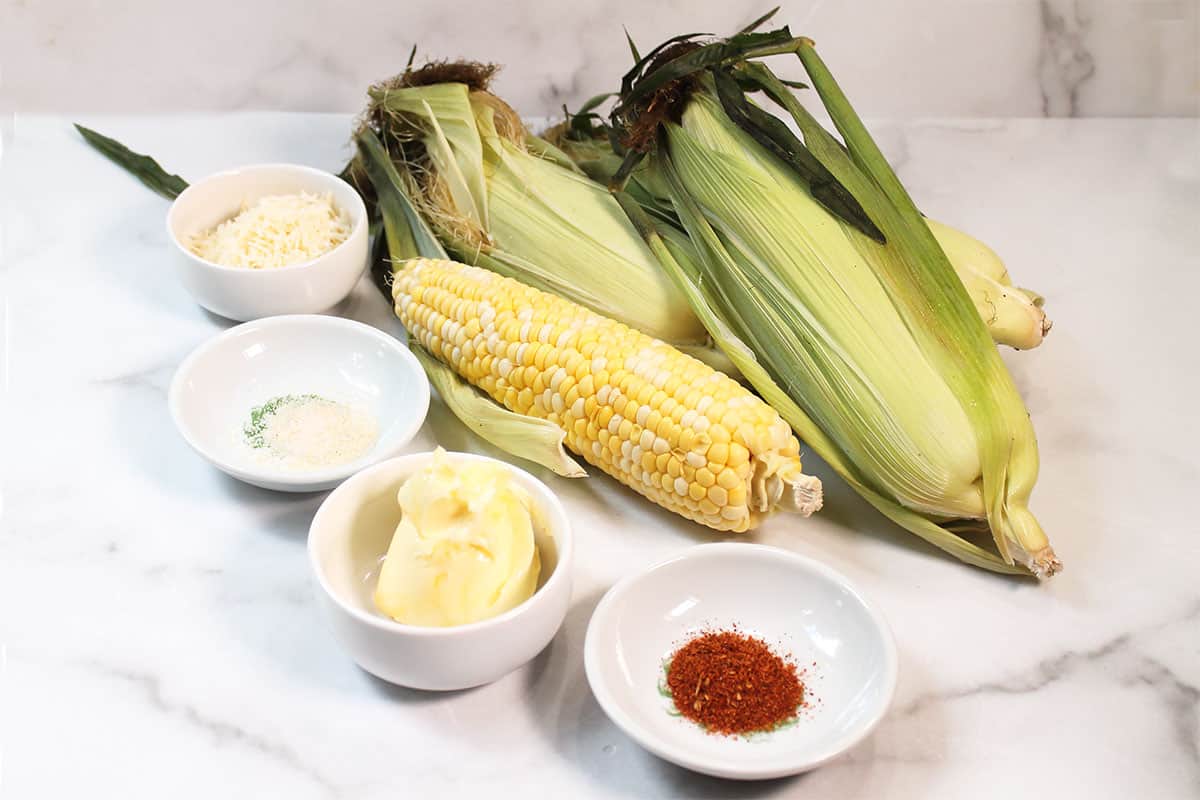 Gather the few simple ingredients - corn on the cob, room temperature butter, chili powder, garlic salt and Parmesan cheese.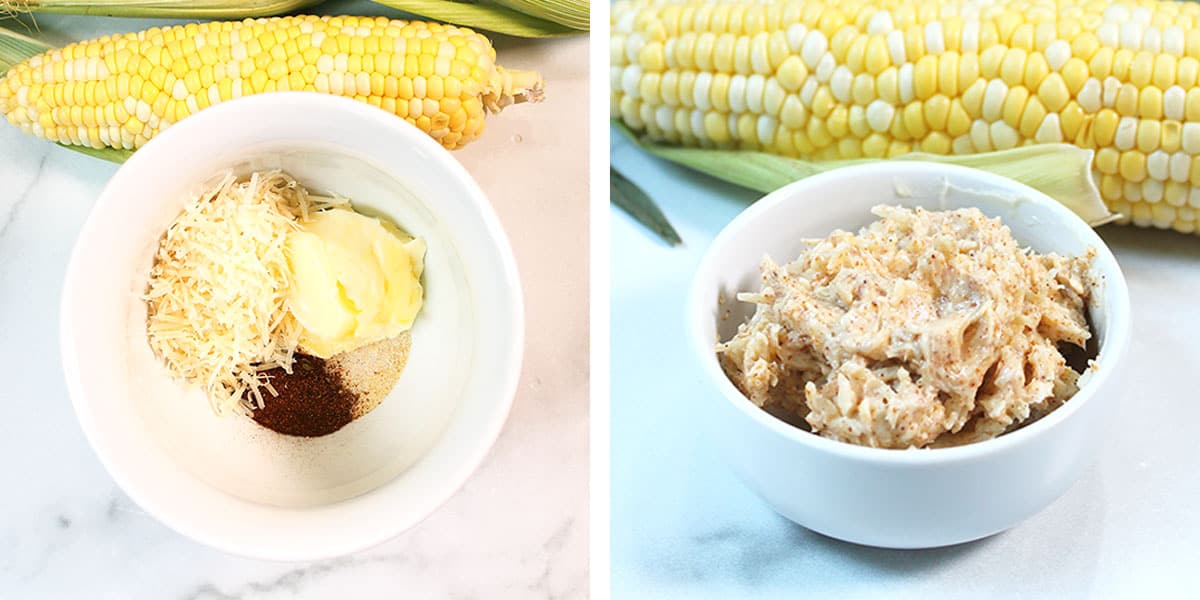 Place all ingredients into small bowl.
Mix well and wait for corn to finish grilling.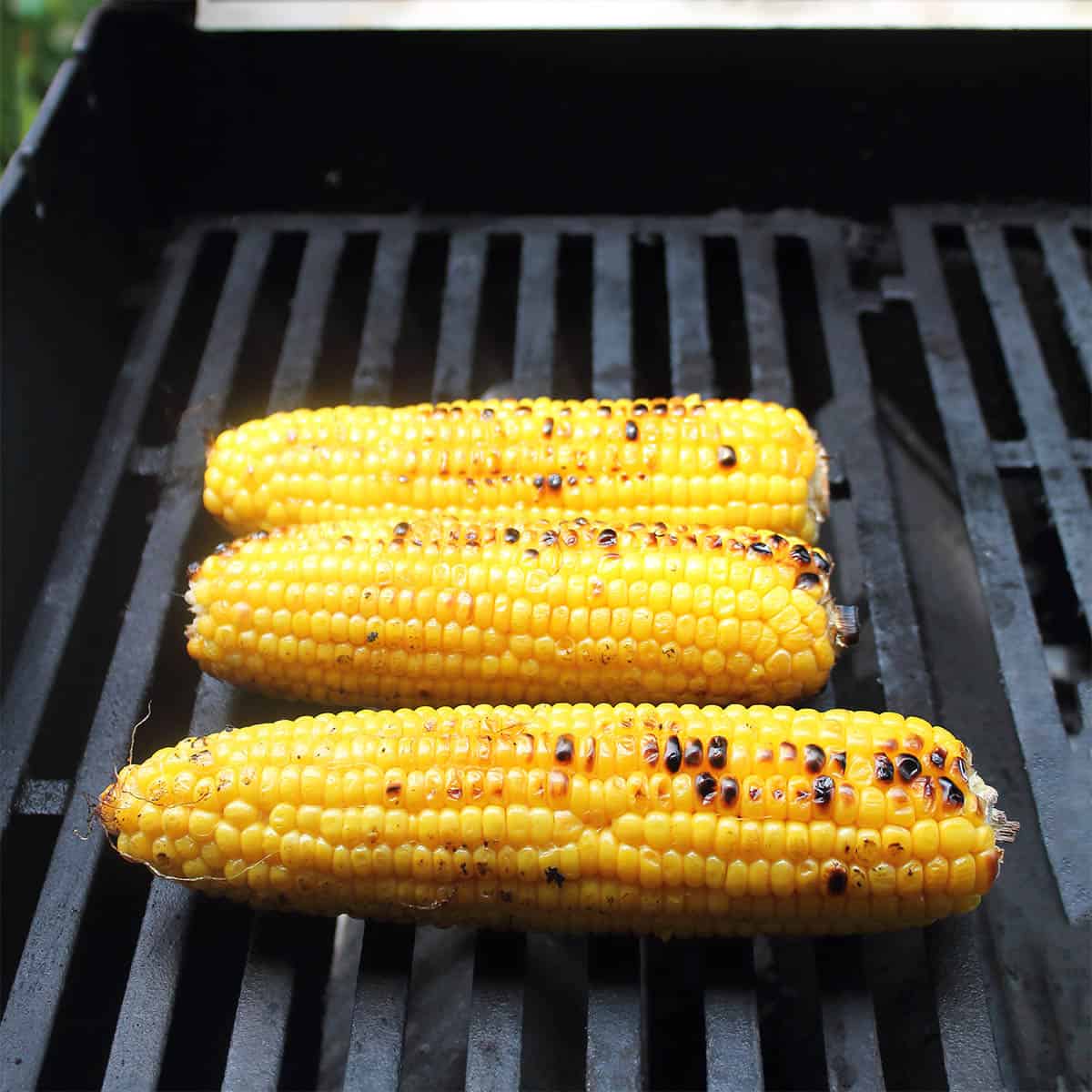 Place corn directly on grates on preheated grill. Cook 2-½ minutes on each of 4 sides getting that beautiful char in places. When done, immediately remove the sweet grilled corn and smear with seasoned butter.
Variations
Traditional Elotes - is finished with a sauce made of mayonnaise, sour cream, cilantro, cotija, lime, and chili powder. Check out Bunny's Warm Oven Mexican Street Corn recipe.
Grilled Corn with Feta Cheese - uses a mixture of mayonnaise or yogurt, chili powder, cayenne pepper, lime, and feta
Grilled Corn with Lime - is finished with butter mixed with cilantro, garlic, lime juice, chili powder, and paprika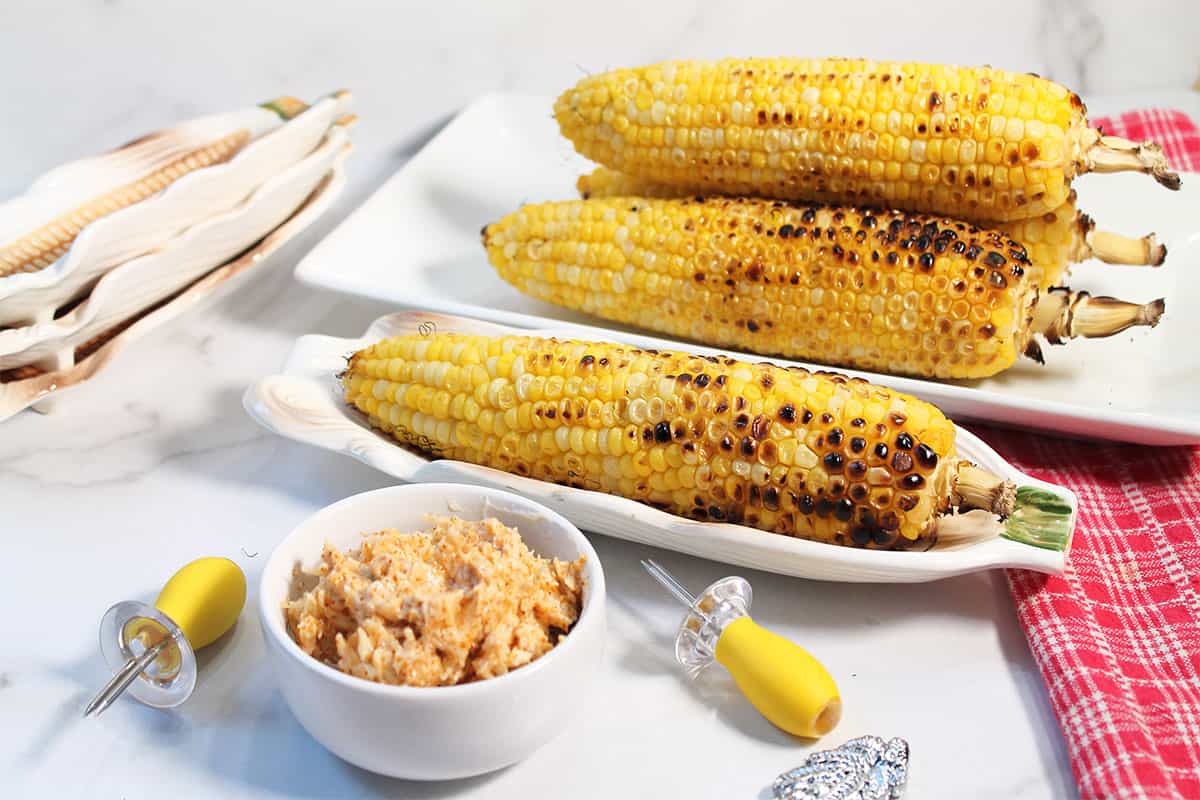 This grilled sweet corn on the cob is bound to become a favorite in your home. It only takes 10 minutes and the cheese and spicy butter give it a delicious sweet-hot balance of flavors. Believe me, this seasoned butter with chili powder and Parmesan cheese is the perfect finishing touch to an unforgettable side dish. Great for your next BBQ or even a quick weeknight dinner. Enjoy!
Grilled Main Dish Recipes to Pair with Corn
Shrimp and Chorizo Skewers - are a combination of garlic shrimp and spicy chorizo for the perfect balance of heat and flavor. And they take less than 30 minutes.
Grilled Chicken with Mango Salsa - is an easy chicken dinner with the tropical touch of mangos, peppers, tomatoes, tequila & cilantro.
Tex-Mex Grilled Pork Tenderloin - tender pork tenderloin is seasoned with a spicy rub then grilled. Use this delicious grilled corn recipe to make an out-of-this-world salsa to pair with the grilled pork for the perfect dinner.
LOVE QUICK & EASY RECIPES? FOLLOW ME ON INSTAGRAM, FACEBOOK, & PINTEREST FOR ALL THE LATEST RECIPE INSPIRATION! PLUS JOIN MY EMAIL LIST AND RECEIVE A FREE E-BOOK.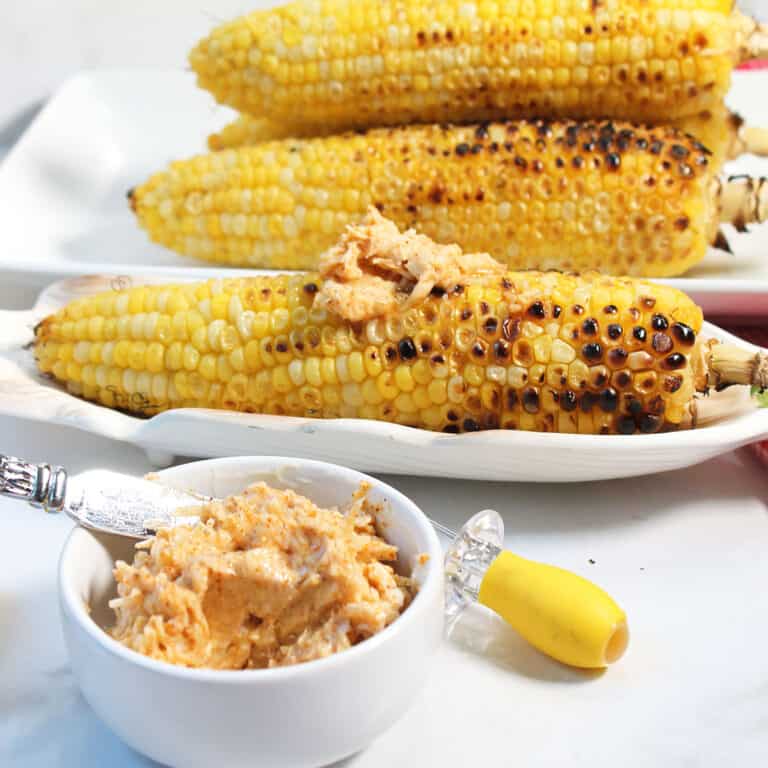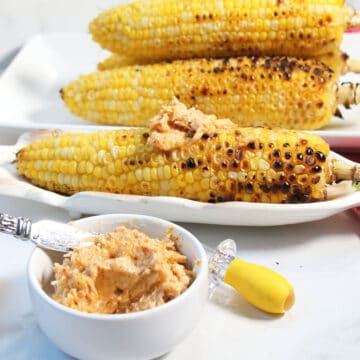 Ingredients
¼

cup

butter

¼

cup

Parmesan cheese

grated

1

teaspoon

chili powder

¼

teaspoon

garlic salt

4

ears of corn

husked
Instructions
Preheat grill.

Place butter in a microwave-safe bowl and microwave for about 30 seconds or until melted.

Remove from microwave and mix with cheese, chili powder and garlic salt.

Place corn directly over heat on grilling rack and cook 2-½ minutes on each of 4 sides. It will be slightly charred in some places which makes it that much better.

As soon as it comes off the grill, spread with the utter mixture and serve immediately.
Notes
Make your own garlic salt by adding 1 part garlic powder to 3 parts salt. Store in airtight container.
Nutrition
Calories:
205
kcal
|
Carbohydrates:
17
g
|
Protein:
5
g
|
Fat:
14
g
|
Saturated Fat:
9
g
|
Polyunsaturated Fat:
1
g
|
Monounsaturated Fat:
4
g
|
Trans Fat:
1
g
|
Cholesterol:
35
mg
|
Sodium:
368
mg
|
Potassium:
262
mg
|
Fiber:
2
g
|
Sugar:
6
g
|
Vitamin A:
720
IU
|
Vitamin C:
6
mg
|
Calcium:
81
mg
|
Iron:
1
mg
This post has been updated with new photos, and expanded to include more tips and how-tos. It was first published on August 24, 2013.