What's better than fresh mango? Fresh mango atop a moist & delicious rum cake! Impress guests with this easy to make recipe that creates a stunning Mango Upside Down Cake dessert.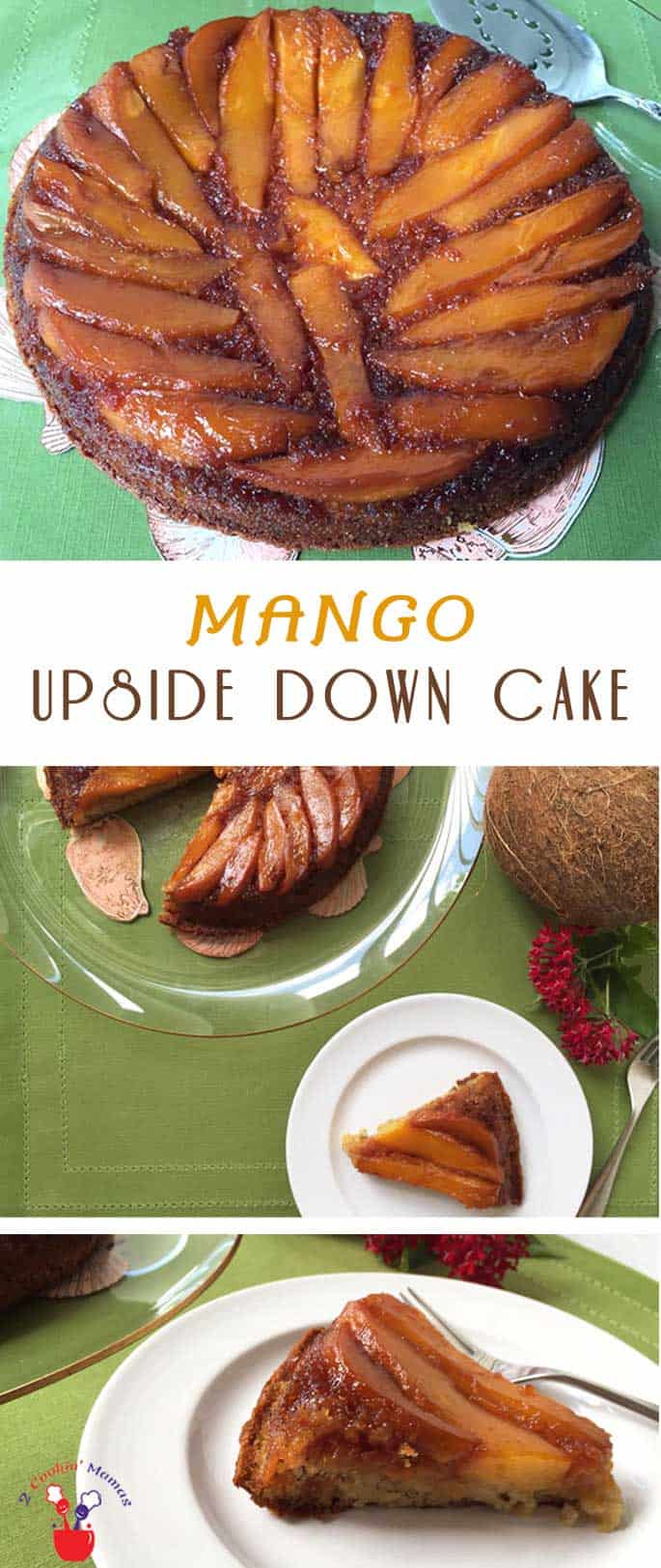 Living in South Florida certainly has its perks, besides the warm sunshine, blue sky and nearby ocean. I know you're wondering what else could be better than that! How about plenty of tropical fruit?
We have banana, key lime, orange, and mango trees right in our backyard. And when summer draws near that lovely mango tree is full of deliciously sweet orange & yellow-colored fruit.
And lots of fruit means thinking up lots of recipes to use them in. I've made mango salsa which goes great atop chicken, fish, shrimp, or pork. I've also made a mango coconut smoothie bowl, panna cotta with mango, and cocktails like my husband's famous Mango Colada.
But when I saw a picture of this delicious-looking mango cake in Martha Stewart Living this month, I knew I just had to try making it. And it is not something people would expect to see which made it even more appealing.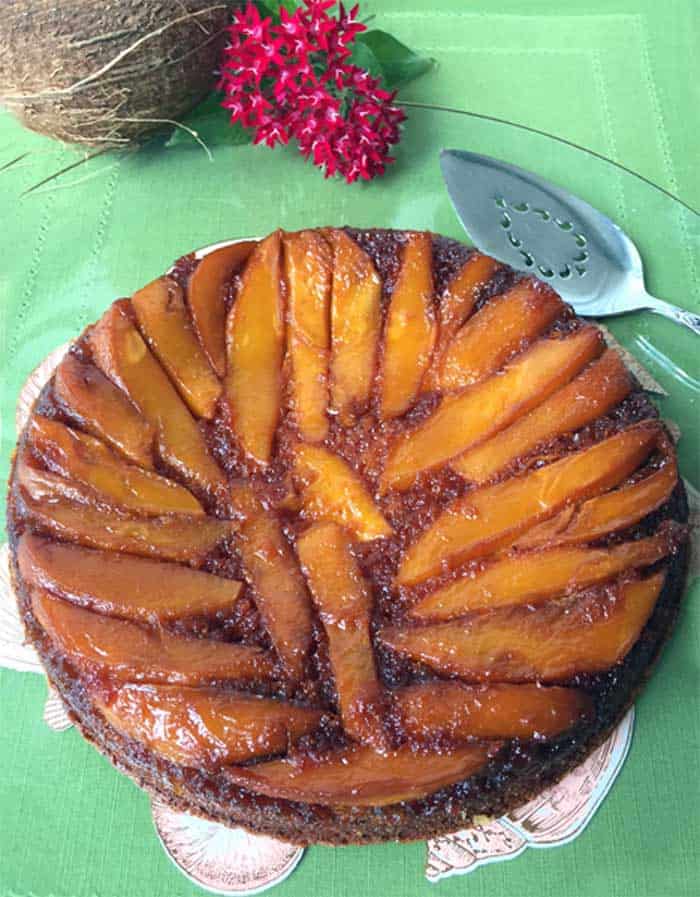 The hardest part about making this cake was cooking up the sweet caramel sugar for the topping. After that, it was smooth sailing.
I did adapt several things in the recipe, I used almond oil rather than safflower oil and slightly fewer mangoes than called for as I couldn't fit any more on the top.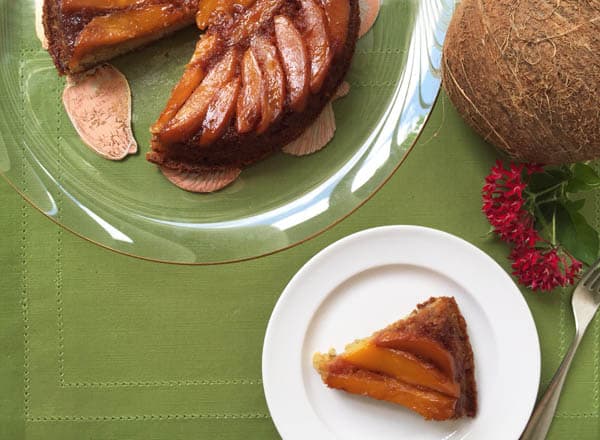 You'd never believe what the cake tasted like when I finally got to serve it. Does "tropical heaven" do it for you? It did for me, oh that is after I swooned with delight over how unbelievably tasty it was!
Tell me, have you ever had those rum cakes from the islands? Well, you just might mistake this cake for one of those too-hard-to-resist Tortuga Rum Cakes! The cake turns out so moist and so tasty that I think I want to make one just to eat it all by itself!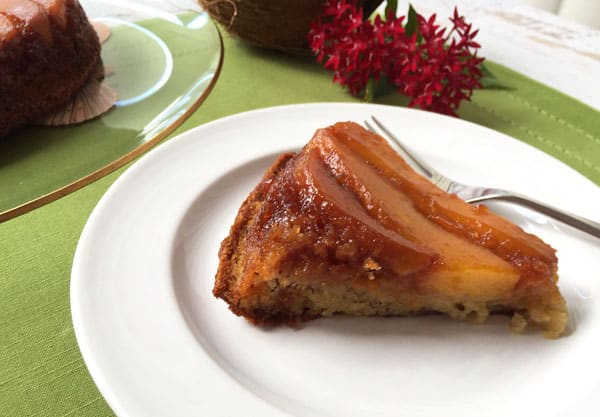 This same cake would be delicious if made with pineapple or bananas. In fact, here's the banana upside down cake recipe - it came out yummy!.
I hope you give it a try. If you do, drop me a comment as I always love to hear from my readers.
Enjoy!
For another easy cake, try my Banana Bundt Cake with coconut pecan frosting swirled in the batter.
Find lots of healthy dessert recipes here on 2CM!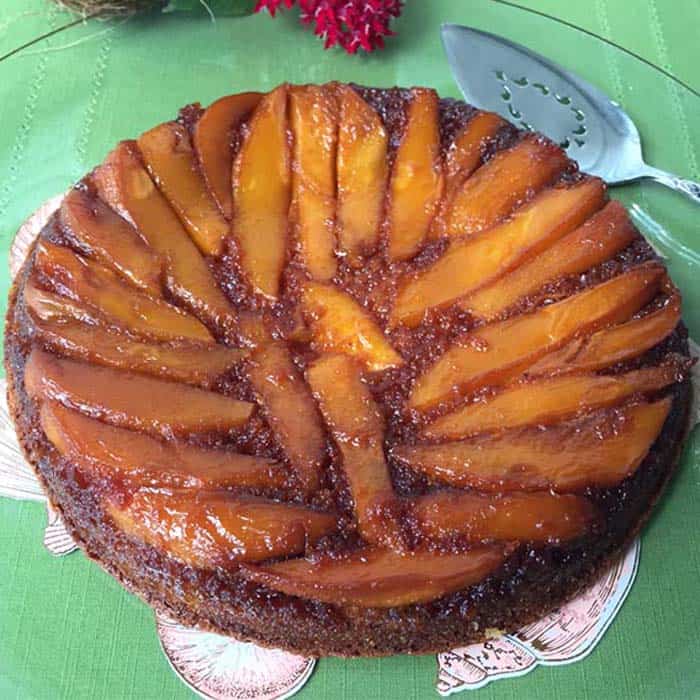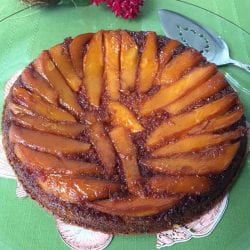 MANGO UPSIDE DOWN CAKE
What's better than fresh mango? Fresh mango atop a moist & delicious rum cake! Impress guests with this easy & beautiful Mango Upside Down Cake recipe.
Print
Rate
Ingredients
1-½

cups

sugar

2

Tablespoons

water

2

large mangoes,

enough to cover bottom of pan tightly
Cake batter
1

cup

all purpose flour

¾

teaspoon

baking soda

¼

teaspoon

coarse sea salt

⅓

cup

buttermilk

½

cup

almond oil

2

Tablespoons

dark rum

(I used Myers Dark Rum)

1

large egg + 1 egg yolk

1

teaspoon

vanilla extract

1

ripe banana mashed

(about ⅓ cup)
Instructions
Preheat oven to 350 degrees.

In a small saucepan, heat ½ cup sugar with water, over high heat, stirring constantly until sugar dissolves, about 3-5 minutes.

Allow the mixture to come to a boil and let cook without stirring until it turns a dark amber color. As it cooks, swirl the pan occasionally and, using a pastry brush dipped in water, wipe down the crystals of sugar that appear on the side.

Pour into the bottom of a 9" cake pan, tilting to cover bottom evenly. Be careful because the pan gets very hot from the sugar mixture.

Peel mangoes and cut down both sides of pit. Cut each of these sides into slices. Place slices on top of sugar mixture carefully, packing them in tightly.

In a large bowl, mix flour, baking soda, salt and remaining 1 cup of sugar. Set aside.

In a small bowl, add remaining wet ingredients including banana. Mix well and add to dry ingredients until combined.

Pour batter on top of mangoes.

Bake for 45 minutes. Remove from oven and place on wire rack to cool for 15 minutes.

Loosen cake from edges of pan. Place plate over cake and invert. Slowly lift cake pan from cake, using knife to loosen any edges that are still stuck. Let cool completely.
This post has been updated and was first published on May 27, 2015.
DON'T MISS A RECIPE!