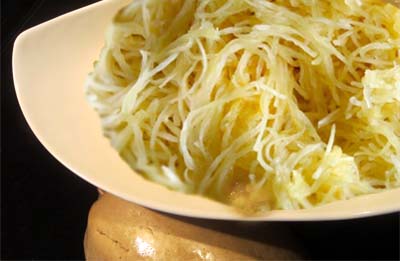 A delicious addition to any meal, spaghetti squash can be fixed many different ways but it is the fact that this vegetable can look like spaghetti that creates the many variations. In this recipe I am using the squash in place of pasta, similar to an Italian macaroni and cheese, and dressing it up a little with some fresh garlic. I served it as a side for grilled fish but it could just as easily be a side dish for meat of any kind.
Parmesan Spaghetti Squash
Ingredients:
1 3-4 lb. squash
3 Tablespoons olive oil, divided
1-1/4 cups Parmesan or Pecorino Romano cheese, grated
2 cloves roasted garlic, chopped fine
Salt & fresh ground black pepper to taste
Directions:
Preheat oven to 450 degrees. Prepare a cookie sheet by lining with aluminum foil.
Cut squash in half and scoop out seeds. Season with 1 Tablespoons olive oil, salt & fresh ground black pepper. Place, cut side down, on prepared cookie sheet and cook for 25-35 minutes depending on size of squash.
Remove from oven when tender and wait for it to cool slightly. Taking a fork, shred the squash into what looks like spaghetti noodles. Place in a large bowl. Add 2 Tablespoons olive oil, roasted garlic, Parmesan cheese and additional salt and quite a bit of freshly ground pepper. Stir and serve immediately.
Serves 4.
Note: In place of roasted garlic you can saute 1 teaspoon of minced garlic in a skillet for 1-2 minutes or until browned.
Use Pecorino Romano cheese, in lieu of Parmesan, for cow-dairy free.