A quick & easy breakfast casserole with a spicy flair. This Mexican Cheese Puff is a mix of cheese, green chiles, tomatoes & a puffy egg topping that makes it light, filling and simply delicious.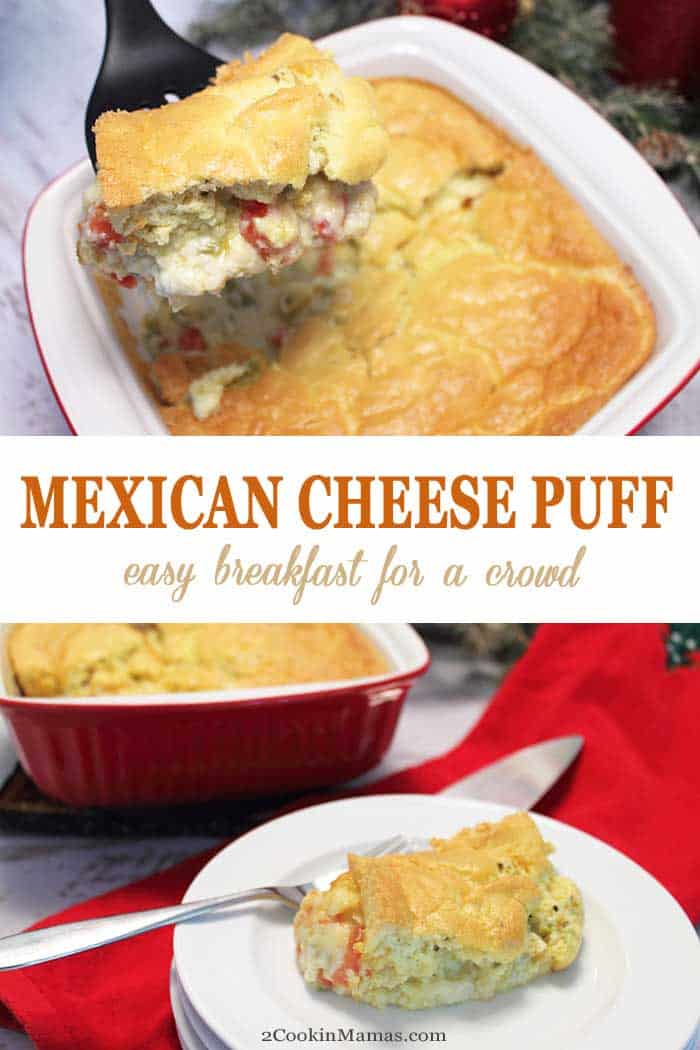 I have been trying all sorts of breakfast casseroles to pick just the right one to fix for Christmas morning. Since we always have my homemade sausage bread (an old secret family recipe) this Mexican Cheese Puff casserole, sans meat, seemed like the perfect main dish. And if you love Mexican food, this casserole has exactly what you're looking for! The flavors of salsa, cheese and heat are definitely reminiscent of south of the border and, if you like your Mexican a little milder, just use regular Monterey Jack instead of the Jalapeno version.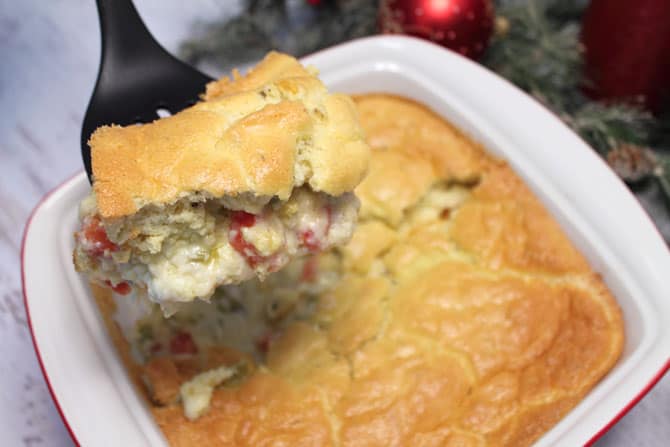 This dish surprised my husband a little because I just packed it up for him to bring to work without telling him what it was. He took one bite and called to say how much he loved it! Of course our house is crazy about Mexican so it was a safe bet that he would enjoy it.
Need gluten-free? Just substitute an all-purpose gluten-free flour for the regular flour and you are good to go. Since we'll be spending the holidays with my daughter, who is gluten intolerant, this will please one and all.
Oh, and just a quick note, you can also serve this as a side to any Mexican meal, such as Carne Asada.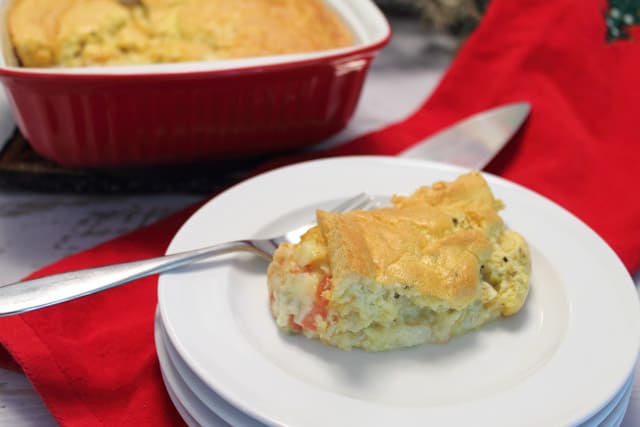 If you are in a hurry on Christmas morn, you can make up the cheese mixture ahead of time and store in the refrigerator in the bottom of the prepared pan (less dishes - yay!)
How to Make this Mexican Cheese Puff.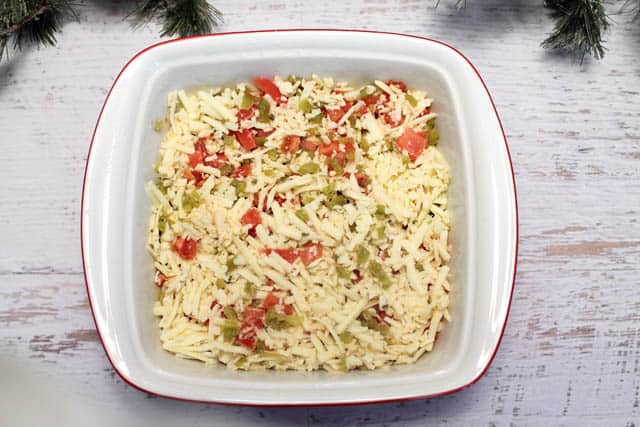 The next morning you can whip the egg whites up and mix it together with the the yolk-milk mixture.

Then pop it in the oven while you open your stocking gifts. Easy, right?!

Still looking for more Christmas morning options? How about Muffin Tin Eggs (everyone gets their own), Cinnamon French Toast Casserole or a hearty Italian Breakfast Casserole. You can't go wrong with any of them!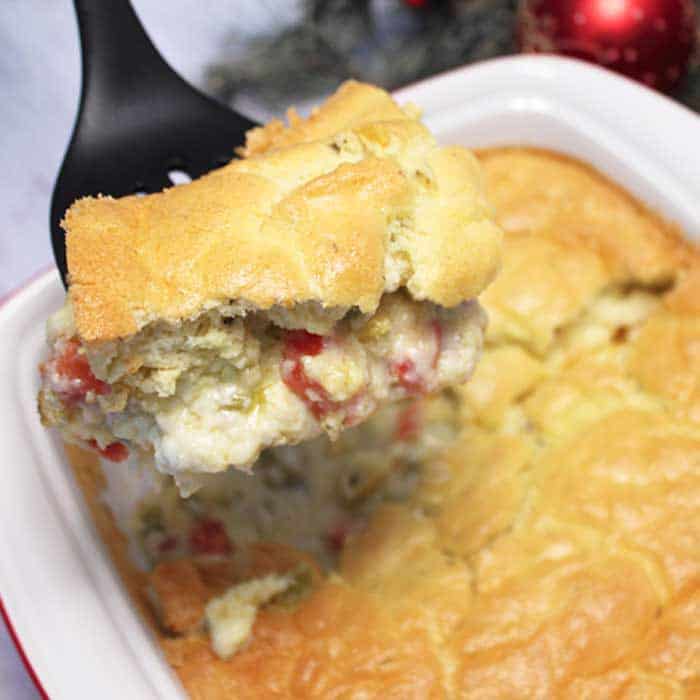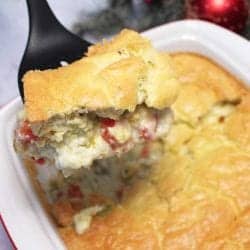 MEXICAN CHEESE PUFF
A quick & easy breakfast casserole with a spicy flair. This Mexican Cheese Puff is a mix of cheese, green chiles, tomatoes & topped with a puffy egg topping. Perfect for two or a holiday crowd.
Print
Rate
Ingredients
2-½

cups

sharp cheddar cheese, grated

(8-oz)

2

cups

Jalapeno Jack cheese, grated

(6-oz)

1

medium tomato,

chopped

4

oz

can chopped green chiles

¼

cup

all-purpose flour,

divided (substitute all purpose gluten-free flour if necessary)

3

eggs,

separated

¼

cup

evaporated milk or cream

¼

teaspoon

salt

¼

teaspoon

oregano

⅛

teaspoon

cumin

⅛

teaspoon

black pepper

⅛

teaspoon

cream of tartar
Instructions
Preheat oven to 300 degrees. Spray an 8" square casserole dish with nonstick spray.

Mix cheese, tomato and chiles together in medium bowl. Toss with 1 Tablespoon flour.

Spoon into bottom of prepared casserole dish.

Wipe out bowl and whisk the egg yolks with evaporated milk.

Add in salt, oregano, cumin and black pepper and mix well.

In an electric mixer, beat egg whites until soft peaks form. Add cream of tartar and continue to beat until stiff peaks form.

Fold into egg yolk mixture until no white streaks show. Spoon over cheese in casserole.

Bake for 50-60 minutes or until top is golden brown and firm to the touch.

Let stand 15 minutes before serving to make it easier to cut.
Notes
Want to include the meat in with the casserole. Add ¾ -1 lb. cooked  & crumbled breakfast sausage to cheese mixture. Continue as directed above.

This will be our last post for the year so we wanted to take this time to wish all of our followers a very wonderful Christmas and a safe & happy New Year. We love you all and enjoy being able to share our adventures in the kitchen with you. Stay tuned for 2016 when we'll be concentrating on healthier dishes to get back into shape after all the deliciously over-the-top holiday goodies! See ya next year!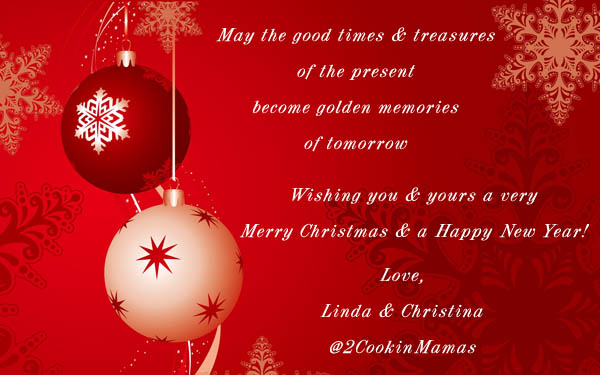 What's your favorite thing about Christmas morning?
DON'T MISS A RECIPE!