Nothing is more Italian than meatballs and these little mozzarella stuffed meatballs, with a combination of beef and pork, are not only stuffed with cheese but wrapped in kale. A cheesy delight with a little bit of healthy!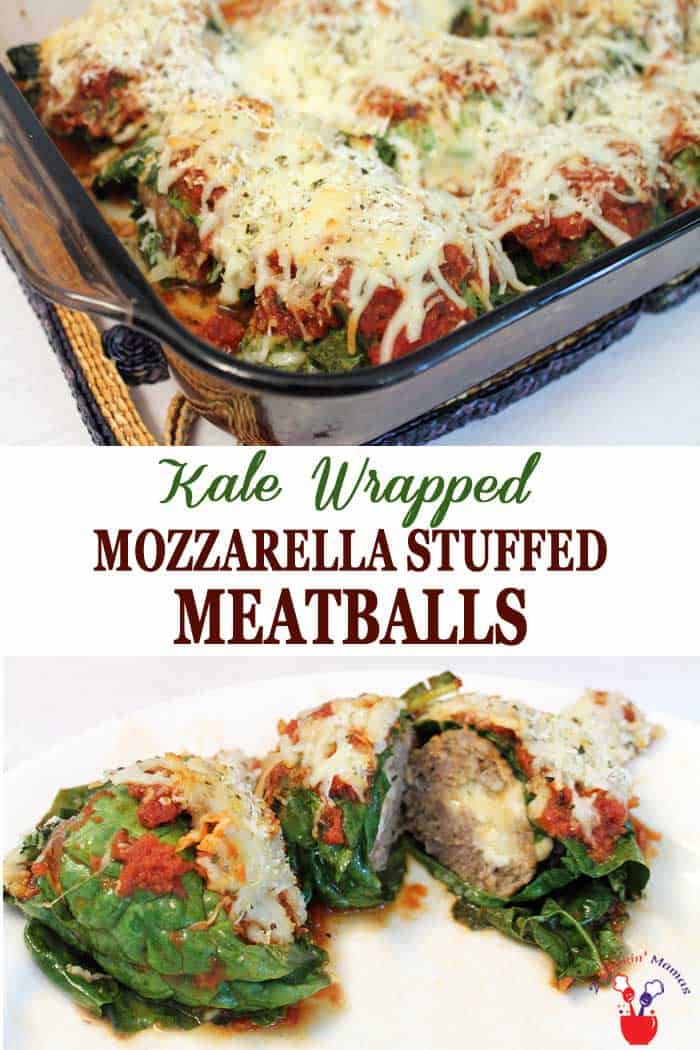 KALE WRAPPED MOZZARELLA STUFFED MEATBALLS
It's Secret Recipe Club reveal day and you know what that means! It's the day when a blogger, who is assigned a blog in secret, is given the chance to choose a recipe from that blog, bake it up then share it with everyone.

This month I was given Wildflowers Cottage Kitchen and indeed that is exactly what it turned out to be. This beautifully photographed and delicious looking blog is written by Kelly, a stay-at-home wife now, who has her very own little cottage kitchen in the country. She has a wealth of experience, from running a catering business, to owning a restaurant, to having been published numerous times in well-known magazines such as Better Homes & Gardens and Taste of Home. Her love for cooking and baking shines through on her blog and her photographs just make me want to lick the screen.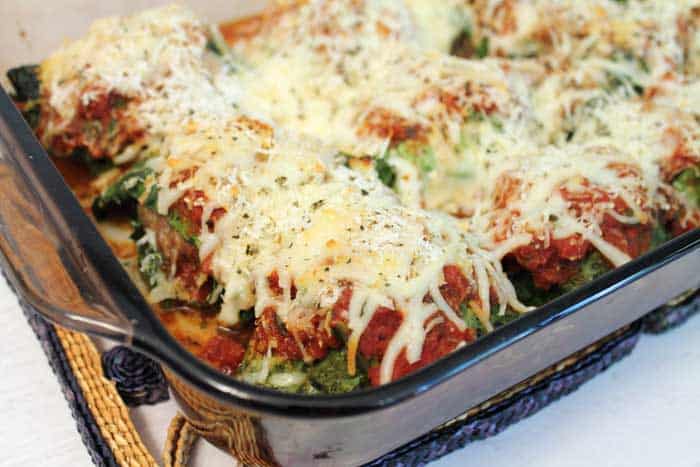 It was really hard to decide what recipe to make from her site as they all looked so yummy. I first thought I would make her Clover Honey & Almond Galette, since I had never made one before, but I had just gotten done making a Chocolate Pound Cake so sweets were out. I then thought about making her Nutter Butter Burger, which I think should have won the Buds & Burgers contest, but we had just gone out for burgers the night before and my husband didn't want them again. But believe me, that recipe will get made and in the very near future at that!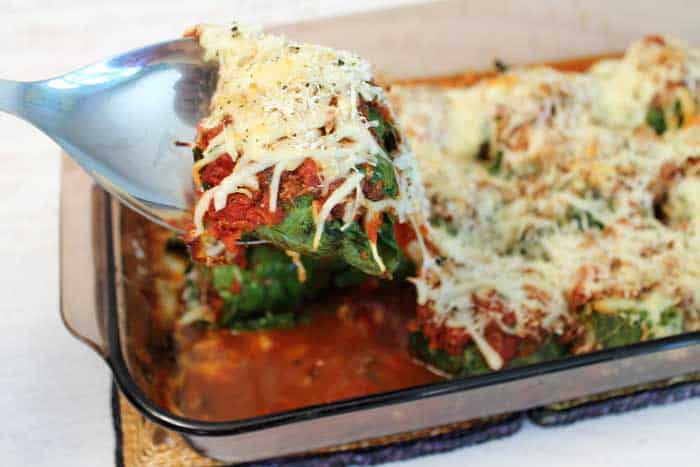 So I continued to look through all her mouth-watering posts and finally decided to make her Mozzarella-Stuffed Kale-Wrapped Meatballs. And it was actually the story behind her kale that won me over (besides the fact that I like kale for all its health benefits). Kelly wrote about receiving a small kale plant from a neighbor and the pictures she took as it grew got me all excited about trying to grow my own little garden of kale. Unfortunately, being in Florida, and not the garden state of New Jersey, I will have to wait until October to plant it. (Just look at these beautiful little bundles)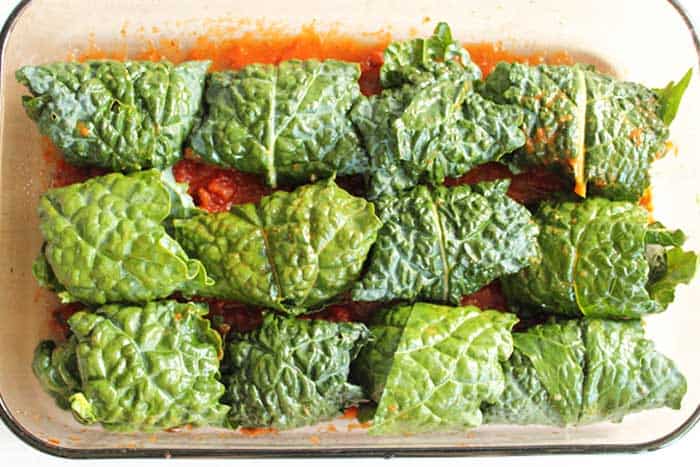 The recipe was well worth the effort and my husband thought the meatballs were absolutely terrific! Big praise coming from him. So it was a good thing that I doubled the meatball portion so I could freeze some for another dinner.
I changed up the recipe only slightly, using shredded mozzarella for stuffing the meatballs, since I had it on hand, and a mixture of mozzarella and Pecorino Romano for the topping (alas, no provolone in the house). The kale was a little hard to wrap around the meatballs (no fresh kale out of the garden like Kelly had) so I wound up having to cut the tough stem out of the middle of the leaf prior to wrapping.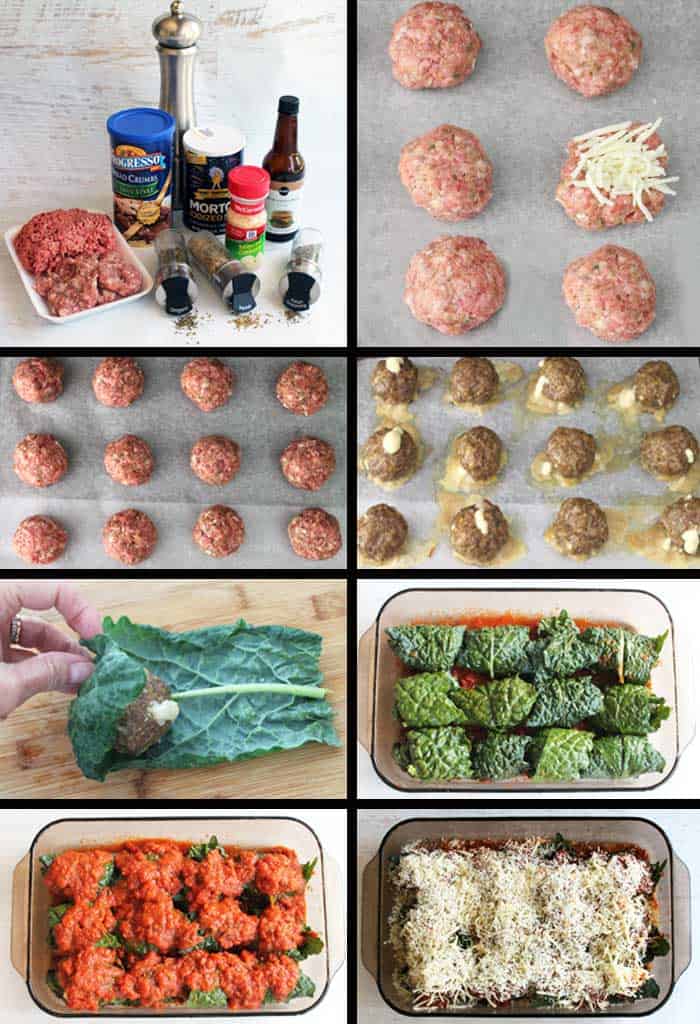 It was easy to make ahead of time, put in the fridge, and cook just prior to serving. The aromas wafting through the house were wonderful and the sight of all that browned and gooey melted cheese when it came out, had both of us drooling and reaching for our plates. Wait! Pictures first, then eat!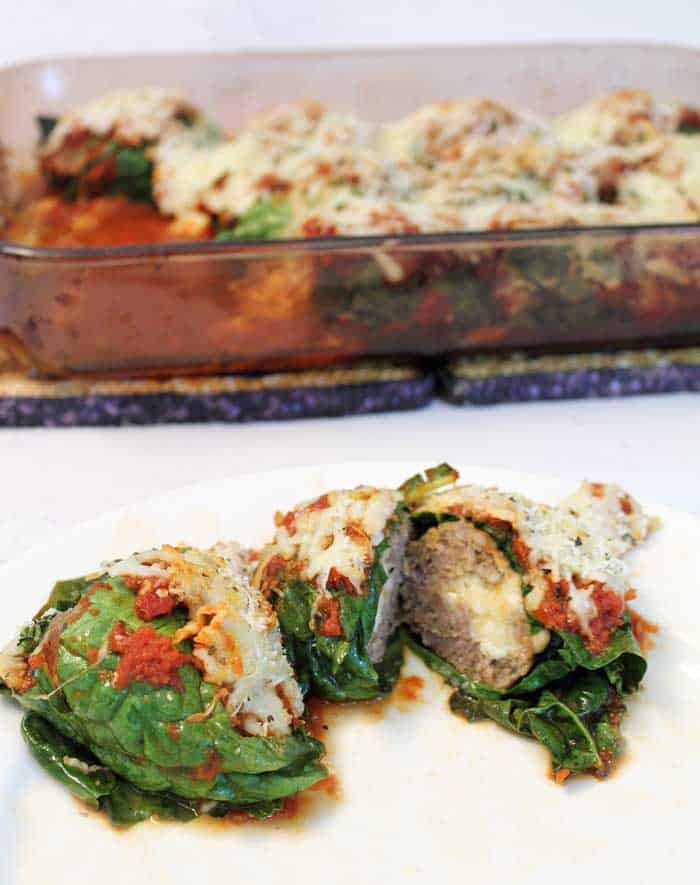 I served the meatballs with a side of zoodles, tossed with the same marinara, and a small loaf of french bread. Delizioso!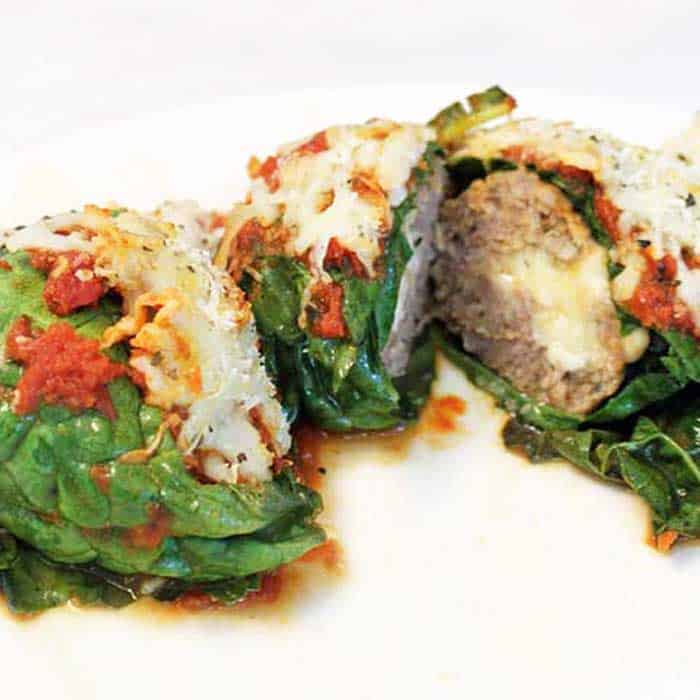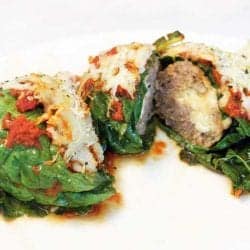 KALE WRAPPED MOZZARELLA STUFFED MEATBALLS
Nothing is more Italian than meatballs and these little mozzarella stuffed meatballs, with a combination of beef and pork, are not only stuffed with cheese but wrapped in kale. A cheesy delight with a little bit of healthy!
Print
Rate
Ingredients
Meatballs
½

lb.

lean ground beef

½

lb.

mild Italian sausage,

ground

⅓

cup

Italian-seasoned bread crumbs

(use gluten free if needed)

¼

cup

Parmesan or Pecorino Romano cheese,

grated

½

teaspoon

Italian seasoning

½

teaspoon

oregano

1

teaspoon

fennel seed

1-½

teaspoon

dried minced onions

1

teaspoon

salt

¼

teaspoon

black pepper

¼

cup

milk

1

egg,

beaten

½

teaspoon

Worcestershire sauce

½-3/4

cup

shredded mozzarella
Remaining Ingredients
12

large flat-edged kale leaves

1 24-

oz

jar favorite spaghetti sauce

1-½

cups

shredded mozzarella

½

cup

Parmesan or Pecorino Romano cheese,

grated

Pinch

of Italian seasoning,

oregano and garlic salt
Instructions
Preheat oven to 375 degrees. Cover a large baking sheet with parchment paper.

To make meatballs, combine all ingredients but mozzarella cheese. Mix well with hands to make sure ground beef gets mixed well with the sausage. (I used Italian sausage links and squeezed the meat from the casing.)

Roll into 12 large meatballs and make a depression in the center. Place a small amount of shredded mozzarella in the depression and roll meat back into ball completely surrounding cheese. Make sure it is sealed well so cheese remains in the center after cooking.

Place on prepared cookie sheet and bake for 20 minutes. Remove to plate, scraping away any fat, and placing any oozing cheese back on top of meatball.

Reduce oven to 350 degrees. Prepare a 9x11-inch baking dish by spraying with non-stick spray and pouring ½ cup spaghetti sauce into bottom of dish. Set aside.

Pick the largest kale leaves out of the bunch and rinse well. Trim the thickest part of the stem from the bottom. If your kale leaves are anything like mine, you may have to cut the thicker stem out of the center another 3-4" up the leaf.

Taking a meatball, place it in the center of a leaf and roll the leaf around it. Place it seam-side down into prepared baking dish. Repeat with remaining kale leaves and meatballs.

Top with 2 cups of spaghetti sauce and shredded and grated cheeses. Sprinkle seasonings on top.

Bake for 30 minutes or until cheese has melted and top is brown.

Serve immediately.
DON'T MISS A RECIPE!