Love Patty Melts? This awesome patty melt meatloaf has all the flavors of your favorite patty melt, sauteed onions, rye bread & cheese, all rolled into one!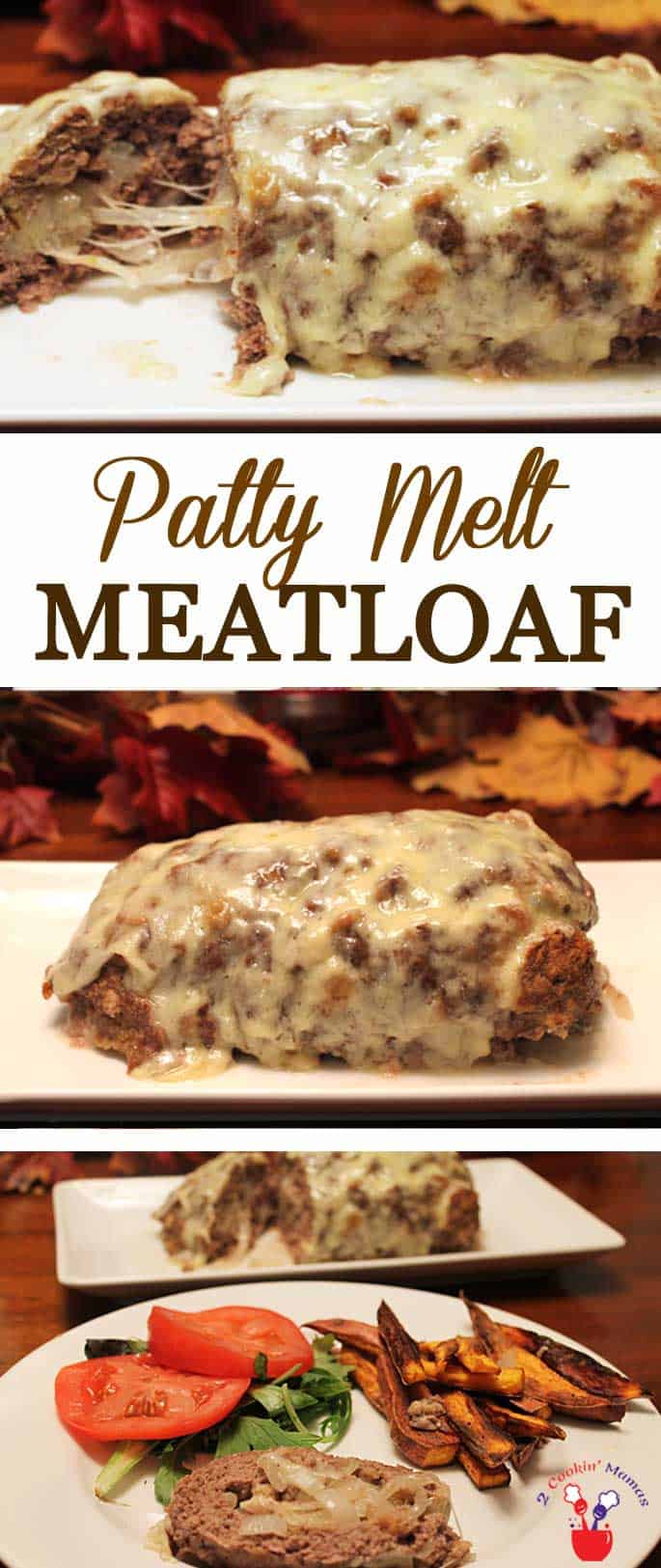 This past week has been such a busy one that I just wanted easy dishes to make this weekend. So I took out some chicken and ground beef to thaw and decided I would figure out what to make with them when the time came.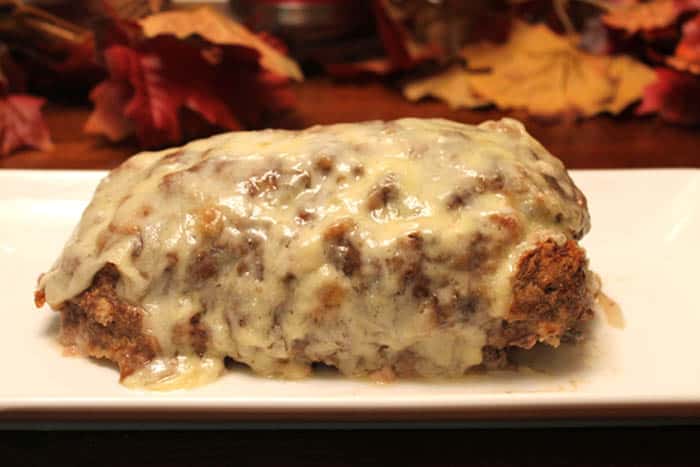 Last night I had decided to grill out hamburgers with the ground beef but, with it getting dark so much earlier now, by the time we were ready to cook it was so dark that it would have been like playing a game of hide 'n seek to figure out where the burgers were. So I got my creative juices flowing and decided I could make a patty melt, which is my all time favoritie way to have a burger, but put it in the oven in meatloaf form.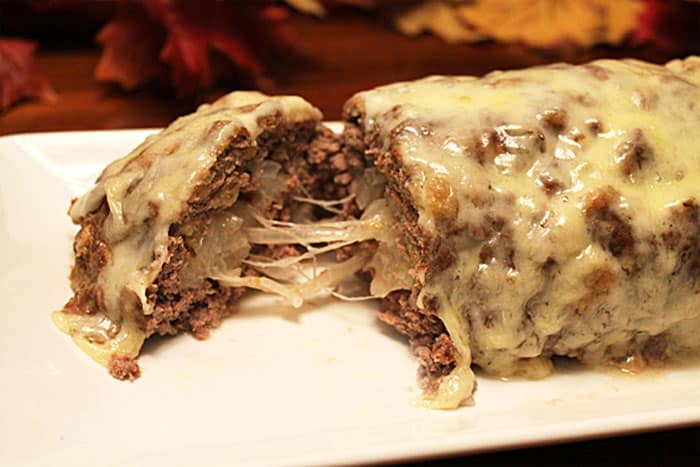 It seemed easy enough to sweat the onions and add to the middle of the meatloaf and to add the cheese on the top but how would I add the rye bread? Ah, I know! I always add some bread crumbs to my meatloaf, so why not sub in rye bread for the white bread crumbs. Genius! (a little pat on the back for myself)
And it all worked! It came out so delicious, with all the patty melt flavor of onions, rye and burger in attendance, that I know we will be having it again and again.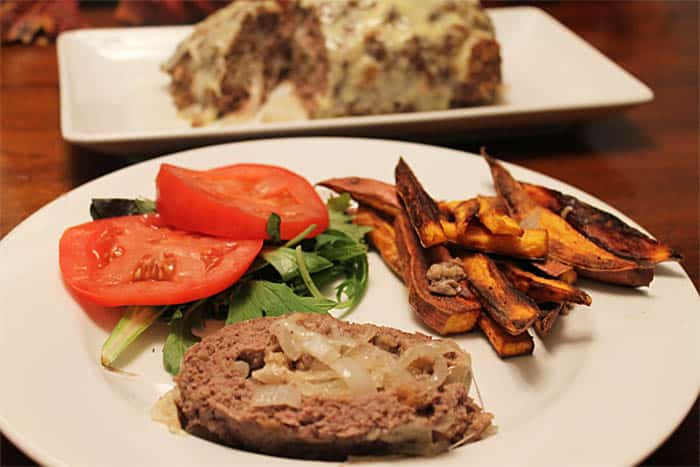 Serve it with rosemary red potatoes and a side of lettuce and tomato. You could also serve creamy mashed potatoes and a nice green leafy vegetable.
Have kids? Make this meatloaf cupcake with mashed potato frosting.
Meatloaf with Italian sausage, ground beef, Parmesan cheese, and marinara sauce is the best Italian meatloaf ever.
Find more easy ground beef recipes here on 2CM!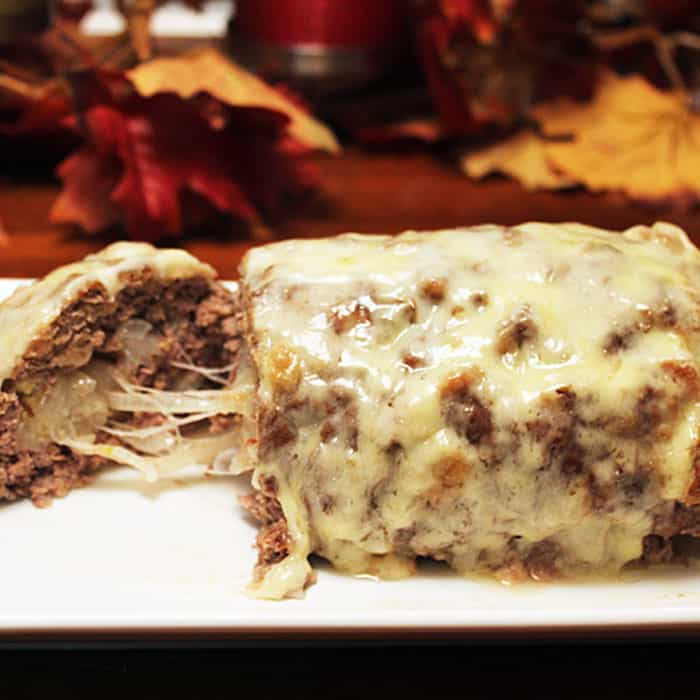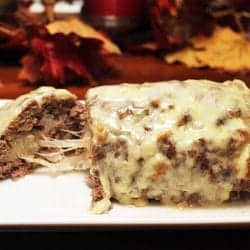 PATTY MELT MEATLOAF
Love Patty Melts? This awesome patty melt meatloaf has all the flavors of your favorite patty melt, sauteed onions, rye bread & cheese, all rolled into one!
Print
Rate
Ingredients
1

large sweet onion

sliced thin

2

Tablespoons

olive oil + 2 Tablespoons butter

1-½

lbs

ground beef

1

teaspoon

Worcestershire sauce

¾

teaspoon

salt

½

teaspoon

cracked black pepper

6

small slices rye bread,

blended into crumbs

1

egg

4

oz

swiss cheese,

shredded

4

oz

cheddar cheese,

shredded
Instructions
Heat oven to 350 degrees. Line a rectangular baking dish with foil. Find a baking rack that will fit in your dish and cover that with foil as well. Cut slits in foil to allow grease to drain off.

In a large skillet, heat oil and butter.

Place onion slices in pan and sauté over medium heat for 20-25 minutes, allowing onion slices to soften and turn a beautiful golden brown. Add water a little at a time to help sweat the onions and to keep them from burning.

Remove from heat and drain off excess oil.

In a large bowl, mix ground beef with Worcestershire sauce, seasoning, bread crumbs and egg. Mix well, I like to do this with my hands, then place on cutting board and shape into long rectangle. Pat top flat.

Place onions on top of meat and roll up carefully, patting to keep together as you roll, to make a loaf.

Take a large spatula and lift meatloaf from cutting board and place on covered baking rack.

Place in preheated oven and cook for 50 minutes.

Remove and sprinkle both cheeses all over the top. Return to oven for 10 more minutes.

When done let stand for 5-10 minutes to make it easier to cut.
This post has been updated and was first published on November 16, 2014.
DON'T MISS A RECIPE!