A hit for the holidays! This decadently rich Salted Caramel Pecan Chocolate Pie starts with an Oreo cookie crust, topped with a layer of salted caramel pecans and finished with a rich dark chocolate ganache. Sprinkle with sea salt & you'll never want to put down your fork.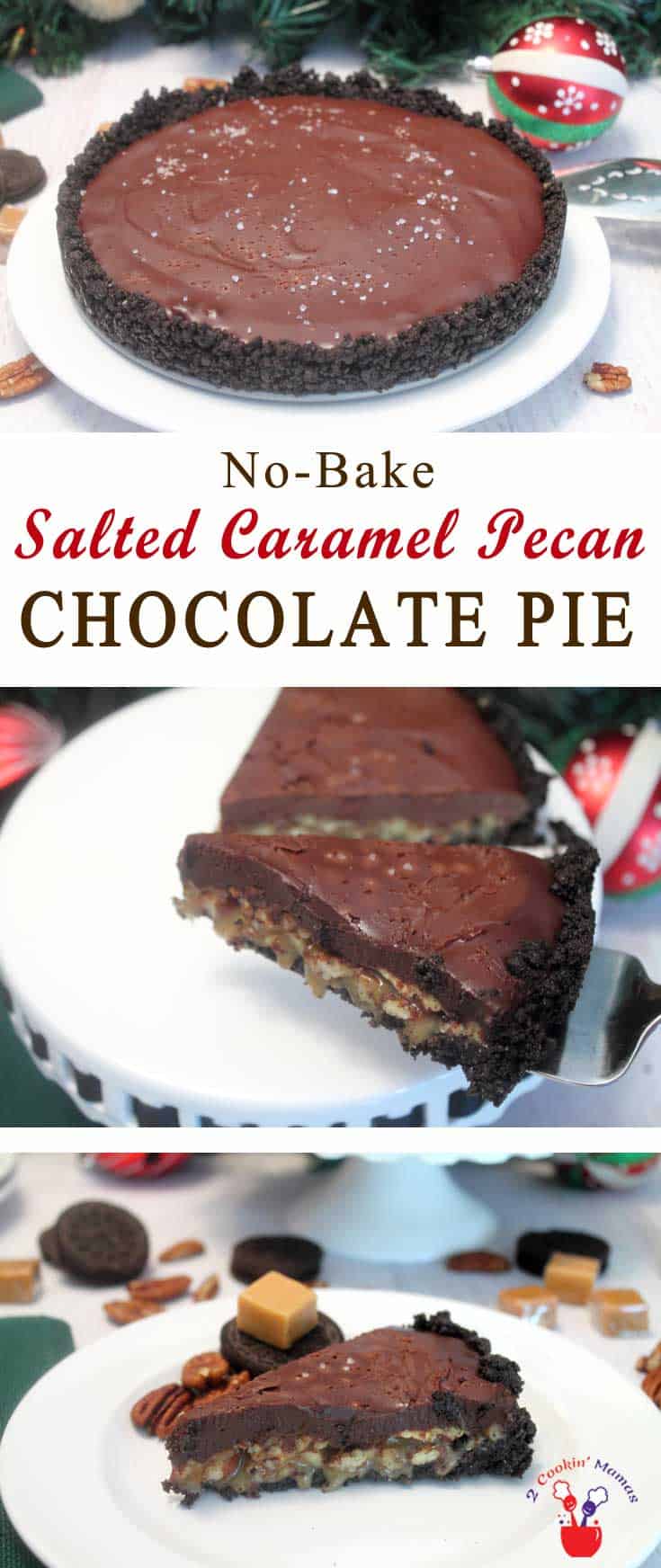 I hope everyone had a fantastic Thanksgiving & enjoyed spending time with family or friends. And now that Black Friday is out of the way it's my cue to start decorating the house and baking up delicious Christmas goodies! It's my favorite season and I can't wait to get started!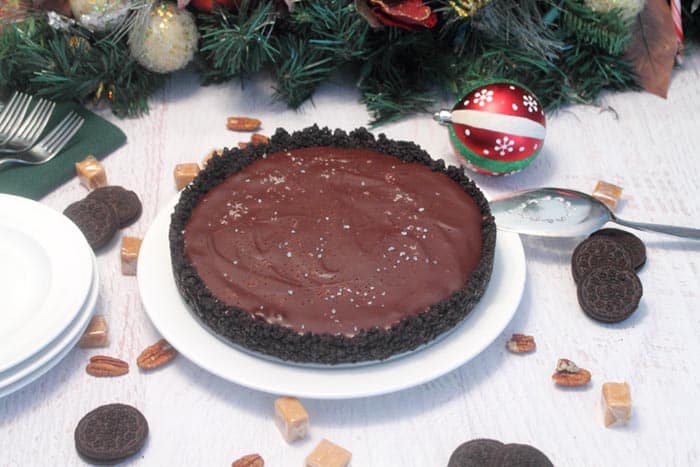 However, let me backtrack a minute and tell you about this fantastic dessert. We were invited over to our good friend's home to celebrate Thanksgiving, along with 8 other people, and she asked if I would bring a pie for dessert.
I was going to make my Mom's Deep Dish Pumpkin Pie but she already had dibs on making one, then I offered to bake my French Apple Pie, alas, her friend had already made one so that left me with having to think up something different that would round out the dessert table.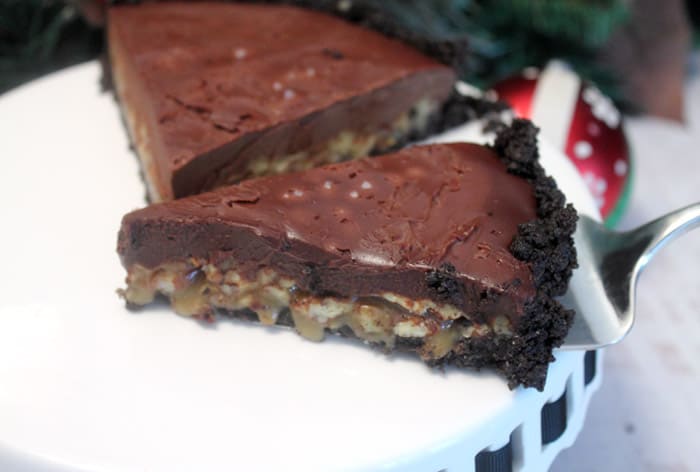 I actually found this recipe first on Southern Living and then a modified version on Crazy for Crust and it looked so delicious that I just had to make it. It's easy to put together and tastes out-of-this-world decadent.
I had so many compliments when I served it that I know it will be on my list to make again for the holidays. It's perfect for special dinners, buffets or just as an "I love you" to your family.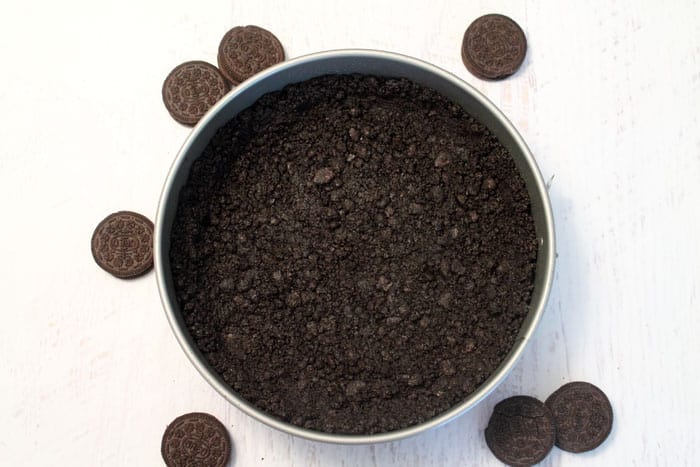 First up was the Oreo crust. Just simply crush the Oreos, mix with butter and press into a springform pan.
Gluten-free people I didn't forget you! You can make this entire recipe gluten-free by using a gluten-free Oreo-type cookie like these from Amazon or your local grocery store.
Place the crust in the fridge while you work on the caramel pecan layer.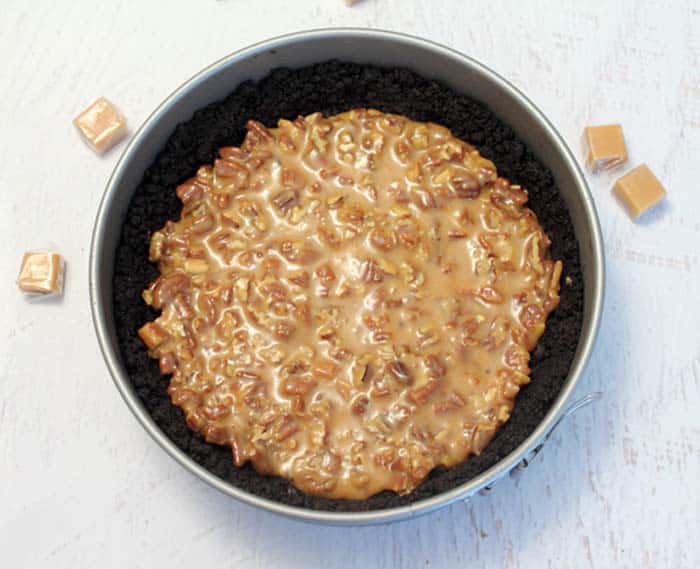 One of the parts I liked about this recipe was being able to melt caramels rather than making caramel from scratch.
Once you've melted them in the microwave, dump in the pecans, stir and pour into crust.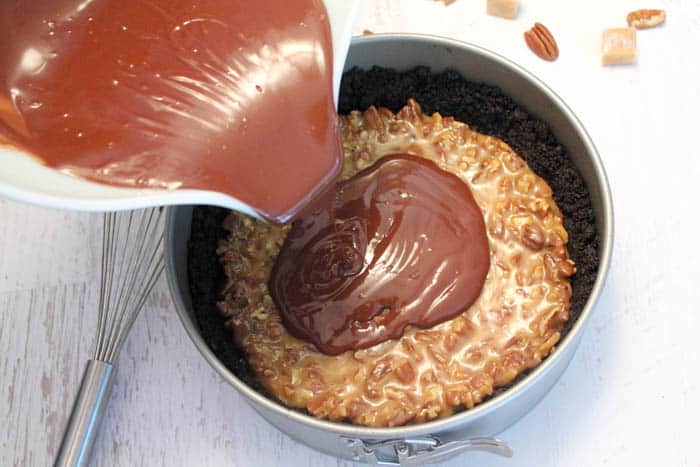 Now, I don't know about you, but my favorite layer has got to be the rich deep dark chocolate ganache one.
It's as easy as the caramel layer, just toss the dark chocolate chips into the microwave for a minute or two and BAM! you're ready to pour it over the caramel pecans.
That's it! Now let it cool for about 2 hours in the refrigerator before serving.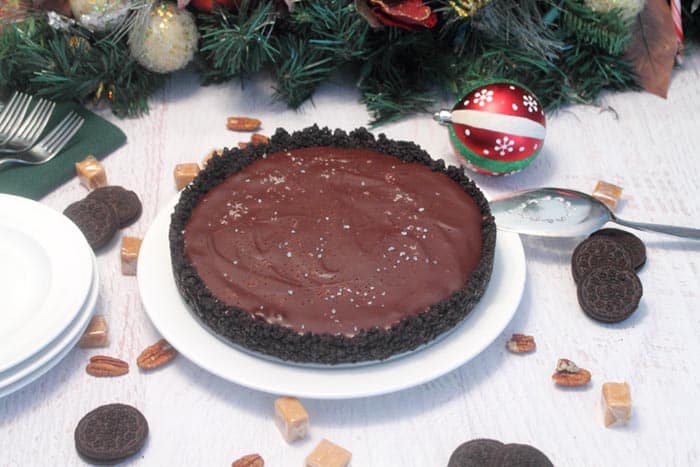 I like to sprinkle the sea salt on just before serving so it sits on top of the chocolate. It looks so pretty and gives the pie a little pizazz!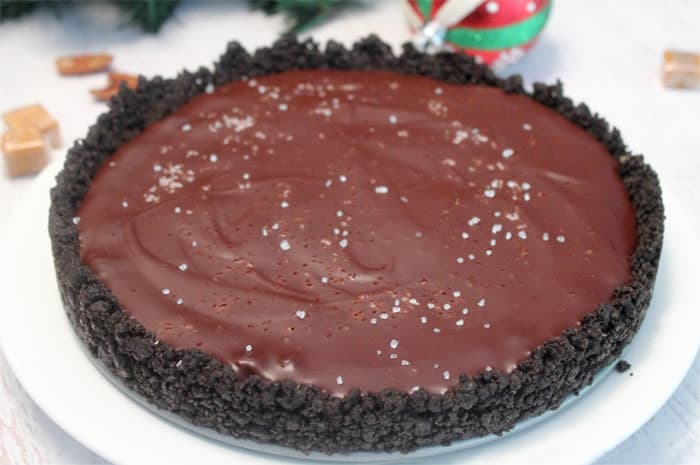 If you love chocolate or you're a pecan pie lover, you will love this dessert. Bring it with you to a holiday party and I can guarantee you'll be one popular guest.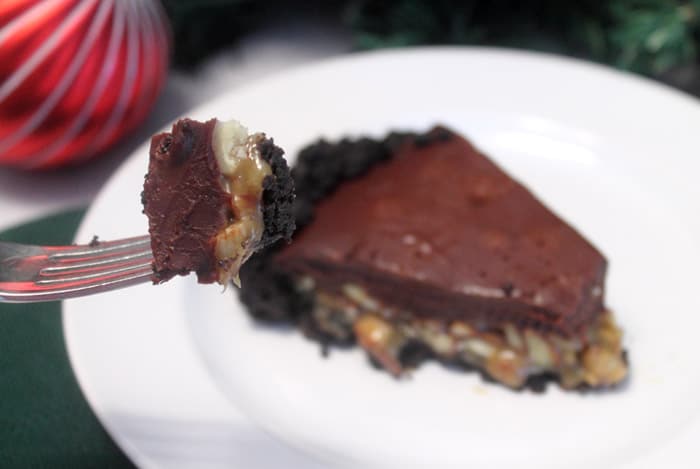 Sit back, relax & have a bite! Enjoy!
Also try my Salted Caramel Chocolate Cookies that are stuffed with Rolo caramels and drizzled with caramel.
Find lots of delicious and easy holiday dessert recipes here on 2CM!
FOLLOW ME FOR YUMMY HOLIDAY RECIPES!
FACEBOOK | TWITTER | INSTAGRAM | PINTEREST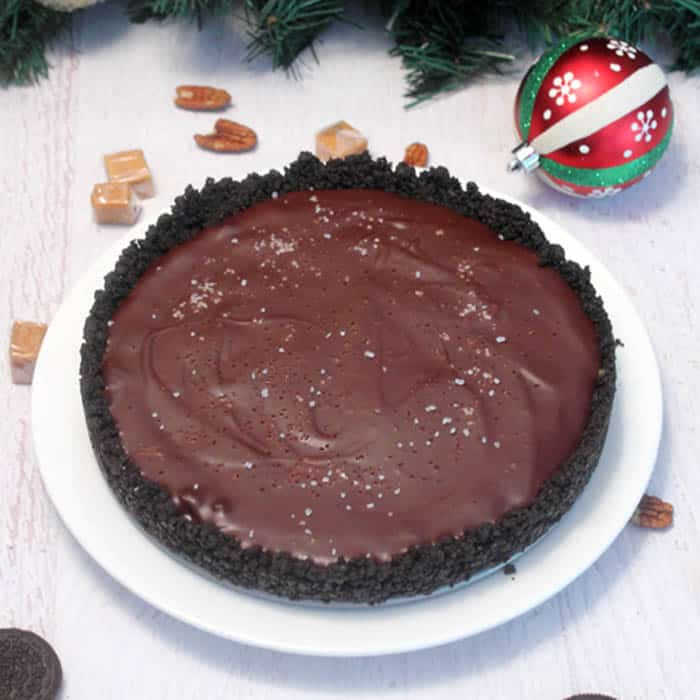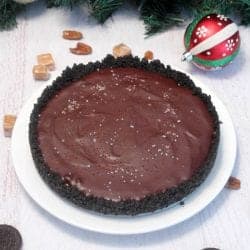 SALTED CARAMEL PECAN CHOCOLATE PIE (Gluten-free version too!)
A hit for the holidays! This decadently rich pie starts with an Oreo cookie crust, topped with a layer of salted caramel pecans and finished with a rich dark chocolate ganache. Sprinkle with sea salt & you'll never want to put down your fork.
Print
Rate
Ingredients
25

Oreo cookies,

finely crushed (to make gluten-free use glutino Chocolate Vanilla Crème cookies)

5

Tablespoons

butter,

melted

8

ounces

about 32 caramel squares

1-¼

cups

heavy whipping cream,

divided

¼

teaspoon

salt

1

cup

toasted pecans,

chopped

2

cups

dark chocolate chips

Sea Salt,

coarse
Instructions
Prepare a 9" springform pan by spraying with nonstick cooking spray. You can also use a 9" deep dish pie plate as well.

Place Oreos in a large Ziploc bag, seal, and crush with a rolling pin. Pour into a medium bowl. Combine with melted butter then press into your prepared pan covering the bottom & about 1" up the sides. Chill while you prepare filling.

In a microwave safe bowl, place unwrapped caramels and ¼ cup whipping cream. Place in microwave & heat on high for 2-3 minutes, stopping & stirring well every 30 seconds, until mixture is melted and smooth. Sprinkle in salt then add chopped pecans. Stir and spread evenly over the Oreo crust.

Clean bowl used above and combine chocolate chips and remaining 1 cup whipping cream. Microwave on high for about 1 minutes, whisking every 30 seconds, until chocolate has completed melted. Pour over caramel pecan layer.

Place in refrigerator to set, about 2 hours. Take out & immediately remove outer sides of springform pan from base. Bring to room temperature for about 15-20 minutes prior to serving & sprinkle with coarse sea salt.
Notes
To toast pecans:

Preheat oven to 350 degrees. Place pecans on a cookie sheet that has been sprayed with nonstick cooking spray. Bake for 5 minutes or until they become aromatic. Watch carefully as they can burn fairly easily.
This post has been updated and was first published on November 27, 2016.