Our Sausage and Peppers Sheet Pan dinner is a great alternative to grilling. Your favorite sausage tossed with bell peppers, onions & a little seasoning then tossed on a sheet pan & baked. It's delicious, super easy & cleanup is a breeze.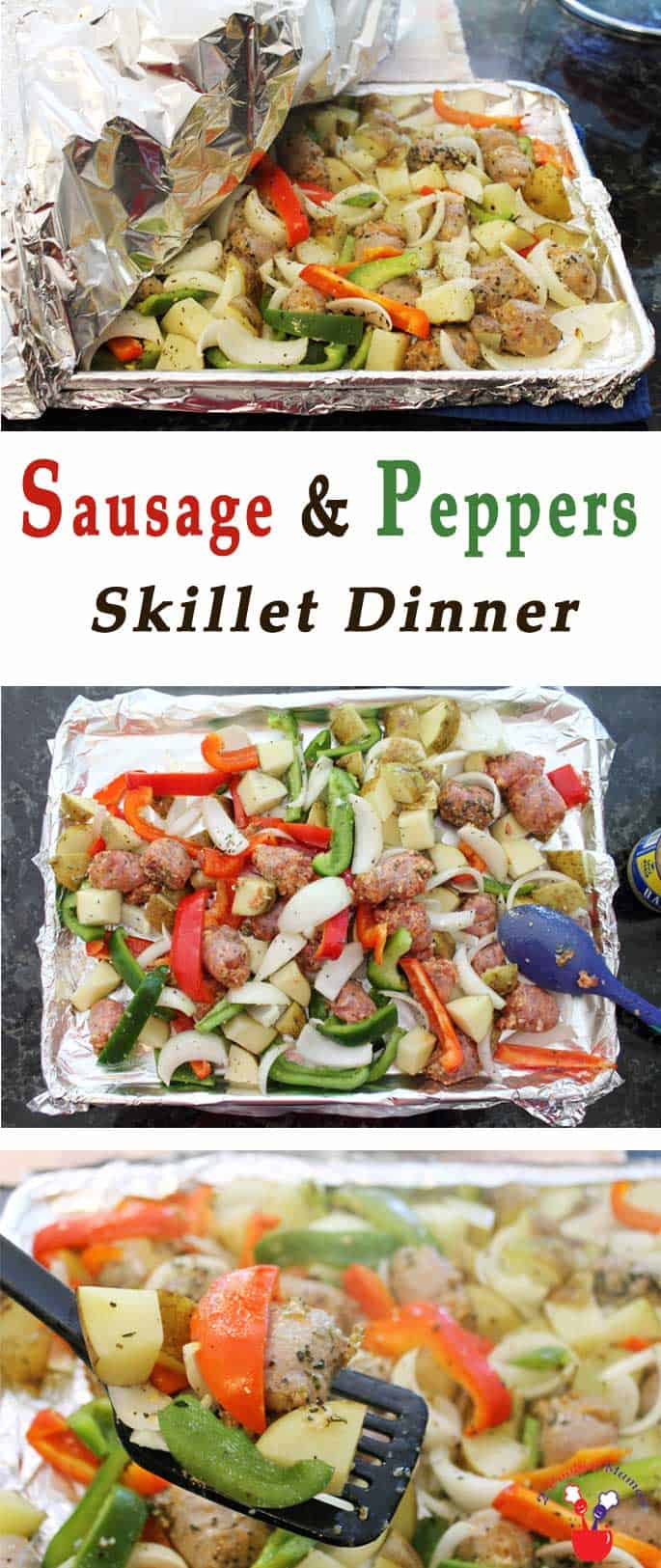 I had a big surprise last night when I went to fix dinner. I had planned on grilling out sausage and peppers and found out, after my husband came home, that we were out of gas! Now what?!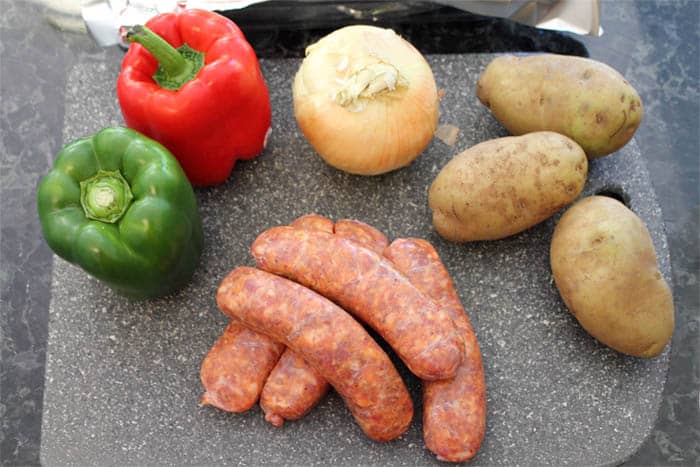 Out of necessity, it was time to create an oven-baked sheet pan dinner version, on the order of my Chicken Apple Sausage Sheet Pan Dinner, in lieu of the grilled option. I knew it would take just a little more time to bake but the prep was about the same.
I cut up onions, two different colors of bell peppers along with the Italian sausage and also added some potatoes to make it more of a one-pan meal. The potatoes need to be slightly pre-cooked, read that as microwaved for about 5-7 minutes, in order to get done at the same time as the rest of the dish.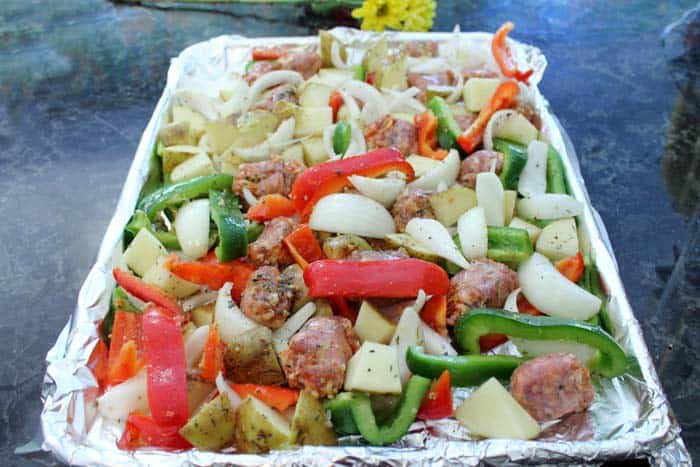 Since it wouldn't be getting that nice char-grill taste I decided to add some Italian seasoning and garlic to the mix. A little olive oil as the base would help keep all the elements from sticking and help cook them a little quicker.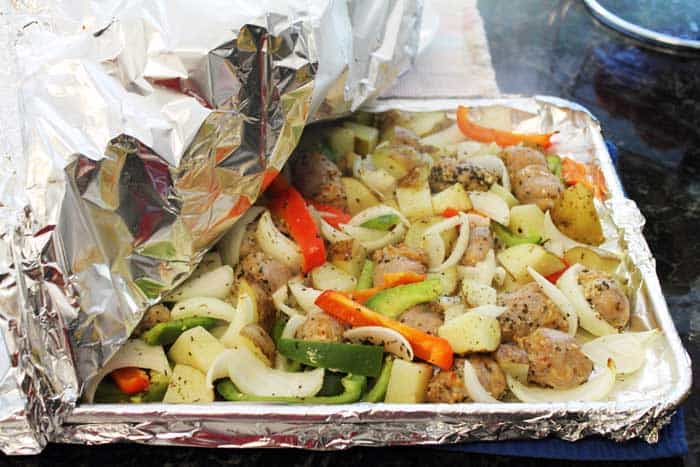 Bake for about 30 minutes. At the end of baking time you can also place under the broiler to brown the sausage and veggies a little more but that is totally up to you.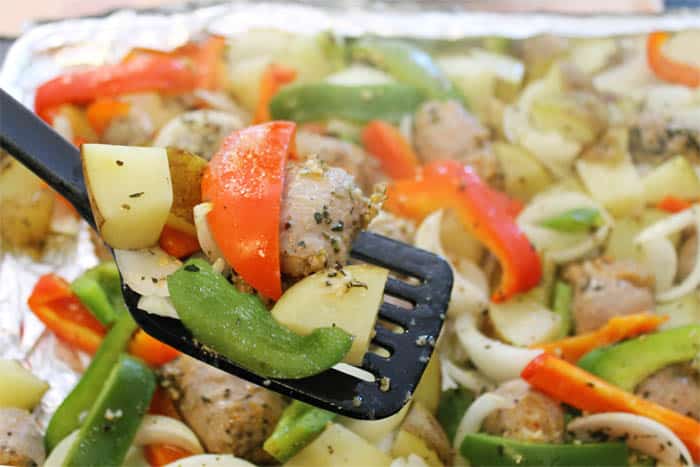 Want something a little more substantial, This can also be served on hoagie rolls, leaving the sausage whole and omitting the potatoes. I serve either version with my favorite marinara sauce and it's perfect.
Enjoy!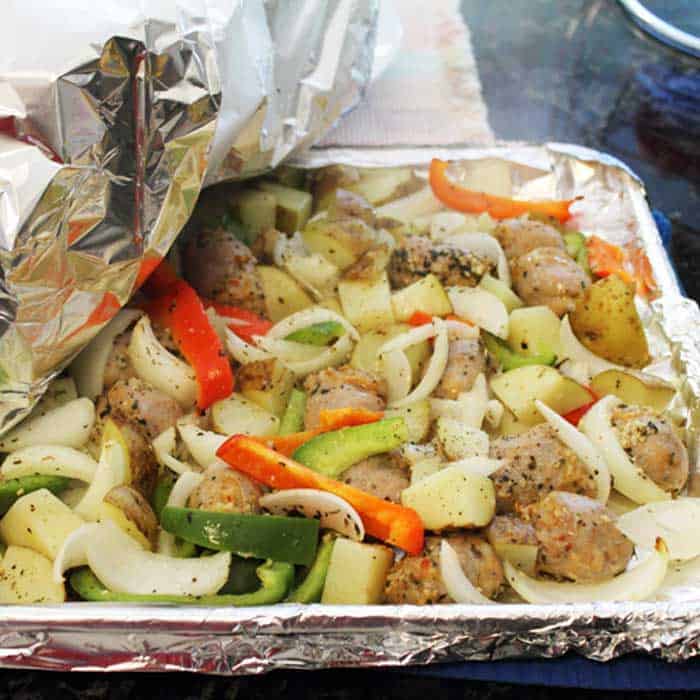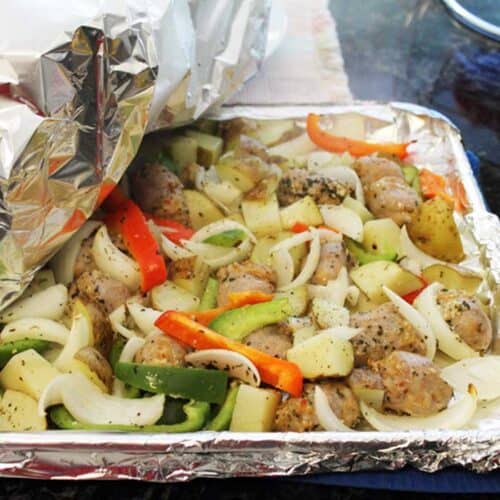 SAUSAGE AND PEPPERS SHEET PAN DINNER
Our Sausage & Peppers Sheet Pan dinner is a great alternative to grilling. It's delicious, super easy & cleanup is a breeze.
Ingredients
5

Italian sausage links

2

bell peppers

any color, cut in strips

1

large sweet onion, cut in strips

3

medium potatoes

optional, prebaked

2

Tablespoons

olive oil

2

teaspoons

minced garlic

2

teaspoons

Italian seasoning

Salt & pepper to taste
Directions
Preheat oven to 425 degrees. Line a baking sheet with aluminum foil.

Cut each sausage link into 4 pieces. Leave uncut if you are placing on hoagie rolls. Place in large bowl.

Cut peppers and onions and place into bowl with sausage.

If adding potatoes, you need to pre-bake them in microwave for 5-7 minutes. This partial baking will allow them to cook completely along with the other ingredients. Cut them in 16th and add to sausage-vegetable mixture.

Combine olive oil, garlic and seasoning. Pour over sausage, vegetables & potatoes and toss to coat well.

Spread mixture on prepared sheet pan, making sure to keep in single layer.

Bake in oven for 30-35 minutes, turning after first 15 minutes.

Serve with your favorite marinara sauce.
DON'T MISS A RECIPE!