Quick and easy Shrimp Panang Curry is the perfect meal for a busy weeknight. And it's healthy & gluten-free too! All you need is one skillet! Fill it with shrimp, bell peppers, squash and peas, sweeten with peanut butter and add a little heat from chili peppers and you've got a Thai curry that's as good as it gets. Serve over brown rice or quinoa for a deliciously filling dinner.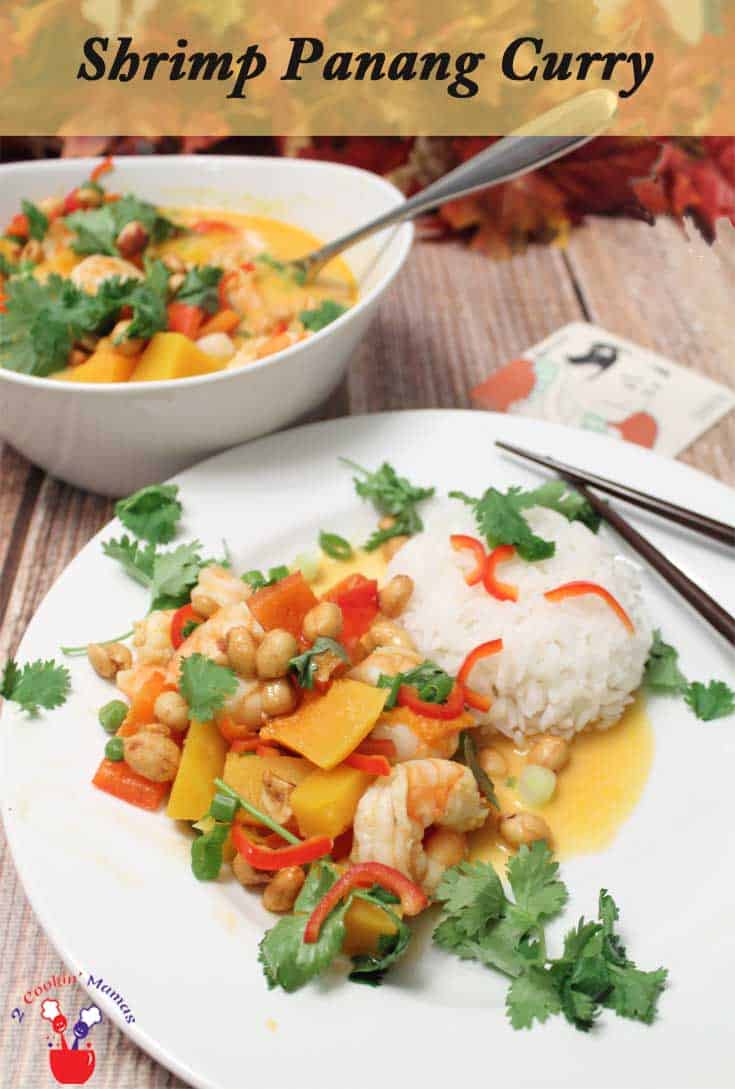 I have always had a love of Panang Curry. I think it is the coconut milk and peanut combination that gets me every time. My husband and I had a favorite neighborhood Thai restaurant that we would go to whenever we had a hankering for Thai food (which was quite often) and they made the best Panang Curry on the planet. Then they closed – oh no, this is devastating! (picture unhappy faces and teary eyes). So, off we went in search of another authentic and delicious Thai restaurant. Now, when we visit these new restaurants, we always order the Panang Curry so we can compare it with our favorite restaurant's dish but, alas, no luck so far. So we keep on looking. After all, it's really not a hardship to go out to dinner and we get our craving for Thai food satisfied in the process.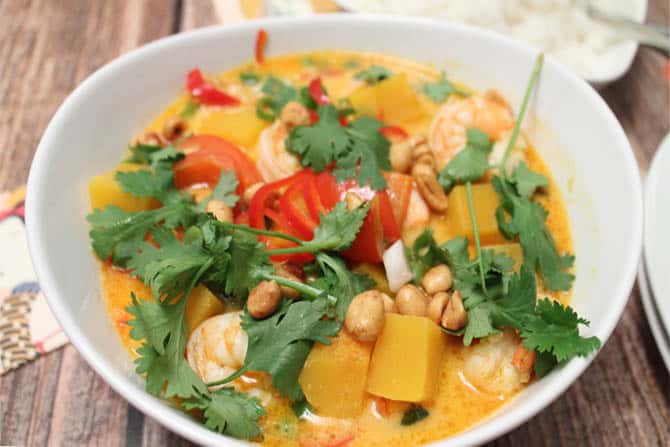 At this point I am getting desperate and have now decided if I can't find it at a restaurant I will make it myself. While searching the internet for authentic sounding recipes, I found a recipe for Shrimp Panang Curry from Closet Cooking, that with a little adapting, I could see coming close to what we liked. Of course, his was for a soup so I adapted it by cutting the amount of chicken broth, upping the quotient on Panang Curry Paste and red peppers and, since we like spicy, chopping up additional chili peppers. It came out really delicious!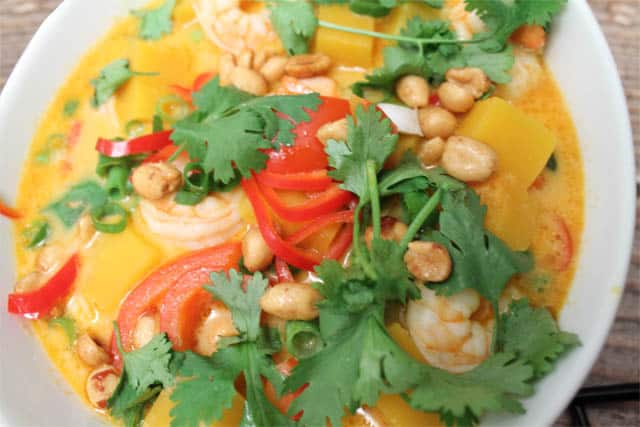 OK, this maybe wasn't exactly like our favorite restaurant's version but it was really, really good and I can see making this again when we have that Panang Curry craving pop up. Give it a try and let me know what you think.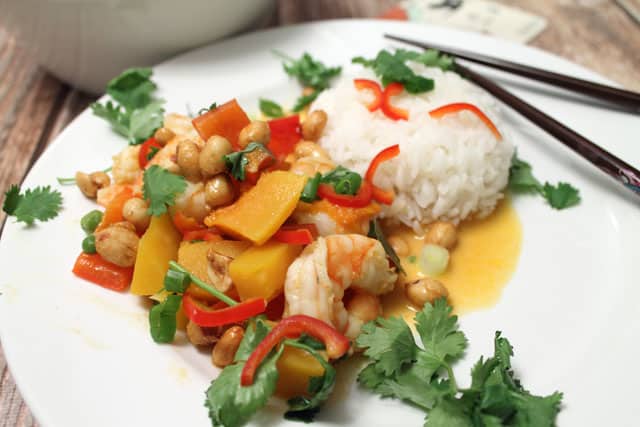 Enjoy!
Shrimp Panang Curry with Pumpkin
Ingredients:
1 14-oz can coconut milk (not lite)
3-4 Tablespoons Panang curry paste
2-3 cups shrimp or chicken stock
2 kaffir lime leaves, sliced thin
1/2 butternut squash, cut in bite-sized pieces (about 2 cups)
2 red bell peppers, sliced then halved (or mix of red & yellow)
1 Tablespoon palm sugar
3 Tablespoons fish sauce
2 Tablespoons lime juice
1/4 cup smooth peanut butter
1 lb. shrimp, shelled & deveined
1/2 cup frozen peas
1/4 cup cilantro, chopped
1/4 cup Thai basil leaves or 2 green onions, sliced thin
1-2 red chili peppers, sliced thin
1/4-1/2 cup roasted peanuts
Directions:
In a large skillet with high sides, heat 2 tablespoons coconut cream (the thicker part that rests at the top of the coconut milk can). Add curry paste and cook for 2 minutes.
Add the next 8 ingredients and simmer for 10-15 minutes or until squash is almost done.
Add shrimp and peas and cook for 4 minutes or until shrimp are done.
Place in large serving bowl and garnish with cilantro, basil leaves or green onions, chili peppers (depending on heat desired) and peanuts.
Best served over jasmine or brown rice or opt for quinoa.
Serves 4.
There's more Asian deliciousness where this came from. Check these out!