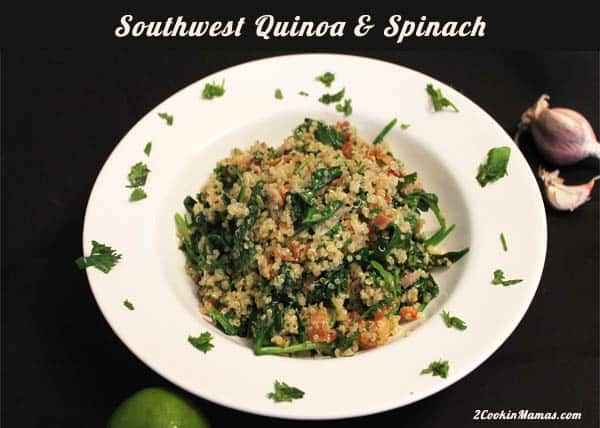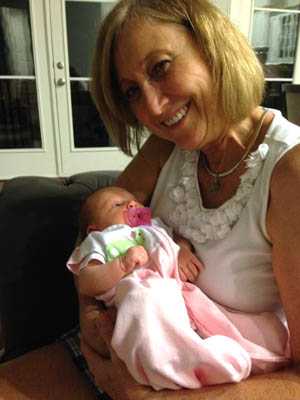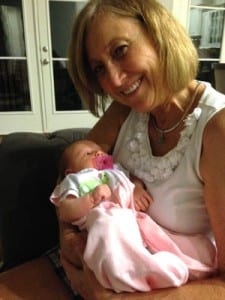 I just got back from seeing my newest granddaughter, isn't she a doll! She is so precious and I can't believe how small they are when they are only a couple weeks old. I tried to help out a little while there, making some meals and doing some clean up, but now that I am home again I have to put my nose to the grindstone (make that stove) and start working on some new recipes.
This recipe was one that actually was put together out of desperation when I realized how empty our fridge had gotten while I was away, and I still had to get a dinner on the table pronto. I had spinach, cilantro and my trusty bag of quinoa so I thought, why not try to combine what I have and see how it turns out.
Well, let me tell you, it turned out so delicious that it is now on my radar to make whenever we have a southwestern type of meal. It would work as a nice dinner, but my husband prefers to have meat or fish at every meal so, in a smaller portion, it becomes a great side.

Southwest Quinoa & Spinach
Ingredients:
1 cup cooked quinoa (cooked in water or chicken broth)
4-5 slices of bacon, chopped
½ cup onion, chopped
3 cloves garlic, chopped fine
10-oz pkg fresh spinach
½ cup cilantro, chopped
1 Tablespoon lime juice
⅛ teaspoon salt
2 Tablespoons scallion, minced (optional)
Directions:
In a large skillet, cook bacon, onions and garlic until bacon is crisp. This usually takes about 5-7 minutes. Remove from pan and set aside.
In skillet with the bacon grease, cook spinach quickly until wilted, about 2 minutes. Mix in quinoa and quickly reheat it, about 2 minutes.
Remove to serving bowl and toss in cilantro, lime juice and salt. Top with scallions and serve.
Serves 3-4 as a side.