Pack your salad with texture and incredible flavors when you roast your vegetables. This Roasted Vegetable Salad is a combination of colorful sweet roasted veggies set atop fresh greens and tomatoes then accented with pine nuts and feta cheese. Finish this healthy, seasonal salad with a drizzle of savory balsamic vinaigrette with honey.
FYI - This post contains affiliate links. As an Amazon Associate, I earn from qualifying purchases. All links are products I use when making my recipes.
Healthy Salads for All Seasons
It's easy to eat healthy meals all year round! Salads are an excellent option, filled with an array of flavors, textures, and colors, plenty of fresh seasonal ingredients, and all the nutrients your body needs to stay healthy. Plus, they're easy to make and won't break the bank.
Whether it's a Pear Rocket Salad for fall, Strawberry Chicken Salad for spring, Roasted Corn Salad for summer, or a classic Waldorf salad for winter holiday celebrations, there is something for everyone and for every season.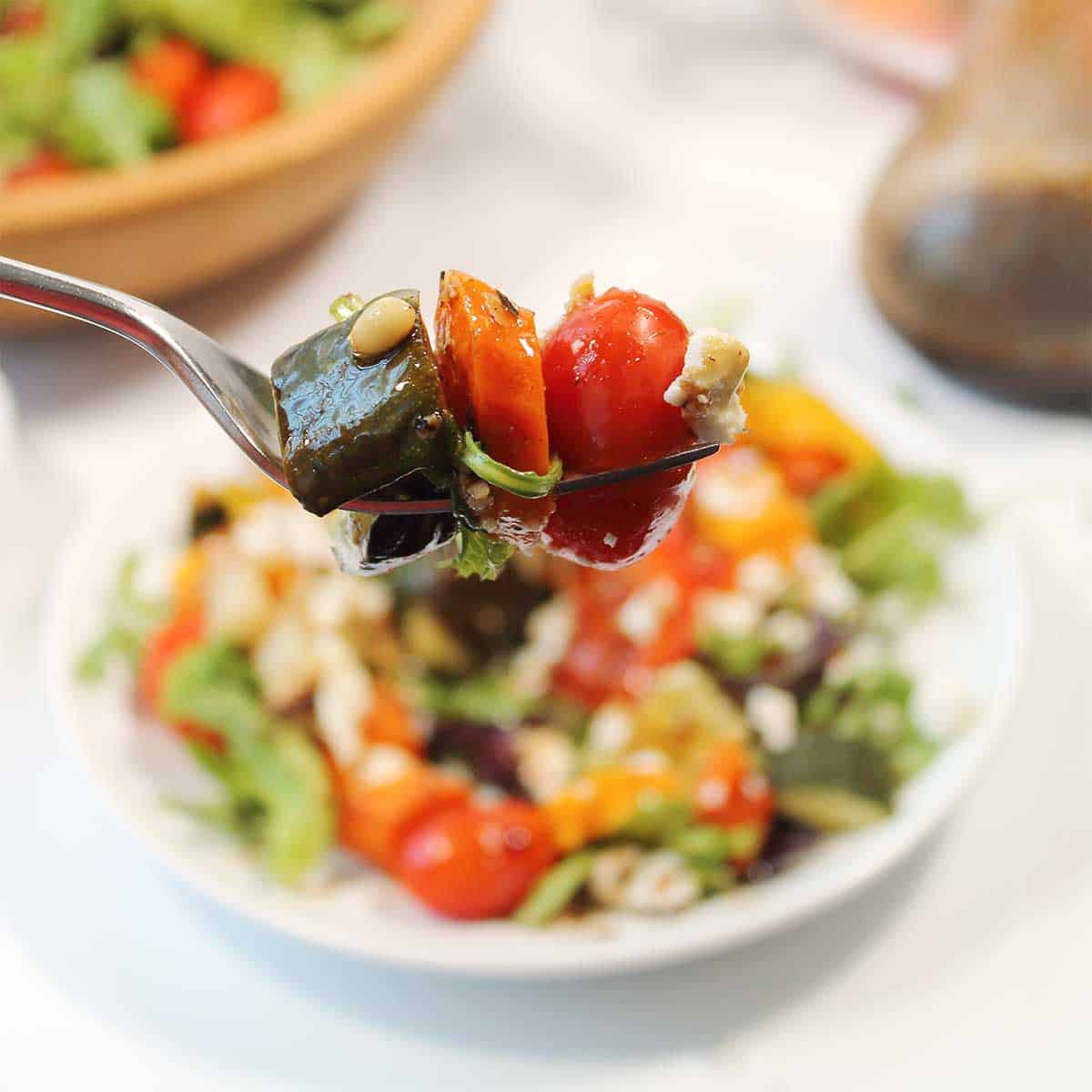 Why You'll Love This Roasted Veggie Salad
Cold roasted vegetable salad is a great take-a-long salad for work or school lunches.
Warm roasted vegetable salad is a delicious entree or side dish.
Perfect for a light vegetarian and meatless Monday meal.
Excellent topped with grilled or roasted meat - chicken, steak, or seafood.
Easy to customize (see variations below).
Ingredients
Roasted vegetables: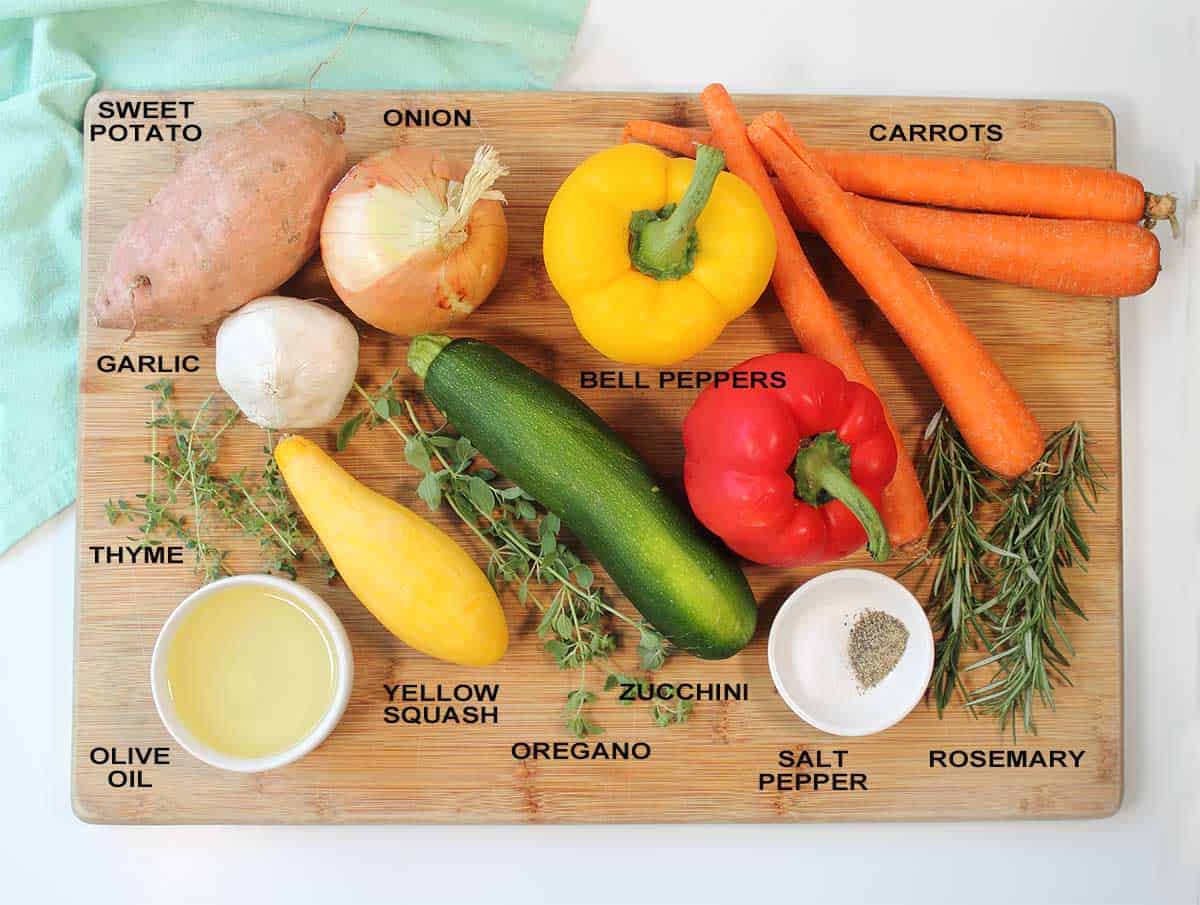 Sweet potato
Onion
Colorful bell peppers
Zucchini
Carrots
Yellow Summer Squash
Garlic cloves
Olive oil
Fresh rosemary, thyme, or oregano
Salt & Pepper
Salad: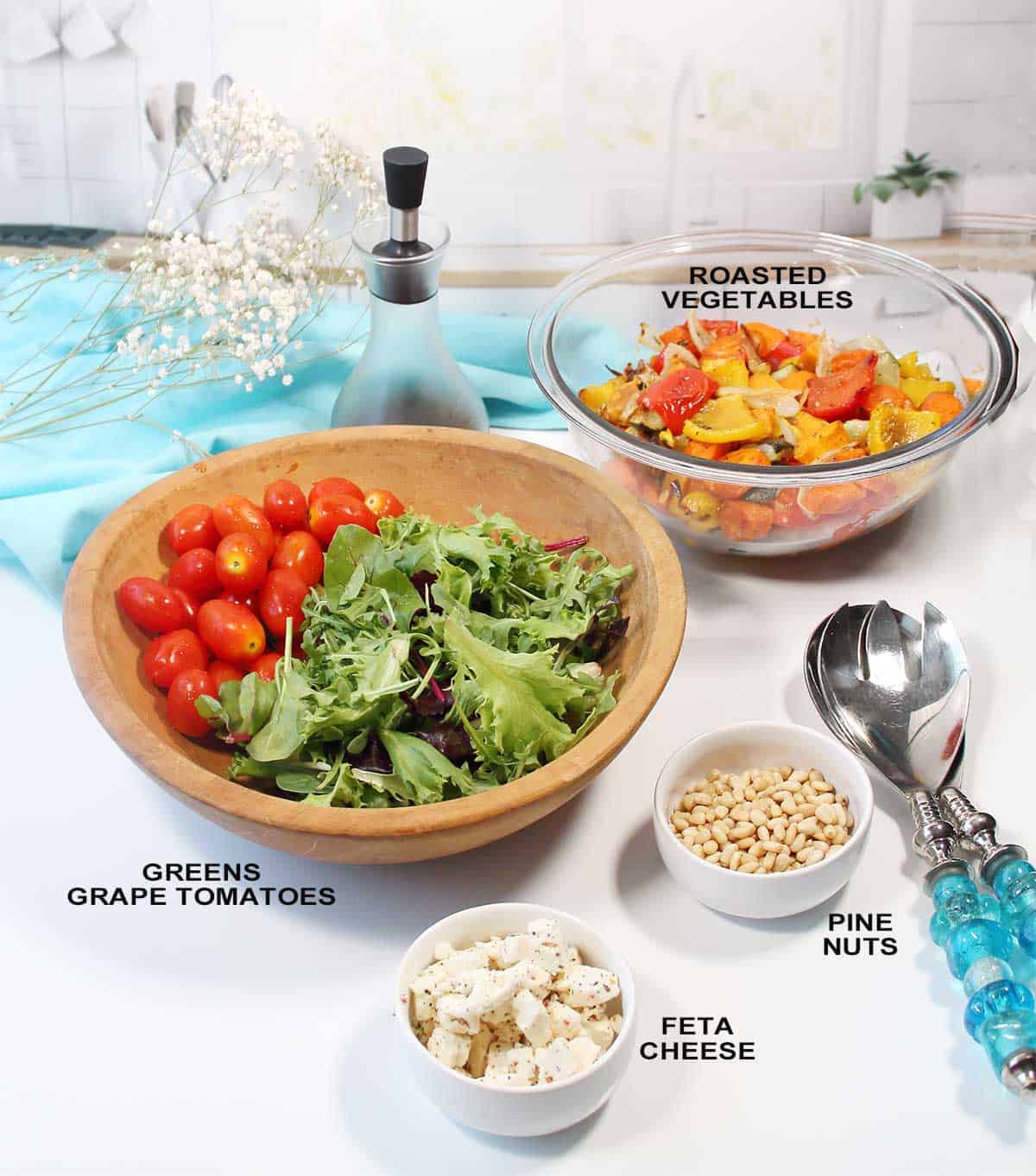 Salad greens
Grape tomatoes
Pine nuts
Feta cheese
Roasted vegetable dressing: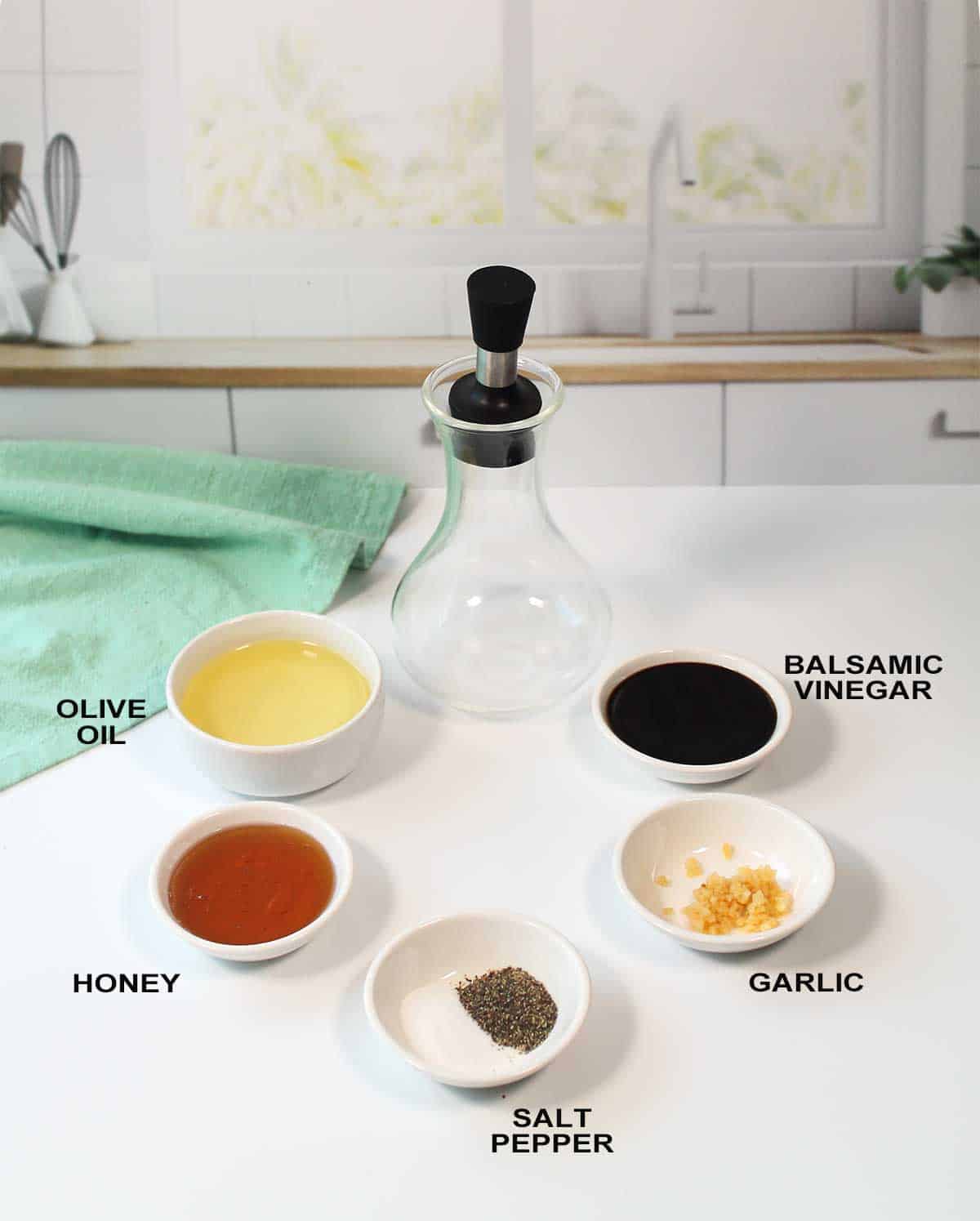 Balsamic vinegar
Olive oil
Honey
Garlic clove
Salt & Pepper
How to Make Roasted Vegetable Salad
How to roast the vegetables: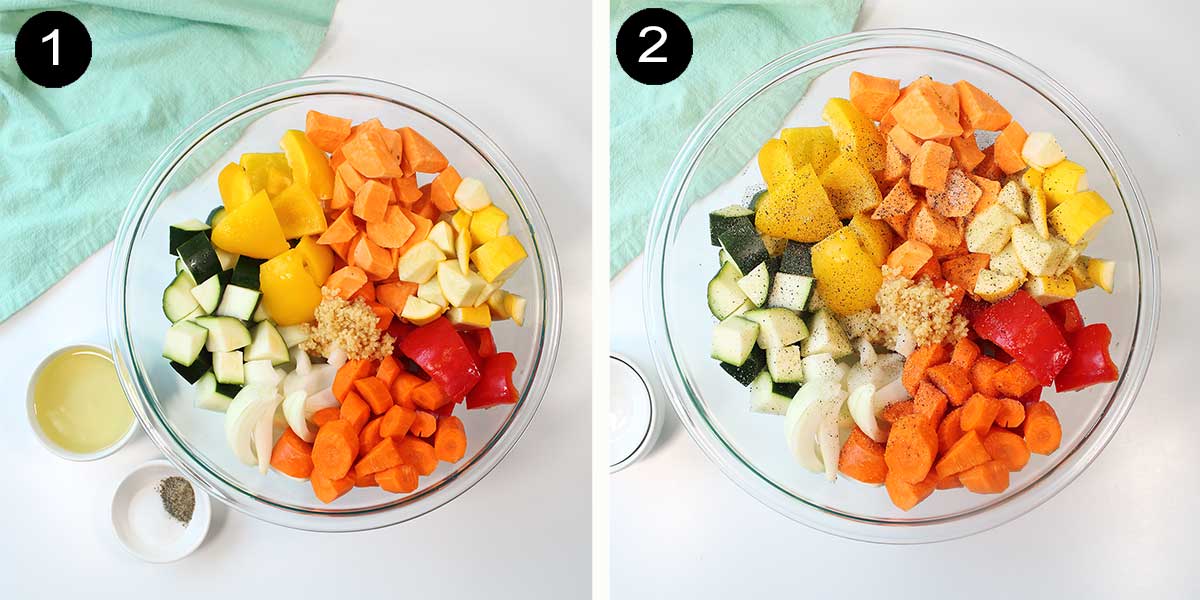 Cut the vegetables making sure that they are all about the same size. Add to bowl with garlic.
Season with salt and pepper.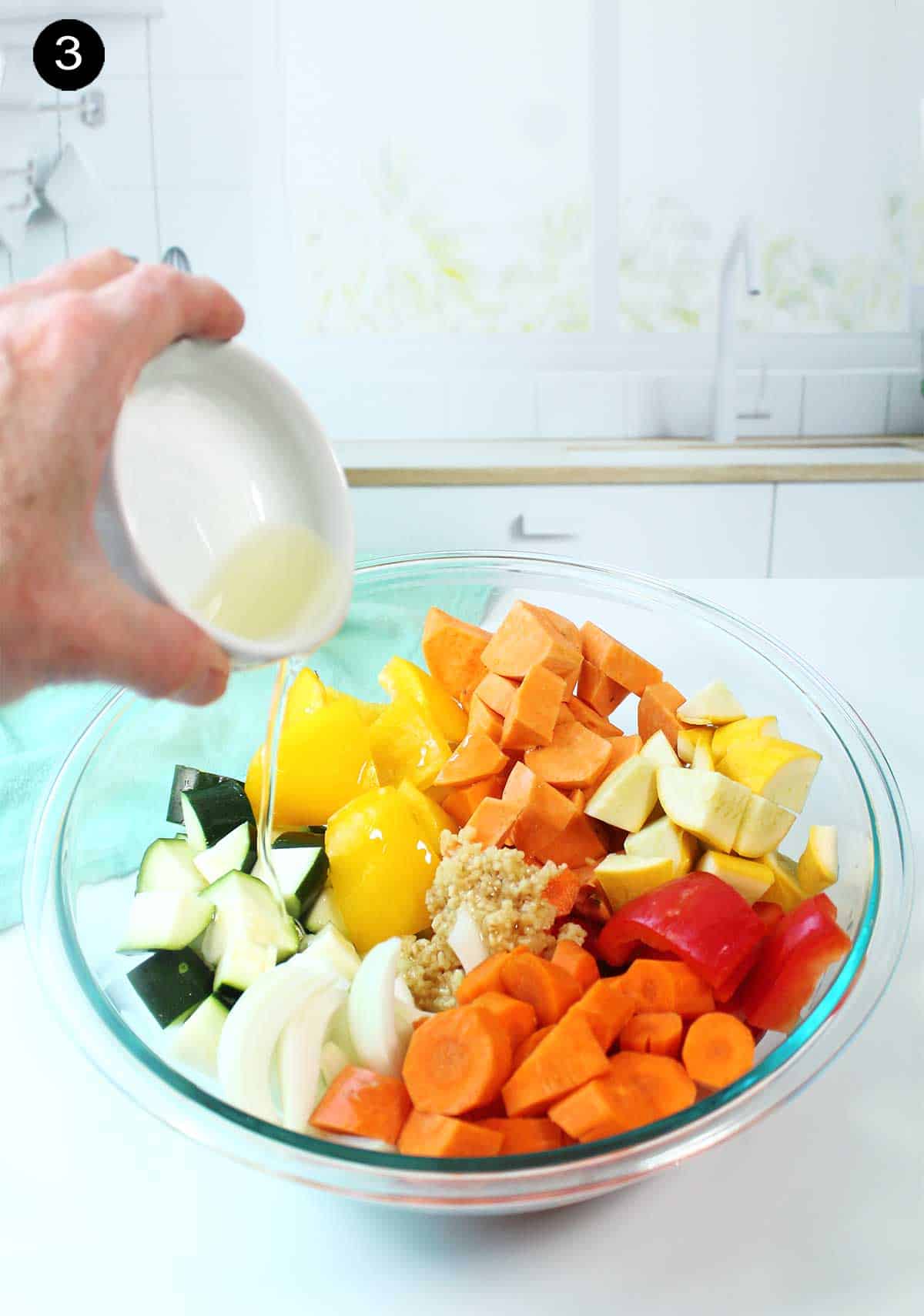 Drizzle with olive oil and toss to coat.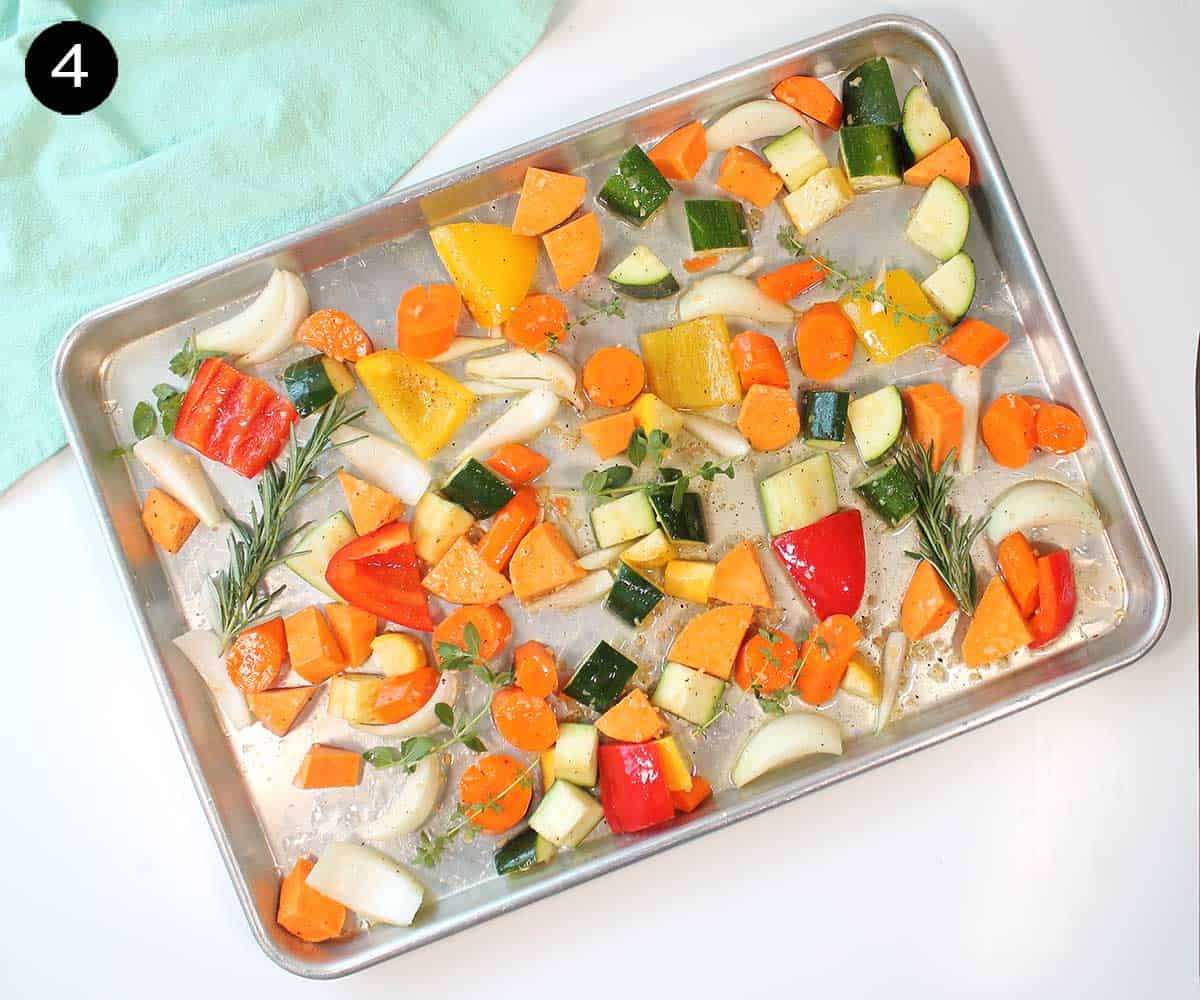 Spread the vegetables out on 1-2 baking sheets with sides. Try not to overcrowd as you want them to roast not steam. Add sprigs of oregano, thyme and rosemary for more flavor but this is totally optional.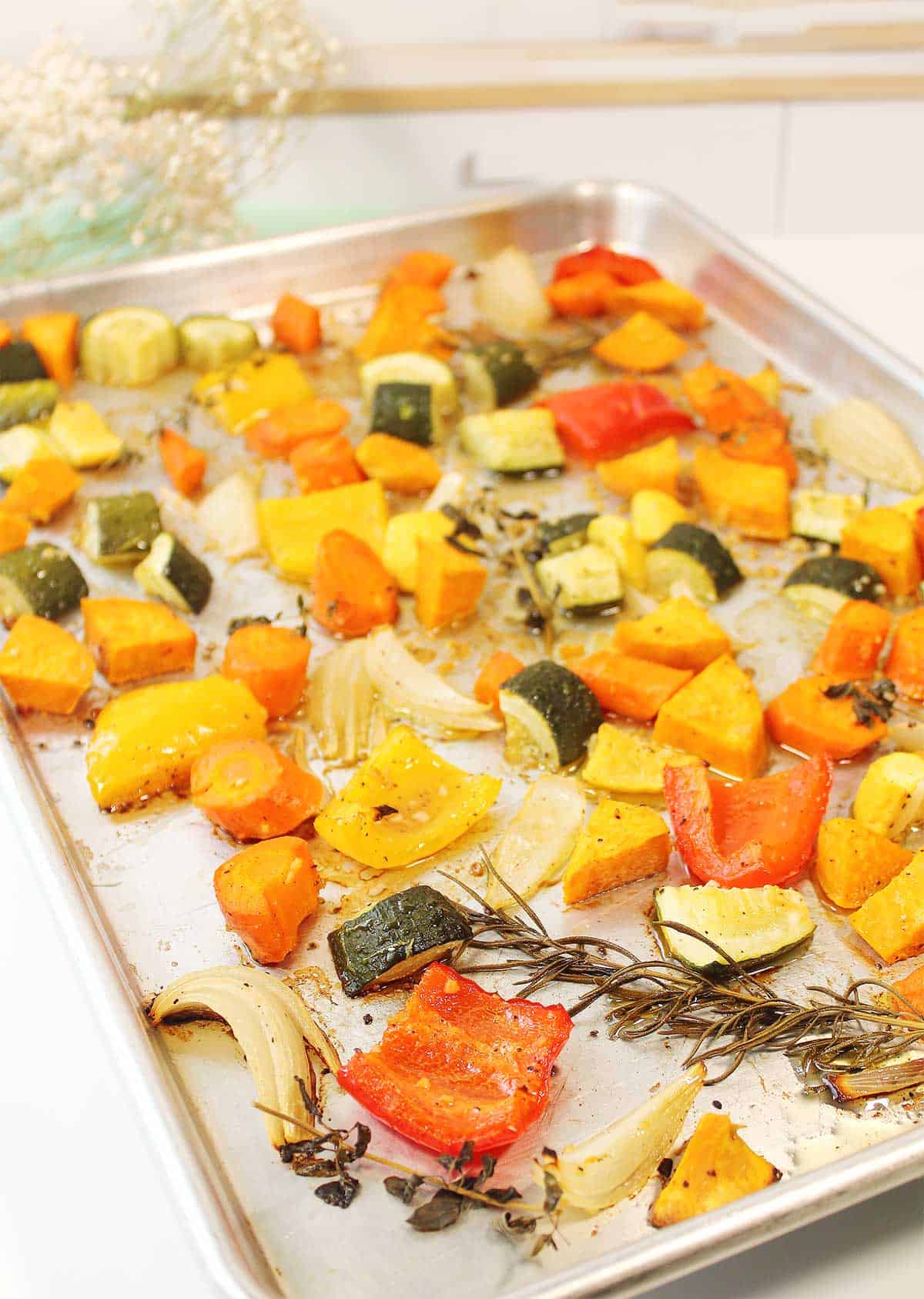 Place the sheets in a preheated 425°F oven and bake for 30-40 minutes, or until crisp. Turn halfway through cooking time to brown both sides. Remove from oven and let cool.
Balsamic vinaigrette dressing for vegetables: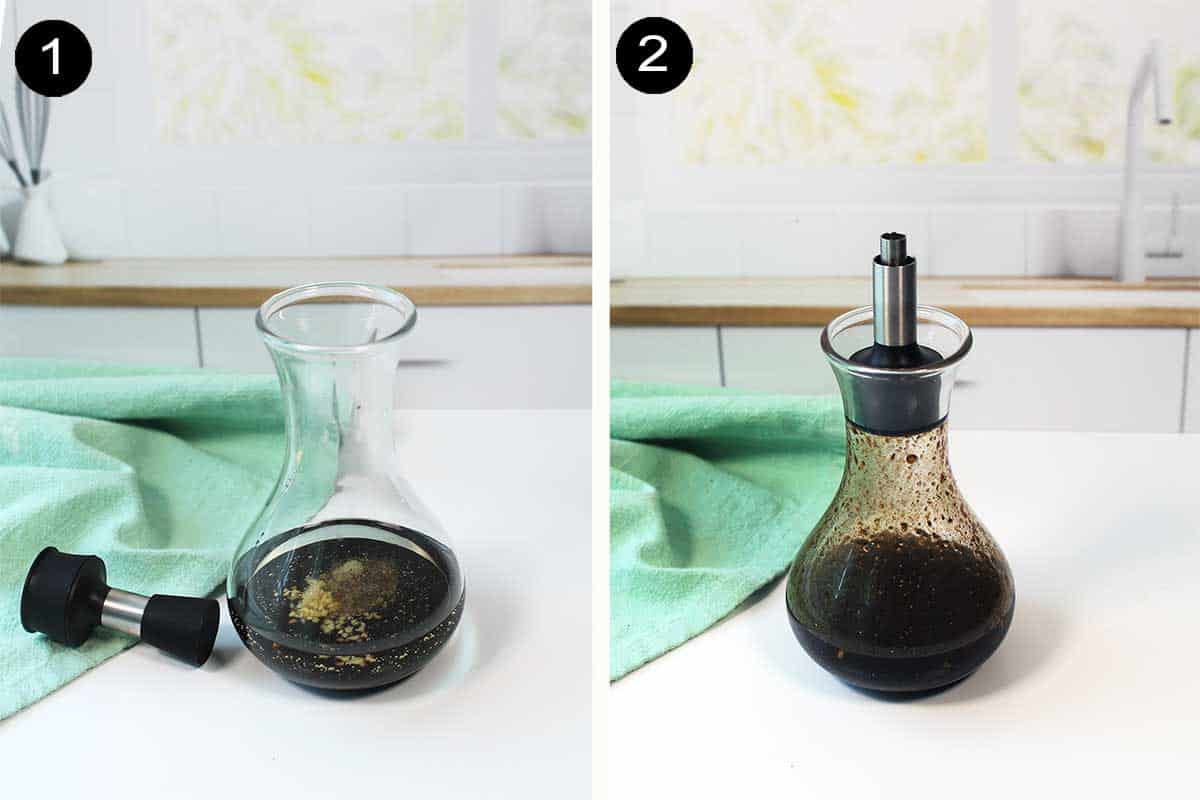 Place all ingredients, olive oil, balsamic vinegar, honey, garlic, salt, and pepper in a cruet or bowl.
Shake or stir to mix. Set aside.
How to assemble this roasted veggie salad: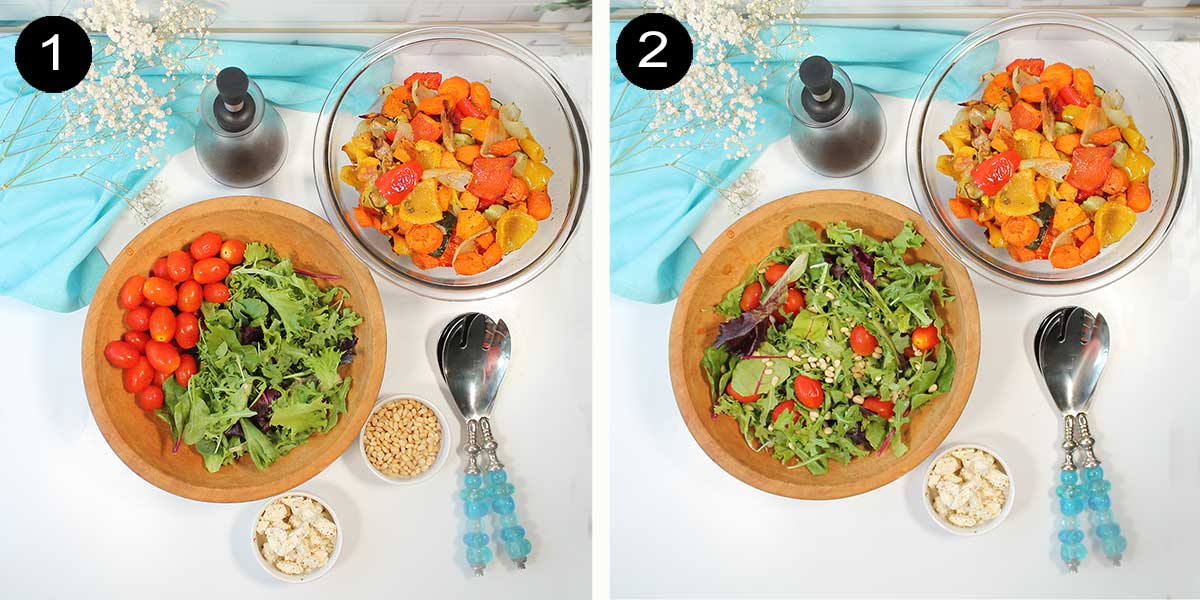 Place salad greens and tomatoes, either whole or halved, in a large bowl.
Scatter pine nuts on top.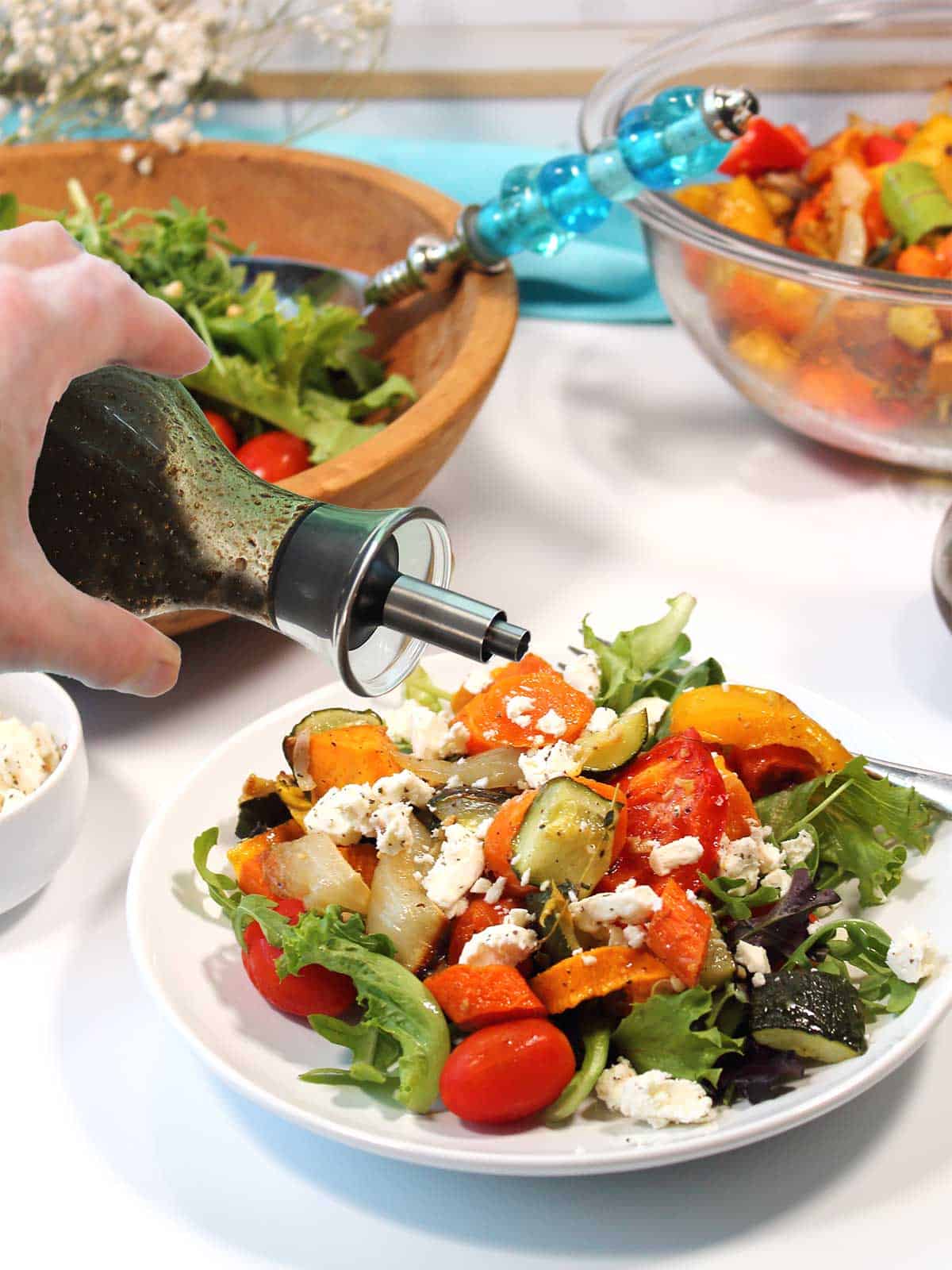 Plate the mixed greens and top with the roasted veggies and a sprinkle of feta cheese. Drizzle with dressing and serve.
Recipe Tips
Use washed and ready-to-eat bagged salad greens for faster meal preparation.
Make sure there is room between the vegetables so the hot air circulates around them and browns them evenly.
Remember to flip the veggies halfway through roasting.
Rotate the pan (front to back) halfway through roasting. If using 2 pans, switch the racks they are on.
Toast the pine nuts in a skillet or the oven for extra nutty flavor. Watch while you're toasting them because they will burn quickly.
Recipe Variations
It's so easy to customize this salad to suit your taste preferences or to use seasonal vegetables. Here are some ideas:
Salad Greens:
Arugula
Kale
Spinach
Romaine
Beans and chickpeas are a great addition to a salad:
Cannellini beans or other white beans
Chickpeas - Add them to the pan with the veggies or sprinkle them on top.
Instead of serving the roasted veggies over greens, serve them over:
Couscous
Farro
Lentils
Orzo
Quinoa
Pasta
Other vegetables in addition to or instead of:
Broccoli
Cauliflower
Butternut Squash
Eggplant
Pumpkin
Root vegetables - beets, potatoes, radishes, parsnips
Salad dressings:
Apple cider vinaigrette
Avocado dressing
Greek dressing
Red wine vinaigrette
Cheeses:
Blue cheese
Goat cheese
Gruyere
Make Ahead - Meal Prep
Chop all the vegetables up to 2 days in advance. Store them in separate containers in the fridge.
Make the dressing up to 4 days in advance.
How to Store and Freeze
Storing: Store the roasted vegetables without the dressing in an airtight container in the refrigerator for up to 5 days. Store the salad components (lettuce, tomatoes, pine nuts, and cheese) in their own separate containers. Keep lettuce and cheese in the fridge. Pine nuts and tomatoes should be stored at room temperature.
You can warm the cold leftover roasted vegetables in the microwave or the oven. Microwave in 30-second intervals until warm. To warm them in the oven, spread them out on a baking sheet and bake them at 400°F for about 5 minutes.
Freezing: Allow the roasted veggies to cool to room temperature. Freeze the roasted vegetables without the dressing in a plastic freezer bag, squeezing out the air before sealing the bag. They will last up to 3 months. Thaw them in the fridge overnight.
More Vegetable Recipes
Find lots of easy, delicious, and healthy salad recipes right here on 2CM!
LOVE QUICK & EASY RECIPES? FOLLOW ME ON INSTAGRAM, FACEBOOK, & PINTEREST FOR ALL THE LATEST RECIPE INSPIRATION! PLUS JOIN MY EMAIL LIST AND RECEIVE A FREE E-BOOK.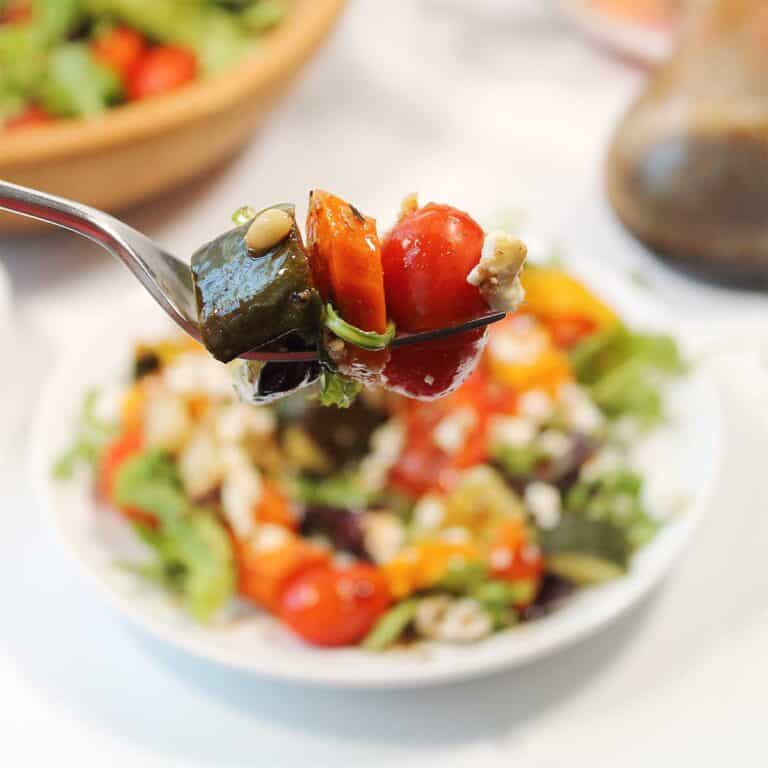 Roasted Vegetable Salad
Roasted Vegetable Salad is a combination of sweet roasted veggies atop fresh greens, tomatoes, and feta cheese and finished with a drizzle of balsamic vinaigrette.
Print
Rate
Ingredients
Roasted Vegetables
1

sweet potato

chopped

1

onion

cut in 8ths then separated

2

colorful bell peppers

sliced then cut in half (I used 1 red and 1 yellow)

1

zucchini

quartered lengthwise then sliced

1

yellow summer squash

quartered lengthwise then sliced

4-6

carrots

sliced

4-5

cloves

garlic

finely chopped

⅓

cup

extra light virgin olive oil

Sprigs of rosemary

thyme and/or oregano (optional)

Salt & pepper

to taste
Balsamic Vinaigrette with Honey
⅓

cup

olive oil

2 ½

Tablespoons

balsamic vinegar

2

Tablespoons

honey

1

clove

garlic

minced

½

teaspoon

salt

½

teaspoon

pepper
Salad
2-3

cups

greens

1

pint

grape tomatoes

whole or halved

¼

cup

pine nuts

⅓

cup

feta cheese
Instructions
Roasted Vegetables
Preheat oven to 425 degrees.

Prepare vegetables. When cutting up the vegetables, make sure they are about the same size so they cook evenly.

Toss all vegetables in a large bowl with the garlic, olive oil, and seasonings.

Pour onto a baking sheet with sides, making sure not to crowd them. If you need to, you can use 2 sheets. Place in oven and bake for 30-40 minutes, or until crisp, turning once halfway through.
Balsamic Vinaigrette with Honey
Combine all vinaigrette ingredients and whisk well. Set aside.
To assemble
Mix greens, tomatoes and sprinkle with pine nuts.

Plate the greens mixture onto individual serving dishes, top with some of the roasted vegetables then top with feta cheese.

Either sprinkle with balsamic dressing or serve it on the side.
Notes
MAKE AHEAD
Chop all the vegetables up to 2 days in advance. Store them in separate containers in the fridge.
Make the dressing up to 4 days in advance.
Nutrition
Calories:
596
kcal
|
Carbohydrates:
45
g
|
Protein:
8
g
|
Fat:
45
g
|
Saturated Fat:
7
g
|
Polyunsaturated Fat:
7
g
|
Monounsaturated Fat:
29
g
|
Cholesterol:
11
mg
|
Sodium:
530
mg
|
Potassium:
1216
mg
|
Fiber:
8
g
|
Sugar:
25
g
|
Vitamin A:
21535
IU
|
Vitamin C:
122
mg
|
Calcium:
152
mg
|
Iron:
3
mg